GTA
Real Estate News
In Some Parts of the GTA, It's Cheaper to Buy than to Rent
It isn't cheap to put a roof over your head in the Greater Toronto Area (GTA) — whether you rent or buy (not that anyone needs the reminder).
Interest rates have hit historical highs this year and rent prices in Toronto and the GTA are up by 19% annually. At the same time, average home sale prices have dropped month over month in numerous cities in the GTA. 
READ: 905-Area Home Prices Plummeted As Much As 29% From February Peak
Naturally, this makes it difficult for many to determine if it's currently more affordable to rent or buy. In a new report, Zoocasa crunches the numbers for Toronto and cities across the GTA to compare which is more affordable. 
The Toronto-based real estate agency compared the most recent available data of June rental prices and average July home prices to determine which cities are worth buying or renting in. The average monthly mortgage payments were calculated assuming a 20% down payment, 30-year amortization, and a five-year fixed interest rate of 4.49%
It's safe to say that the GTA rental market is alive and well, following a temporary dropping of prices in the thick of the pandemic. Zoocasa points to the June 2022 rental report, which found that the average rent for all property types in the GTA increased by 19% year over year, for an average of $2,403 per month compared to $2,018 per month in June 2021 for all property types. June 2022 saw the second highest monthly rental price growth rate in over three and a half years of 3.1%, following May's 5.7% month-over-month increase. 
READ: National Average Rents Rose Nearly 10% in June
The cost per rental unit depends on a variety of factors including the type of property, location, and the number of bedrooms. For example, basement apartments are the most affordable rental property type at an average of $1,815, whereas renters of single-family homes can expect to pay an average of $3,389. The average rental price for all property types has grown in June 2022 compared to June 2021, says Zoocasa.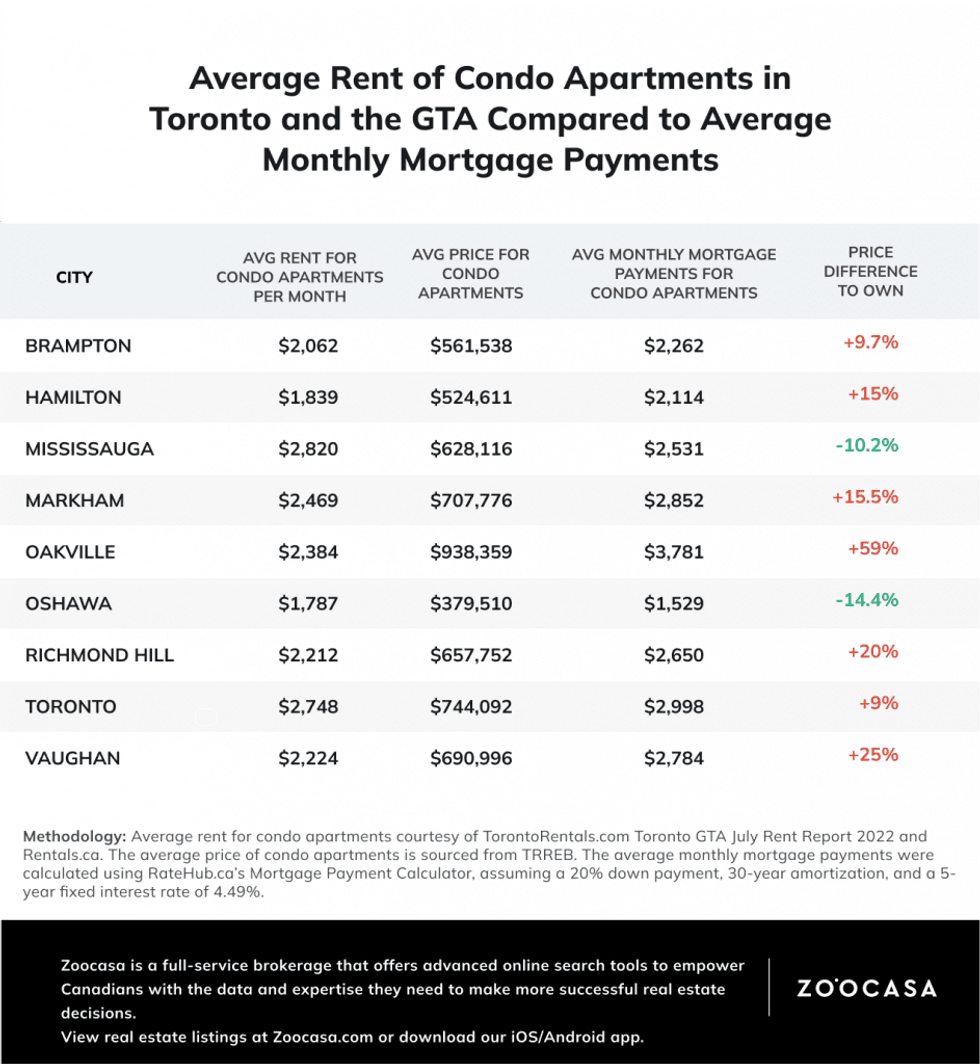 When it comes to purchasing property, Toronto Regional Real Estate Board's (TRREB) July report found that condo apartments are the most affordable property type for prospective home buyers in Toronto and the GTA. Condo apartments in Peel Region and York Region are the most affordable, with average prices of $616,876 and $687,843 respectively. In Toronto, the average price was $744,092. 
"The demand for condo apartments has grown, and they are currently the second most in-demand property type in Toronto and the GTA, second only to detached homes," reads the report. "It seems more people are choosing to buy condo apartments compared to renting them, but how do the monthly mortgage payments compare to monthly average rental prices?"

According to the report, Mississauga and Oshawa stand out as cities where buying is more affordable than renting. For Brampton and Toronto, the price difference is relatively small and the rent prices are projected to continue increasing. So, purchasing in Brampton and Toronto may lead to long-term savings. On the other hand, in Oakville, the price to own is substantially higher than to rent, something which Zoocasa says may be driven by the demand to buy condo apartments in the city.
With any home purchase, Zoocasa cautions that there are other costs associated, including saving for a down payment (something made more of a challenge in cities with sky-high rent prices) and legal fees.