---
With things like travel demand and downtown foot traffic returning to pre-pandemic levels with gusto, it's not much of a surprise that rents are surging too. Just like the good ol' days.
According to a new Toronto GTA Rent Report by Bullpen Research & Consulting and TorontoRentals.com, the average monthly rent in the Greater Toronto Area is up for all property types. In June, the average hit $2,403, up from $2,018 in June 2021 and $2,327 in May 2022. The month-over-month increase is the second-highest in over three and a half years. 
"Following two consecutive months of outsized rent growth of over 3% monthly, average rents in the GTA are up 19% annually, but remain below peak levels from late 2019," said Ben Myers, President of Bullpen Research & Consulting. "The rise in borrowing costs has shifted demand from the ownership market to the rental market, which has impacted the luxury rental market with the 90th percentile rent climbing 21% annually, compared to 9% for the 10th percentile."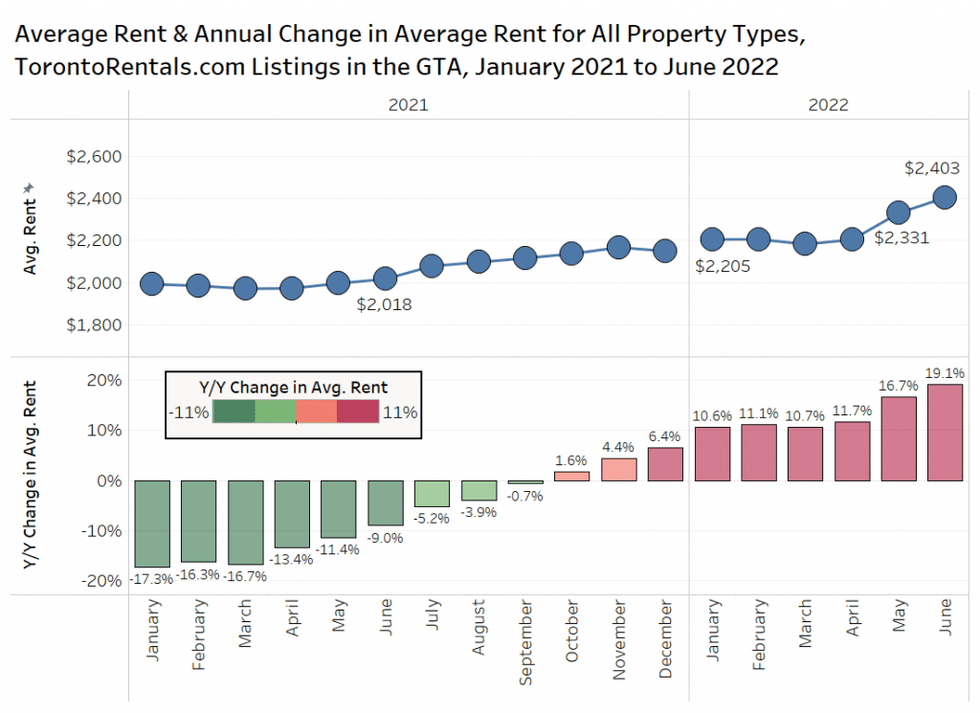 Toronto GTA Rent Report, June 2022
When you deconstruct the data based on property types, rents for condominiums saw the most growth, jumping 23% year over year (YoY) to $2,636 in June. Rents for single-family homes increased 21% YoY to $3,389, basement apartments 18% to $1,815, townhouses 16% to $3,085, and apartments 12% to $2,144.
Meanwhile, rents for two-bedroom units increased 17% YoY to $2,627, studio units 15% to $1,647, one-bedroom units 14% to $2,008, three-bedroom units 12% to $3,100, and four-bedroom units 2.2% to $3,387. 
Additionally, rents for affordable units in the 10th percentile saw a 9% YoY increase to $1,550. In this segment, the average rent has been declining since reaching a market peak in late 2019.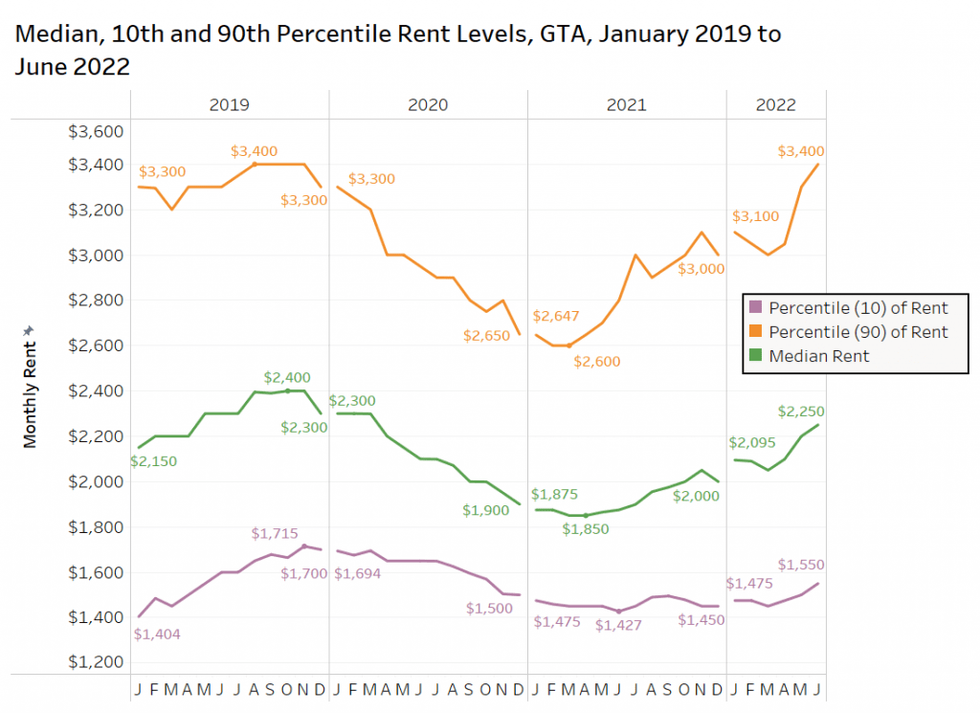 Toronto GTA Rent Report, June 2022
In terms of location, condos in Mississauga saw the largest rent increase -- 25% YoY in June -- followed by Markham (20%), Toronto (19%), North York (16%), Scarborough (15%), York (10%), Etobicoke (9%), Oakville (6%), Oshawa (4%), and Vaughan (3%).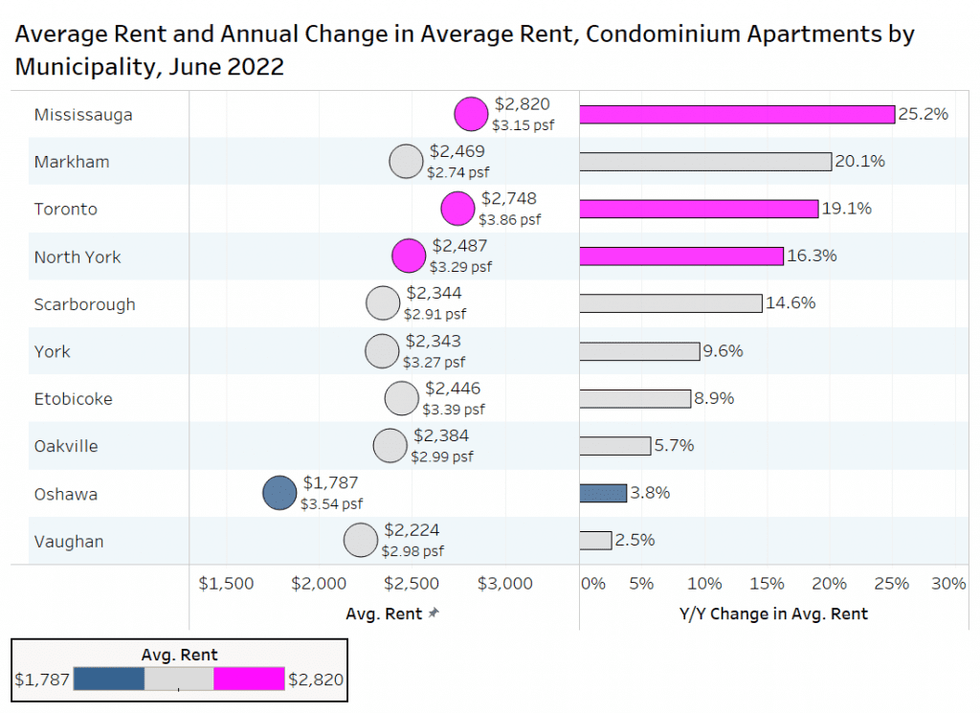 Toronto GTA Rent Report, June 2022
The latest rental rate increases are in line with a months-long trend where rents have inched upwards on par with rising demand. Demand is being driven by immigration numbers, an influx of international students, university and college graduates moving for work, and the chronically undersupplied housing market.
With that said, Bullpen Research & Consulting notes that the rate of increase will be slower in the coming months, and won't be as drastic as we saw in April and May. 
Renting