Counter to seasonable trends, home sales in the Greater Vancouver region dropped from May to June, according to new statistics published by the Real Estate Board of Greater Vancouver (REBGV) on Wednesday.
---
In June, the Greater Vancouver region recorded a total of 2,968 home sales, after recording 3,381 in May -- a surprising 13% decrease.
The May total consisted of 1,043 single-detached home sales, 608 townhouse sales, and 1,730 condominium sales. In June, those numbers dropped across the board to 848, 547, and 1,573.
June also saw 5,348 new listings, down again from the 5,661 added in May. The amount of new listings added in June was below the 10-year average for the month (5,518), although it was a slight 1.3% improvement over June 2022.
With those new listings, the amount of total inventory in Greater Vancouver is now up to 9,466, which represents a relatively significant decrease compared to the 10,842 in June 2022, as well as noteworthy drop-off from the 10-year monthly average of 12,091.
The Market Lean
Where is the market now? Are we in a buyers' market or a sellers' market?
With the above statistics, we can calculate the sales-to-new-listings ratio and the sales-to-active-listings ratio, which are two quantitative indicators that can help us identify if the market is currently leaning in any particular direction.
For the sales-to-new-listings ratio, a ratio of 40% or lower is considered to be favouring buyers, a ratio of 55% or higher is considered to be favouring sellers, and anything in between is considered a balanced market.
With 2,968 home sales and 5,348 new listings in Greater Vancouver in June, the sales-to-new-listings ratio is now at 55.5%. That same ratio was at 59.7% after May, which would suggest movement towards market balance.
For the sales-to-active-listings-ratio, a ratio of 12% or lower is viewed as favouring buyers, a ratio of 20% or higher is viewed as favouring sellers, and anything in between is viewed as market balance.
With 2,968 home sales and a total inventory of 9,466 in Greater Vancouver after June, the sales-to-active-listings ratio is now at 31.4%. Following May, the ratio was at 38.4%, which reinforces the suggestion that the market is moving towards more balance, while perhaps still favouring sellers.
And the same can be said across the property types. After May, the sales-to-active-listings ratio was 28.5% for single-detached homes, 45.0% for townhouses, and 45.5% for condominiums. After June, all three have decreased and are now 20.9%, 38.5%, and 39.4%, respectively.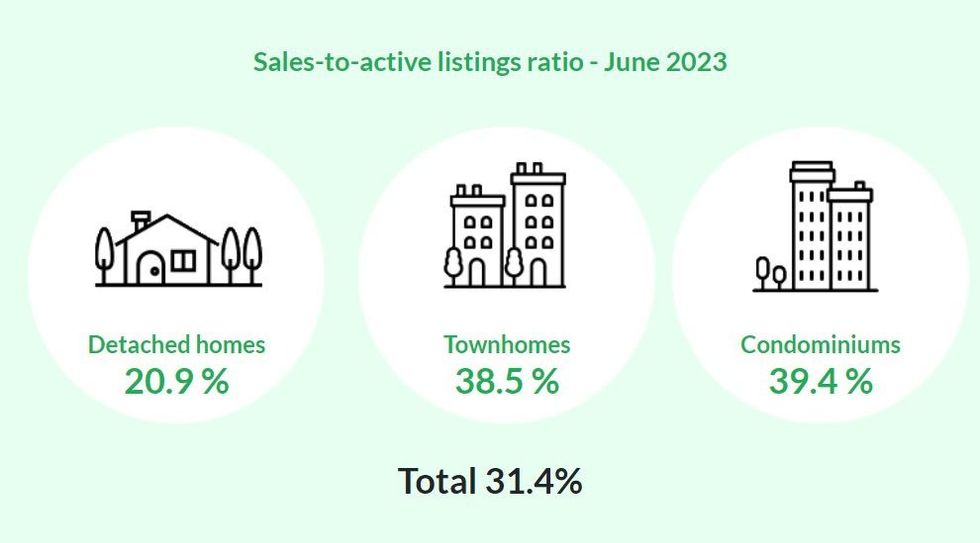 (REBGV)
Prices Remain Steady
While there may be questions about supply, prices remain steady and are still increasing.
The composite residential benchmark price is now $1,203,000, a small 1.3% increase from last month, but a 2.4% decrease compared to June 2022.
By property type, the benchmark price is now $1,991,300 for single-detached homes, $1,098,900 for townhouses, and $767,000 for condominiums, all three of which are minor increases from May. While the benchmark price for single-detached homes and townhouses is currently below what they were in June 2022, the benchmark price for condominiums is actually a 0.5% improvement.
READ: REBGV's Andrew Lis On Overhauling The Property Transfer Tax, Dangers Of A Flipping Tax
"The market continues to outperform expectations across all segments, but the apartment segment showed the most relative strength in June," said REBGV's Director of Economics and Data Analytics Andrew Lis. "The benchmark price of apartment homes is almost cresting the peak reached in 2022, while sales of apartments are now above the region's ten-year seasonal average."
"Despite elevated borrowing costs, there continues to be too little resale inventory available relative to the pool of buyers in Metro Vancouver," Lis added. "This is the fundamental reason we continue to see prices increase month over month across all segments."
Notes And Observations From Local Realtors
Mike Stewart, Realtor, Oakwyn Realty and Vancouver New Condos
There's an overwhelming positivity in the market, and what's holding things up for more sales volume is just financing. I think buyers and sellers have basically had a consensus that prices aren't going to go down. So you're maybe not seeing multiple offer situations on all types of properties, but for properties that are affordable to a local demographic, they're still going crazy, especially if they're well-priced.
Once the rates start to stabilize or come down, I think the multiple offer situations will expand to other types of properties. Prices are not falling. One saying that I've heard is that "when you're buying a property, you marry the purchase price, but you're only dating the interest rate." There's a lot of people out there who are like, "interest rates are high now, I'm gonna buy now while interest rates are high, because once those interest rates come down, prices will presumably go crazy."
Vito Longo, Broker, Sotheby's International Realty
The market remains strong for well-priced, quality homes. We're still very much in sellers' market territory. Homes are still commanding multiple offers and selling over asking, showing that people are still willing to pay for a good quality home.
READ: BC Real Estate Boards To Introduce New Multiple Offers Disclosure Rule
Condos are starting to move. There's just as much momentum today as any spring market, and there are lots of buyers still looking.
Elton Ash, Vice President, RE/MAX Canada
Overall, there is an inventory shortage of homes for sale. The biggest issue when it comes to inventory is that potential home sellers aren't confident that they will find a home to their liking, so they are content to stay where they are until markets conditions change. We anticipate the current conditions to last through the summer until late September early October.
The Bank of Canada may look at another 0.25% point increase, which will exacerbate the inventory issue. Unlike previous market cycles in past years, because inventory is stressed, prices will remain as they are, with potential for some modest price increase, due to existing buyer demand, especially in the smaller, lower-priced homes.
Homes