In a letter to Bank of Canada Governor Tiff Macklem dated August 31, BC Premier David Eby said that "helping lower global inflation and reduce some cost pressures on people and businesses has been a key focus of governments and central banks around the world."
Eby noted that the Bank of Canada has increased its policy interest rate 10 times since March 2022 — and that the current rate of 5.00% is the highest its been in 22 years — before turning his attention to the upcoming policy rate announcement, which is scheduled for Wednesday, September 6.
---
"Disturbingly, I understand that the Bank is seriously considering yet another interest rate hike this September," wrote Eby. "This serious consideration comes despite cautions against such an approach from all quarters in Canada, including cautions from senior economists at banks like CIBC, made before the last rate hike."
Eby went on to say that he recognizes the role of the Bank is to make decisions about monetary policy, but his role is to stand up for British Columbians and ensure that their voices are heard — and that what he is hearing is people in BC are hurting.
"On the ground in our province, interest rate hikes are causing more and more people to report they could not afford to cover an unexpected $500 expense, and who are moving from financial security into financial insecurity," Eby said. "The increased financial strain, poverty, and homelessness will lead to significant economic and social damage to our province and the country that will take years to repair."
As evidence, Eby pointed to a recent Statistics Canada update that identified mortgage rates as the largest contributor to inflation in Canada.
He also pointed to a report published by the International Monetary Fund earlier this summer that found that Canada was at the highest risk of mortgage defaults out of 38 advanced economies.
Eby then honed in on the impact of another potential interest rate increase on the housing crisis in BC.
"The danger of further unnecessary rate increases is not just to homeowners with mortgages as they renew or lock in at higher rates," Eby said. "As fixed mortgages are renewed, residential and commercial landlords will be pressured to offset their costs with more rental income, with devastating results for tenants. In the absence of significant new housing, rents will keep getting bid up until incomes are exhausted, because the alternative for British Columbians to paying ever growing proportions of income to rent in such a scenario is homelessness."
The Government of British Columbia
Immediately after Eby's letter was made public, opposition leader Kevin Falcon called Eby's plea to the Bank "complete hypocrisy."
"This is classic David Eby: pour gasoline on a raging fire, then act like the victim, pointing fingers at everyone but himself," said Falcon. "BC has the highest rents & gas prices in Canada, all while grocery prices are higher than ever. David Eby's empty grandstanding with this letter will achieve absolutely nothing for people. Stop the blame game and focus on what you can actually do for British Columbians."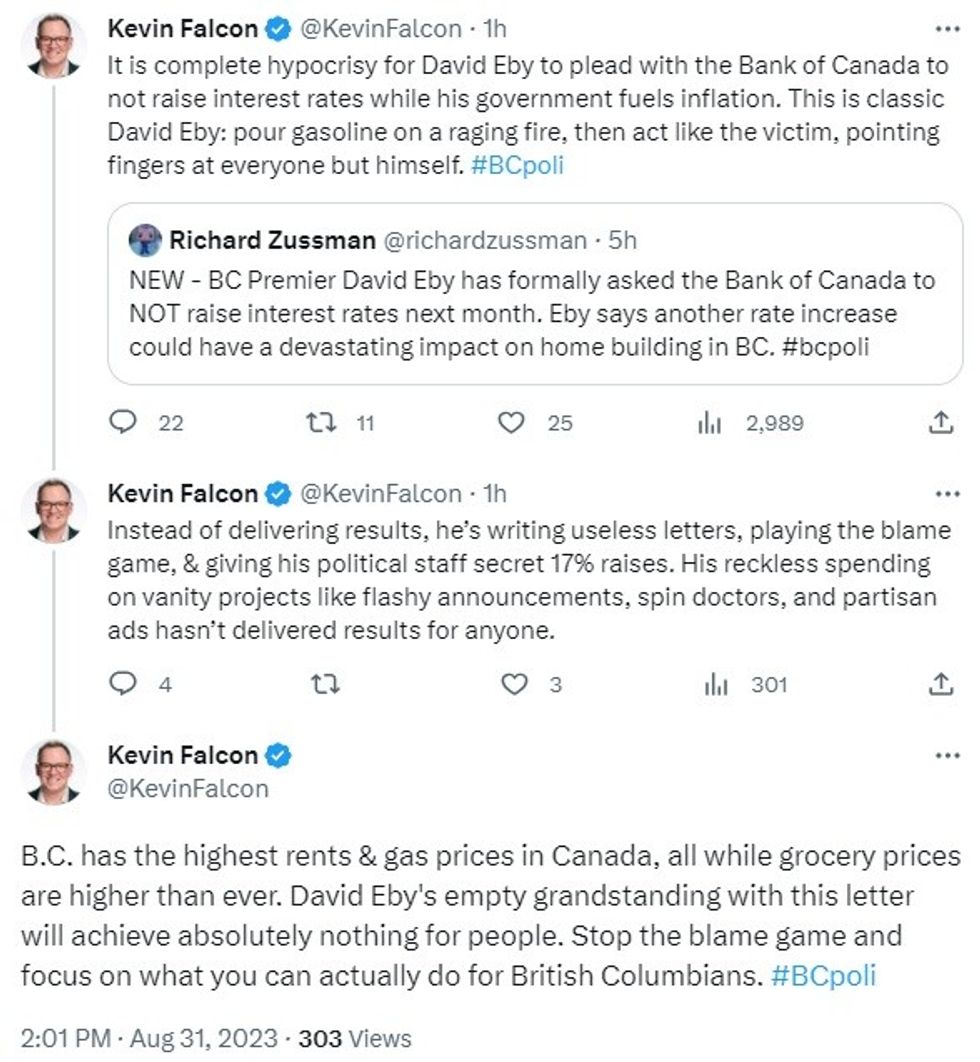 (Kevin Falcon, Twitter)
On his part, Eby said in his letter that "we have worked hard to reduce car insurance premiums, eliminate medical services premiums, eliminate student loan interest, cut childcare costs, provide free breakfast programs at schools, control rent increases, end bridge tolls, stabilize transporation costs like ferry and transit fares, and launch initiatives like free birth control and increased pharmacare coverage."
He also said that his government has "redoubled" their efforts on housing by removing barriers to new construction and opening up new rental units via policy changes, but that much of their efforts "are being overshadowed by these historic interest rate increases."
The policy changes Eby alludes to are likely the amendments to the Strata Property Act he introduced shortly after he was sworn in as Premier. Those amendments ended all rental-restriction and age-restriction bylaws for strata properties (with the exception of senior housing).
"Because of the impacts of rate increases from the Bank[,] homebuilder lines of credit used by builders to finance new housing construction, new private rental housing projects, and new home construction that could help take pressure off of rents are being put on pause," Eby notes.
Earlier this summer, commercial real estate brokerage Avison Young published a report that found investment in multi-family properties as a whole saw a substantial drop-off in the past year, recording a total transaction value of just $280M in the first half of 2023 compared to $1.5B in the first half of 2022.
As STOREYS has reported, many developers have been selling projects that have yet to commence construction, even those that are planning high-end strata condominiums, but the impact has inarguably been felt more when it comes to rental projects, which have more inherent risk and headwinds, such as the GST, that make them less financially viable.
The Bank of Canada
Since the Bank of Canada began to increase interest rates last year, it has been resolute on achieving its target of 2.0% inflation, which is currently at 3.3%.
In its July rate announcement, the Bank said "Governing Council remains concerned that progress towards the 2% target could stall, jeopardizing the return to price stability."
It also said that they are forecasting inflation to hover around 3% for the next year, before slowly declining to 2% by mid-2025.
"I think the last two rate hikes were probably overdone," said Brendon Ogmundson, Chief Economist at the BC Real Estate Association. "I think they probably looked at the April CPI that came in a bit hot, plus the housing market is a lot stronger than I think they wanted, which of course fuels inflation even further."
Ogmundson also points to how the COVID-19 pandemic resulted in households saving up more money than under normal circumstances, and how those savings — which seems to be close to exhaustion now — has fueled consumption.
"I think if they had just waited, they could've held at 4.00% or 4.50% and stood a bit more patient, they would've seen the effects, but they have a job to do and they think this is the best way to do it," Ogmundson concluded. "I think further rate hikes from here would be a mistake."
The Bank of Canada's next rate announcement is Wednesday, September 6.
Economy