New Premier David Eby has started off his tenure with a flurry of announcements, introducing new cost-of-living actions on Friday after he was sworn in, public safety actions on Sunday, and housing legislation on Monday.
---
"BC's housing crisis is stressing out and hurting people while it holds back our economy," he said on Monday. "As a first step in my 100-day plan, we are making changes to deliver more homes for British Columbians, faster."
Housing Supply Act
The first piece of legislation is what the Province is currently referring to as the Housing Supply Act, which has a goal of speeding up housing development in order to increase the supply of housing that BC desperately needs.
The Housing Supply Act would give the Province of British Columbia the authority to set housing targets in municipalities, based on information and consultation with those municipalities. The hope is that by setting targets for municipalities, those municipal governments will be more inclined to examine their own development processes and address them if needed, such as updating their zoning bylaws or development approval processes.
The Province said that it would monitor progress and work with municipalities to address barriers they have with meeting those targets. Additionally, the Act includes "compliance options" as "a last resort, should municipalities with the highest need struggle to create the conditions that are necessary to ensure housing gets built," the Province said in a press release on Monday.
"The collaborative approach toward housing targets is a critical step forward and will help ensure predictable increases in housing supply across the Lower Mainland," said Mayor of Vancouver Ken Sim. "This legislation goes a long way in addressing housing shortages in Vancouver and has my full support."
In March 2022, while David Eby was still serving as the Minister of Housing, he broached the idea of legislation that would allow the Province to override municipal governments in decisions regarding housing developments. At the moment, the new Housing Supply Act and its compliance options do not appear to have gone that far.
If passed, the Housing Supply Act could be enacted by mid-2023, the Province says.
The new Act prompted praise from the British Columbia Real Estate Association (BCREA), which referred to the measures as a "strong potential missing piece of the puzzle in crafting a better policy approach moving forward."
"Increased provincial leadership, guidance and resources around the municipal housing approvals process has been long-needed policy in BC, and this is a strong first step," said BCREA Senior Vice-President of Government Relations and Communications, Trevor Hargreaves.  
"It's reassuring to see a more hands-on approach by Premier Eby with today's announcement, demonstrating the desire and willingness to lead, and if necessary, exert stronger provincial leadership to municipalities around housing development across the province."
RELATED: Housing Supply Targets Unlikely to be Met Even with Best-Case Labour Scenarios: CMHC
Strata Property Act
The second piece of legislation is not entirely new, but rather an amendment to the Strata Property Act that would end all rental-restriction and age-restriction bylaws for strata properties (not including senior housing).
Currently, these restrictive bylaws are banned in some strata properties, and the amendment would extend the ban of renting out strata units to all strata properties. Age restrictions such as "19+ only" create situations where couples are forced to move as soon as they decide to have children, the Province said.
The Province tied this action to housing supply problems as well, estimating that BC currently has approximately 2,900 empty condominiums because there are strata rules preventing them from being rented out, while BC is facing a housing crisis defined by lack of supply, among other things. The Province says that this would also allow strata owners to rent out rooms within their condo.
"Rules that prevent families with children from living in a home or prevent people from renting the unit they own are no longer acceptable in our current housing market," said Murray Rankin, Attorney General and Minister Responsible for Housing. "These amendments will open up more rental and homeownership options for people at a time when they're needed the most."
If this amendment to the Strata Property Act is approved, it would take effect immediately, but bylaws restricting short-term rentals, such as AirBnBs, are unaffected.
Opposition Says It's Not Enough
Following Eby's announcement, BC Liberals Leader Kevin Falcon summarized the two new pieces of legislation as "too timid, too little, too bureaucratic." Falcon also said that Eby has been housing minister for over two years and has consistently talked about housing, but "instead of a canon I was expecting, today we got a pop-gun."
Both actions announced were previously listed in Eby's comprehensive housing platform, revealed in September. Eby has repeatedly said that housing would be one of this top priorities, and these actions follow through on that, for now, while British Columbians await the results.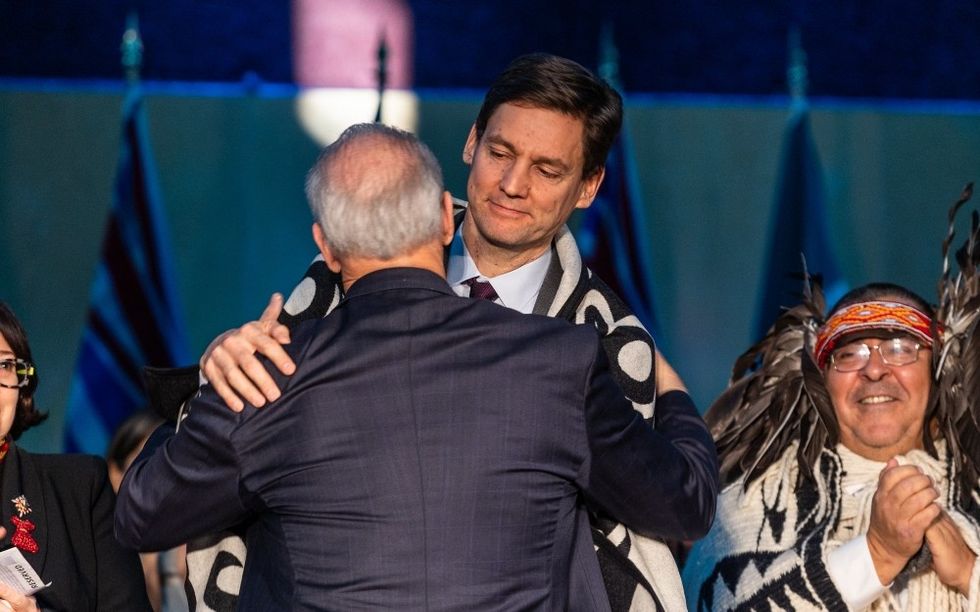 David Eby and John Horgan at Eby's swearing-in ceremony on Friday. (Province of British Columbia / Flickr)
These are just the most recent changes Eby has brought forth in recent days. After he was sworn in as the Province's 37th Premier on Friday at the Musqueam Community Centre, Eby announced cost-of-living credits for BC Hydro bills. He followed that up on Sunday with a series of actions to address public safety and crime, including actions addressing repeat offenders, creating new models of addiction care, opening new Indigenous Justice Centres, and more.
"British Columbia is a wonderful place to call home," Eby said at the swearing-in ceremony on Friday. "At the same time, people are feeling uncertain about the future and worried about their families. I'm proud of the work done by John Horgan and our government to put people first. And there's so much more to do. I'm ready to get to work with my team to deliver results that people will be able to see and feel in their lives and in their communities."
Renting