---
Temperatures aren't the only things heating up in Canada right now. As the buying frenzy continues to rage on, the national housing market has heated up further, spurring bidding wars beyond the country's most expensive markets, pushing prices even further and deteriorating affordability in the process.
As a result, homeownership costs exceeded buyers' income gains in Q1-2021, and the ratio of ownership costs to household income -- which constitutes RBC's affordability measure -- jumped 0.9 percentage points overall in Canada to 52.0%. According to RBC, a rise represents a deterioration in affordability.
RBC economist Robert Hogue says this marked the third-straight increase, further reversing the decline that occurred in the spring of 2020 when the federal government's financial support programs boosted household income.
In the first quarter, Hogue says RBC's aggregate measure hit a 31-year high -- and higher prices accounted entirely for the deterioration.
READ: Policymaker's New Measures Not Enough to Balance Canada's Housing Market: RBC
As demand for properties with more living space surges, single-family home prices continue to rise, ultimately impacting ownership costs.
"RBC's measure for single-detached homes surged 1.2 percentage points to 56.8% in the first quarter. Things got slightly better for condo apartments, however, with the measure easing 0.6 percentage points to 38.2%. This reflected condo price declines in several major markets," said Hogue.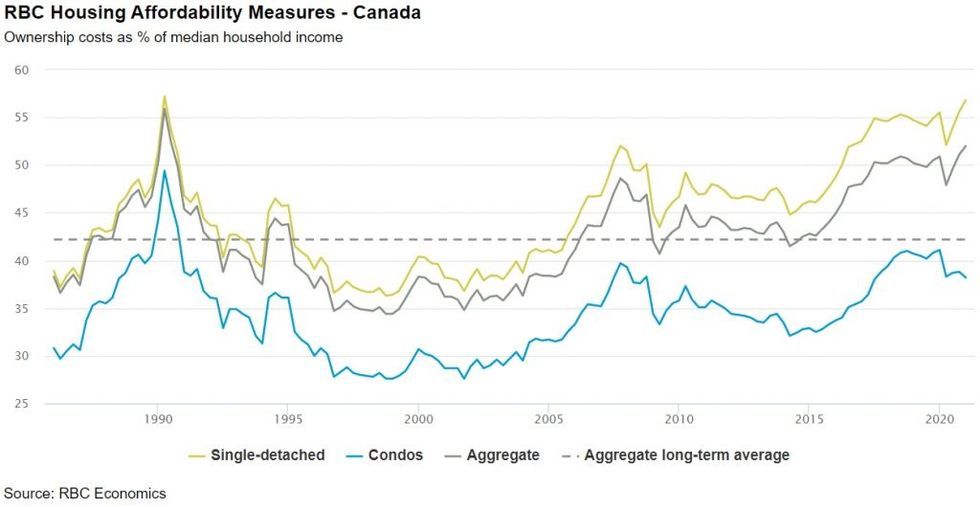 RBC
Unsurprisingly, since aggregate prices have risen broadly across the country, most major markets have seen affordability deteriorate. Hogue says the deterioration was the most significant in Vancouver (RBC's measure rising 1.9 percentage points), Halifax (up 1.7 percentage points), and Victoria (up 1.2 percentage points). Though, both Montreal (up 0.9 percentage points) and Toronto (up 0.6 percentage points) weren't far behind.
Hogue says the situation managed to improve in a few markets in the Prairies, including Calgary, Edmonton, Regina, and Saint John.
But it's not just major markets taking a hit. Following a substantial influx of buyers -- most of which came from big cities -- to smaller markets in Ontario, BC, Quebec, and parts of Atlantic Canada, property values have risen significantly, and large price gains have narrowed their affordability advantage over big cities.
Hogue says that since the pandemic, mortgage carrying costs have increased more as a share of household income in Windsor, Hamilton, London, and Niagara than in Vancouver, Ottawa, Montreal or Toronto.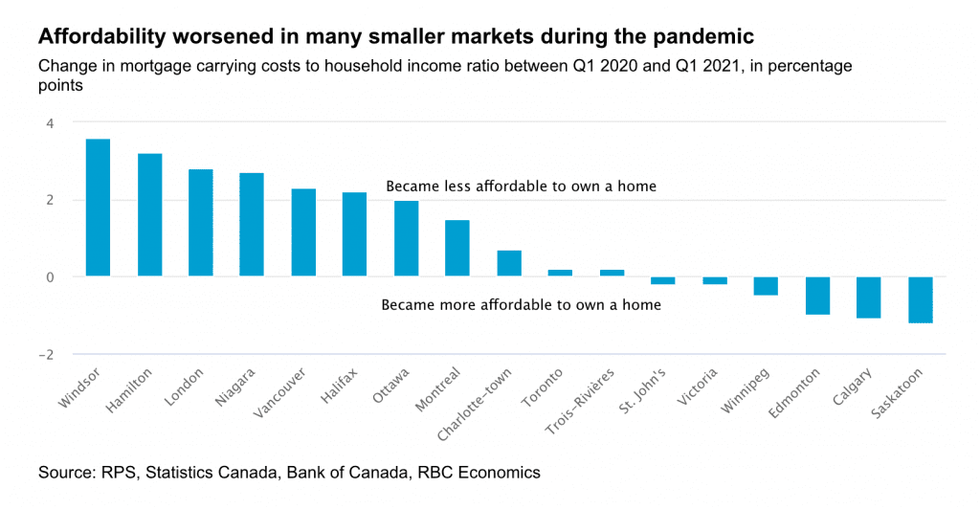 RBC
Despite the widespread deterioration felt over the last three quarters, Hogue says affordability remains within historical norms in some markets, including in the Prairie provinces and most of Atlantic Canada (except Halifax), where ownership costs continue to be lower than their long-run average as a share of household income.
"The picture is much more difficult in the country's most expensive markets though," said Hogue.
As such, average buyers must spend 74.9% of their income to cover ownership costs of a typical home in the Vancouver area, 67.7% in the Toronto area, and 55.8% in Victoria. Stress is also intensifying in Montreal (44.6%) and Ottawa (42.4%).
While Canada's housing market is starting to show signs of cooling, Hogue noted that it wouldn't be enough to rebalance most markets across the country considering how tight demand-supply conditions currently are.
"We expect prices will continue to rise in the near term, further eroding housing affordability. We also expect condo ownership costs will pick up after easing for the better part of the last year. Buyers have recently renewed their interest in condo apartments and inventories are now shrinking," said Hogue.
In other words, if you thought Canadian homebuyers were going to catch a break, think again.
Homes