---
While Canada's housing market remains undoubtedly active, there are signs of moderation for the second month in a row as demand, supply, and average prices all fell in May.
The declines come as offer fatigue, buyer frustration, and the urgency to buy a home amid the pandemic begun to fade, the Canadian Real Estate Association (CREA) said on Tuesday.
According to the latest CREA data, Canadian home sales fell 7.4% month-over-month in May, building on the 11% decline recorded in April, while the average selling price was down 1.1% from the previous month.
The national real estate association said despite the declines; activity nonetheless remains historically high. Still, in contrast to March's all-time record, it is now running closer to levels seen in the second half of 2020.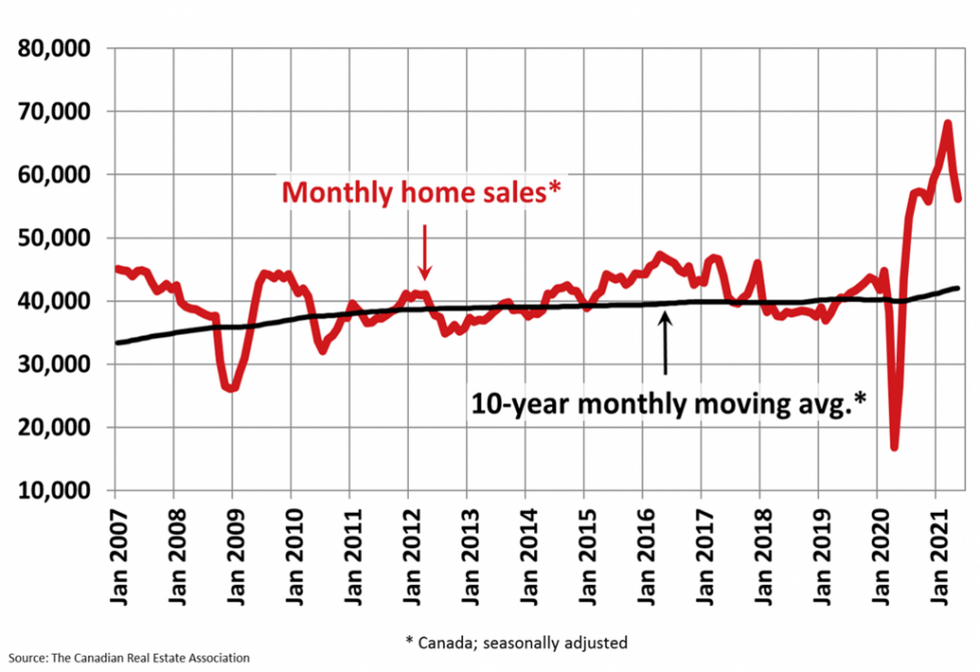 READ: Inclusionary Zoning Policy in Toronto Will Cost New Homeowners $65K More Per Unit
The month-over-month declines in sales activity were felt in close to 80% of all local markets, with a "mixed bag" of results and a slowdown in sales observed in most large markets across Canada.
CREA says with May activity still setting a record for the month and May 2020 sales having marked the worst May since the late 1990s, the actual (not seasonally adjusted) number of transactions this year represented a 103.6% increase on a year-over-year basis.
"While housing markets across Canada remain very active, we now have two months of moderating activity in the books, and that goes for demand, supply, and prices," Cliff Stevenson, chair of CREA, said in a statement.
CREA's latest data reveals the number of newly listed properties fell back by 6.4% from April to May, with new listings down in about 70% of all local markets in last month, showing that supply continues to tighten.
"More and more, there is anecdotal evidence of offer fatigue and frustration among buyers, and the urgency to lock down a place to ride out COVID would also be expected to fade at this point given where we are with the pandemic," he added.
Currently, provinces across Canada continue reopening following lengthy shutdowns and as COVID-19 vaccinations continue to ramp up, offering residents a glimmer of hope of life returning to normal later this year.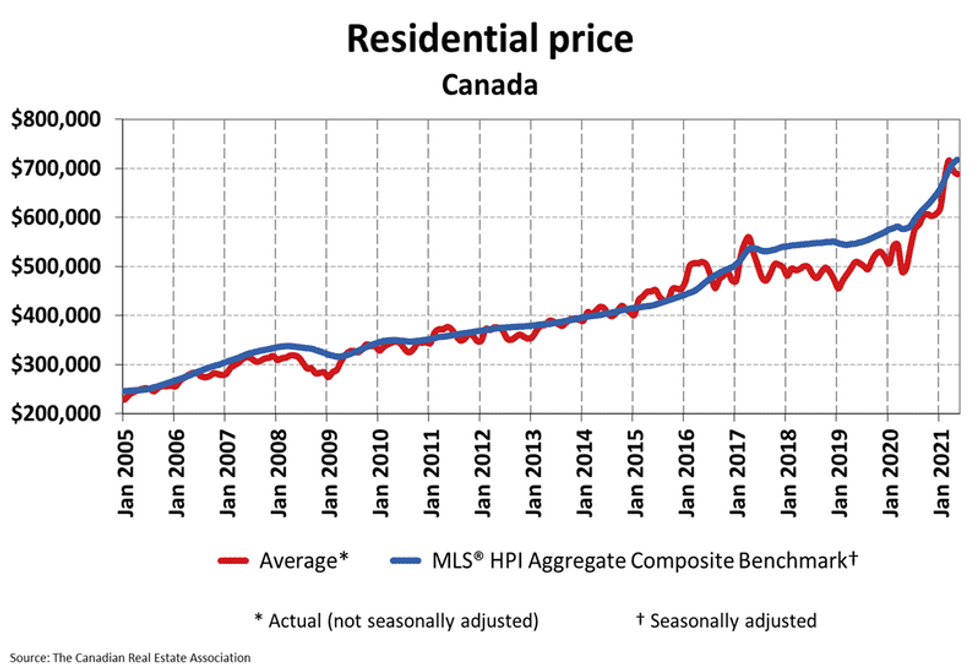 CREA May 2021
Amid this ease into normalcy, CREA says the national average price was a little over $688,000 in May, down 1.1% from April but up 38.4% from a year earlier. However, keep in mind that we're comparing to a time when home prices fell in April and May of last year amid first-wave COVID-19 shutdowns.
CREA's added that the Home Price Index (HPI) was up 24.4% on the year and up 1% from April -- a "noticeable deceleration." Most of the recent deceleration in month-over-month price growth has come from the single-family space compared to the more affordable townhome and apartment segments.
"With the synchronous cooling off of demand, supply, and prices in recent months, one could draw comparisons to last year's initial lockdowns, but this year feels different," said Shaun Cathcart, CREA's Senior Economist.
"Of course, the main difference this year is that the slowdown in the market was coincident not just with record COVID cases and fresh lockdowns but with the take up in the vaccination rate, so maybe we all finally have something else to think about other than housing and being stuck at home all the time," said Cathcart.
Cathcart says going forward, there's a "good probability" of an increase in resale markets we Canadians gain more certainty about their post-COVID lives.
"But for now at least, with the light at the end of the tunnel so close, it feels like housing may take a back seat to us all starting to get our lives back to normal this summer," says Cathcart.
Homes