---
Even before the onset of COVID, Canada's housing market was already hot due to a lack of supply. Factor in the pandemic and the repercussions that came with it -- historically low-interest rates and frenzied demand -- and we're left with a feverish housing market. Now, there's even less housing available, driving home prices to new heights.
Sure, policymakers have announced new measures to help ease the market, including tightening the mortgage stress test requirements, earmarking more funding for rental housing, and plans for a Canada-wide 1% tax on the value of vacant or underused residential properties owned by non-resident foreigners. Additionally, the once super-tight demand-supply conditions have improved slightly, with national resale activity easing in April and May. 
However, Robert Hogue, an economist for RBC says none of these factors, which he describes as a "partial fix" for Canada's housing market imbalance, will make "much difference" to those currently looking to buy amid the reoccurring bidding wars, exceptionally low inventories, and fast-rising home prices.
While Canada's housing market will have to adjust to the new policy changes in the coming months, Hogue says none will restore balance to the market in the near term -- offering little comfort to those hoping to enter the market any time soon.
READ: What Would a Canadian Real Estate Bubble Burst Actually Look Like?
Hogue believes, "without a major policy catalyst -- like BC's surprise foreign-buyer tax and Ontario's Fair Housing Plan were in 2016 and 2017, respectively -- other factors will drive the market rebalancing process."
Factors that could cool demand a "few degrees over time" include a modest, gradual rise in long-term interest rates, deteriorating affordability, mortgage stress test tightening, and the resumption of office work.
"High property values could also entice more owners to sell," said Hogue. However, he noted that these factors are unlikely to deliver quick results.
"And so long as demand-supply conditions remain tight, prices will escalate further. Rising prices, in fact, will be an integral part of the rebalancing process," said Hogue.
With any meaningful adjustments still months away, Hogue expects that resale activity will stay historically strong, albeit at more sustainable levels than what was experienced earlier this year, while prices will continue on their upward trajectory.
"We now expect Canadian home-resale activity to be up 16% this year over last -- a big upward revision from our January forecast for a 6.5% increase," said Hogue in a new economics report.
Now, Hogue projects that home resales in Canada will increase to 636,700 units in 2021 -- up from the 588,300 units projected in January.
"We expect the monthly pace to moderate over the remainder of this year and into 2022, producing a noticeable 21% annual drop next year to 505,300 units — still a solid level of resales historically," said Hogue.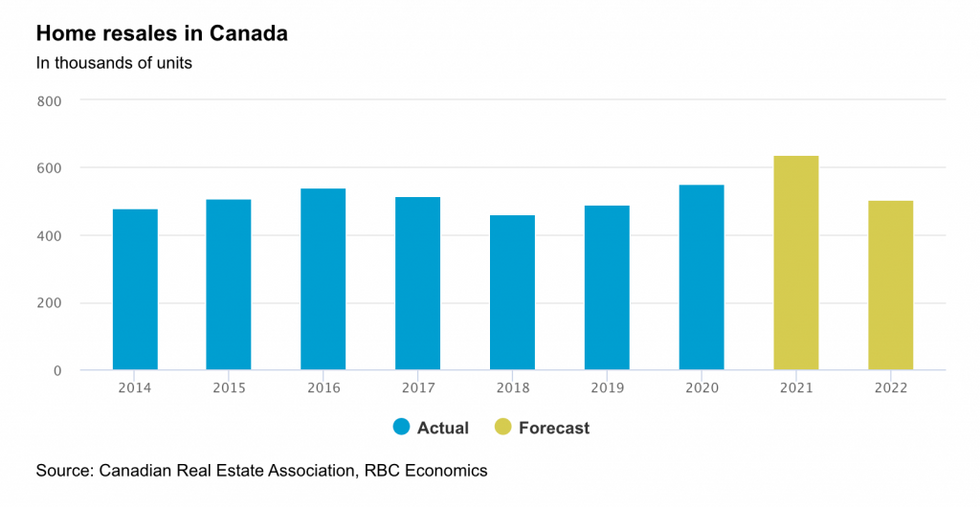 The economist noted that price increases will also be in the double-digits in 2021, although, a "much-desired soft landing" has been pushed into 2022.
The bank's 2021 home price forecast has now increased 13% to $697,400 for the national RPS HPI benchmark, from a gain of 8.4% previously. "We expect price pressure to start easing later this year, setting the stage for a more modest 3.3% appreciation in 2022," said Hogue.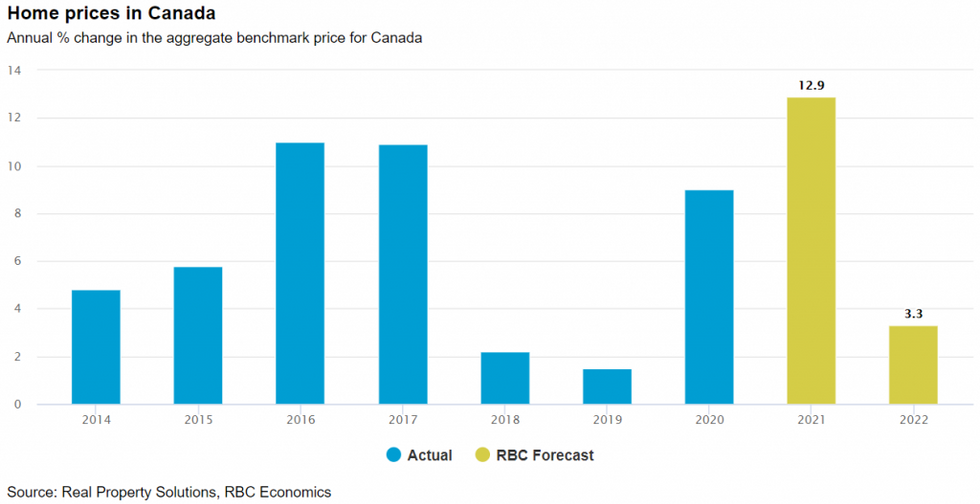 While Hogue expects prices will ease in 2022, he says the run-up in prices through the pandemic has already resulted in mortgage payments increasing $330 to $2,500 per month for a standard house in Canada (valued at $724,000 in April), further deteriorating affordability.
"Our projected price increase over the next 12 months (4.2%) would add another $150 per month, making ownership costs that much harder to handle. The down payment for that house has also gone up," said Hogue.
"Clearly, future buyers will face more intense affordability pressure across many parts of the country. Homeownership will become a more distant dream for an increasing number of Canadians. And a heavier debt load will come to those who will realize it," said Hogue.
Real Estate News