---
For the second month in a row, major Canadian real estate markets returned to lower, more sustainable activity levels. However, despite this, average housing prices continued to climb.
In May, major markets saw resale activity decline broadly from April between 2-18%, while home prices surged more than 23% annually in some regions. "Those looking for signs of easing price pressure will be disappointed," said RBC economist Robert Hogue in a recent housing market analysis.
For the most part, Hogue says low seller turnout was the main cause for the moderation in May, not cooling demand. With demand-supply conditions generally tight, the market sustained further price acceleration.
The MLS Home Price Index surged more than 23% year-over-year in the Fraser Valley in May, while gains in the Toronto area (nearly 19% year-over-year) and Vancouver area (14%) weren't far behind. Hogue noted that even Calgary saw its index jump double-digits for the first time in more than six years.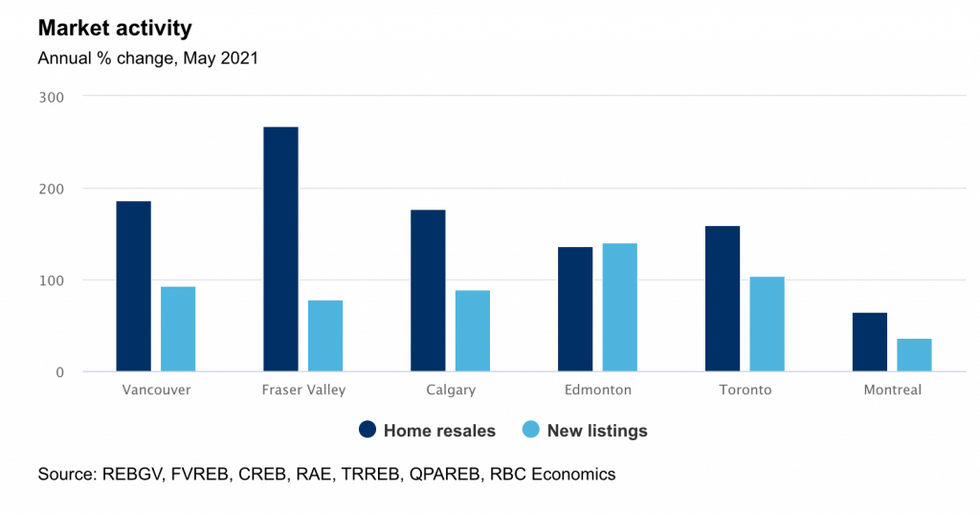 READ: Toronto Housing Market Activity Continues to Cool, But Prices Hit All-Time High
Here in Toronto, May marked the second-straight month in which activity moderated in the area as home resales fell nearly 9% from April. However, Hogue says this shouldn't be mistaken as a sign of rapid cooling demand, as activity is still far above pre-pandemic levels.
Last month also saw listings down 17% month-over-month, which "likely" accounts for much of the moderation.
"Bidding wars, while perhaps involving fewer participants, were still rampant, keeping sellers in a very strong bargaining position. In short, conditions for strong price gains remained firmly in place," said Hogue.
The region's MLS HPI accelerated to 18.8% year-over-year, the strongest rate of increase since mid-2017. Single-family homes still attract most of the heat, the segment's MLS HPI was up 25.1% year-over-year, while renewed demand for condo apartments is increasingly driving up prices in that category as they were up 6.6% year-over-year.
In Montreal, resale activity remained mostly unchanged, declining just 7% month-over-month, as new listings also declined at a similar rate. Demand-supply conditions continued to favour sellers, with median prices up more than 30% year-over-year in virtually all segments and parts of the region.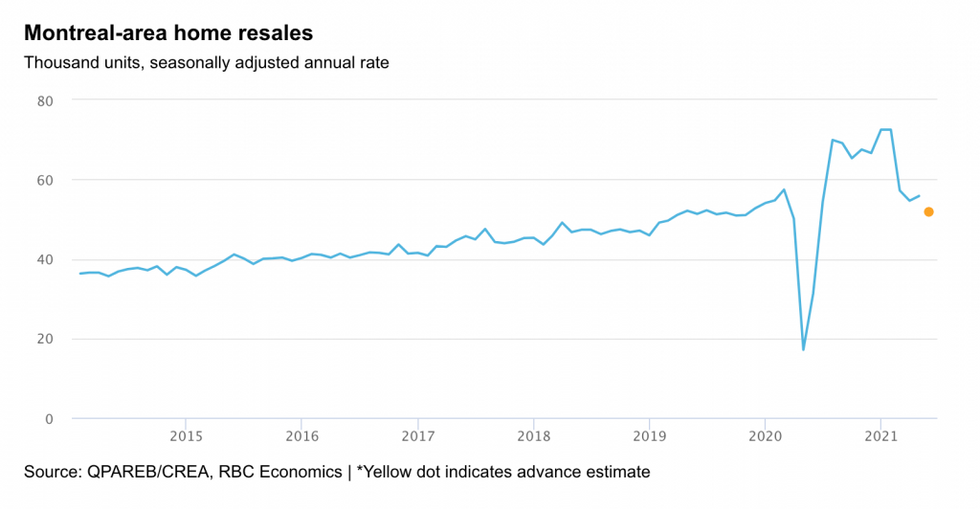 Looking to the west, the stage is being set for rebalancing the market in Vancouver. Home resales fell 16% month-over-month, outpacing the 9% decline in new listings.
"This brought the sales-to-new listings ratio -- a reliable gauge of demand-supply conditions -- closer to a level that historically has been associated with price stability," said Hogue.
For now, sellers are still in the driver's seat, with the Vancouver-area MLS HPI up 14% year-over-year last month, the strongest pace in three years. The index for single-family homes increased a strong 22.8%, or nearly three times the rate of 7.9% for condo apartments, said Hogue.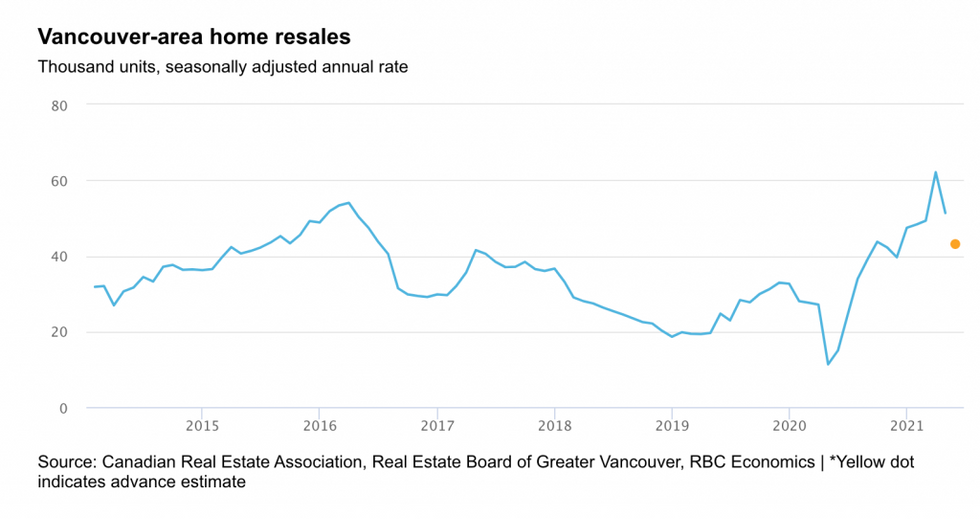 As for the prairies, Calgary's market activity eased in May, with home resales falling 18% month-over-month, reversing a small part of the "historic advances" since last summer, with activity remaining historically strong in the area.
Hogue noted that demand-supply conditions tightened further due to an even larger drop in new listings and "raised the heat on prices." Calgary's MLS HPI rose 10.6% year-over-year in May, the strongest rate of increase in more than six years.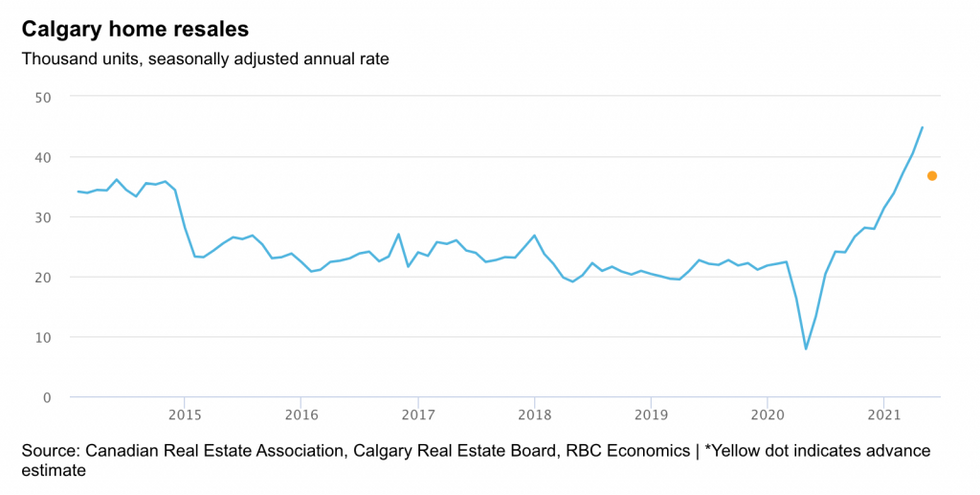 Looking ahead, Hogue says he expects that upward price pressure will continue nationwide in the near term and that further moderation in resale activity will not be enough to rebalance markets, especially if a lack of homes for sale causes it.
"We'll also need more sellers to step in. And higher prices could well be the biggest catalyst for that," said Hogue.
Homes