Just twelve months ago, real estate activity across the country came to a near standstill as the initial impacts of the pandemic took hold of the housing market, bringing sales activity and new listings down dramatically.
---
A year later, this drop in activity has distorted how Canada's housing market performed in April, with typically unheard-of increases in home resales and new listings, including some major markets seeing quadruple the sales numbers compared to a year ago. Calgary's resales were up 462% year-over-year in April, while new listings were up 278% -- serving as a stark reminder of how far the housing market has come since the start of the pandemic.
Though, when you look at the month-over-month (seasonally adjusted) data, the numbers are less staggering -- and there are now signs of moderation across several housing markets in April.
"After soaring to outer space in prior months, home resales came down to a lower orbit -- still generally strong but less excessively so -- in Vancouver, Toronto, and Ottawa," said RBC economist, Robert Hogue.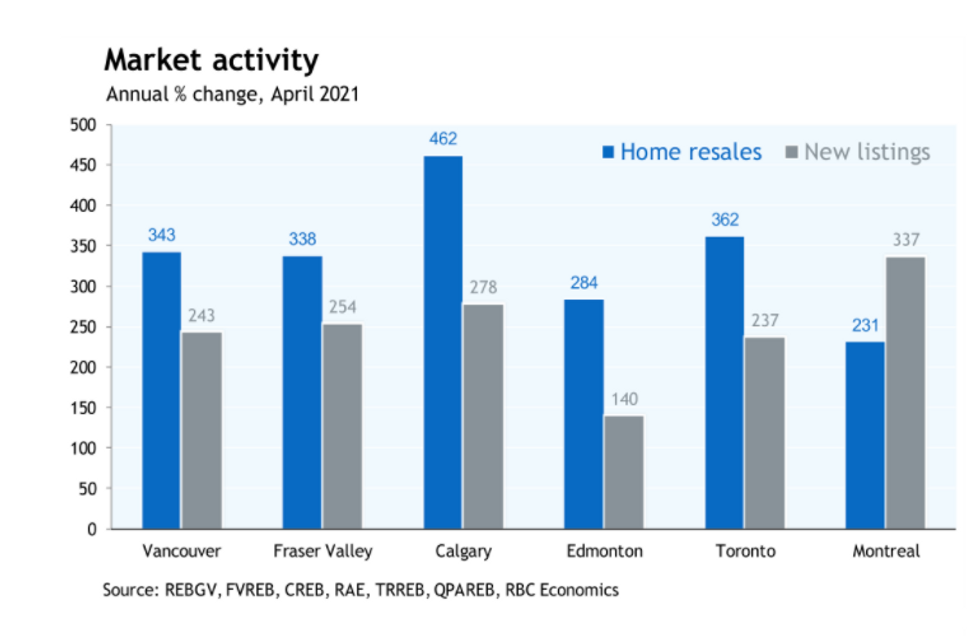 RBC
Hogue noted that while Montreal lost "some altitude" in previous months, the city has since mainly remained in a holding pattern, with home resales rising 2.1% month-over-month (seasonally adjusted) — following a modest 2.9% month-over-month decline in March.
Activity in Calgary and Edmonton, on the other hand, has yet to change trajectory. Calgary's market got hotter last month, and Hogue estimates home resales shot up more than 10% from March on a seasonally adjusted basis, setting a new all-time record. In Edmonton, Hogue says buyers took a breather in April, as re-sales slipped approximately 2% from March (seasonally adjusted) based on RBC's calculation.
"Both still trended higher last month despite the third wave of the pandemic reaching worrisome levels in Alberta," said Hogue.
Regardless if a market showed signs of moderating or not, Hogue said all major Canadian markets are still heavily favouring sellers as inventory levels generally remain low. Though, some markets did see slight increases. The lack of inventory has resulted in fewer options buyers and fuelled widespread bidding wars. Because of this, Hogue said it isn't a surprise that home prices showed zero signs of moderating in April.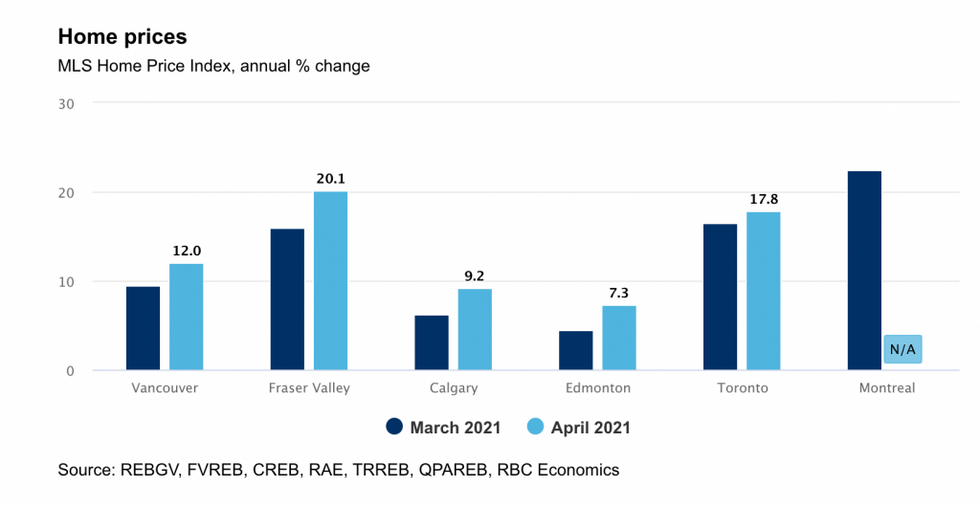 RBC
"Quite the contrary, they escalated at a faster rate in April in all major markets, reaching new record highs in most markets (except in Alberta)," said Hogue.
While single-family homes continue to be the hottest segment across the country price-wise, Hogue says condo prices have gathered steam in recent months.
"We expect this trend to continue with a sharp deterioration in single-family home affordability (in both large and smaller markets) driving more buyers toward condos," said Hogue.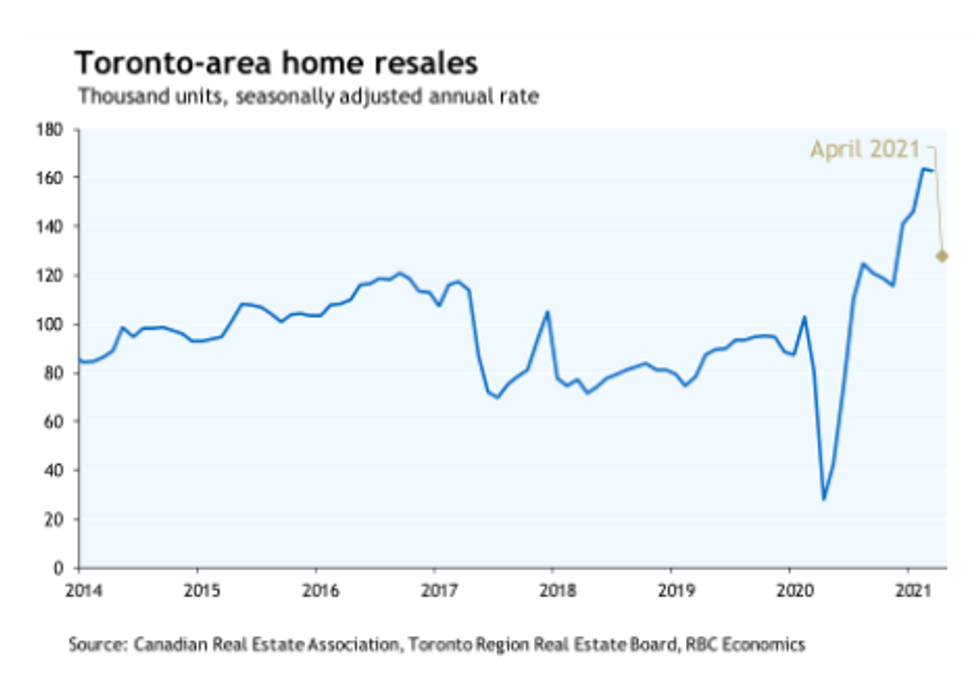 RBC
In terms of moderation, Toronto home resales fell 20% month-over-month in April, providing the first sign that the furious pace of the last four months is finally slowing down.
"No doubt the spike in prices — the Toronto area's composite benchmark is up more than $120,000, or nearly 14%, since November — has taken many potential buyers out of contention. Yet, higher prices haven't opened the floodgates for sellers," said Hogue.
Despite rising for three straight months, for-sale inventories still sit at historically low levels, so tight demand-supply conditions continue to apply intense upward price pressure.
Case in point: the area's MLS Home Price Index climbed to a four-year high of 17.8% year-over-year in April, while single-family homes (up 24.5%) accounted for most of the increase. There was also further evidence that the condo segment is on the mend, with prices accelerating for the second consecutive month (up 4.3%).
Hogue noted that suburban neighbourhoods being the hottest spots in the region through the current boom, continued in April. The MLS HPI was up 33.5% year-over-year in Durham Region and 24.5% in Halton Region -- this is far stronger than the 9.1% rise recorded in Toronto -- which Hogue said was held back by the earlier softness in the downtown condo segment.
Vancouver's market also saw activity moderation in April, with home resales down more than 20% from an all-time high in March. Though, Hogue said this still left activity 56% above the 10-year average for the month, and the market continued to be "exceptionally strong."
For now, sellers in Vancouver remain in command and are keeping prices on an accelerating path. Gains are the strongest for single-family homes (up 20.9% year-over-year), while condo prices are up 5.9% year-over-year.
Homes