A semi-detached home in Toronto's coveted Roncesvalles neighbourhood that received multiple offers -- including two bully offers -- sold for more than $650,000 above asking in just eight hours is a sign of the sky-rocketing prices that sellers are getting for homes in Toronto's overheating market.
---
Located at 134 Pearson Avenue, the Roncesvalles home was originally listed for $1,599,000 and sold for an impressive $2,250,000 after being on the market for just one day. (Well, technically just 1/3 of a day.)
The 2-storey home exudes heritage, character, and charm and as soon as you step inside you'll swoon over the original wainscotting, coffered ceilings, two fireplaces, and stained glass windows.
Perfect for a family, the home has four oversized bedrooms and two bathrooms -- one even has an original clawfoot tub. There's also a fully finished basement with a separate entrance that could serve as a potential nanny suite. Beyond the home, you'll find a large, freshly landscaped backyard with parking for two vehicles.
134 Pearson Avenue/Nested Real Estate
Sales representatives Pavlena Brown and Kathy Essery of Nested Real Estate said their clients bought the home only two years ago but decided to move further west to be closer to family.
Given the current state of Toronto's hot sellers' market, they knew it was the ideal time for this Roncesvalles gem to hit the market.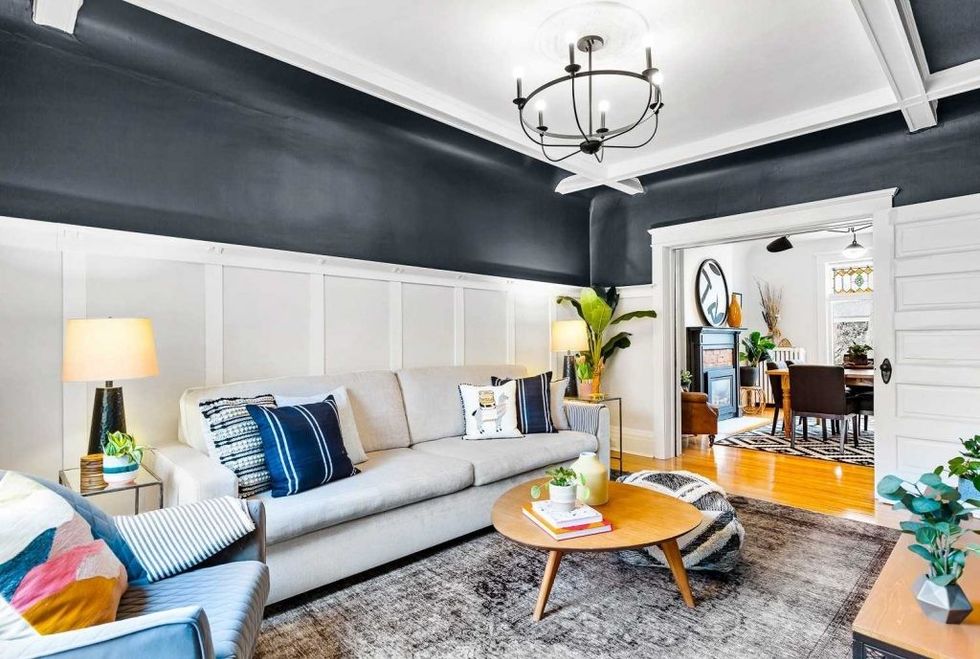 134 Pearson Avenue/Nested Real Estate
To get the home ready to hit the market, the Nested team gave the listing a complete overhaul, from painting and staging rooms throughout the home.
"A palette of striking and bold colours was used to create a sharp contrast against the heritage style features throughout. This created instant personality and striking photos that pop," said the Nested team, adding, "we knew the drama would make this house really stand out online⁠.⁠"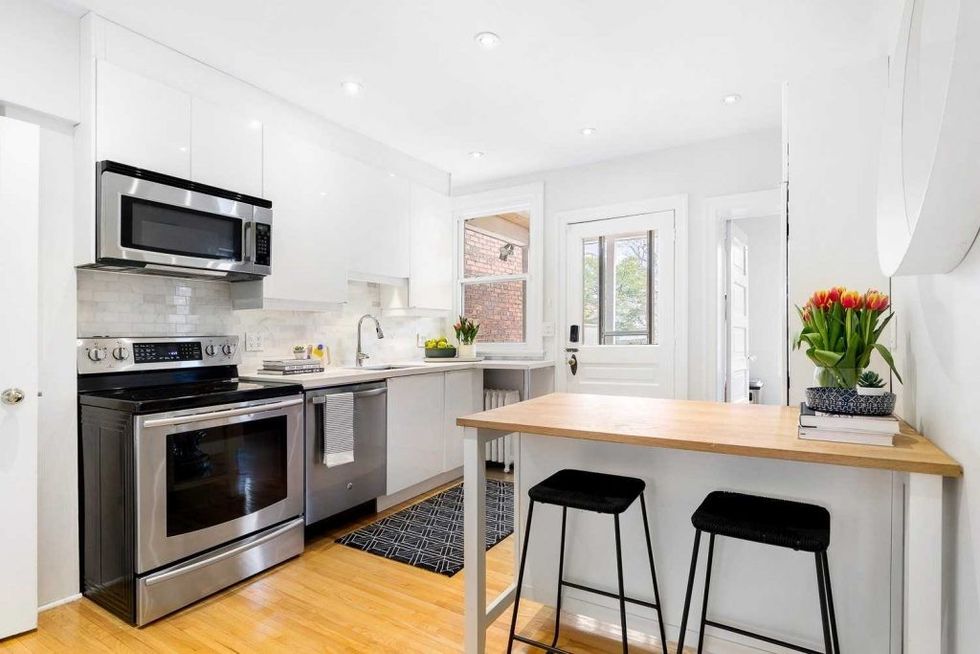 134 Pearson Avenue/Nested Real Estate
According to the Nested team, thanks to a "stand-out, multi-layer online strategy in place, incredible property website, and detailed MLS package, the sale results were outrageous."
As a result, the home sold in just eight hours, received seven buyer and agent showings within six hours of listing⁠, received two bully offers, and sold for hundreds of thousands over-asking⁠.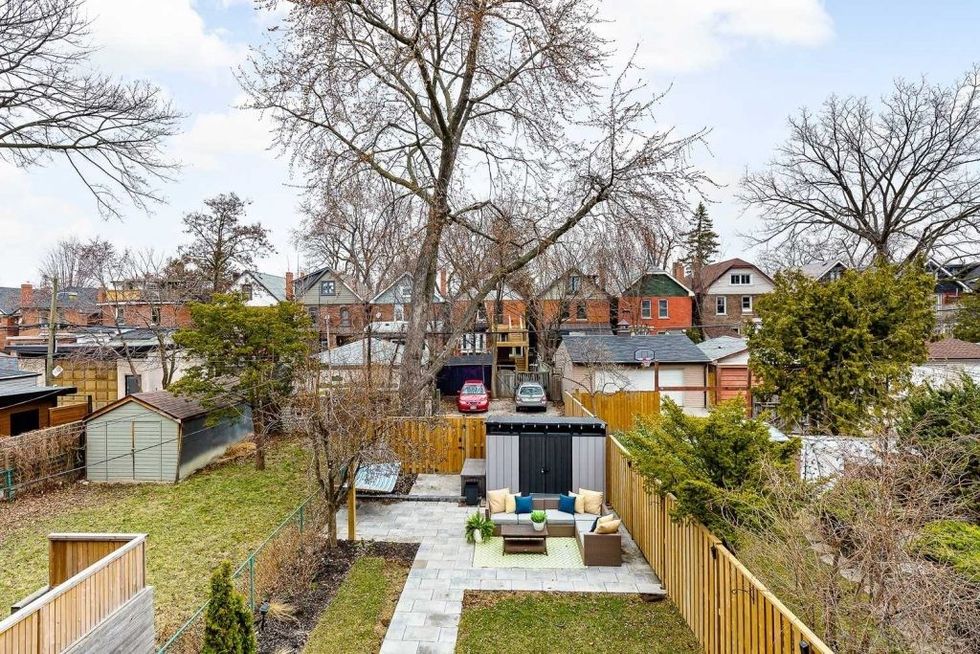 134 Pearson Avenue/Nested Real Estate
Specs:
Address: 134 Pearson Avenue
Type: Semi-detached
Style: 2-storey
Beds: 4+1
Baths: 2
Lot size: 25.33 x 136.00-feet
Size: 1,500-2,000-sq.ft
Listed: $1,599,000
Went for: $2,250,000
Taxes: $7,041 /yr
Sadly, sales like 134 Pearson Avenue shouldn't be all that surprising anymore, as buyers are in bidding wars all over the Greater Toronto Area (GTA), snapping up homes almost as soon as they hit the market -- especially in the Roncesvalles neighbourhood.
Just last month, a detached Roncesvalles home sold for nearly 50% over asking on its first day on the market. Located at 80 Fermanagh Avenue in the coveted west end neighbourhood, the home was listed for $1,498,000 and sold for a cool $2,200,000. (Yes, that's a $702,000 difference or 46.8% over list).
While the home is easy on the eyes, family-friendly, and functional, selling 46.8% over listed is still rare to see at this price point, and just serves as a reminder of the current competition in Toronto's real estate scene.
And, unfortunately, pricing houses low to create competitive bidding wars is the norm and the reality that buyers are currently facing.
This comes as Toronto's housing market was rated as highly vulnerable to instability, according to The Canadian Mortgage and Housing Corporation's (CMHC) latest housing market assessment report.
"While the pandemic has impacted lower wage paying sectors and the rental market, homeownership demand has continued to grow and defy expectations," says Dana Senagama, Senior Specialist, Market Insights, in regards to Toronto's housing market.
"With evidence of price acceleration and excess inventories detected simultaneously, our overall assessment moved from a moderate to a high degree of vulnerability."
According to the report, the country as a whole remains at moderate risk of a correction, while Montreal and Vancouver are also at moderate risk.
This comes after prices already climbed between 10-20% in a variety of cities across Ontario in February, as working from home continues to make it easier for those with larger incomes to relocate to smaller towns.
And with the latest local housing stats to be released this week, we can only imagine these numbers will get higher.
As such, a correction could be coming, but until then, FOMO rules the (1/3 of a) day.
Sold