The impacts of the ongoing pandemic continued to influence the housing market conditions in Canada in the fourth quarter of 2020, as sales remained elevated relative to new listings in several regions. As a result, there is now evidence of overheating at the national level.
---
This comes as sustained price growth has contributed to continued price acceleration and overvaluation imbalances in some Canadian markets, particularly in Eastern Canada, according to a new assessment from the Canada Mortgage and Housing Corporation (CMHC).
That assessment assigns low, moderate or high vulnerability ratings every quarter to major Canadian cities based on four factors -- overheating, price acceleration, overvaluation and excess inventories.
According to CMHC, there are a number of large cities now experiencing significant price increases and overvaluation, while more rural areas are starting to heat up the national outlook.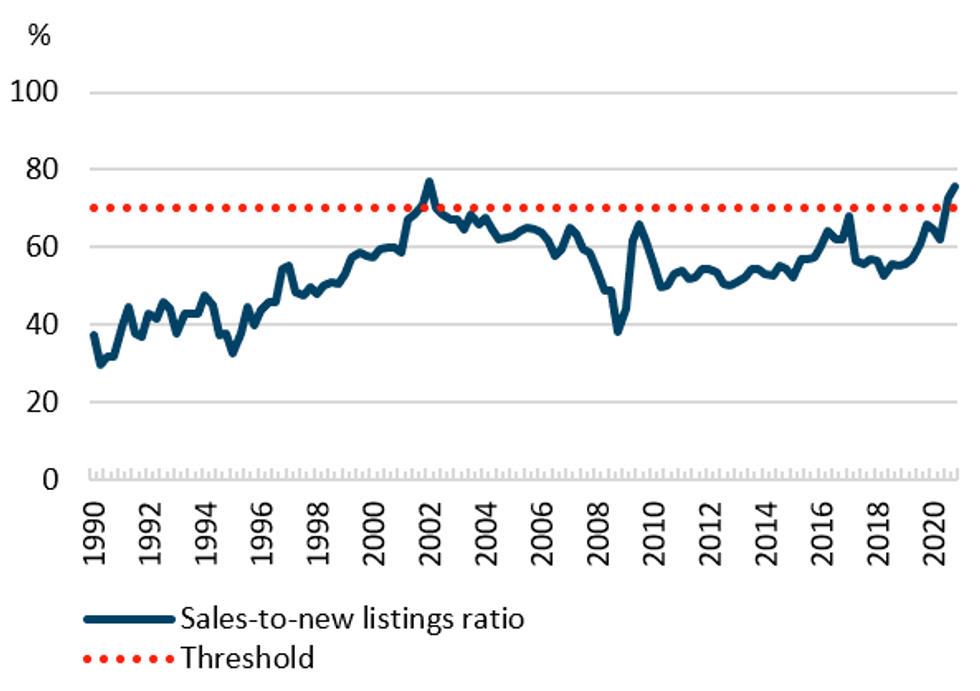 Evidence of overheating in Canada/CMHC
CMHC says strong housing market activity and price appreciation contributed to the emergence of new imbalances in some markets, or at times, contributed to the worsening of existing imbalances in already vulnerable markets.
Because of this, a number of metropolitan centres are showing signs of not only overheating but also price acceleration and overvaluation, leading to an increase in the Census Metropolitan Areas (CMAs) exhibiting either a moderate or high degree of overall vulnerability in Q4-2020.
For Canada as a whole, which includes more regions than the 15 metropolitan areas covered in CMHC's report, the assessment of a moderate degree of overall vulnerability is maintained.
Among the three largest metropolitan areas, the degree of overall vulnerability of the housing market in Toronto moved to high while it remained moderate in Montréal and Vancouver.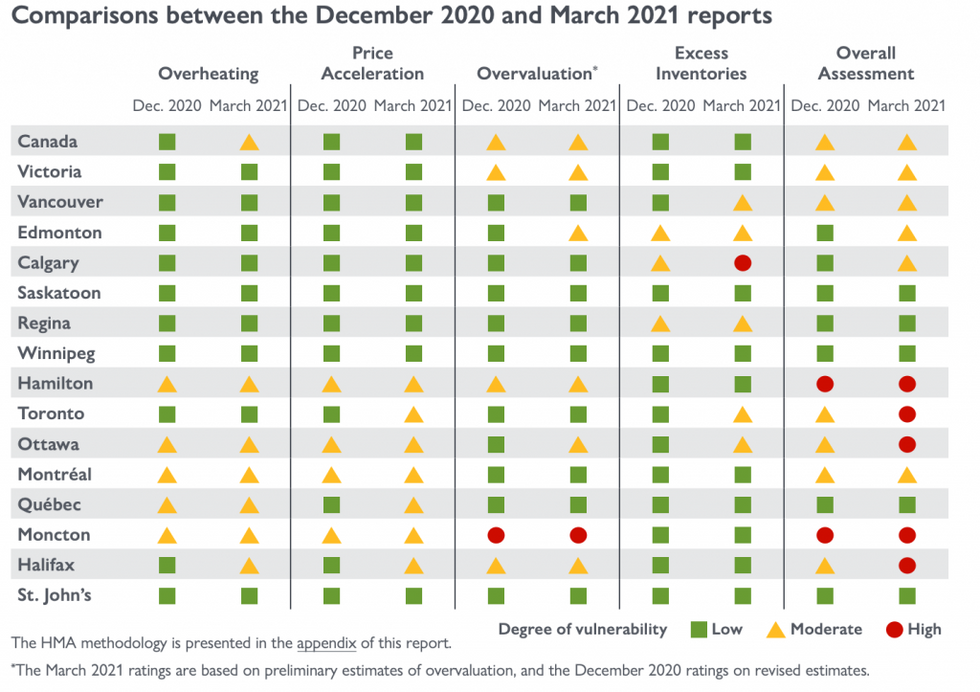 The cities to see the overall assessment shift to high include Hamilton, Toronto, Ottawa, Moncton, and St. John's, while those with a moderate rating include Victoria, Vancouver, Edmonton, Calgary, and Montréal.
Saskatoon, Regina, Winnipeg, and St. John's still hold onto the low degrees of vulnerability they previously experienced in December 2020.
In Canada's largest city, despite having a high overall assessment, CMHC says there is low evidence of overheating, though price acceleration is detected. At the same time, there is low evidence of overvaluation, but CMHC still detected moderate evidence of excess inventories in the Toronto CMA.
"While the pandemic has impacted lower wage paying sectors and the rental market, homeownership demand has continued to grow and defy expectations," says Dana Senagama, Senior Specialist, Market Insights, in regards to Toronto's housing market.
"With evidence of price acceleration and excess inventories detected simultaneously, our overall assessment moved from a moderate to a high degree of vulnerability."
CMHC's report comes on the heels of RBC economist Robert Hogue also calling Canada's housing market a "national concern" that calls for a policy response.
Hogue says policymakers should step in and do something because an overheated housing market threatens to "destabilize the economy down the road if or when a correction occurs, with possible heavy costs for governments."
"The threat is particularly potent because excessively high price expectations are widespread," says Hogue, adding that Canada hasn't had a market overheating of this scope since the late 1980s.
The Bank of Canada has already acknowledged there are early signs of overheating in the national housing market, though despite these signs there are so far no plans for policymakers to intervene and raise interest rates until the economy and employment are back on track following the declines caused by COVID.
At this time, the Bank says the situation should be monitored "very closely".
Homes