Real Estate News
February Another Record-Breaking Month for National Home Sales
The trend of robust activity in Canada's housing market continued in February as national home sales set yet another record, though there are two key factors that could further complicate activity: COVID-19 and a lack of supply.
On Monday, the Canadian Real Estate Association (CREA) said national home sales recorded over Canadian MLS Systems climbed 6.6% between January and February — and up 39.2% compared with a year ago — to set another new all-time record.
CREA said last month's gains were in line with the heightened activity from last summer, and set a new February record by a considerable margin, as over 13,000 homes exchanged hands.
The month-over-month increase in national sales activity from January to February was led by the Greater Toronto Area (GTA) and a number of other Ontario markets, along with Calgary and a number of markets in BC. However, Montreal saw a considerable decline in sales last month, as new listings started off 2021 at lower levels compared to those recorded in the second half of last year.
Though, for the eighth straight month, sales activity was up in the vast majority of Canadian housing markets compared to the same month the previous year. Among the eight markets that posted year-over-year sales declines last month, CREA said extremely limited supply is the most likely explanation.
"At this point everyone knows how far the current monthly sales numbers are from historical norms, and that they have been setting record after record for eight months now, so this should not be a surprise like the weak numbers posted last spring were," said Costa Poulopoulos, Chair of CREA.
Poulopoulos also highlighted the aforementioned challenges looming over Canada's housing market – COVID-19 and a lack of supply.
"With luck, potential sellers will feel more comfortable listing their homes in the short-term," said Poulopoulos, which could help to improve inventory numbers.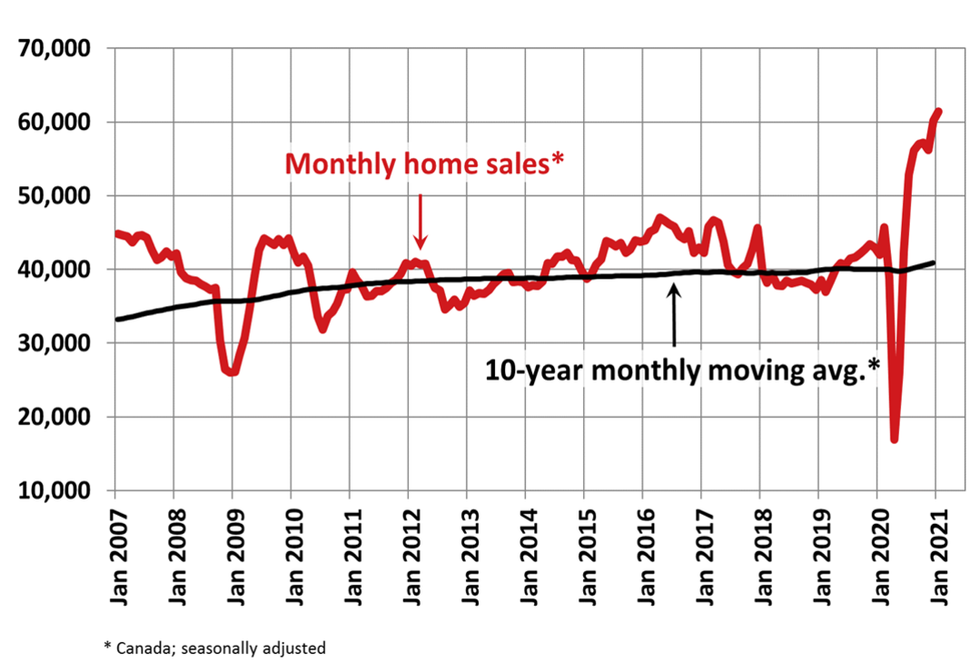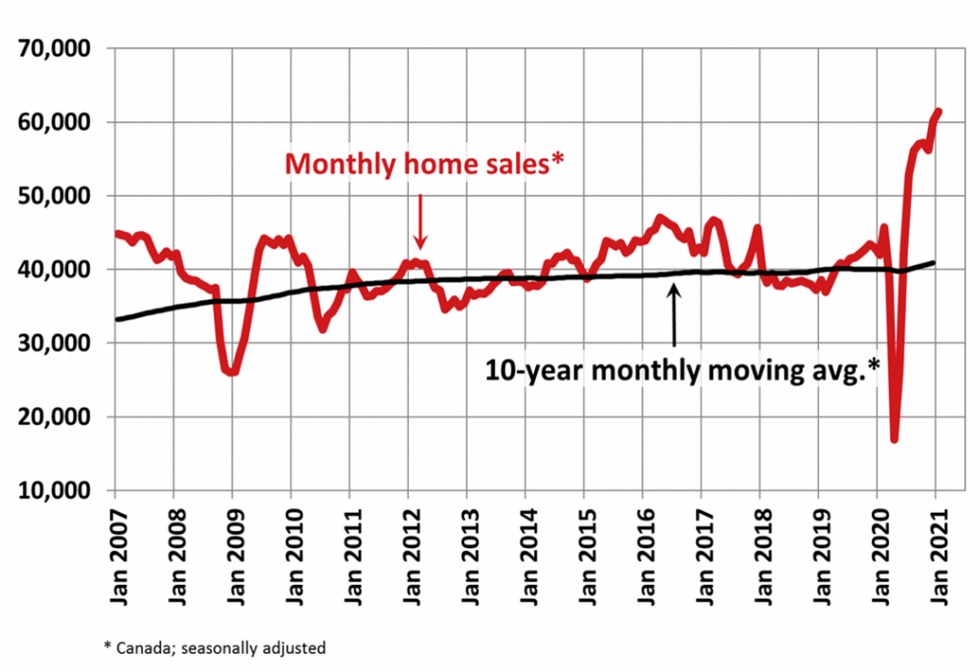 Meanwhile, the national average home price in February was a record $678,091, up 25% from a year earlier.
What's more, while new listings are still down, in February, the number of newly listed homes still managed to rebound by 15.7%, recovering all the ground lost to the drop recorded in January.
With sales-to-new listings ratios historically elevated at the moment, which suggests almost everything that becomes available is selling, CREA said it was not surprising that many of the markets where new supply bounced back in February were the same markets where sales increased that month.
With the rebound in new supply outpacing the gain in sales in February, the national sales-to-new listings ratio came off the boil slightly to reach 84% compared to the record 91.2% posted in January.
That said, CREA said the February reading came in as the second-highest on record. The long-term average for the national sales-to-new listings ratio is 54.4%.
"We are right at the start of the first undisturbed (by policy or lockdown) spring housing market in years and we also have the most extreme demand-supply imbalance ever by a large margin. So, the question is, what is going on?" said Shaun Cathcart, CREA's Senior Economist.
"I think part of it is demand that built up as a result of regulatory changes in the years leading up to COVID that is playing out now. Part of it is demand that is being pulled forward from the future either in search of a home base to ride out the pandemic, or to lock down a purchase amid rapidly rising prices while securing a record low mortgage rate," continued Cathcart.
Though, Cathcart added that "perhaps the biggest factor here is the emergence of existing owners with major equity, prompted by the great shake-up that is COVID-19 to pull up stakes and move. First-time buyers, which we have a lot of, are now having to compete with that as well."
This comes as CREA has revised its 2021 forecast, with the national housing association predicting around 700,000 home sales, compared with 551,262 in 2020.
Strong demand notwithstanding, sales may be hard-pressed to maintain current activity levels in the traditionally busier spring months ahead if there's not a surge of much-needed new supply.
Though, CREA said this could change as current COVID restrictions are increasingly eased and the weather starts to improve.