Toronto
Toronto
The Secret War For Weed Waged In Toronto That Led To Marijuana's Legalization
Soon people throughout Canada will be able to smoke recreational marijuana.
To get to this point however, Cannabis advocates had to fight the war for weed. There are several Toronto venues where this war has been waged. So maybe it's time we commemorate them.
Historical markers need to be put up now, not later, lest we forget the contribution that regular Canadians played in changing a 100-year-old failed policy.
As someone with a strong interest in pot past, it's already challenging enough to learn about Toronto's cannabis culture dating back 50 years or more.
If we wait any longer it'll be forgotten.
Unbeknownst to most passersby, Toronto venues from the 1960s have played a significant role in fostering the culture of cannabis. These places have engaged in open acts of peaceful civil disobedience against the war on marijuana, which pushed Canada towards legalization.
For the record, I've held court in two of the venues as a leading advocate for cannabis reform.
In 2011, I was chilling with friends at a bring-your-own-bud lounge when my lawyer called to say we had successfully struck down Canada's marijuana laws and the cannabis that I was using illegally was suddenly legal by court order.
My legs gave out and I had to use a wall to hold myself up!
As a best selling author (Marijuana Smoker's Guidebook) and a weekly webcaster (The Mernahuana Zone), I've had an opportunity to sign books in these venues and interview people who were frequenting venues I wasn't even alive to experience.
Most recently, I led a Jane's Walk to generate interest in my latest advocacy plan: historical markers to commemorate the war on cannabis.
Toronto has an epic history of Cannabis upon which historical markers could shed light. It's not a far-fetched idea, as our city has some very interesting markers, such as the one recognizing the Christie Pit Riot.
Here are four Toronto spots worthy of historical recognition in their secret war for weed:
1. Rochdale College
Rochdale College opened in 1968. According to the Metro Toronto Police Services, it was the North American distribution point for hashish and cannabis.
Much of the focus on Rochdale is the free university, co-operative function, and the huge influx of crashers. The truth is, Rochdale had no focus: it had several different groups trying to create their own jam.
One of those groups was the people exploring cannabis culture — affectionately known as 'potheads.'
Residents created a legitimate cannabis culture in Rochdale by having fun with grass's creativity. Evidence suggests inhaling a joint was akin to drinking a cup of coffee.
Having had the pleasure of meeting with several residents, I learned first-hand of their adventures in cannabis.
They would set up a hotbox tent on the roof by throwing cannabis on a hibachi, getting a good cloud going and then charging people a fee to enter and inhale.
One Rochdalian says that the marijuana coverage in the media was a message, "Calling all kids! Buy pot here!"
To accept Cannabis like coffee and to create a counterculture around it, they had to accept the retailers.
Dealers were well protected from the police because Rochdale was built like a fortress, making it challenging to raid. When police made their Rochdale raids — and they did frequently — a resident would notify in-house weed retailers by pulling the fire alarm. (A security feature discovered the first weekend it opened, when the fire alarms went off and police and fire responded.)
Police claimed that 1000 toilets would flush the moment they walked in the doors of Rochdale. They could never find the large sums they believed were housed there, claiming that dealers were flushing their stash.
Raids became so frequent that cannabis enthusiasts hung a massive banner in the entranceway welcoming the 5-0. The alarms would go off and residents would engage in peaceful civil disobedience by throwing confetti and streamers, and blowing whistles to create a pot party vibe.
2. The Head Shop
Canada's first retailer catering to cannabis enthusiasts was known as Gandalf's. It was located at 70 Yorkville Avenue. Six months later it reopened at 98 Scollard Street, under the name The Head Shop, which was the registered company name for Gandalf's.
Owner Laurence Cherniak, author of The Great Books Of Hashish, was "taking dangerous chances all the way back to 1965," when he opened the shop. Instruments used to inhale cannabis were highly illegal and people who openly sold or had them in their possession faced serious consequences.
(However, the CBC has a two and half-minute interview clip of Cherniak proclaiming that his water pipes were not for tobacco use but for marijuana or hashish.)
Cherniak demonstrated that there was a lot more to sell than just cannabis to enthusiasts and his business smarts caused quite a stir.
3. Yorkville
Toronto's original cannabis culture existed in two locations: Rochdale College and Yorkville. Yorkville was known for its folk-rock scene venues, but it seems to have forgotten its counterculture cannabis roots.
The prevalence of pot smoking youth had Canadian Addiction Mental Health researchers hanging out in Yorkville and talking to youth about their marijuana use.
CAMH also rented a house in the area to conduct research on men and women smoking cannabis.
The organization had two sets of female volunteers who agreed to stay in the house for 90 days — way before this idea would be a reality series. During this time, one group of volunteers inhaled cannabis and another group did not.
To judge cannabis' impact on productivity, the volunteers could earn money by making beaded belts. Completed belts earned them funds, which they could use to buy records and munchie items.
Unfortunately, prohibition has wiped out much of Cannabis history from mainstream memory. Many people will talk about the folk-rock scene, but cannabis played a role here too.
4. Hotbox Café
Kensington Market has a hippie, vintage, second-hand vibe, with the smell of marijuana in the air. It's the perfect location for bring-your-own-bud venue Hotbox Café.
The enterprising owner, Abi Roach, took advantage of a 2003 legal loophole that prevented Toronto Police Service from laying pot possession charges. When the law reverted, the lounge defied police, who never responded with action.
Marijuana enthusiasts traveled from all over North America for an opportunity to inhale at Hotbox Café. Outside of Amsterdam, this was a wholly unique experience, and one that sparked a desire for legalization.
The openness in vapor lounges created an environment where legalization could happen. Advocates socializing in vapor lounges used them as places where they could meet, plan and organize themselves.
Despite being forced out of their original space, Hotbox Café's new location continues to grow Toronto's cannabis counter culture.
5. Vapor Central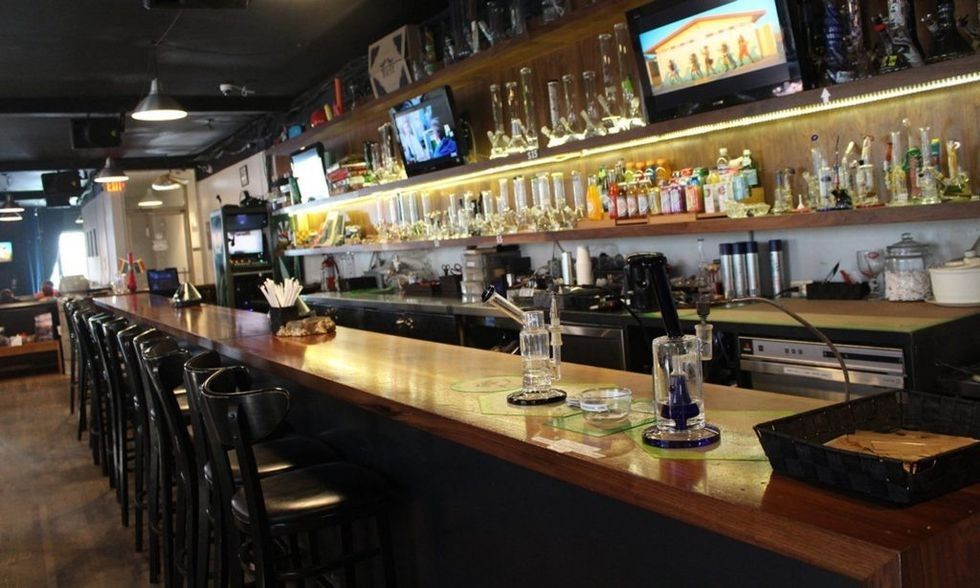 Vapor Central played a pivotal role in organizing Toronto's marijuana legalization campaigns because it was home to organizers Toronto Hash Mob — a group that I co-founded.
We formulated our zany public puffing antics, honed our speaking skills on its stage, and responded to requests for interviews by recommending Vapor Central as the place we could met at.
We borrowed VC sound system annually on Apr. 20 for our 4/20 Toronto Smoke Out and again on the first Saturday in May for the Global Marijuana March.
Vapor Central staff and diehard customers worked very hard to legalize Cannabis. This core group of advocates threw great protests and then returned to the lounge to celebrate their success.
Besides hosting and inspiring advocates, Vapor Central has contributed greatly to the city's comedy scene. Marijuana consumption and laughter go together like peanut and jam, and this winning combination packed the place nightly from 9 to 11.
Vapor Central allows people to explore the culture of cannabis by becoming regular customers. They can session with friends, make new friends, and have fun doing silly stoner stuff.
Possibly fearing Toronto Hash Mob, one of the first acts that premier Doug Ford performed was putting a pause on the Ontario Smoke-Free Act because of its impact on medical Cannabis patients who use lounges.
The plan to shut down lounges by the previous government has been on-going for 2.5 years.