Whether you live in Toronto, you've had the chance to visit, or you plan on visiting someday soon, one thing you'll notice right away is the city's constantly evolving skyline.
And given that new developments are announced (quite literally) every other week, the skyline you see today won't be the same one you see two years from now... let alone ten years from now.
---
To show just how vastly different Toronto's skyline could be a decade from now real estate agency Precondo put together 3D renderings of what the city's ever-changing skyline could possibly look like in 2030.
And while that is less than ten years away, it's safe to say that things are going to look quite different... and soon, too.
The renderings are based on the most recent architectural plans and development proposal filings available to the public, with all approved and under construction projects shown in blue and proposals awaiting approval shown in purple.
READ: Construction Officially Begins on Tallest Residential Tower in Canada
Precondo Founder Jordan Scrinko kicks the skyline evolution off with Canada House from Concord which is already under construction, which he says is one of his favourite developments in the downtown core.
Located at 23 Spadina Avenue, Canada House is set to be "the most luxurious condominium in Concord CityPlace" and will feature two towers, rising 68 and 79 floors above the skyline of the downtown Toronto waterfront.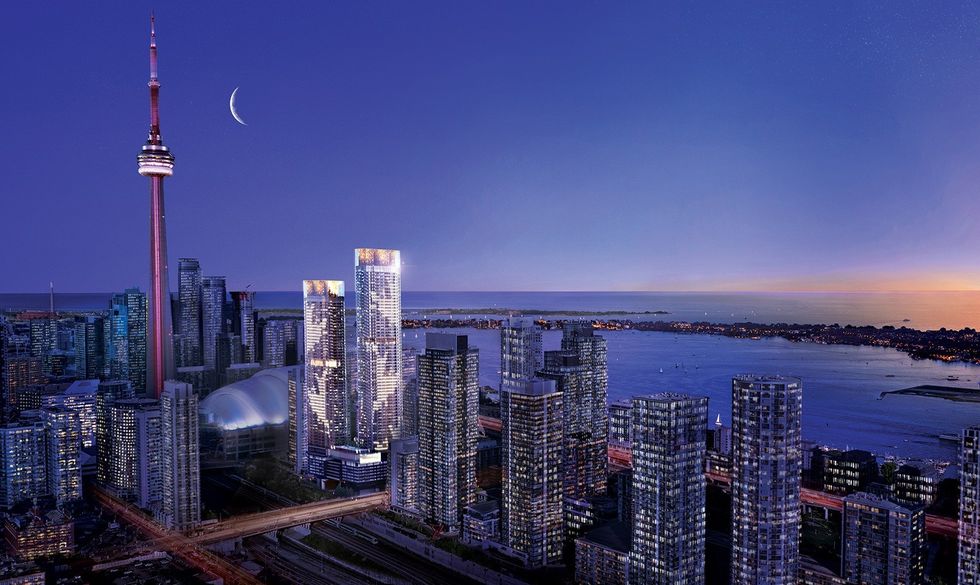 Concord Canada House
Scrinko then proceeds to show the changes across the city, from west to east, pointing out some of the tallest and most impressive towers set to be built in the coming years.
Next up is the proposed Union Park from Oxford Properties, which, if approved, would take up four acres of land at Front Street West and John Street, just north of the Rogers Centre and the CN Tower. There, they plan to add four mixed-use towers to Toronto's skyline.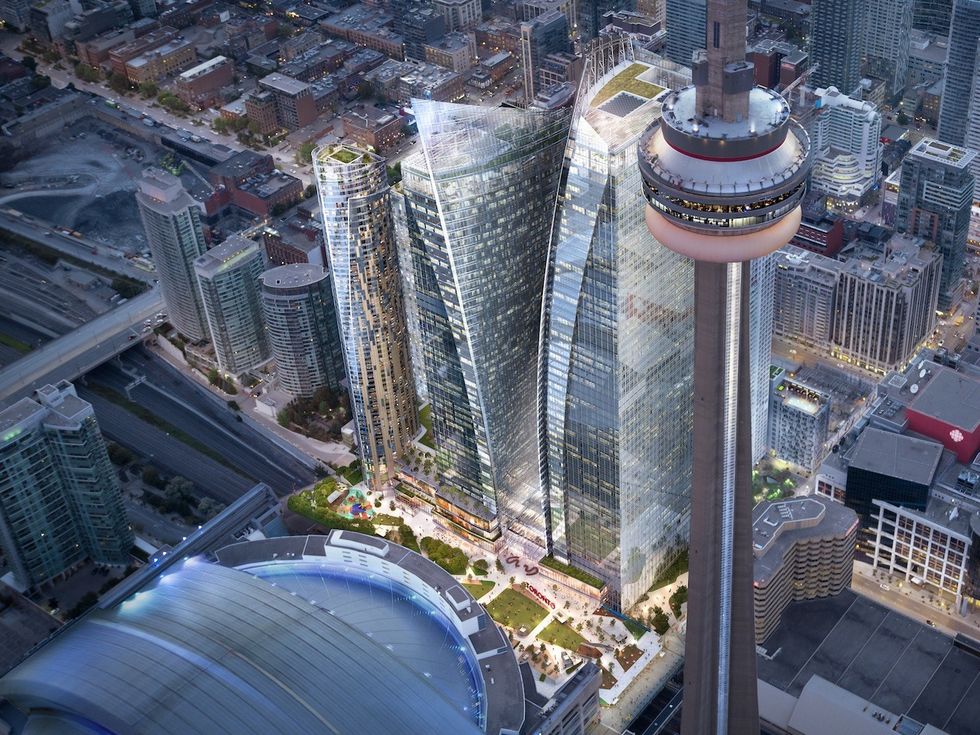 Renderings courtesy of Oxford Properties Group
Scrinko then looks at Mirvish + Gehry skyscraper project in Toronto's Theatre District on King Street. "In my entire career as a pre-construction agent, I don't think I've seen any development as anticipated as this one," said Scrinko.
The project, which has been years in the making, will see two towers rise at 260 King Street West, with the western tower serving as the tallest Frank Gehry-designed building in the world at just over 1,000-ft. The neighbouring eastern tower will trail behind shortly, standing at 874-ft.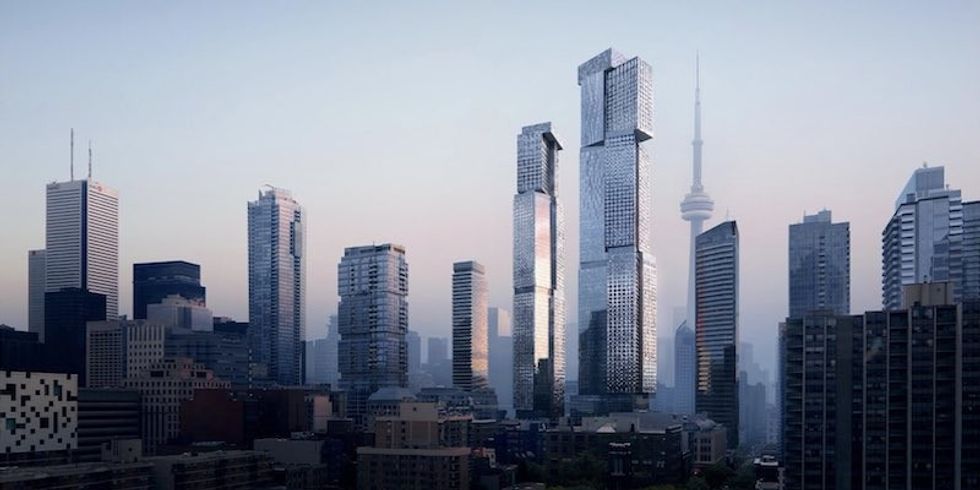 @Bousfiledsinc/Twitter
Next is a neighbouring development 212 King, a recently proposed 79-storey mixed-use tower from Dream Office REIT and Humbold Properties that will be situated at the corner of King and Simcoe and would incorporate three preserved heritage buildings into the tower's base while revitalizing the ground floor with active retail and public uses.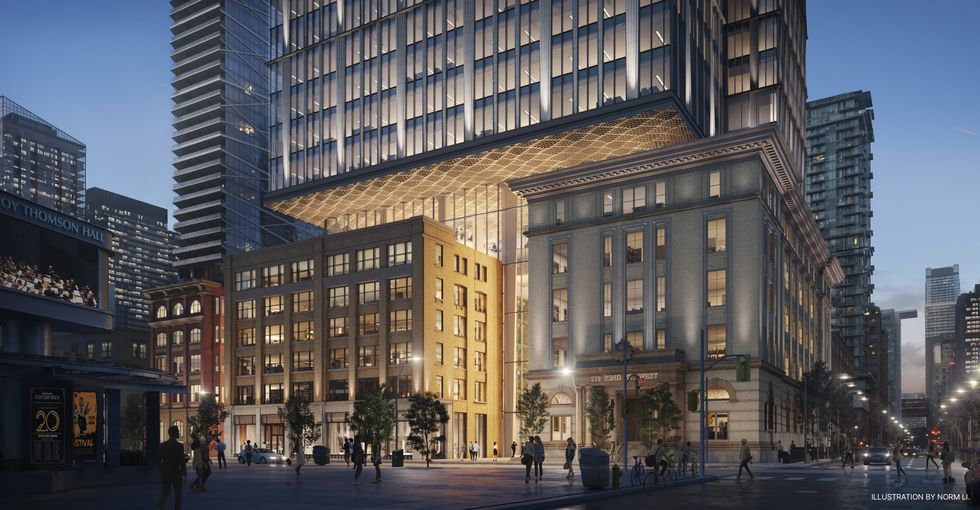 Rendering by Norm Li
Next, Scrinko also highlights Union Centre from Westbank Corp and Allied Properties REIT, a 52-storey Bjarke Ingels Group-designed office tower slated for Lower Simcoe and Station Street, just west of Union Station.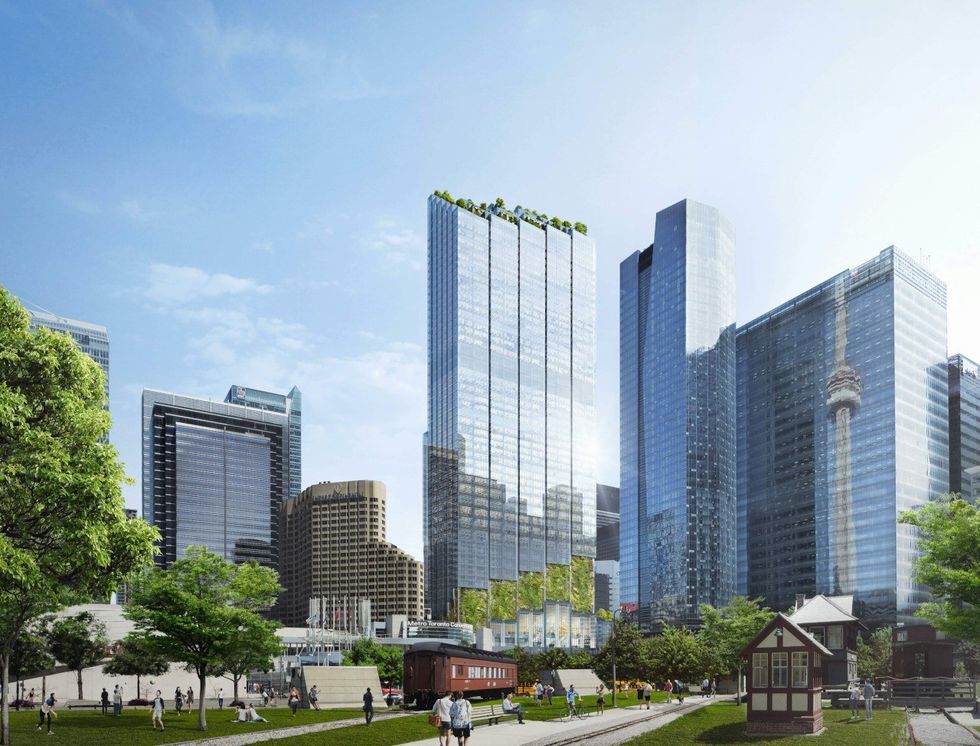 Union Center/City of Toronto
Scrinko then looks at 200 Queens Quay, a proposed two towers that would stand 41 and 71 storeys, atop of a 12-storey podium. If approved, it would replace an eight-storey above-ground parking garage.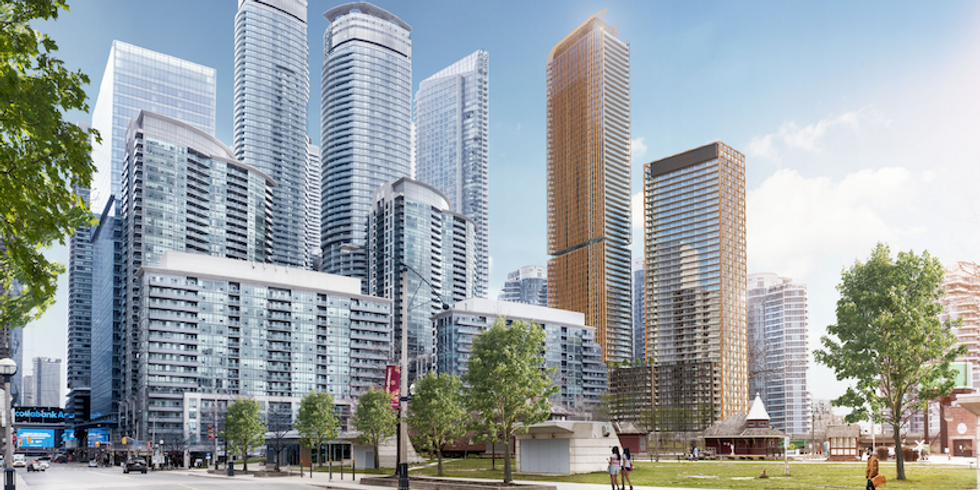 Rendering submitted to the City of Toronto
Next is The Hub, a proposed 57-storey, non-residential building comprised of 123,854 square metres of retail and office uses.
Rendering submitted to the City of Toronto
Scrinko then highlights 11 Bay, a 54-Storey redevelopment at the bottom of Bay Street from QuadReal and Barney River. It's proposed for the site where the Harbour Castle Conference Centre is located.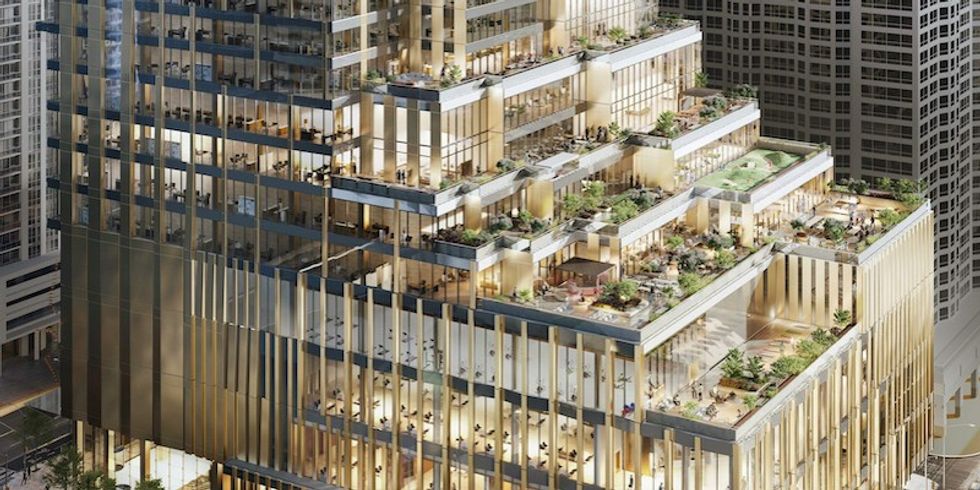 11 Bay podium, designed by Hariri Pontarini Architects for QuadReal and Barney River
Next is One Yonge by Pinnacle, slated for Yonge and Queens Quay, which is expected to have three towers, including the SkyTower, standing at 65, 80, and 95 stories, respectively. When completed, the massive project will house 2,800 units, a hotel and residence, and a pedestrian skybridge.
"This is another project that's been anticipated for many, many years in Toronto," Scrinko says about the development. "One Yonge is currently the tallest approved and under construction building in Toronto, in Canada."
Pinnacle International
Next up is Menkes' Sugar Wharf development. The two-tower Phase 1 is almost complete, topped by Sugar Wharf D. Phase two proposes an additional three towers, and at-large, the development will serve the city in the residential, commercial, and community realms of real estate.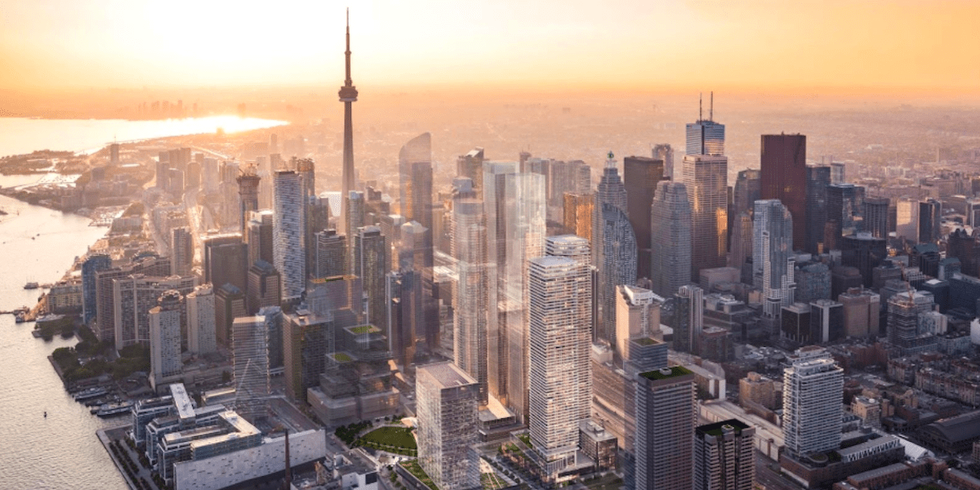 Menkes
Scrinko then heads north to Yorkville, where the Mizrahi The One development is located. Originally proposed to have 85 stories, the tower is now asking for 94 and is currently under construction. If the changes are approved, it would stand just over 1,100-ft., making it the tallest tower planned in Canada.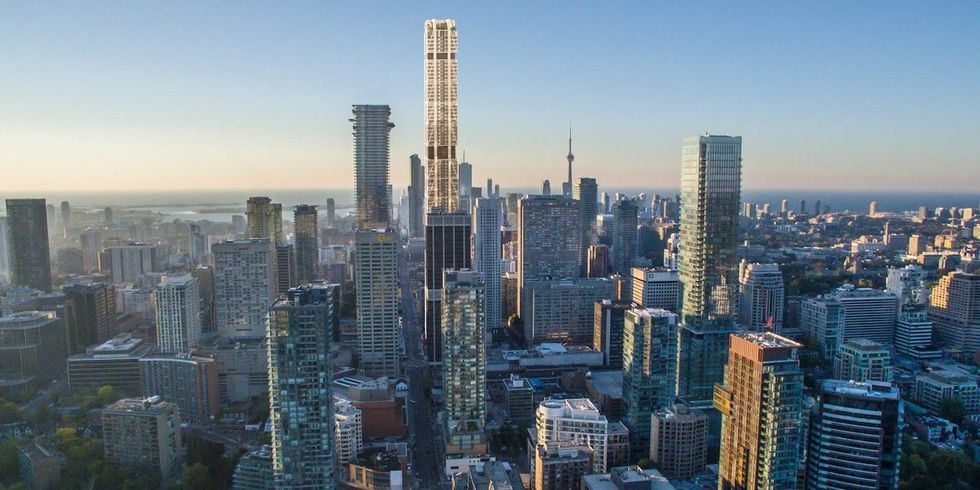 onebloorwest.com
Finally, Scrinko looks at 1200 Bay, a soaring mixed-use super-tower from Dutch real estate firms Kroonenberg Groep and ProWinko. Set to rise 87-storeys above the intersection of Bay and Bloor, the tower is just eight storeys shorter than the city's future record-breaking SkyTower by Pinnacle International at 1 Yonge Street – which will be the second tallest building in all of Toronto behind just the CN Tower once it's completed.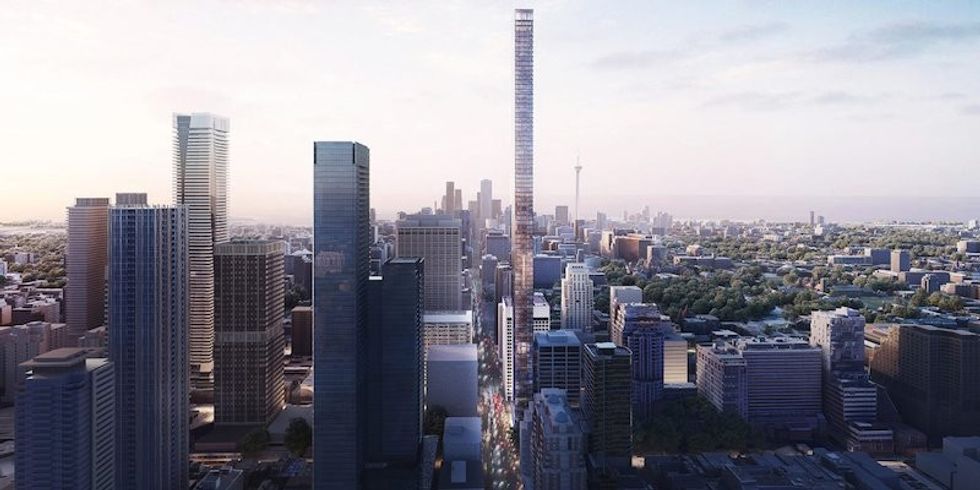 Rendering courtesy of Herzog & de Meuron
While many of these developments are still mere proposals, while construction is well-underway for others, it's safe to say that big changes are coming to Toronto's skyline, and it won't be long until we see Toronto's skyline evolution come to life.
You can watch the full video below. 
Future Developments