Toronto's skyline could see some serious changes if a soaring mixed-use tower proposed to rise in the heart of the city's bustling Entertainment and Financial districts gets approved.
The recently proposed 79-storey mixed-use tower from Dream Office REIT and Humbold Properties will be situated at the corner of King and Simcoe and would incorporate three preserved heritage buildings into the tower's base while revitalizing the ground floor with active retail and public uses.
---
Located at 212, 214, and 220 King Street West, opposite the famed Roy Thompson Hall, the stacked tower -- designed by internationally renowned SHoP Architects of New York, with locally-based Adamson Associate Architects as Architect of Record -- the tower would house 588 rental units and over 10,000 sq. ft. of high-quality retail and 660,000 sq. ft. of office space, bringing significant employment space to the downtown core.
"We are building a world-class mixed-use community in a building that reflects the transitional nature that could only take place at Simcoe and King where the financial core meets the cultural district," Michael Cooper, CEO of Dream Office REIT, told Storeys.
"212 King will offer the neighbourhood a great public space, a spectacular atrium framed by historic buildings, office space that will provide a healthy work environment and beautiful apartments that will have everything to offer within walking distance."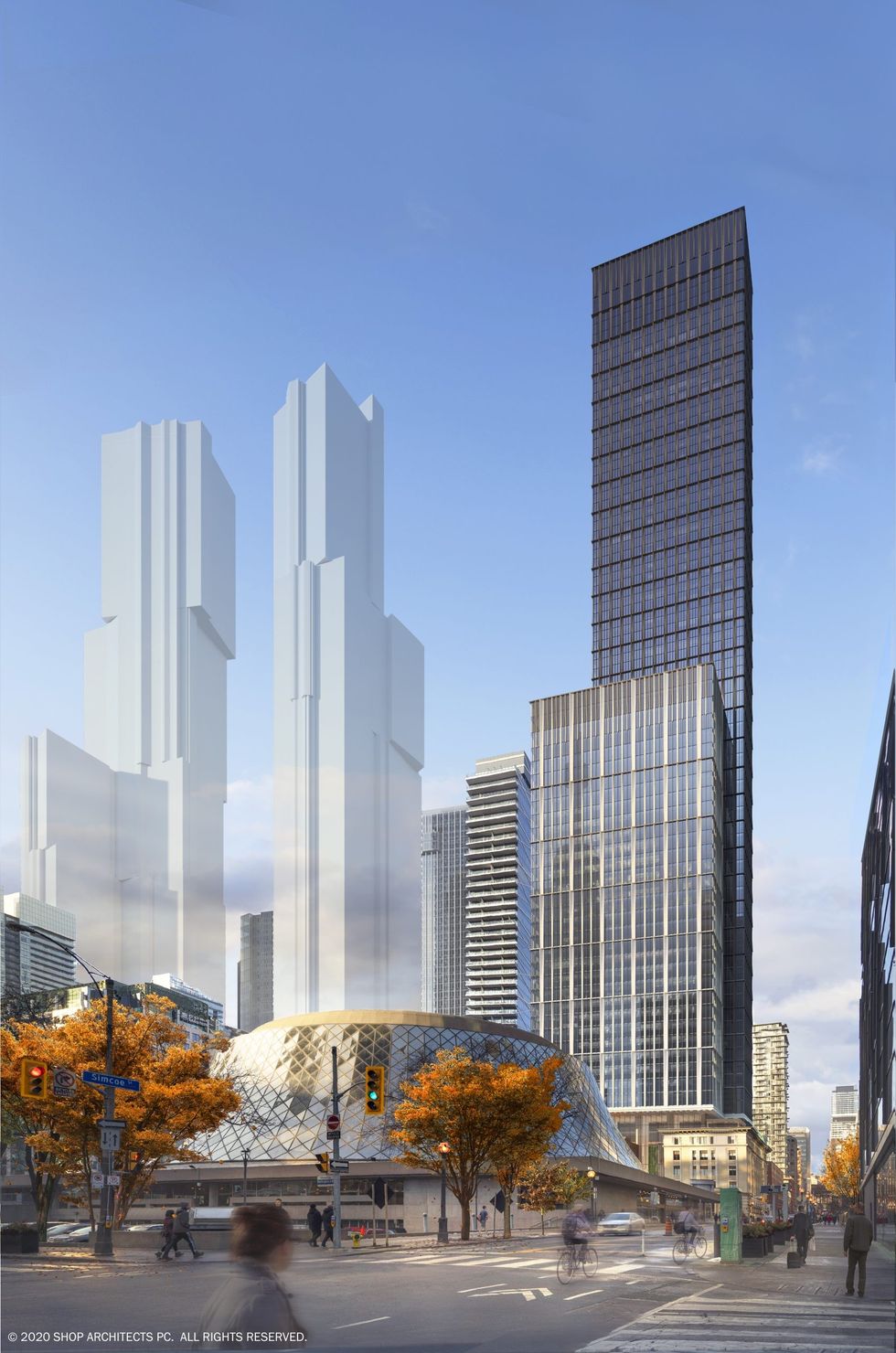 212 King Street West (Rendering by SHoP Architects)
Standing 79-storeys and 310 metres, this building would be recognized as a 'supertall' tower, a designation given to skyscrapers over 300 metres tall.
READ: Unique 29-Storey Curving Flatiron Tower Proposed for Yorkville
Currently, Toronto has two supertalls under construction including The One at Bloor and Yonge, which will stand 85 storeys and about 308.6 metres, and SkyTower at Pinnacle One Yonge, which will be 312.5 metres tall and 95 storeys and take the title as the tallest residential tower in Canada once completed.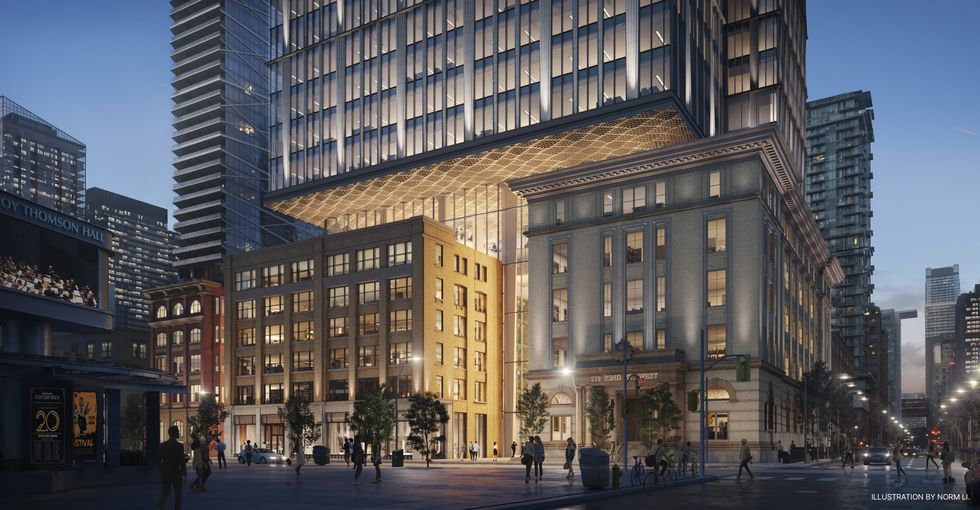 Building exterior with the preserved heritage buildings on King Street (Rendering by Norm Li)
What will set this building apart from the other developments in the surrounding area is that the architects have designed the tower to be built atop the three existing heritage buildings fronting King Street in such a way that it appears as if the tower is floating delicately above, allowing for ample light to soak the expansive atrium space.
"The goal was to be respectful and celebratory, skillfully interlocking the residential and commercial floorplates in a way that sparks a dialogue between the historical and contemporary components of the project," reads a statement on the project.
Humbold, which has been a part of the King West community since 1976, has seen how the neighbourhood has evolved over the years.
"Where Roy Thompson and Metro Hall currently sit, was an industrial rail yard. The area was full of manufacturing factories which were slowly moving north leaving a derelict area which needed a transformation," explains Robert Singer, VP of Humbold Properties.
"When you thought of Simcoe and King, you thought of 'Farb's Car Wash' and Ed Mirvish restaurants. Fast forward 45 years, King West has transformed into a true vibrant and exciting neighbourhood," says Singer.
"A blend of office, retail, entertainment, and residential spaces, our 212 project represents a further evolution of the neighbourhood, a single destination for work-live-play at a centre ice location within walking distance of all amenities," says Singer.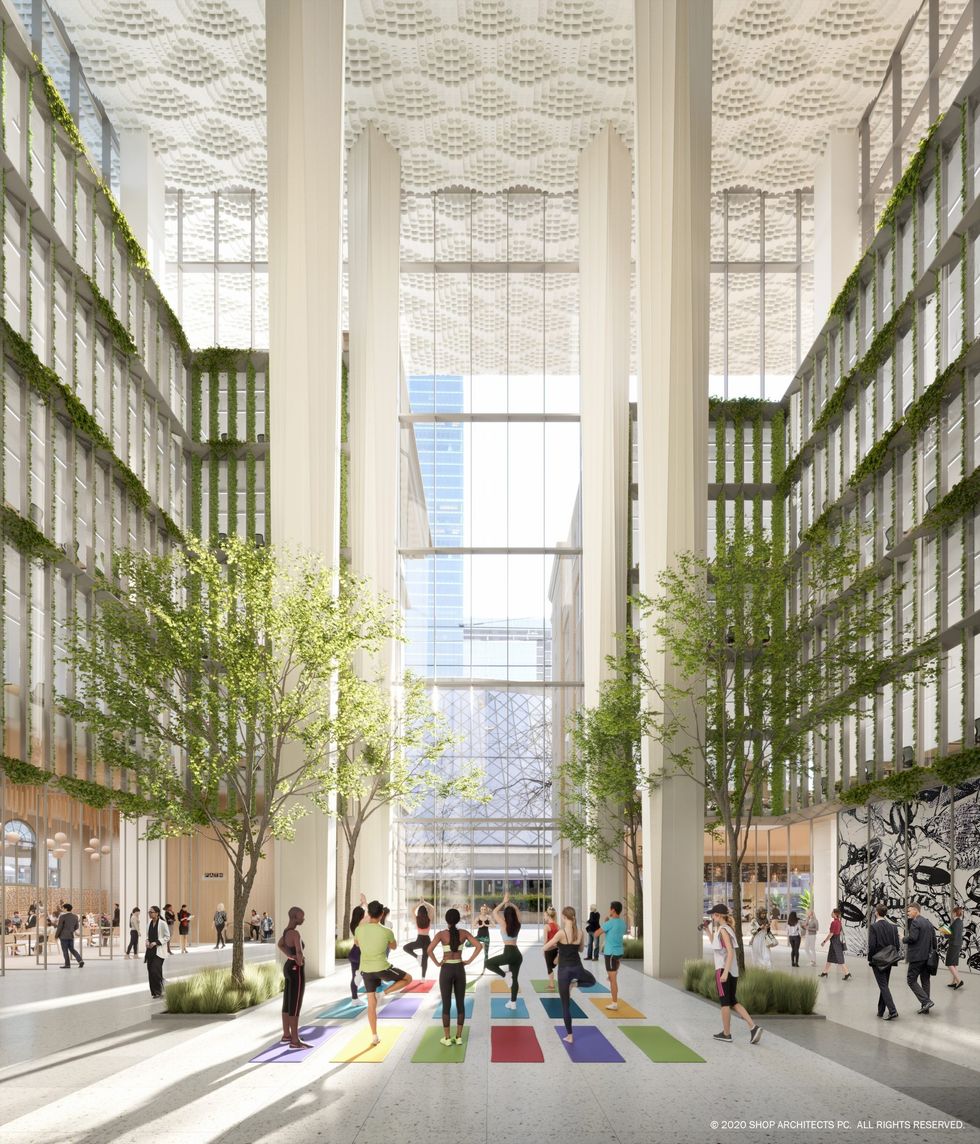 (Rendering by SHoP Architects)
The expansive atrium will double as the office lobby providing public access and connecting to the underground PATH. At ground level, a civic-scaled atrium -- that doubles as the office lobby -- will welcome the public in and will connect to Toronto's underground PATH. The atrium was designed to activate the building year-round and will be adaptable to host special events.
The atrium will also provide access to the heritage rooftop spaces via two express elevators, providing sweeping views of Roy Thomson Hall, David Pecaut Square, the downtown core and beyond.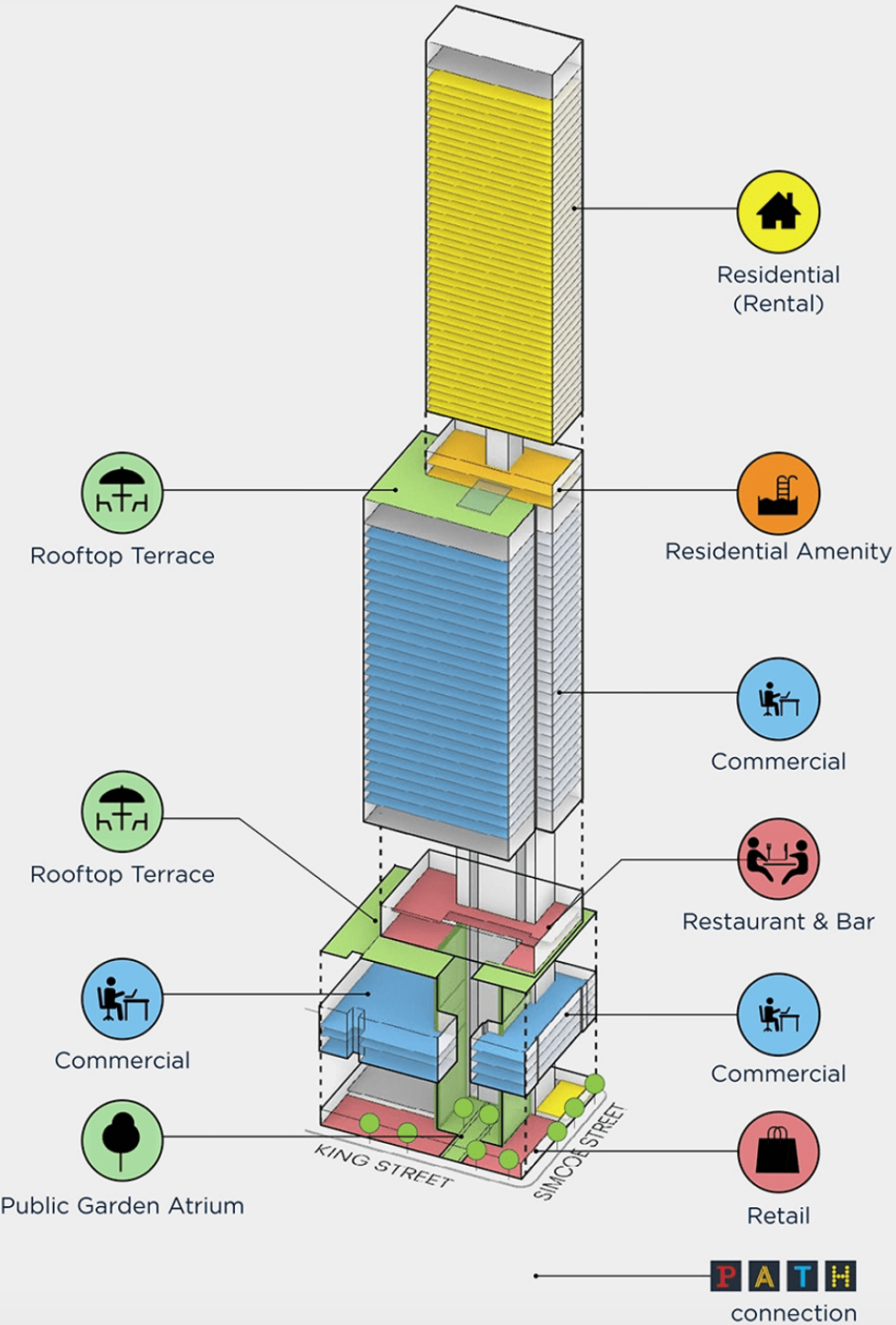 Rendering via 212 King Street West project website
The tower will also feature 670,000 sq. ft. of commercial space that would be spread across multiple floors to support approximately 6,000 new office and retail jobs.
A rooftop terrace and residential amenity area would separate the residential rental portion at the top of the tower from the lower segments.
The residential component, which rises above the commercial levels, will be home to 588 rental units, further supporting Toronto's growing population and employment base. A full range of unit sizes are proposed, including 35% family-oriented 2-and-3-bedroom units.
"We are excited to unveil a design that not only honours our city's rich architectural history but injects new energy into the downtown core," added Singer. "We are thrilled to be partnering with Dream to create a new vision for this unique intersection and to carry these buildings' legacies on for generations to come."
Dream Office REIT owns the east building at 212 King, while Humbold owns 214 King. Together, both companies co-own the most western building at 220 King.
"We believe and continue to believe that demand for incredibly well-located and designed mixed-use buildings will increase as residents and tenants expect to have it all," says Cooper. "With a strong focus and importance placed on amenities, transit, connectivity to the city, outdoor spaces, and a serious approach to health and wellness, 212 King Street West will become the best address in the city."
Future Developments