Set to soar 85-storeys (309-metres), when completed, Yorkville's The ONE will be Canada's tallest building (at least for a little while) and will house a mix of retail, residential, and hotel space.
---
And to ensure that residents and visitors can move through the building seamlessly, Otis Canada is supplying 23 elevators to One Bloor West.
READ: 17 Toronto Condo Launches You Need to Know About This Fall (MAP)
This project marks Otis' first installation of its SkyBuild construction elevator in Canada. For the project, Otis is providing 11 SkyRise elevators, eight Gen2 elevators and four SkyBuild construction elevators, which convert to SkyRise elevators when construction is complete.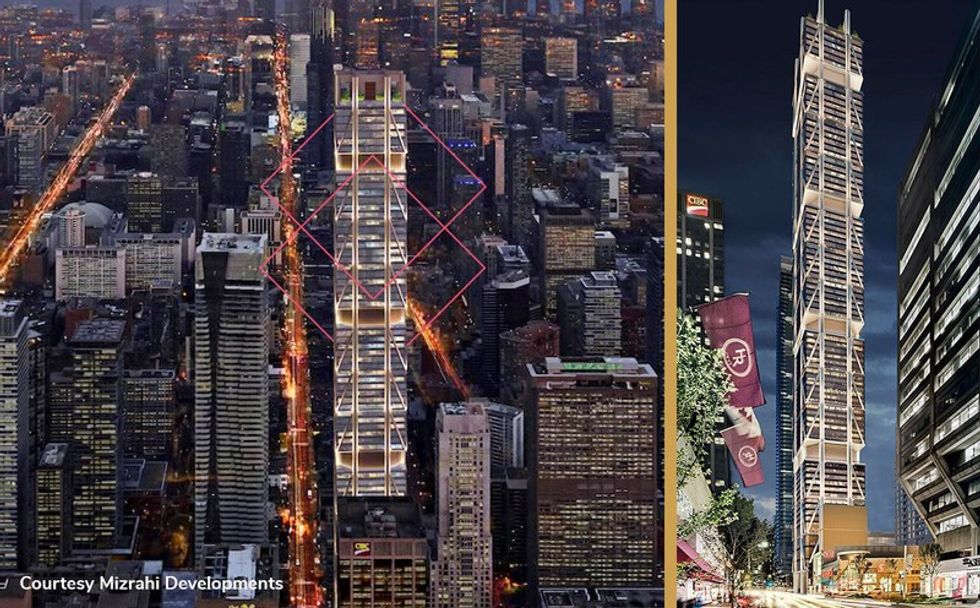 The SkyBuild construction elevator grows with the building, giving crews indoor access to the highest completed floor and boosting productivity with safe, reliable, fast transportation. SkyRise elevators offer speeds up to 12.5 meters per second and climb up to 600 meters.
According to Otis, the Gen2 elevator platform "redefined the industry with its unique, patented flat-belt drive technology that replaces conventional ropes and significantly reduces vibration, providing passengers and tenants a remarkably smooth, quiet ride and improved overall comfort compared to conventional systems."
Developed by Mizrahi Developments, The ONE is currently under construction at 1 Bloor Street West, with completion set for 2023. Located in the heart of Yorkville, the tower has a total of 416 units ranging in size from 1352 to 6037 square feet. In addition to the residence component, when completed The One will house a hotel, an indoor pool, a garden, and international cuisine options -- all of which you can get to via, you guessed it, elevator.
"It's an honour to provide the technical expertise and products for the tallest building in Canada," said Jim Cramer, president, Otis Americas. "We thank Mizrahi Developments for placing their trust in Otis and for the opportunity to showcase the benefits of our SkyBuild elevator on this important project."
Joshua Lax, Vice President of Development at Mizrahi Developments said crews will be using the SkyBuild elevators every day to move people and equipment around the job site, both during active construction hours as well as off-hours for cleaning and material distribution.
"The most important and decisive factor that led us to work with Otis for this ambitious project is the SkyBuild elevator's ability to execute its floor climbs during off-hours. We're simply able to show up for work the next day ready to go – we are predicting a substantial productivity boost, based on the time we'll save with the SkyBuild system."
Real Estate News