A unique flatiron building that's very slender in profile has been proposed to rise where the Toronto neighbourhoods of Yorkville and Rosedale meet.
In November, Capital Developments submitted a Zoning By-law Amendment application to City planners to construct a 29-storey residential development with retail uses at grade at 717 Church Street.
---
The slim point tower is intended to redevelop the under-utilized site -- which is described as a triangular 'island' located at the intersection of three Toronto streets: Church Street, Collier Street, and Park Road.
Covering an area of 10,164 square feet, the site is currently occupied by surface parking, an office at 717 Church Street, and a three-storey, multi unit building.
The proposed development capitalizes on this unique site layout as the massing of the flatiron building mediates a transition in height from the super tall buildings to the west and south to the mid-rise and low-rise buildings to the east.
READ: 26-Storey Mixed-Use Building Proposed to Rise on Bathurst
All four facades of the building, which was designed by Diamond + Schmitt Architects Inc., respond in different ways to the surrounding streets and adjacent buildings and the tower presents a narrow face to the east and west while following the curve of Church Street as it cuts across the Toronto grid.
As per the project's planning rationale, the Park Road frontage is stepped back and soffits are raised to create a mid-rise visual responding to adjacent buildings. The proposed massing provides open and transparent glazing at grade with widened sidewalks that enhance the public realm.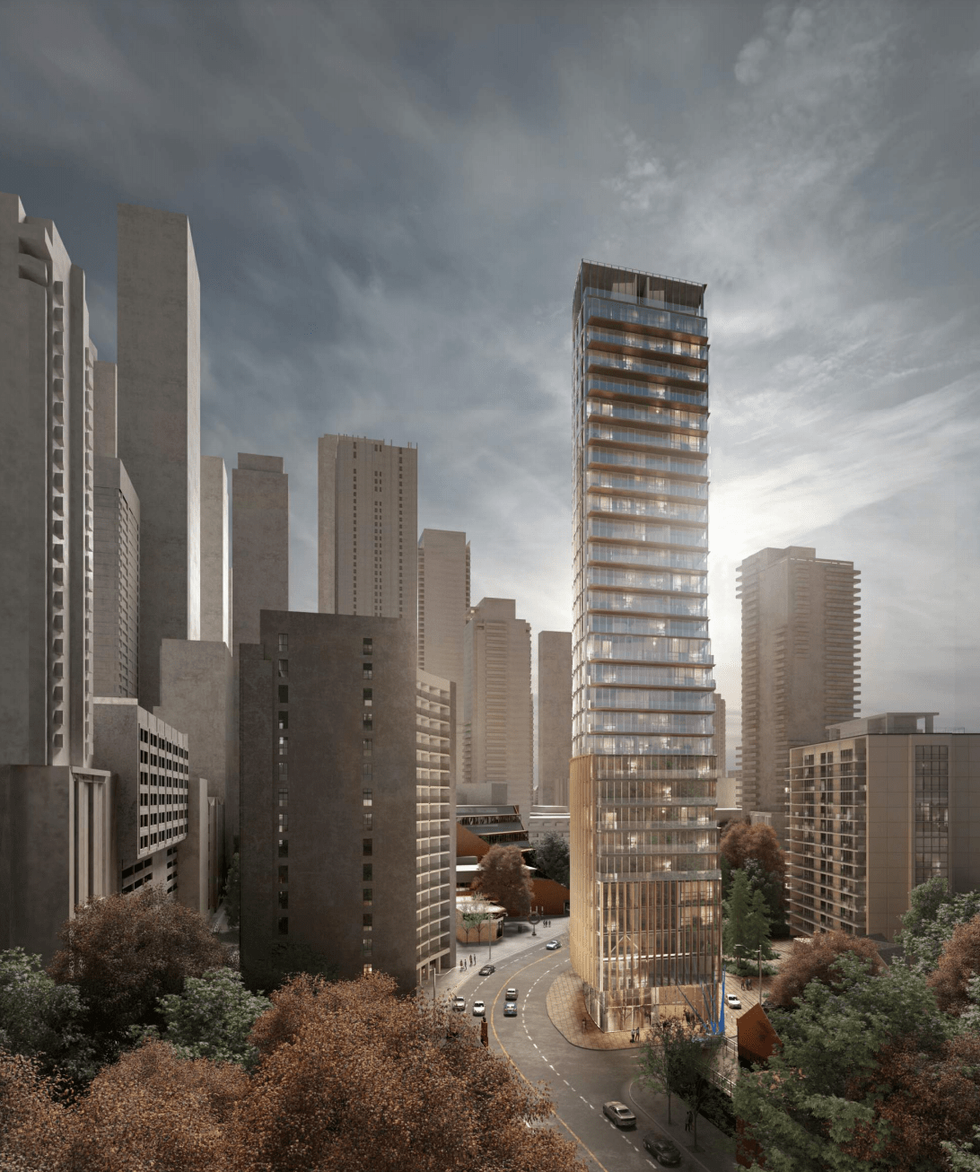 The proposed high-rise would cover 211,575 square feet of gross floor area and include 300 residential units ranging in size -- 44 studios, 83 1-bedrooms, 71 1-bedrooms + den, 72 2-bedrooms, and 30 3-bedrooms.
The planning rationale says the mix of units will lead to greater density in the Yorkville-area, which is described as "walkable and well-served by existing office and retail spaces as well as public amenities."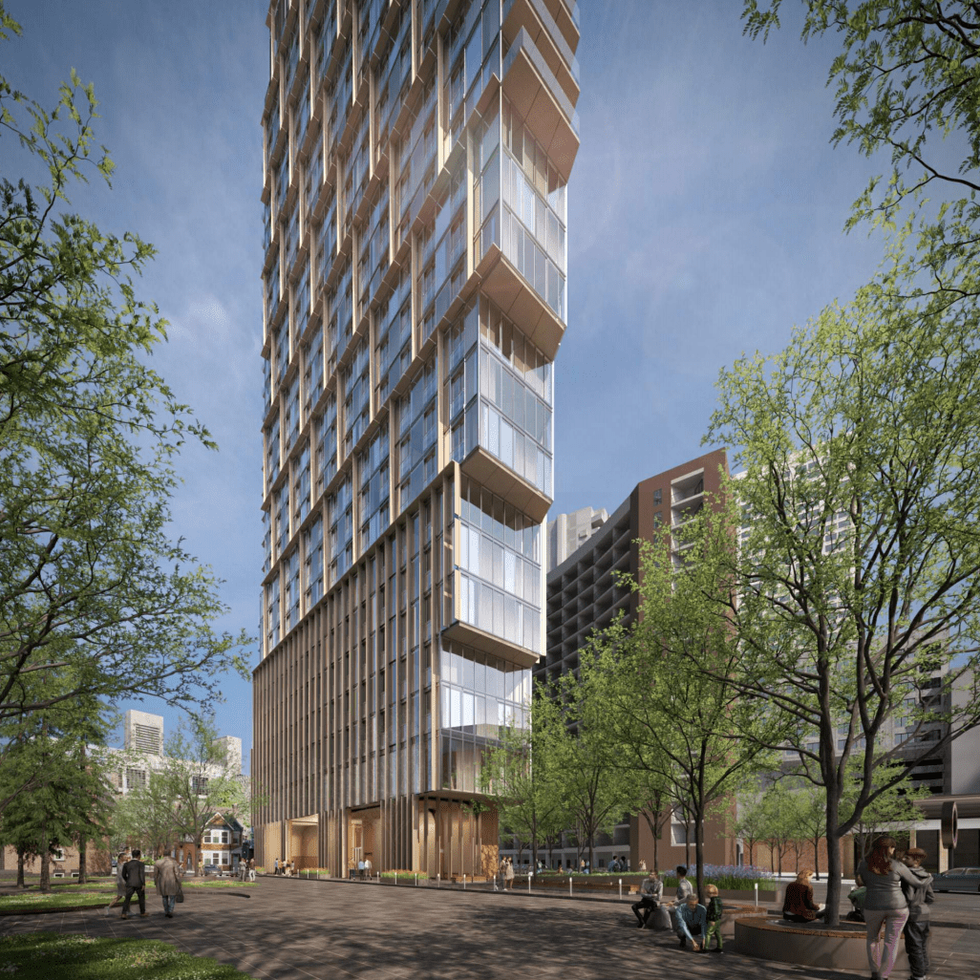 The units are complemented by generous bike parking, retail uses at grade, fitness and yoga rooms, and a sizeable coworking lounge to service those who may choose to work from home more often in the future.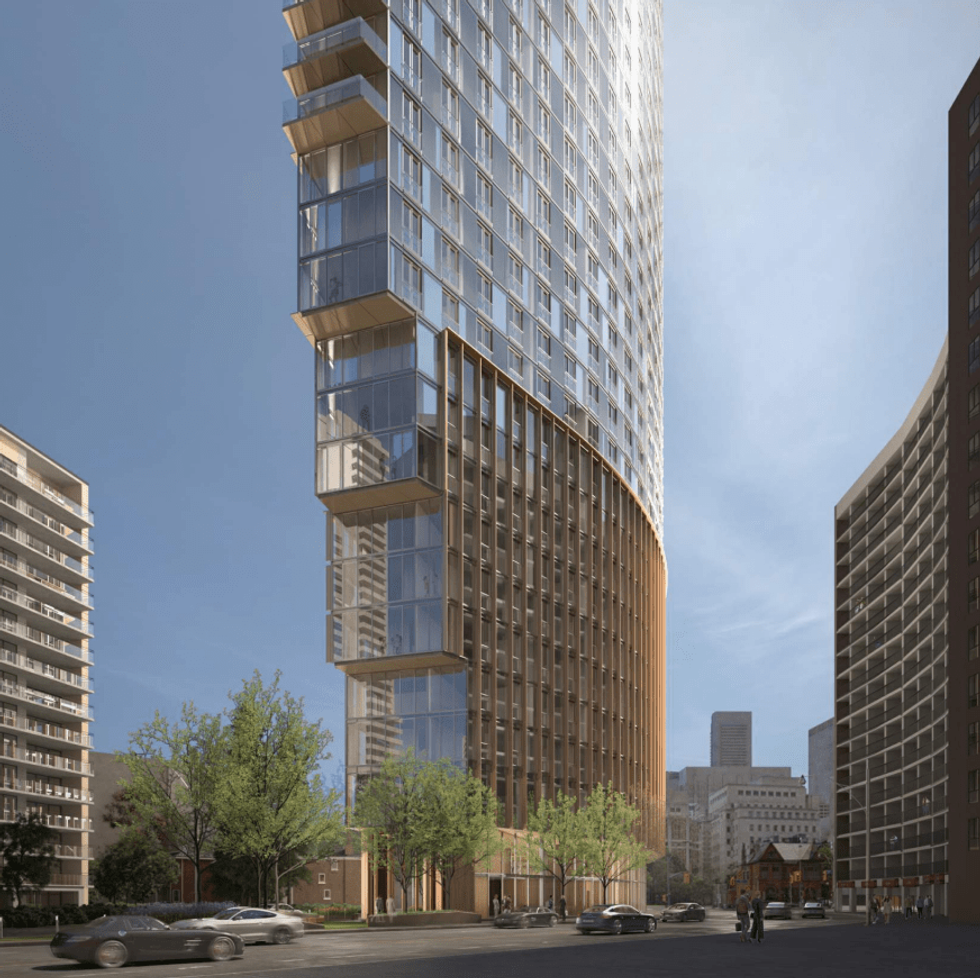 The development is also said to capitalize on its proximity to the Bloor-Yonge subway station by proposing an "aggressive sustainable mobility strategy."
The mobility strategy emphasizes sustainable transportation alternatives, including walking, cycling, transit use, and car-sharing over private car use, and eliminating all private car parking spaces. Three car-share parking stalls and 320 bicycle parking spaces would be incorporated instead.
Loading is integrated within the Yorkville building in a carefully designed porte-cochere creating an attractive and welcoming building entry for vehicles.
Future Developments