The plans to build a 57-storey office tower at Bay and Harbour have been revised and resubmitted to the City of Toronto, indicating the project is one step closer to beginning construction.
Last month, an application for Site Plan Control for 30 Bay Street and 60 Harbour Street ("30 Bay") was submitted after the application was initially submitted in December of 2019, following Toronto City Council's adopted of a Zoning By-Law Amendment in July of 2019, with bills successfully passed at the same time.
---
The development, which is called The HUB, has been updated after the developers, Oxford Properties, received feedback from City staff and has since received several minor revisions. Though the height, massing, and density of the Rogers Stirk Harbour + Partners-designed building remains substantially unchanged from the previous submission.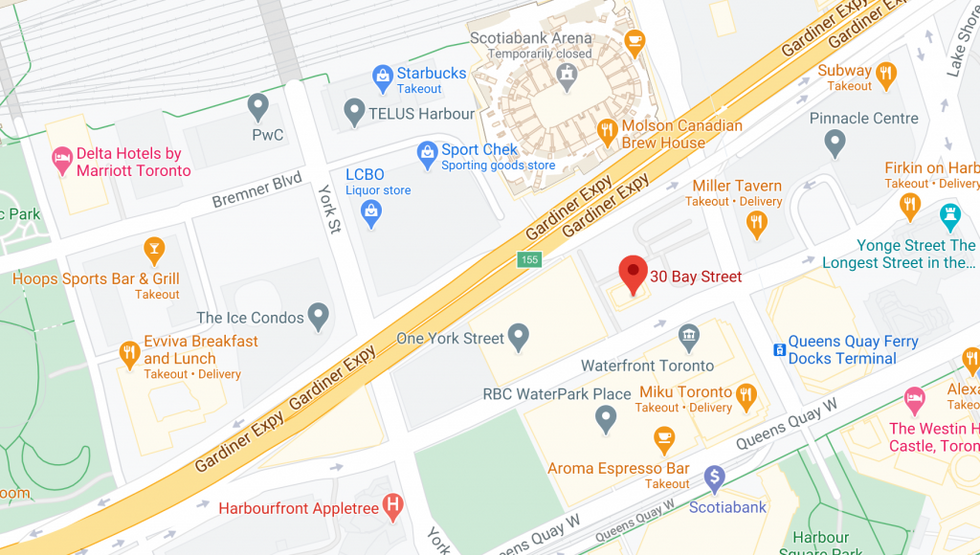 30 Bay Street/Google Maps
READ: 17 Toronto Condo Launches You Need to Know About This Fall (MAP)
According to documents submitted to the City, the development has been carefully designed to attract a variety of corporate office mandates. Given the amount of residential development that has occurred in the neighbourhood in recent years, the redevelopment of the Site into a spacious office tower will provide much-needed office space and reaffirm South Core as a fast-growing extension of Toronto's Financial District.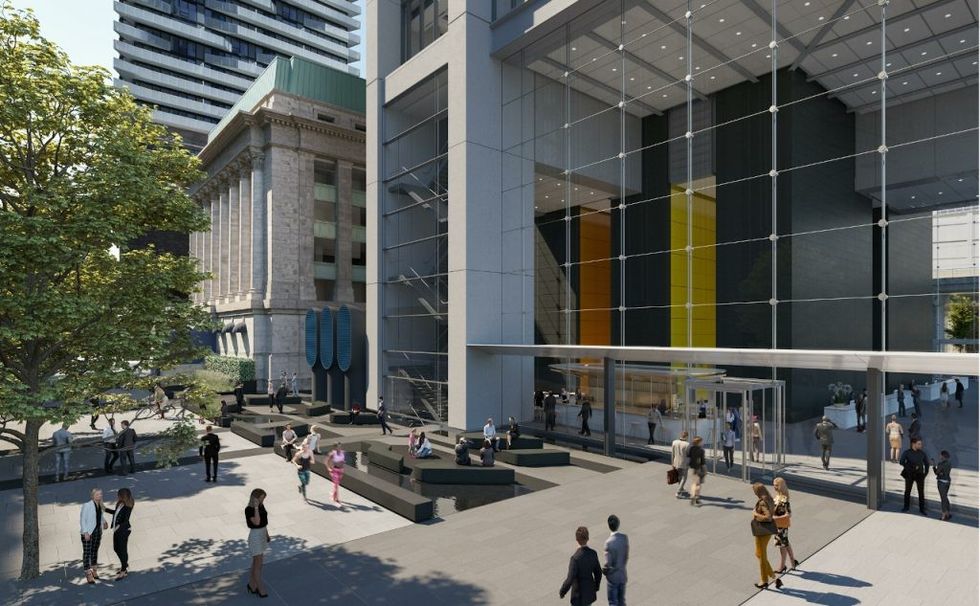 Rendering submitted to the City of Toronto
The Site Plan materials submitted to the City call for a proposed 57-storey non-residential building comprised of 123,854 square metres of retail and office uses. A total of 270 parking spaces will be provided in a below-grade parking structure.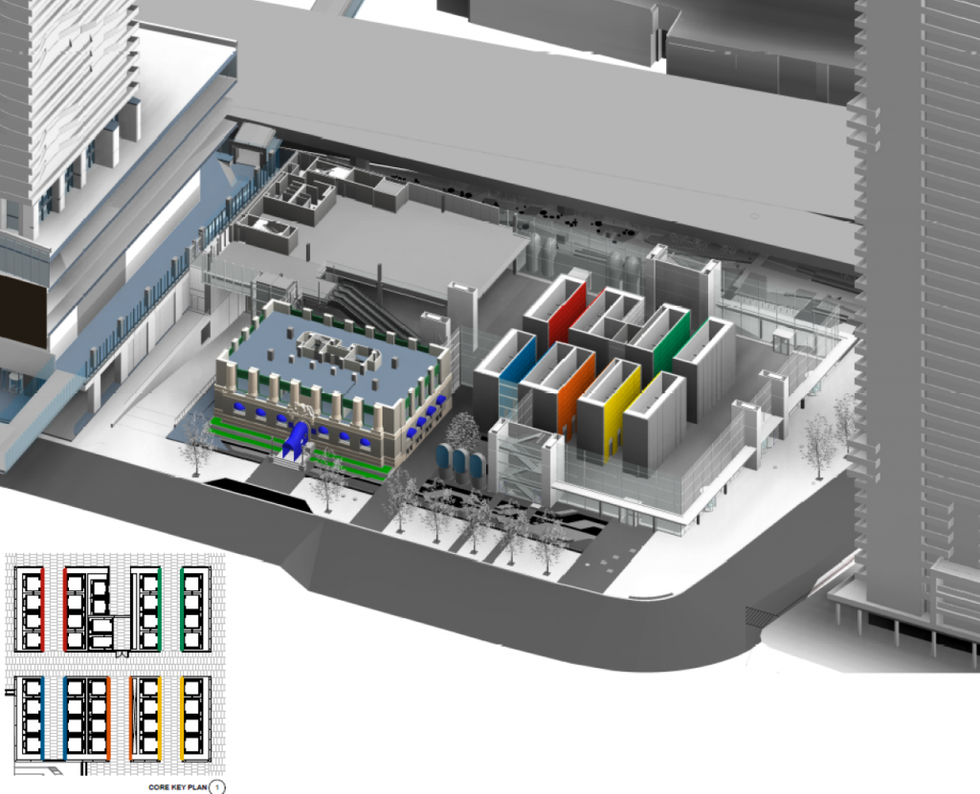 Above look at the elevator core and lobby
The resubmitted renderings show adjustments made to the building's lower levels, as well as updates for the floor-to-ceiling glass lobby and elevator cores, and an internal glass atrium which "lightly touches" the neighbouring heritage building is proposed.
The development would also preserve the existing heritage-listed Harbour Commission Building located at 60 Harbour Street.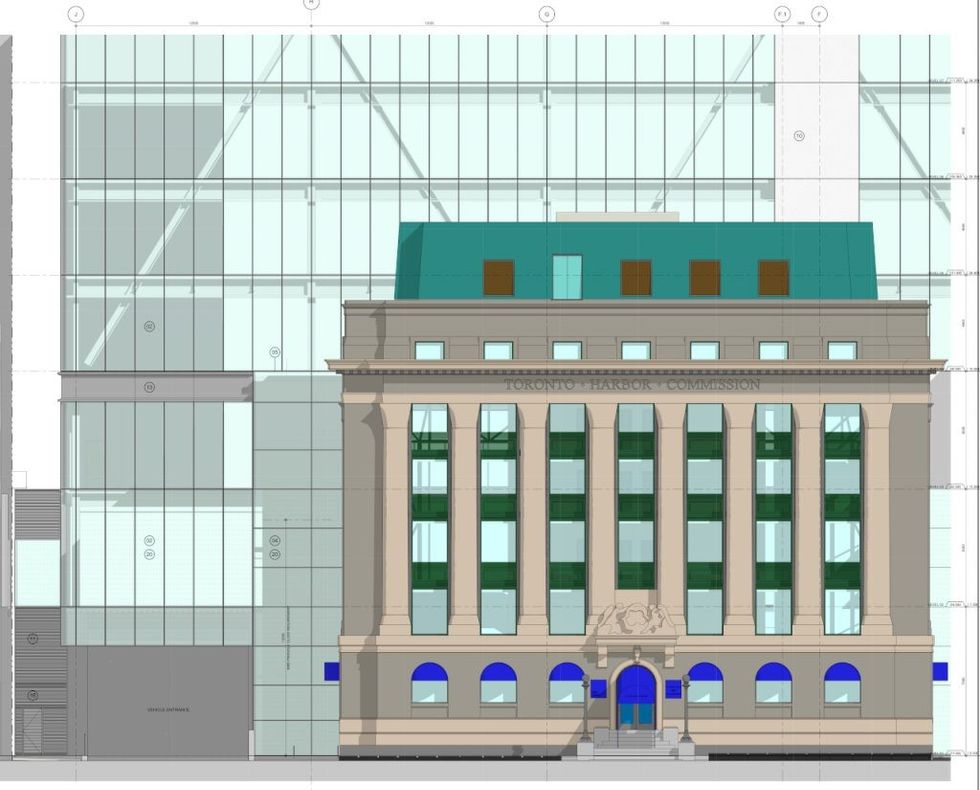 The proposed development incorporates a connection to the PATH system, allowing indoor access from the building to Union Station, the Financial District, the waterfront, and beyond. The PATH connection has been configured along an atrium situated on the north façade of the Harbour Commission Building, creating a unique experience for PATH users.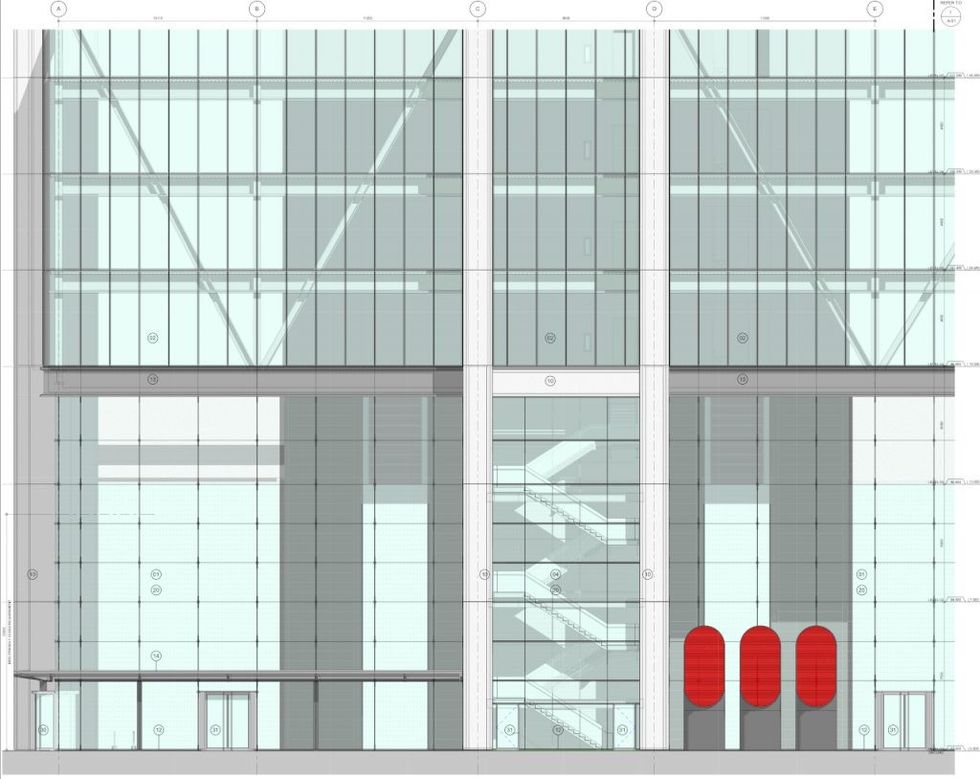 North Podium
A POPS (Privately Owned Publicly-accessible Space) is also being considered at the corner of Bay and Harbour Streets, complete with integrated seating and benches. The documents say the space may also contain a water feature.
Future Developments