Toronto
Real Estate News
Over 65% of Investment Property Owners "Likely" to List this Year… Again
Looking ahead into 2021's real estate transaction cards, more than 65% of investment property owners are either "very" or "somewhat" likely to list their property for sale. Again.
According to new data from the Toronto Regional Real Estate Board (TRREB), the "very/somewhat likely to list" category of investment property owners surveyed in the fall of 2020 consists of 67% of the total. However, in the fall of 2019, that category made up 66% of those surveyed.
[my_ad]
We know what you're thinking: that's not a change of major significance, especially with consideration for all that 2020 dished out.
And you'd be correct.
While there's no way to be certain, it's possible that the hectic turn of the decade could actually be why the two percentage counts are so similar. Perhaps, for example, a good chunk of those who planned to list at the end of 2019 ended up not doing so, for fear of struggling to sell or needing to low-ball their property as downtown-core interest shifted through the height of the pandemic. Hence, they may be hoping for another shot in 2021.
READ: Toronto Has Voted to Implement a Vacant Home Tax, But is Now the Right Time?
Meanwhile, of those surveyed in the fall, 40% indicated that the city's implementation of a vacant home tax (VHT) would bring them to sell their property. This is a small jump from 2019's 34% and is up almost 10% from the year prior's 31%.
In mid-December, in the midst of a COVID-dominated news cycle, the City of Toronto voted in favour (24-1) of implementing a 1% VHT. Taking a page from Vancouver's book, come 2022, investors could have to pay a tax on empty Toronto properties that are intended for capital gain rather than for housing human beings.
The idea behind the tax is to increase housing supply – opening up the housing and rental markets – and to generate post-pandemic tax revenue for Toronto to fund essential affordable housing projects across the city. "The Vacant Home Tax is designed to encourage homeowners to sell or rent their unoccupied home – and, if they choose to continue to keep the home vacant, a tax is levied," said Toronto Mayor John Tory.
In any case, the message is clear, if not exactly loud: homes are for living.
Evening out property-owner perspective on VHTs, however, are 28% of those surveyed, who indicated they would have tenants rent out their spaces. Another 30% declared the VHT wouldn't impact them at all. The latter, interestingly — following a year of lifestyle upheaval and pandemic-induced recession — showed a fair drop from 2019's 36% (which was nearly on par with the 35% reported the year earlier).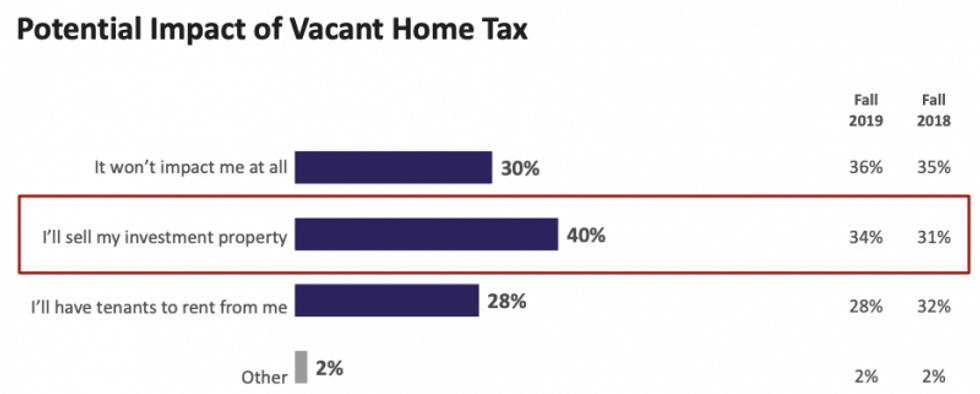 And it's not just current owners who are impacted by the VHT decision. Some would-be buyers, too, are being swayed by the extra costs an investment property, sitting empty, could incur. TRREB's data shows that last fall, 21% of those surveyed indicated a VHT meant they would no longer be looking to purchase an investment property — a count that's up 6 points from 2019's 15%.
On the opposite side of the same coin, 37% of those surveyed said a VHT wouldn't impact their plans. While this outcome makes up a fair percentage of the total and, in essence, shows a sense of confidence holding strong in potential buyers, the number is 7 points lower than 2019's 44%.
Meanwhile, 40% of those interested in buying said they'd have tenants rent — this comes in close to the data reported from 2017 through to 2019.
Whether you're a current owner or someone looking to buy, those planning to lean on renters where a VHT is concerned should keep in mind that rent prices have reached a four-year low in Toronto. Today, the city's one-bedroom rent prices are sitting at an average of $1,770; the cost is down 3.3% from January, and a whopping 23% from February 2020. Since last month, two-bedroom rent prices have lowered 5.3%, reaching $2,340.
But while these declines are dramatic, Toronto maintains its position as the second-most expensive market for rent prices in the country, following only Vancouver, BC. This, while condo prices did see drops in 2020, Toronto City Council also voted this week to approve an overall average property tax increase of 0.51%, with a 0.70% increase for residential properties.
There is no increase for multi-residential or apartment buildings, as per provincial legislation. In the lead-up to the meeting, Mayor Tory said the City has worked hard to find savings and that this is "the most difficult budget year in the City's history" as a result of the pandemic.
As such, the data shows while rents are dipping, the costs of owning and maintaining a property aren't soaring in the meantime. Even with the VHT considered, the present moment doesn't sound like a bad time to be investing in Toronto's condo scene.
With files from Ainsley Smith and Erin Nicole Davis.