The winter months are typically the slowest time of year for Toronto real estate: poor weather makes for even poorer showings, discouraging sellers from listing and prompting buyers to wait until the spring months, when more inventory comes online. That was hardly the case this January, though, as the 2020 market kicks off amid sizzling conditions.
A total of 4,582 homes changed hands throughout the Greater Toronto Area, an increase of 15.4% from January 2019, indicating that the market has recovered well from its previous policy-induced slump. However, the supply of new listings continues to be an issue, with just 7,836 brought to market, down -17.1%.
---
The GTA is Almost a Sellers' Market
That mismatch between supply and demand has pushed the GTA to the edge of sellers' market conditions with a sales-to-new-listings ratio of 58.4% (60% is the official indicator of a sellers' market), indicating buyers are facing mounting challenges to buy what little is available, according to the latest data from the Toronto Regional Real Estate Board (TRREB).
That has all set the stage for hot price growth, with the average GTA home now fetching $839,363, a year-over-year increase of 12.3%. The MLS Home Price Index, which measures the overall value of homes sold, also rose by 8.7%, the largest jump since October 2017. TRREB indicates this is due to a larger number of detached houses being sold, as more buyers with larger budgets return to the market.
Hot Competition Found in Both 416 and 905 Markets
Booming sales and shrinking supply were evident in all corners of the GTA, with the City of Toronto experiencing the highest pace of price growth; the average home in the 416 now fetches $884,385, up 13.9%, following a 13.3% surge in sales, and a -16.2% dip in new listings.
The most popular 905 markets experienced much of the same. In the Durham region, where buyers have been flocking to purchase homes for sale in Whitby, Pickering, Ajax, and Oshawa, sales rose 15.3%, with the average home price hitting $655,781 (+13.4%).
However, a much more dramatic recovery is evident in York Region, which includes Richmond Hill, Aurora and Newmarket homes for sale – generally a higher-priced local market, it was hard hit following both the implementation of the Ontario Fair Housing Plan and OSFI stress test. Sales there are up a whopping 26.8%, while new listings fell -22.8%. That's driven average home prices back to stratospheric heights, at an average of $948,799 (+8.8%).
In the 905 region as a whole, sales rose by 16.6%, new listings fell by 17.5%, and the average price rose 11.4% to $815,129.
2020 On Track to Be Ultra-Competitive Among Buyers
TRREB also took the opportunity to release its 2020 Market year in Review and Outlook, and forecasts much of the same for the remainder of the year. It calls for a total of 90,000 – 97,000 sales over 2020 – a 10.5% y-o-y increase, with price growth to rise nearly 10% to an average of $900,000.
Sales will continue to be driven by the factors that make the GTA a hot real estate destination, says TRREB President Michael Collins, while the lack of new listings will become a deepening concern.
"Robust regional economic conditions, strong population growth and low borrowing costs will support increased home sales in 2020," he stated. "Market conditions will become tighter, as transactions will continue to outpace the growth in available listings. The resulting increase in competition between buyers will likely result in acceleration in price growth across all major market segments."
However, it remains to be seen if the government will step in again with measures to cool the demand side of the market, a move that has proven to only temporarily aid the situation, says Mercer.
"After more than three years of slower market activity brought on largely by changes in the housing-related policies at the provincial and federal levels, home sales will now move closer to demographic potential in 2020," he states. "The key issue, however, will be the persistent shortage of listings. Without relief on the supply front, the pace of price growth will continue to ramp up. Policy makers need to understand that demand-side initiatives on their own will only have a temporary effect on the market."
Check out the infographics below to see how sales and prices have increased across all home types in the Greater Toronto and 416 markets in January: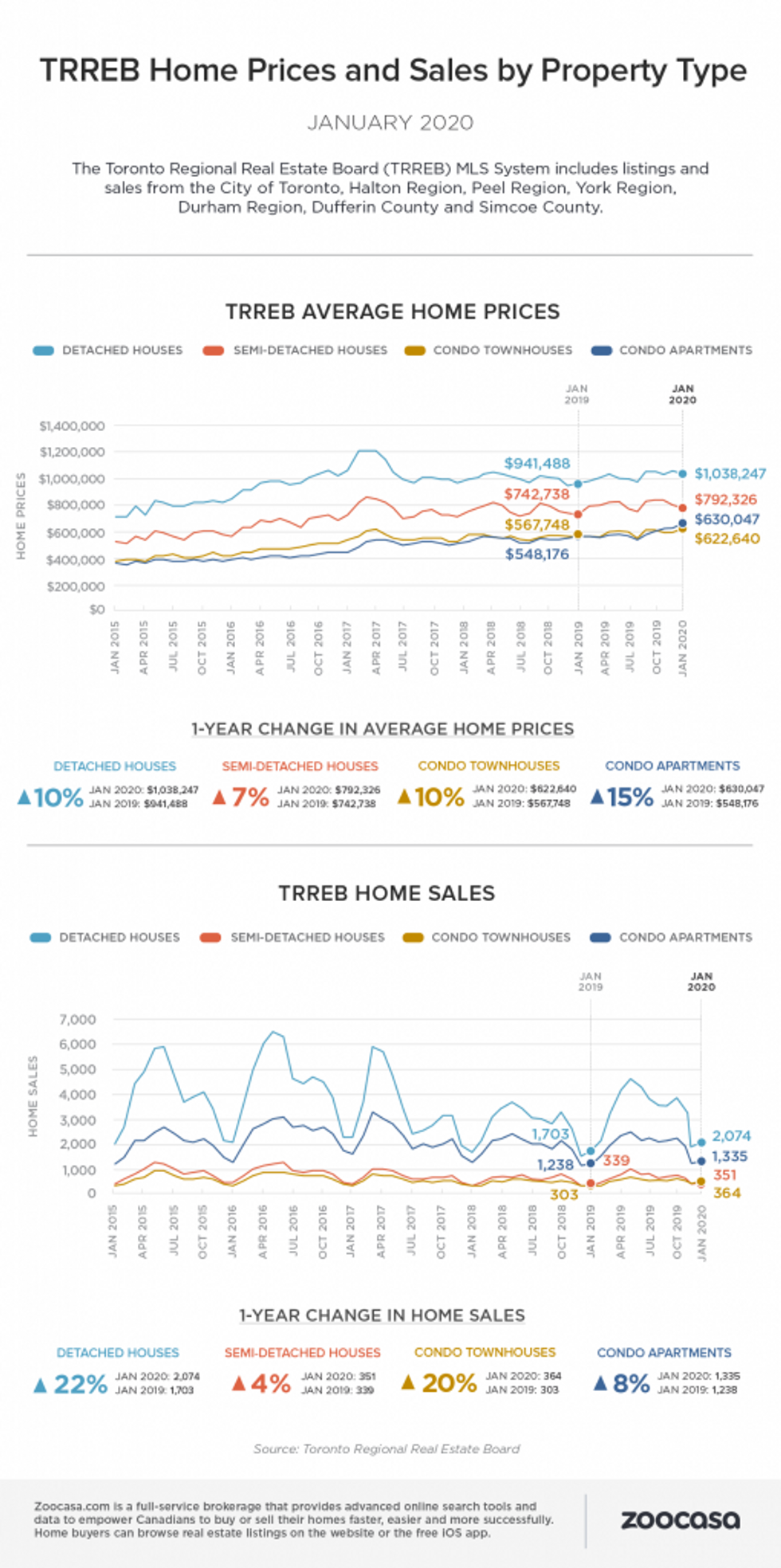 TREBB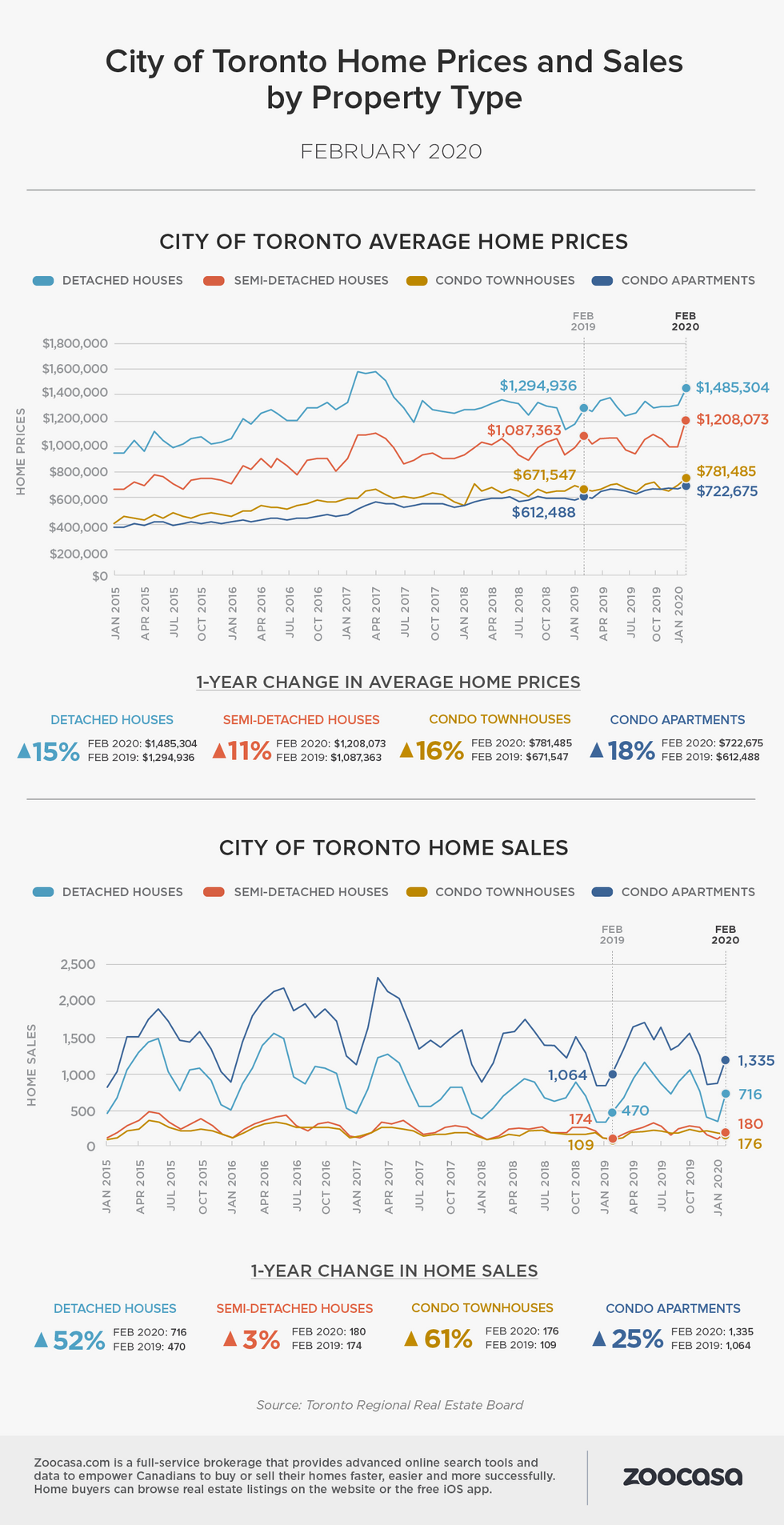 TREBB
Richmond Hill