Toronto
Real Estate News
Home Prices in Toronto Have Dropped More Than $500,000 in 6 Months
There have been clear signs that home prices are set for a downward trajectory in the Greater Toronto Area, as rising interest rates knock more would-be buyers out of the market. Overall, GTA average home prices saw just 1.2% year-over-year growth in July — the smallest annual uptick since April 2020.
However, unlike previous months, those declines are now being felt in the market segment that has been known for its resiliency and red-hot demand: detached home prices have tumbled below where they were one year ago.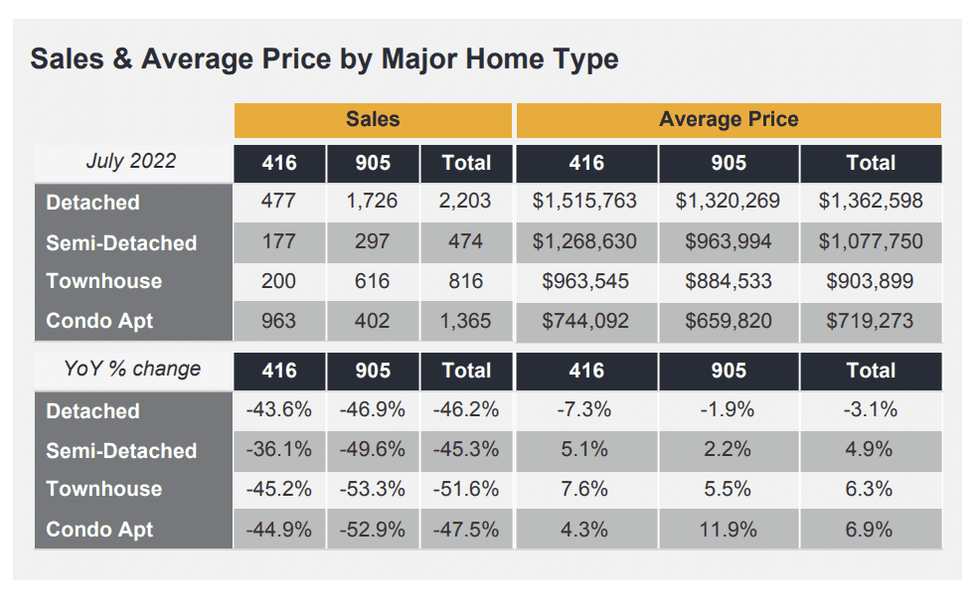 In the first year-over-year declines recorded since the earliest COVID-induced lockdowns, GTA house prices dipped 3.1% from July 2021 to an average of $1,362,598. That follows a 46.2% annual plummet in sales, with just 2,203 transactions. Compared to just one month ago, sales and prices are down 26% and 6.3%, respectively. And, from the market peak in February, house values have declined by more than $400,000 (-24%).
READ: "Peak-to-Trough" Canadian Home Prices Expected to Fall 12 – 13%
It's a sharp turnaround from the rampant price growth experienced in the segment over the last two years, as pandemic buyer psychology fuelled demand for larger home types, especially in markets outside of the city core. Just six months ago, home prices had shot up 31% annually, rivalling the kind of red hot conditions that prompted policymakers to implement market-cooling measures in late 2016.
High-Priced Toronto Houses Seeing Deepest Declines
It would appear that eroded affordability is hitting Toronto-based homebuyers the hardest; detached prices in the city proper are down 7.3%, though still sit at a hefty $1,515,762, with sales down 46.9%. Compared to February, when the average exceeded the $2M mark, Toronto house prices have slid a whopping $558,226 (-26%). A large chunk — a difference of $221,250 — has been lost in the last month alone.
Declines are still steep, though slightly less pronounced, in the 905 markets. TRREB reports prices have dropped 1.9%, to $1,320,269, down by $407,694 from February (-23.5%). Month over month, they're down 3%. Sales in the suburban and exurban markets are down 46.9%, says TRREB.
In a release showcasing the July numbers, the board acknowledges the strongest price growth has been concentrated in the most affordable market areas; condo sales, while still absorbing a year-over-year decline of 47.5%, saw prices jump 6.9%, to $719,273.
"Less expensive home types, including condo apartments, experienced stronger rates of price growth as more buyers turned to these segments to help mitigate the impact of higher borrowing costs," TRREB states.
In the City of Toronto, the average price of a unit rose 4.3% to $704,092 — that's trailing semi-detached and townhomes in terms of price growth, but the segment saw the strongest sales demand, with 963 units sold, more than doubling that of detached houses.
In the 905, condo prices surged the most, up 11.9% to $659,820. However, low-rise housing types continued to be the most popular in the suburban and exurban markets; 402 condos sold compared to 1,726 detached, 297 semis, and 616 townhouses.
TRREB President Kevin Crigger stated in the board's release that steeper borrowing costs have greatly reduced how much mortgage today's homebuyer can qualify for, while they simultaneously grapple with a higher cost of living due to soaring inflation.
"With significant increases to lending rates in a short period, there has been a shift in consumer sentiment, not market fundamentals," he says."… With the benefit of hindsight, it appears that the Bank of 2 Canada's rate increases started too late. Now we are dealing with outsized increases to curb generationally high inflation. The federal government must enact measures which will assist buyers facing affordability challenges in an inflationary environment where costs are rising at the gas pumps, the grocery stores and everywhere in between."