Whether you're for it or against it, every Torontonian can agree it feels like there's now a new towering development going up on every block. As it turns out, that sense of increased high-rise development is entirely justified, as Toronto has now doubled its number of cranes compared to before the pandemic.
A new Crane Index report from Rider Levett Bucknall found that in the third quarter of 2023, Toronto had a staggering 240 cranes in the city. Not only is this the most out of all other North American cities measured — well outpacing second-place Seattle's 45 cranes — but it's about two times the 121 cranes seen in the first quarter of 2020.
---
The number of cranes in Toronto really took off in the first quarter of 2021, jumping to 208. It's continued to grow fairly consistently since then.
"The residential sector continues to see the most consistent growth in crane count, up seven more cranes this quarter, however, the hospitality sector has dropped by four cranes in the past six months," the report says of Toronto. "It's worth noting that behind the relatively consistent crane counts, there's been a very active ongoing construction scene, with over 50 new projects introducing cranes in the past six months.
"Of these new construction projects, 41 are residential projects, 7 are commercial projects, and the remaining three are institutional projects."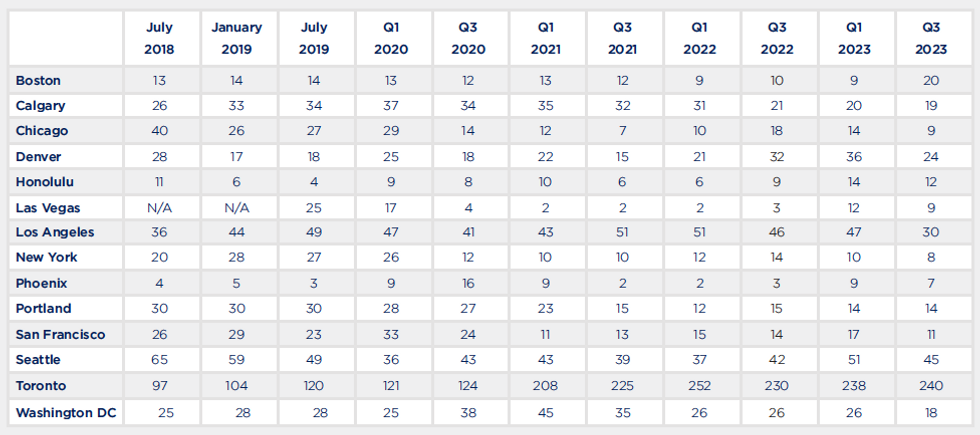 Crane counts across major North American cities.(Rider Levett Bucknall)
The State of Housing Starts
Just last month, the Canada Mortgage and Housing Corporation (CMHC) reported a 28% increase in year-to-date housing starts in Toronto, which came even as starts across the country dipped. However, zooming into just the latest available data, there's actually been a decline in housing starts in Toronto, falling from 7,171 in June to 5,200 in July to 4,137 in August, making the increase in crane numbers during that time a somewhat surprising one.
The construction of apartments has led the way in Toronto this year, with starts of this housing type jumping up 58% in the first half of 2023, according to CMHC.
The government of Ontario has been laser-focused on getting municipalities to increase their housing starts, implementing some often-contested tactics to do so. From holding forced refunds of application fees over the heads of municipalities for not approving development applications quickly enough to unveiling the Building Faster Fund — a $1.2B incentive program to reward municipalities for hitting or exceeding their housing targets — the Province has made clear that it sees cutting municipal red tape as a key in solving the housing crisis.
It doesn't help, however, that at the same time a number of developers, both in Toronto and otherwise, have had to pause, postpone, or even cancel development plans as rising interest rates and fewer interested buyers have made projects less financially viable.
In an October report, CMHC noted that sales of new condos were down 52% between January and June of this year compared to the same time period in 2022.
"This has made it more difficult for developers to achieve the sales necessary to access construction financing," CMHC said, also noting that "elevated construction costs and interest rates likely present challenges for future projects."
Real Estate News