---
High interest rates are spurring a "very important shift" in Toronto's condo investment market, potentially impacting the already low level of housing supply.
According to a new report from Urbanation and CIBC Capital Markets, the majority of investors who purchased pre-construction condos to use as rentals weren't making money in 2022, the first time such a scenario has occurred.
Only 48% of newly completed condos were cash flow positive last year, compared with 56% in 2021 and 60% in 2020, meaning that the rent investors collected from tenants was lower than their mortgage costs, condo fees, and property taxes.
"This marks a meaningful shift that may potentially signal that a change in investor behaviour is on the horizon," the report notes.
Urbanation and CIBC Economics
Although rents skyrocketed in 2022, they were more than offset by rising interest rates and subsequently higher mortgage costs. Among newly completed condos that were used as rentals last year, three-quarters had a mortgage.
The shift in cash flow has been "rather substantial," with investors earning an average of $63 per month in 2020, and losing an average of $223 per month in 2022. The situation has already worsened, with the average investor coming up short more than $400 per month in Q1 2023.
In 2022, the highest concentration of investors were losing $1K or more per month, while one third were losing at least $400 per month.
"The concern here is that this change in cash flow could represent a tipping point that causes investors to shorten their holding time and think twice about further investing," the report reads.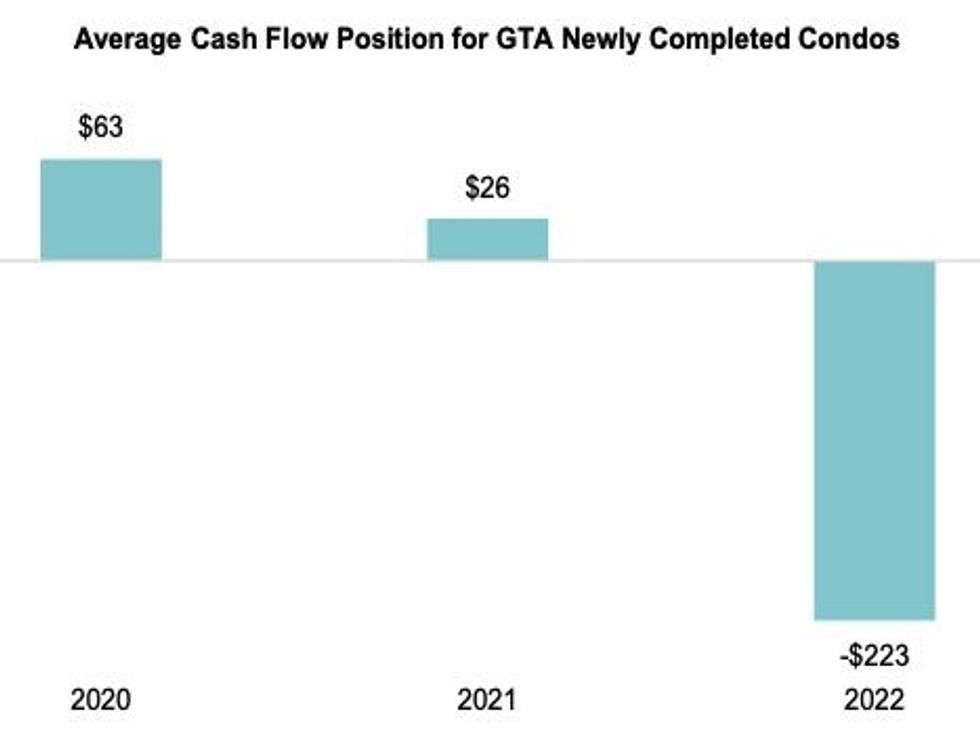 Urbanation and CIBC Economics
The situation is expected to worsen in 2023 and beyond, as a large number of high-priced new condos that were pre-sold during the market highs of the last several years reach completion in a higher interest rate environment than they were sold in.
While the expected decline in interest rates, coupled with an anticipated rise in rents, will lighten the impact, it won't be enough to stop investors' financial situations from getting worse.
As a result, the report warns that investors may no longer be willing or able to purchase pre-sale condos with as much fervour as they have in the past. This risks a reduction in new condo demand, new construction, deliveries, and, ultimately, in rental supply.
According to 2021 census data, rental investors account for 39% of the total condo stock in Toronto, including 59% of units built in the past five years. The latter figure has risen 20% in the last decade.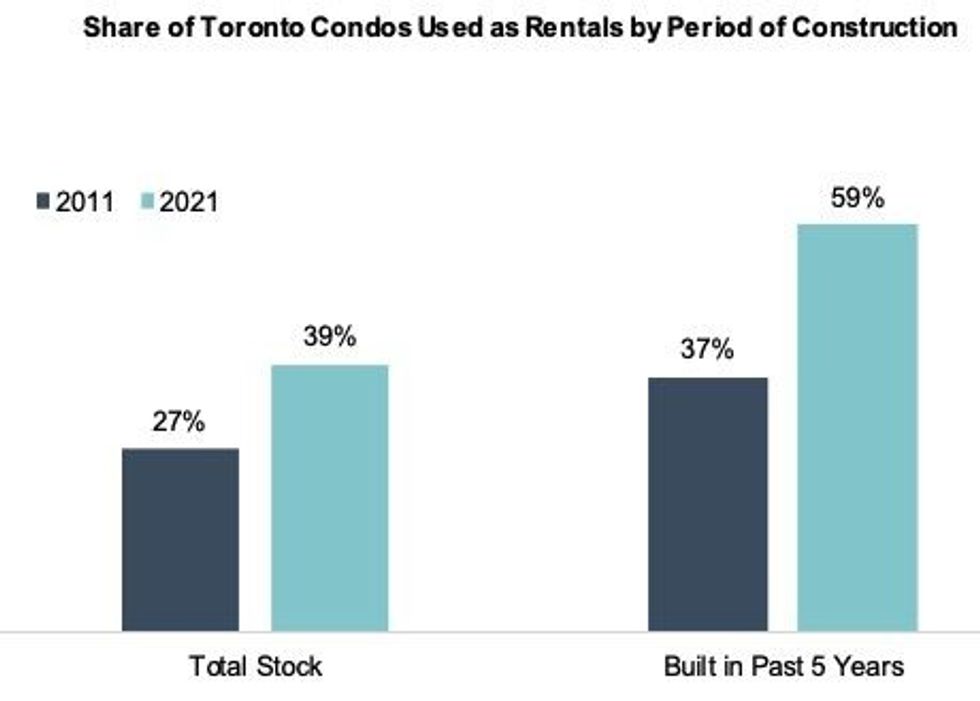 Urbanation and CIBC Economics
"In the GTA, the condo market does all the heavy lifting for housing supply," the report reads.
"Investor demand is therefore of critical importance for the supply outlook -- if investors aren't buying, developers aren't building. More purpose-built rental projects are needed, but we are long ways from being able to rely on rental units are to drive construction in Toronto."
A record-high of 101,000 condo units are currently under construction in the Greater Toronto Area, which should improve housing completions -- which fell to a 20-year low in 2022 -- over the next few years.
However, the sharp drop in pre-sales seen in the second half of 2022 will eventually pull completions back down as immigration reaches new heights. The mismatch between supply and demand is expected to only get worse.
Toronto Condos & Homes