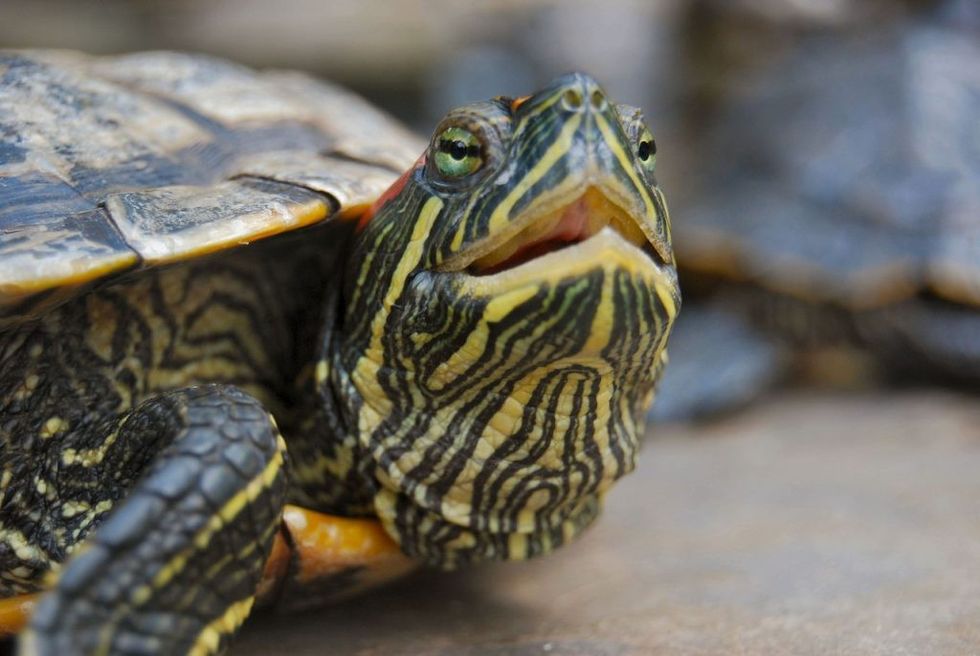 It's been another month of double-digit real estate sale and price declines in the Greater Toronto Area, compared to the blistering activity that defined the early spring market the same time last year.
---
Sales in the region are down 31.1 per cent with 7,792 homes sold. Prices have also slid from last year's peak by 12.4 per cent to an average of $804,584.
Board Says A Strong Spring In Store
While this may seem like an alarming downward trend, it's important to take the numbers with a healthy dose of perspective, say the experts from the Toronto Real Estate Board.
April marks the final month when this year's numbers will be thrown into sharp contrast with 2017's pre-Fair Housing Plan conditions; the 16-part set of measures was put in place by the provincial government on April 20 last year, prompting a significant — and immediate — market cooldown.
That's resulted in severe year-over-year declines reported over the following months, as the newly-balanced Toronto market underperforms last April's — which had sellers' conditions so hot, they prompted government intervention.
Jason Mercer, TREB's head of market analysis, says it's an apples-to-oranges comparison that "masks the fact that market conditions should support moderate increases in home prices as we move through the second half of the year, particularly for condominium apartments and higher density home types."
He adds, "Once we are past the current policy-based volatility, homeowners should expect to see the resumption of a moderate and sustained pace of price growth in line with a strong local economy and steady population growth."
The board has maintained a position that the first half of 2018 would be a quieter one for the real estate market, with the real action to heat up come summer.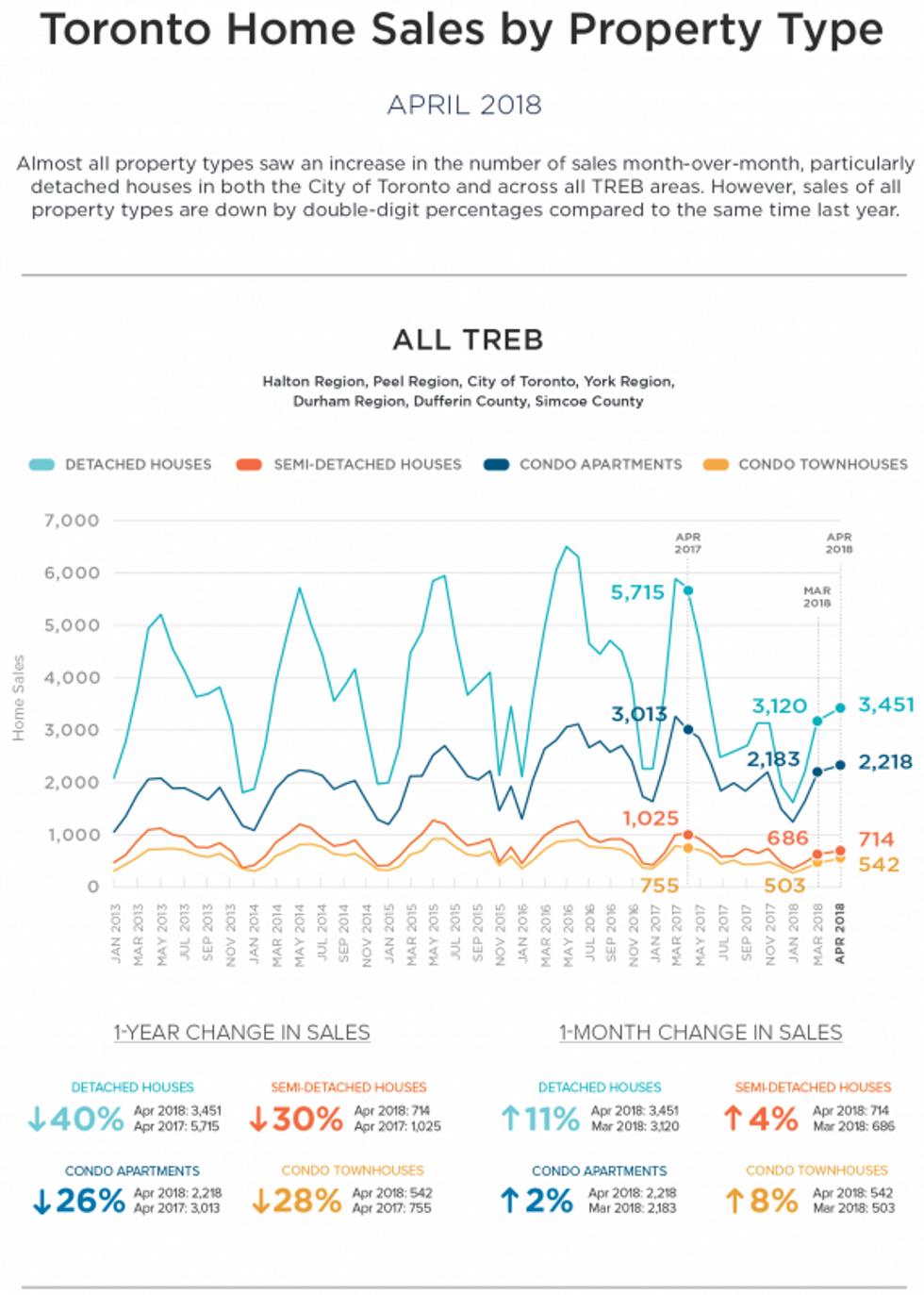 Monthly Sales Reveal Recovering House Demand
Indeed, when sales are compared on month-to-month basis, the numbers reflect steady price appreciation and reheating demand for low-rise housing. This indicates things are turning around from the initial plunge, as the pricey single-family homes segment was hardest hit following the implementation of the FHP.
Rather, house owners continue to see healthy returns on their property assets. Sales for detached houses have improved 16 per cent from March in the City of Toronto proper, and a 4.7-per-cent price increase to an average of $1,354,719.
Demand is also up by double digits throughout the rest of the GTA, improving 10.6 per cent and prices increasing to $1,003,103.
Semi-detached homes also saw decent demand, with a 12.3-per-cent increase in sales, though the average price fell very slightly, by one per cent, to $1,021,986.
However, the narrative has changed somewhat for the condo segment.
After months of leading the market in terms of price and sales growth, activity for multi-residential and high-rise homes was relatively flat, with a 0.1-per-cent sales increase, and 1.9-per-cent price uptick to $601,211.
However, condos remained the only home type to see both sales and price appreciation on an annual basis.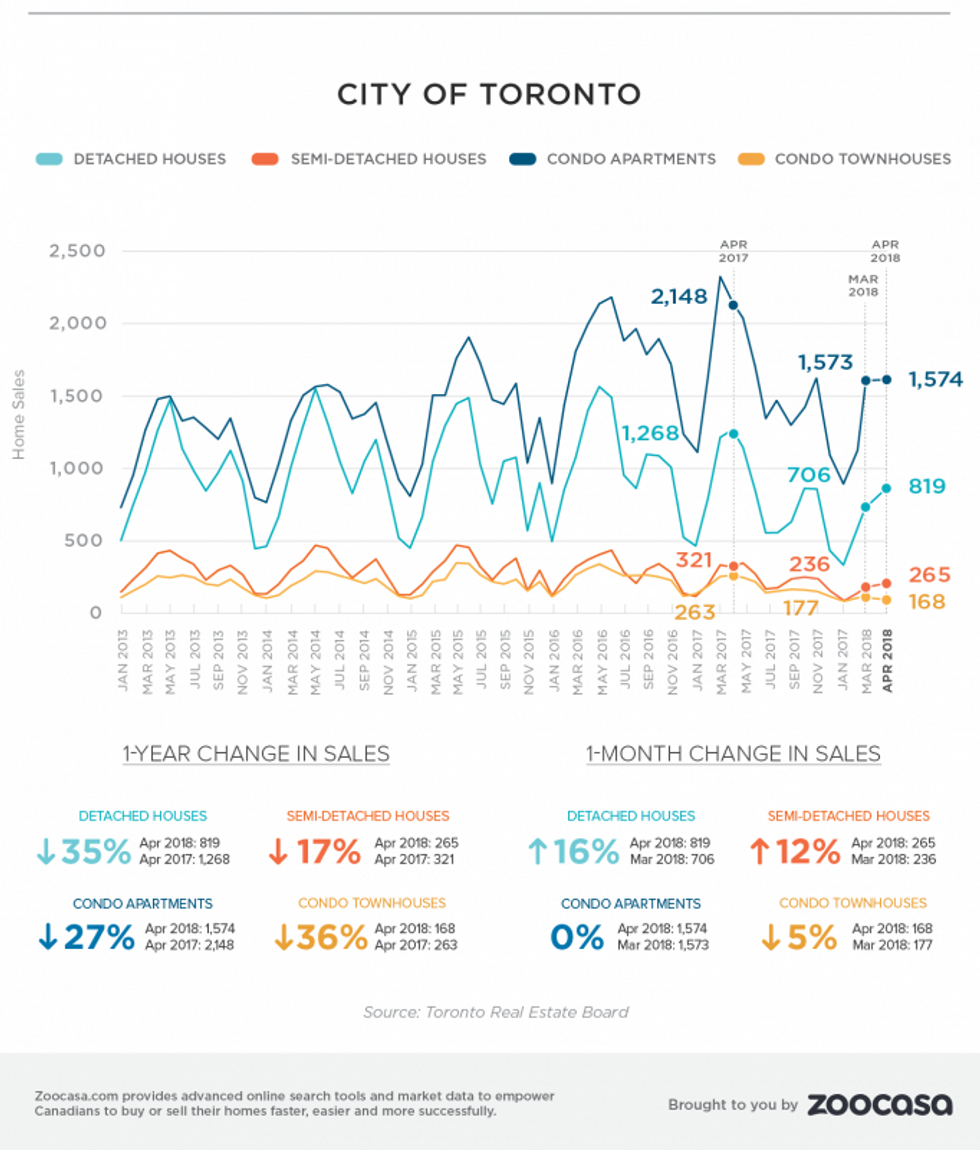 A Friendlier Time To Be A Buyer
The bright side to slower sales is that buyers are now enjoying balanced market conditions, after several years of duking it out in bidding wars and coping with runaway prices. However, that's changing fast in the 416, as the city's sales-to-new-listings ratio has increased to 58.3 per cent — on the precipice of sellers' market territory.
This ratio, which is calculated by dividing the number of sales by new listings in a specific region over a certain time frame, can shed light on how competitive conditions are in any given market.
A ratio between 40 and 60 per cent indicates a balanced market, according to the Canadian Real Estate Association, with below and above signalling buyers' and sellers' conditions.
The rest of the markets tracked by TREB remain in either balanced or buyer's territory.
Peel region — where home seekers can find more affordable houses in Mississauga, or condos for sale in Mississauga — remains balanced at 52 per cent. Also balanced are the Durham and Halton regions, at 58 and 47 per cent. York and Simcoe regions, however, remain firmly rooted in buyers' markets, with ratios of 32 and 34 per cents, respectively.
Personal Finance