---
Affordability continues to be pressed in the Greater Toronto Area (GTA), and experts are saying that stubborn inflation may tempt another interest rate hike by summer. While it costs a pretty penny to invest in real estate these days, new data shows that many consumers are still motivated to do so.
Royal LePage reported Thursday that the region's investor landscape is strong -- 64% of investors say they own one income property, while 34% say they own multiple -- and it's poised to get stronger in the next five years, with almost half (47%) of GTA investors saying that they plan to add an additional property to their portfolio by 2028.
RELATED: 1 in 4 Canadians Plan to Buy an Investment Property in the Next 5 Years
Mike Heddle, broker with Royal LePage State Realty, says that today's consumers are much more educated on what it takes to invest in real estate, and, as such, interest in investing is on the rise. He points specifically to "savvy millennials" who are wise to the fact that the GTA's market is supported by strong fundamentals, and are eager to tap into the market as a business endeavour.
Royal LePage's report also reveals that, despite diminished purchasing power, the most popular type of investment property amongst GTA investors is single-family homes, with 44% saying they currently own this property type. Condos -- which have garnered quite a reputation for being heavily investor-owned -- follow closely behind, with 39% reporting they own this property type.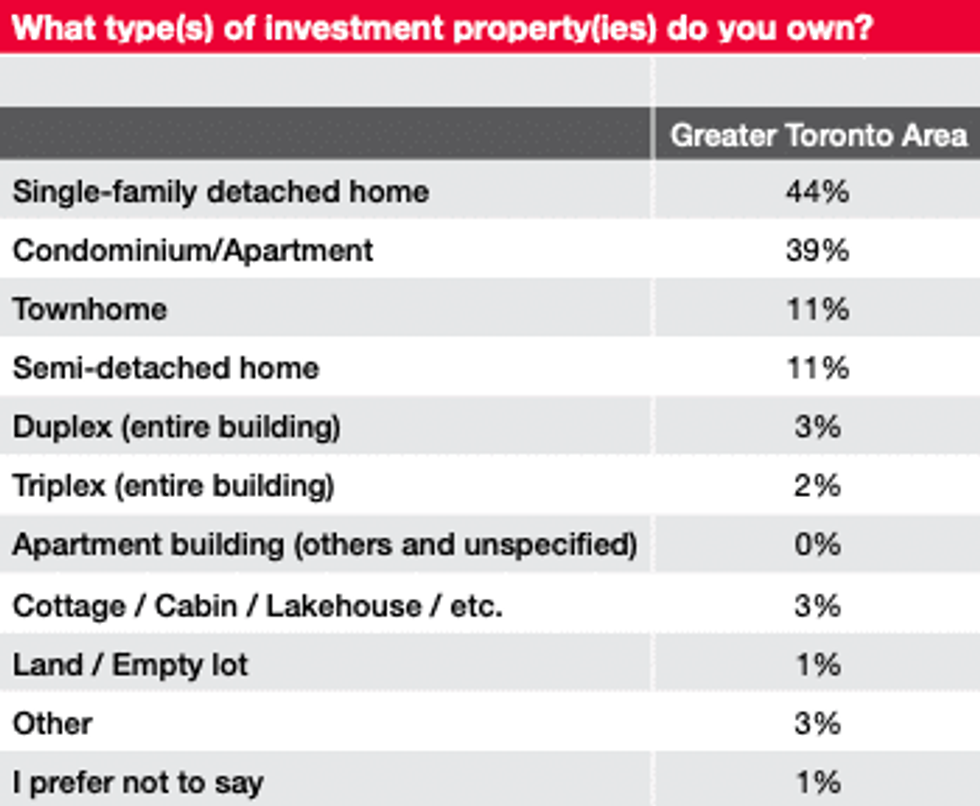 Royal LePage 2023 Real Estate Investors Report
Heddle notes that while "historically speaking, the GTA has been a thriving market for real estate investors," he acknowledges that today's market is a challenging one, characterized by higher mortgage costs and "neutralized or decreased monthly income."
These realities are not lost on GTA investors, with 36% saying that increased lending rates have caused them to consider selling one or more of their investment properties. That figure is higher than its national counterpart (31%), as well as the corresponding figures in Greater Vancouver (28%) and Greater Montreal Area (26%). Twenty-four percent of GTA investors also indicate that they are likely to sell one or more of their investment properties within the next two years.
Royal LePage's insights on the GTA are part of a larger report that unpacks investor desire nationally. The overarching takeaway is that more than a quarter (26%) of Canadians have plans to purchase an investment property in the next five years, indicating that consumers remain confident that investing in real estate is a worthwhile endeavour.
Findings from the report are based on an online survey of 1,003 Canadians, aged 18 and older, completed between March 2 and March 17, 2023.
Toronto