---
For the first time since peaking in June 2022, Canada's annual inflation rate has risen, driven in part by higher mortgage interest costs and rising rents, leading economists to speculate that another interest rate hike may be on the horizon.
According to Statistics Canada's latest Consumer Price Index, the country's annual inflation rate hit 4.4% in April, up from 4.3% in March, surpassing expectations and remaining well above the Bank of Canada's (BoC) 2% target.
Mortgage interest costs were up 28.5% in April compared to a year prior due to the BoC's incessant interest rate hikes, which led to more mortgages being initiated or renewed at higher rates. The measure is up from 26.4% in March, and 21.2% in January.
The higher rate environment may be a driving force behind rental demand as well, pushing rental inflation up 6.1% annually in April.
Overall shelter costs slowed to 4.9% year over year, down from 5.4% in March, while the annual increase in the homeowners' replacement cost index slowed for the 12th consecutive month in April to 0.2%.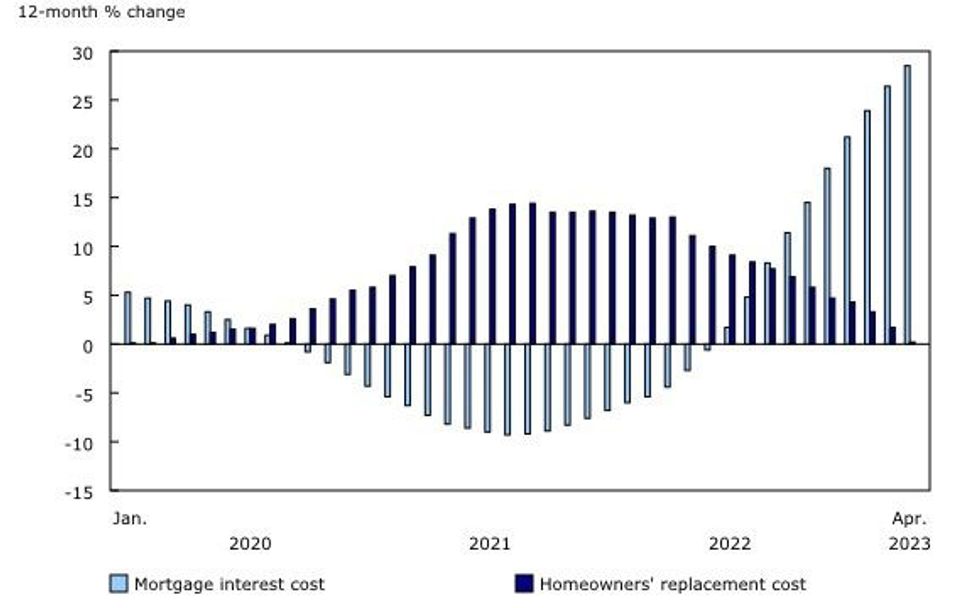 Statistics Canada
With headline inflation rising higher than expected and housing "on a tear again," there are "high odds" that the BoC will hike interest rates again this summer after pausing in March, Derek Holt, Vice President and Head of Capital Markets Economics at Scotiabank, wrote in an economic update.
"Overall, recent data has reinforced the narrative that I have been communicating to clients throughout this year that the Bank of Canada's job is not finished after it quit hiking too early back in January," Holt said.
"There is a highly compelling case for returning with a hike at the June meeting and if not then July's odds go up. I would assign high market probability to a June hike with info to this point."
The view was shared by Marc Desormeaux, Principal Economist at Desjardins, who noted that April's reading "throws cold water on any notion that we're out of the woods with inflation," and leaves the door open for further rate hikes. Leslie Preston, Managing Director and Senior Economist at TD, cautioned that the BoC will need to "remain vigilant."
However, an economic update from RBC Economist Claire Fan predicts that no further rate hikes are to come; although inflation accelerated in April, it has still eased since last summer's peak, she noted.
"Early signs that the lagged impact of higher interest rates are weighing on economic growth suggest underlying price pressures should continue to ease," Fan said. "The BoC is expected to stay on the sideline for the remainder of the year."
Economy