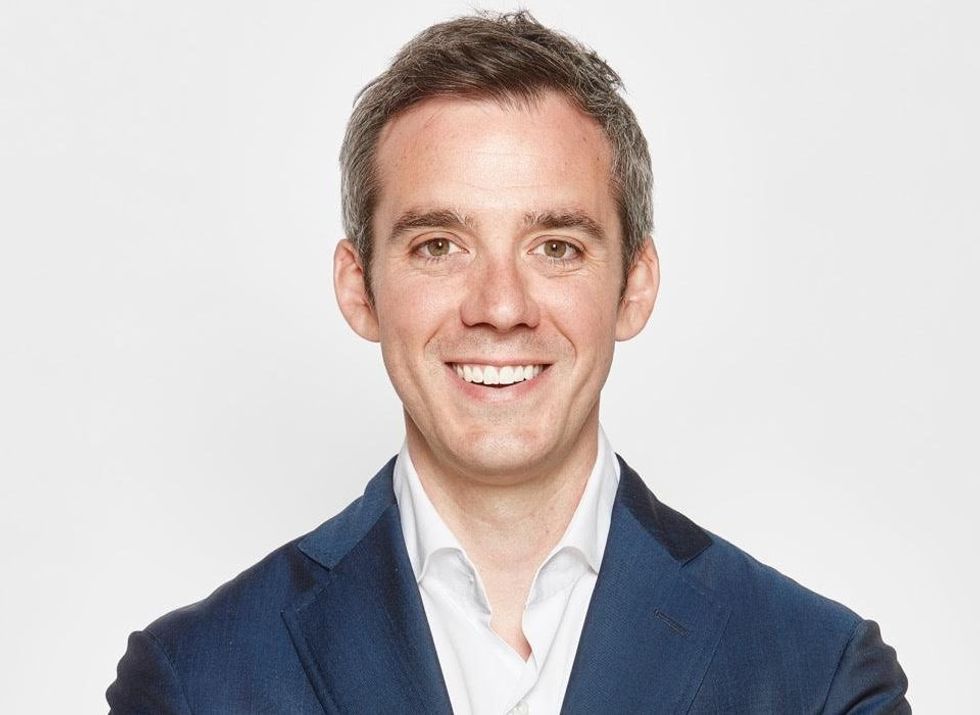 Christopher Bibby didn't become the Toronto Real Estate Board's #1 producing realtor for downtown Toronto condominium sales by accident.
---
He made a conscious decision early in his career to shy away from high-rises and only represent suites in smaller buildings with unique character. (The RE/MAX Hallmark agent loves loft conversions and properties that tell a story.)
It was this laser focus, combined with a marketing strategy (blessed with his memorable last name,) and a willingness to nurture client relationships long after closing the sale that Bibby believes pushed him to the top.
The realtor takes you on his and journey and finally answers that question only a few were dying to know: Christopher Bibby and retired NBA point guard Mike Bibby — brothers?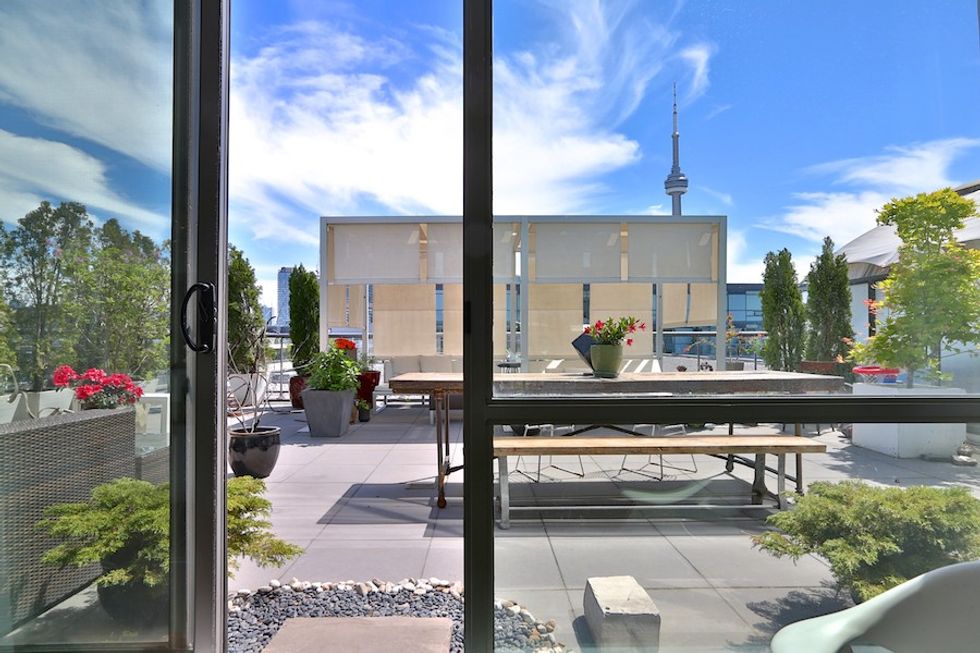 This was the only unit at 55 Stewart St. sold as raw space to the buyers. They did their own Boffi kitchen and had an 800-square-foot terrace, which their sons skated on in the winter.
What got you started in real estate?
I came from a very entrepreneurial household. My parents had a family business they started in the early '80s, so I always enjoyed being a part of that and was very active in the business from a very young age.
While I was going to Queen's University, I had an older brother who bought a condominium in Toronto in the early 2000s down at Queen's Quay and Spadina area. At the time the landscape was a little different. I'm not sure if you remember, but City Place was City Golf, so it was a very different time.
I remember seeing the landscape changing and there were a lot of opportunities for growth in the city. I also noticed that a lot of my brother's friends were looking for condos to move into once they were done school whether they were renting or looking to buy.
This seemed like the future of real estate in the city. I had a couple of friends who were at the University of Toronto and started selling while they were there.
I think we saw a tremendous amount of opportunity do things differently. At the time, the average age of an agent was 57 and it just seemed like an archaic industry. So, with it being dominated by older agents there was a way to use technology and streamline the process.
Also, I think most agents really didn't want to sell condos because of the price point. It looked like a more irritable process for them because a lot of them were just interested in selling homes.
The original plan was to go to law school, but that never happened.
What did you end up doing differently and innovating when you started?
A lot of my advertising was done online. At the time, I was using my website. By 2006, all of my ads were run through Google. Online advertising was a really affordable way to market myself and it seemed like something that wasn't touched.
A lot my clients came from the ads I was running online at these initial stages and I don't think many people were taking advantage of SEO and Google. So I put a lot of resources into my website just so I could rank highest in certain search terms and neighbourhoods.
We weren't really competing with anyone for these search terms and each year it got more and more competitive.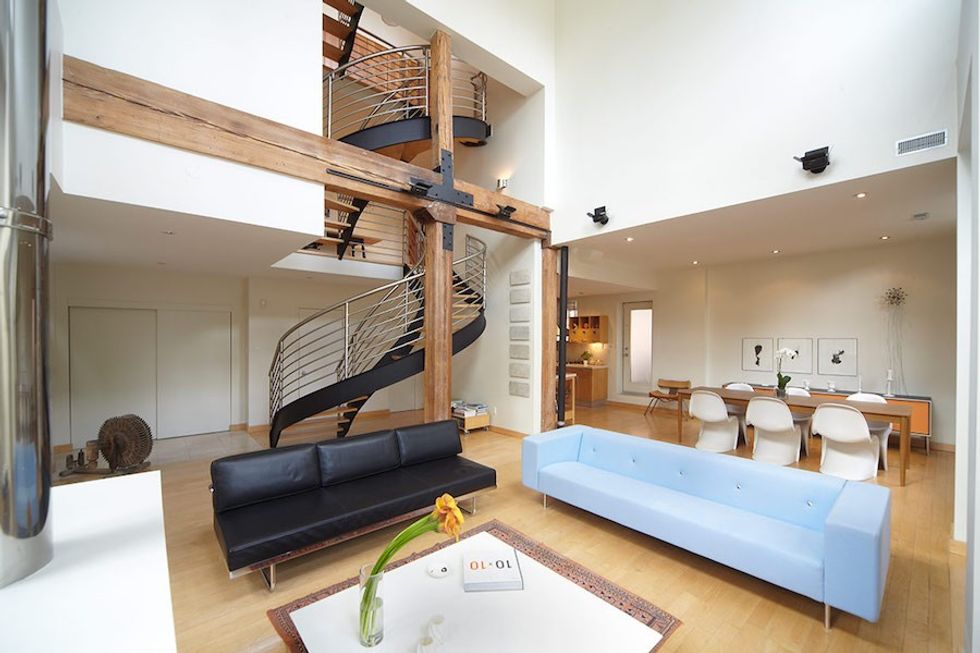 The clients had to weld this iconic staircase in their Button Factory loft at 200 Clinton St. After that loft sold sellers would always ask, "You sold the loft with the spiral staircase in Little Italy right?"
How have you had to evolve as the online marketing space for real estate becomes more crowded?
I've done a very high volume of business in the last 10 years. But a lot of our clients now are repeat and referral. So we're not doing as much advertising as we have been. But I've pretty much tried everything possible over the years.
There was a period where we were doing flyers, direct mail, newsletters, social media and website. We keep in touch with a lot of our past clients. Once the process is done, our relationship with them continues. I speak with clients on a regular basis.
What is the value of mixing traditional marketing like flyers with online marketing like Google Ad Words?
It all depends what you're trying to accomplish. We have an online newsletter. We can obviously track which links are clicked and which videos are watched.
With mail — we haven't sent mail out for quite some time — but I've had people tell me, "I received a piece of mail from you 12 years ago."
I have a very distinct last name and people will tell me, "We saw your bus ad or we saw your name in a bus shelter." But we don't actually run those types of ads.
Having a very distinct last name has helped me in that way and being a specialist has helped me. Early on, selling a condo in North York, selling a house in Mississauga and then doing a rental in The Distillery District was a typical day for me. But in 2007, I really started to focus on are condominiums.
I made a decision a long time ago to be a specialist and not a generalist. I wanted to work downtown in very interesting spaces. Quite early on I chose where I wanted to work and have been very consistent with our marketing over the years.
It's interesting you mention your unique name because we need to set the record straight: Are you related to former Sacramento Kings point guard Mike Bibby?
I'm not, but I've been asked that a few times. I do enjoy basketball, but no relation.
It's interesting you bring that up because I remember reading an article in the economist and it said the lifespan of a piece of bulk mail is typically less than three seconds.
I thought, if I only have three seconds, what do I want them to take away from my mailers? I settled on just repeating my last name across the flyers and on the flip side it was just my contact information.
People would call me saying, "We had no idea what this meant or what it was ... And then we saw it was something real estate related."
I just thought, If I could trick them a little bit, or have them digest what my last name was and what it meant, then this could really work.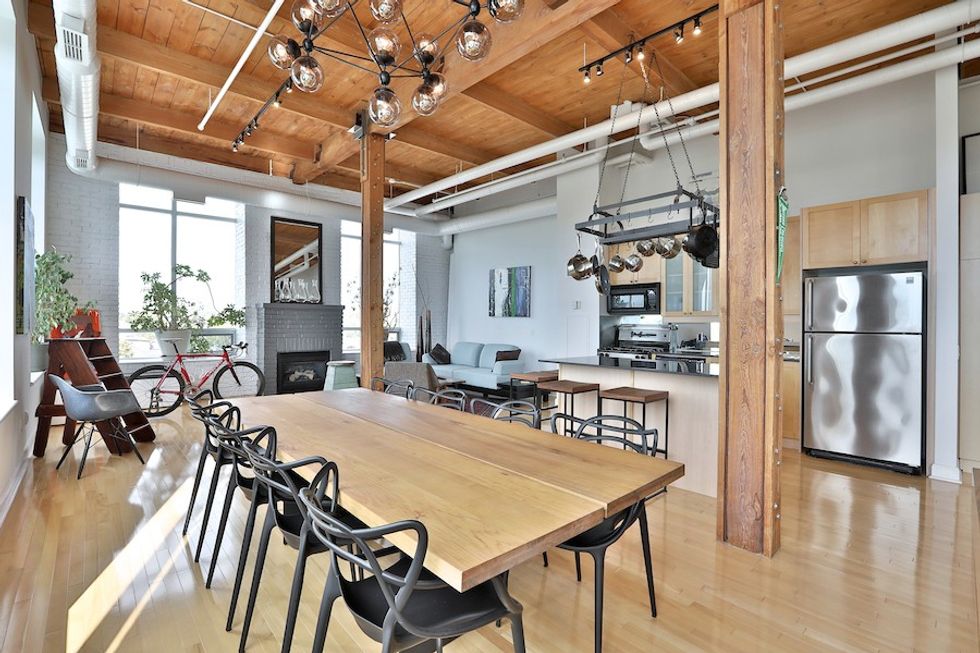 Bibby sold this corner penthouse in the Candy Factory for $2 million in six hours.
What are those spaces you like to work in most?
The smaller the building, the more interesting the building to me. I love loft conversions. One of my favourite buildings definitely has to be The Candy Factory.
I had a few penthouses in there over the years that have sold and really helped me develop a reputation. I really targetted some unique spaces quite early on in my career. I really didn't want to focus on these high-rise, cookie-cutter investor buildings. I really wanted to focus on smaller buildings with a sense of community where people enjoyed living and used all of the stores and shops in the neighbourhood.
The majority of my clients are end users, I don't work with a lot of investors. I'm mainly a listing agent, so I work with a lot of sellers now.
It's great to be able to walk into a space where you know they have the same goal as you. And they have a lot of pride in their space and want the sale to be a successful one.
When you're working with investors you have a lot of tenanted units and the places don't photograph well. I've really enjoyed just being able to work directly with my clients. I love the people I work with. And the more interesting the space, the more passionate I get about the property.
Industry Profiles