Perhaps it was to be expected that residential architecture in condo-crazy Toronto has turned into a manic search for the new and novel. Decades of glass-and-steel towers, one much like another, have left buyers wanting more. Who can blame them?
For the marketers and their architects, this desire for spectacle presents an opportunity as well as a challenge. The results have been many and varied. Where once towers were measured in straight lines, rectangles and right angles, today Toronto condos twist, twirl, turn and tug. Floorplates shift, balconies protrude, walls lean, all in an effort to attract our attention.
---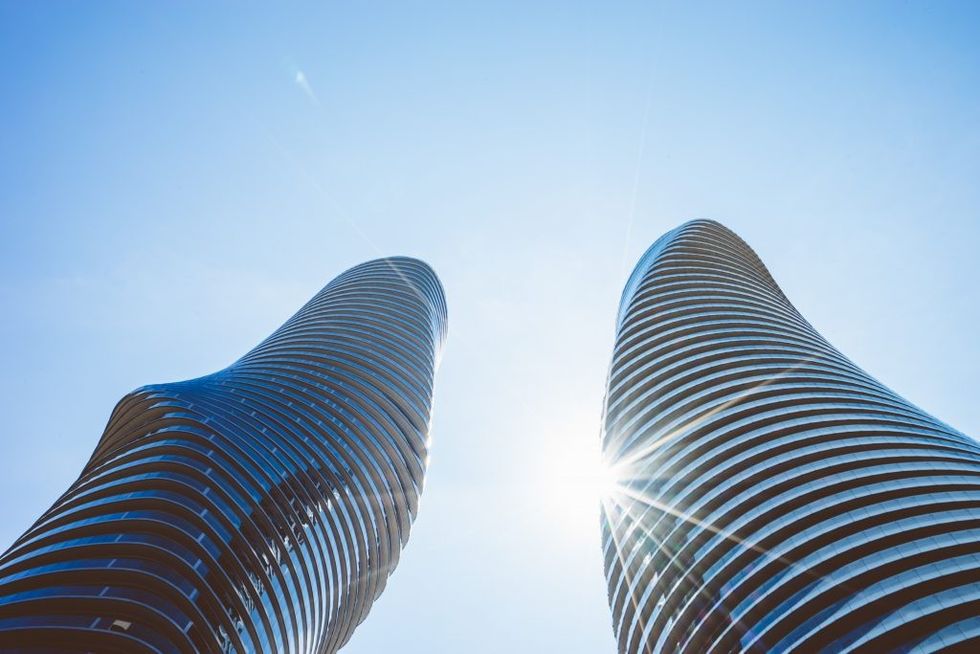 Photo by Scott Webb on Unsplash.
At a time when outlandishness is the new normal, it's no surprise that developers and architects, aided and abetted by technology, are pushing the boundaries of what's possible. Sometimes that leads to greatness; MAD's Marilyn Monroe towers in Mississauga are a good example. Sometimes, it leads to something else.
It shouldn't be shocking, then, when a well-regarded, progressive developer like Westbank Corp announces a project as extraordinary as KING Toronto. The Vancouver-based outfit has a number of projects on the go in this city. Most notably, it's rebuilding the Honest Ed site at Bloor and Bathurst where work has started on a fully integrated, unusually enlightened mixed-use project.
Photo by Matthew Henry on Unsplash.
More recently, Westbank and Allied Properties launched a condo complex at King and Portland. The project is interesting if for no other reason than the fact the designer is Danish architectural star, Bjarke Ingels. He founded his practice, the Bjarke Ingels Group (BIG), in Copenhagen in 2005. Back then, it was a small outfit with maybe a couple of dozen employees. Today it has a staff of more than 400 working in Copenhagen and New York.
BIG's illustrious history includes a number of innovative and attractive residential buildings in Copenhagen and New York. Not to mention a wonderfully playful waste-to-energy plant in the Danish capital that neighbours are actually happy to live next to.
Ingels describes his King Street proposal as an homage to Moshe Safdie's Habitat, the revolutionary modular housing scheme constructed in Montreal as part of Expo 67. Sadly, this time the Ingels magic didn't happen. Though we have nothing to go by save a series of detailed computer renderings, it's clear BIG's proposal is wildly out of scale and sympathy with its surroundings at King and Portland.
Situated behind a row of low-rise heritage structures, Ingels' building looms over them and the street like some ominous Brobdingnagian interloper, blissfully unaware of the context. It's worth noting that BIG's most compelling projects were designed for empty sites that don't come with the same pressure to accommodate existing structures. Ingels is accustomed to a blank slate, an architect's dream but hard to find in a 21st-century urban setting. His response lacks sensitivity and nuance, critical ingredients when dealing with the complicated demands of downtown architecture.
Certainly, the King Street project isn't one that will be included on BIG's ten best list. Had Ingels been given land on the waterfront, his scheme would have seemed right at home. There's space on the shores of Lake Ontario for a busy residential plan like this that needs room to breathe. As it is, it looks like something that has been fitted into the site after it was designed.
By contrast, Diamante Developments' twin 38-storey tower proposal for the north side of Lake Shore Blvd. W. near the Humber River takes full advantage of its airy setting. Designed by Scott Shields Architects, this twin-towered project is a cheerfully unironic update of the socialist realist architecture beloved by Josef Stalin. Though not quite the Palace of the Soviets, the boxy, symmetrical and rigidly earnest structure will impress visitors entering Toronto from the west. It lacks a pair of well-muscled workers waving a hammer and sickle on top, but maybe that's still to come.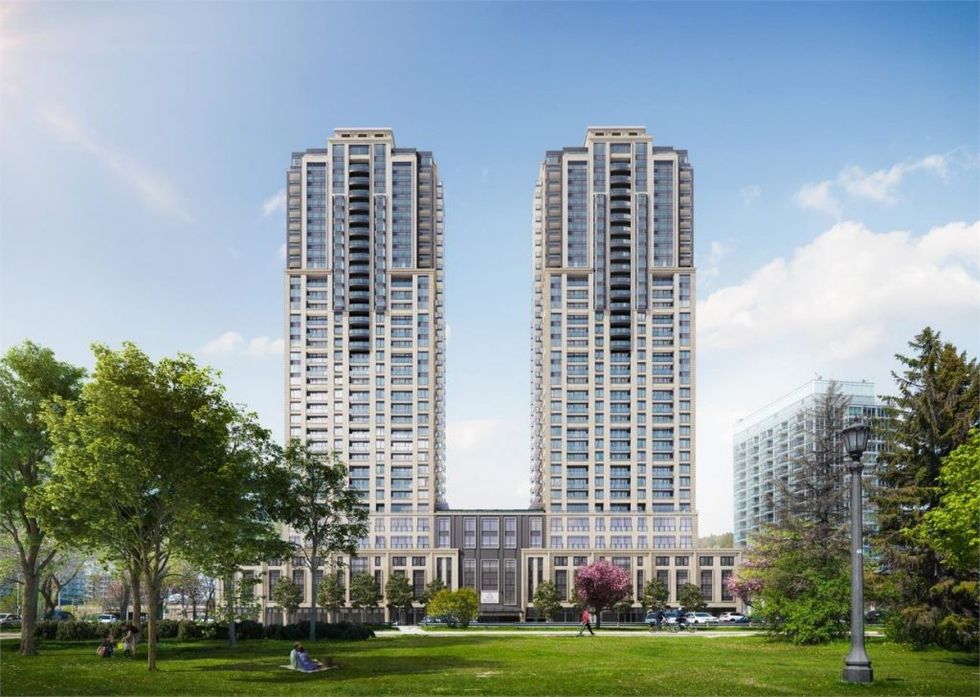 Mirabella Condominiums by Diamante Development.
Speaking of workers, who could forget C Condominiums at 503 Beecroft Rd. Designed by E.I. Richmond Architects for Empire Communities, this vast residential complex comes right out of Pyongyang. Though not quite as colourful as the buildings in the North Korean capital, it is every bit as heroic. This is high-rise suburban living taken to a new level of grandeur. The epic scale of the two-part project speaks of the greatness that can only be achieved through collective effort. Kim Jong Un would love it.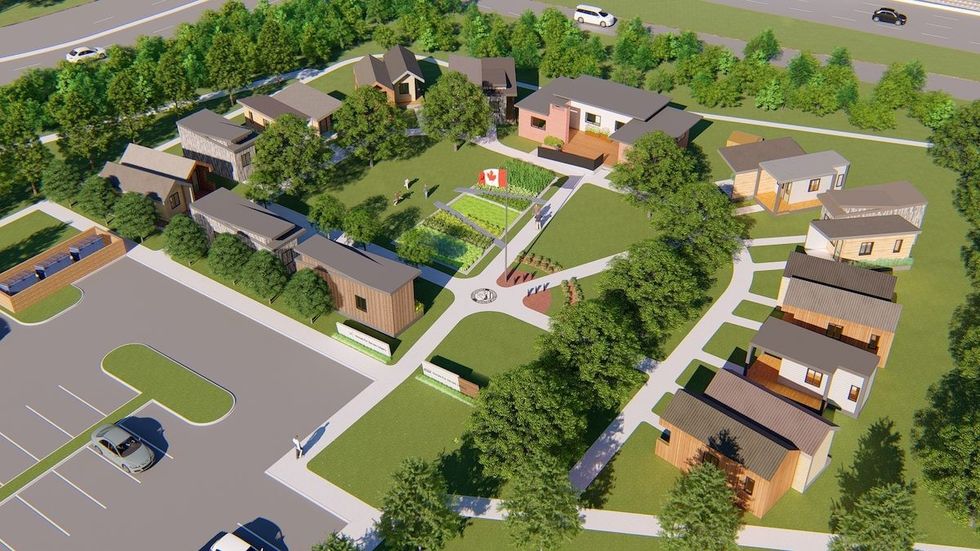 Rendering courtesy of IBI Group.
Then there's M-City, Rogers Real Estate's proposed mega-development in Mississauga that looks like something ripped from the pages of a post-apocalyptic sci-fi novel. This over-the-top project will include between eight and ten super-tall towers, each more outlandish than the next. Some bend, others undulate and curve and as they compete for attention. Lined up in rows on an empty 15-acre site not far from Square One, these towers are the handiwork of five different architectural firms all apparently working at cross purposes. They form a choir of super-talls, all singing from different scores. The resulting architectural chaos could well be one of those accidental attractions that future inhabitants visit just to see for themselves. M-City could also have a future as a backdrop for movies set many centuries from now when North America has become a continent of ruins. These will be among the most impressive.
Hume with a View