In the fall of 2022, the Financial District will be adding another tower to the Toronto skyline with a 46-storey office building on Front Street.
The project is still awaiting on demolition permit approval, but if all goes well, the Cadillac Fairview project at 160 Front Street West will begin in 2019 at the northeast corner of Front and Simcoe.
---
The building, co-designed by B+H Architects and Chicago's Adrian Smith + Gordon Gill , will replace the current six-storey heritage building, leaving only the southern facade on Front Street.
The project is budgeted at a staggering $800 million and will be the eighth tallest tower in the city.
It's not just a demolish and replace, however, according to the architects' red bricks from the rest of the demolished building will be incorporated into the new tower to preserve a sense of character.
"The building was tailored for business," says AS+GG Partner Robert Forest, FAIA. "It was designed to specifically appeal to quality conscious tenants seeking to relocate to a world-class building, in a world-class city, with a bold and distinctive Architecture that will serve to enhance the tenant's corporate identity. We believe that 160 Front Street will herald the future of commercial development in Toronto."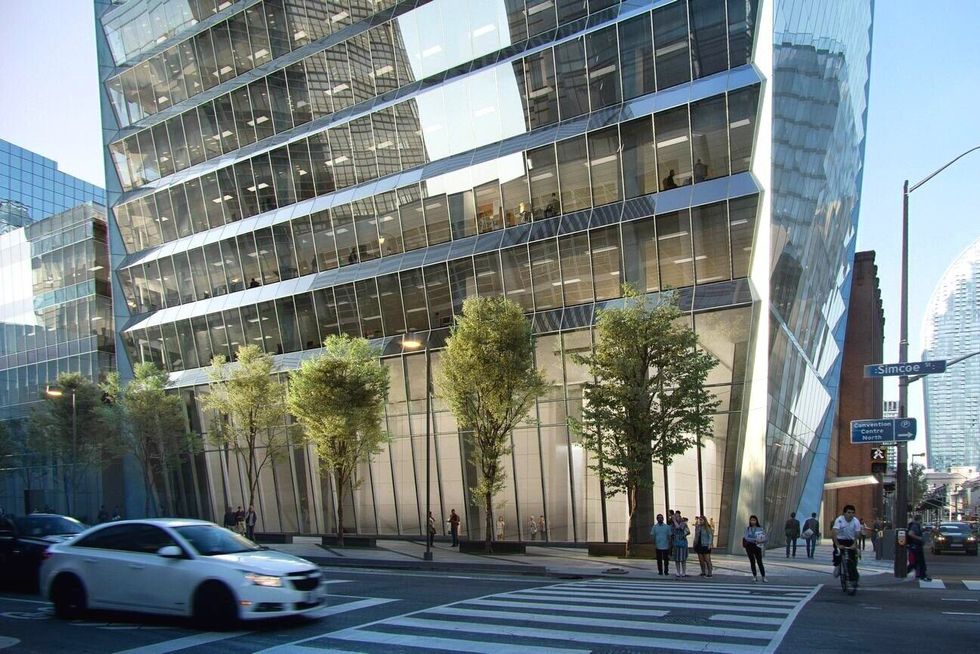 (Photo courtesy of Quinn Architects)
Designed to be both LEED-certified and WELL Building Standard accredited, 160 Front will offer 1.2 million square feet of office space featuring nine-and-a-half-foot ceilings and floor-to-ceiling windows.
Quinn Design Associates is behind the landscape architecture of the project, with plans for organic sculptural metal columns and space accommodations for an outdoor cafe in the works.
The Ontario Teacher's Pension Plan has already been confirmed as the first tenant of the building, relocating from their head office in North York to take over a full nine floors of 160 Front.
In addition to the 12,290 square feet of retail space, the podium level will also have a green roof offering a full view of the CN Tower.
Personal Finance