---
For a while there, it looked like a newfound work-from-home life would become a lasting reality. 

But it turns out that the physical workplace is still relevant to young members of the Canadian workforce. There is apparently a widespread expectation of a return to the office -- if only on a hybrid capacity. 

In part three of the Next Generation in Canadian Housing report series from Sotheby's International Realty and Mustel Group, findings reveal that 47% of Canadian Generation Z (Gen Z) adults say that returning to the workplace factors into home buying plans. 
The Location, Location, Location: Generation Z Trends Report surveyed Gen Z adults in Toronto, Montreal, Calgary, and Vancouver to determine where they plan to buy their first home, and the factors that are driving this important life decision.
The findings reveal that 7 in 10 (73%) of Canada's urban Gen Z adults plan to buy their first home in their current city of residence or within a one-hour drive; 41% of all respondents plan to buy their first home in their current city, and 32% plan to buy within a one-hour drive of their current city. A further 11% plan to buy further away but within Canada; this includes 6% who plan to buy their home more than a one-hour drive from where they currently reside, and 5% who expect to purchase in a different Canadian province. Just 1% plan to buy outside of Canada, while 13% are still unsure where they will buy their first home.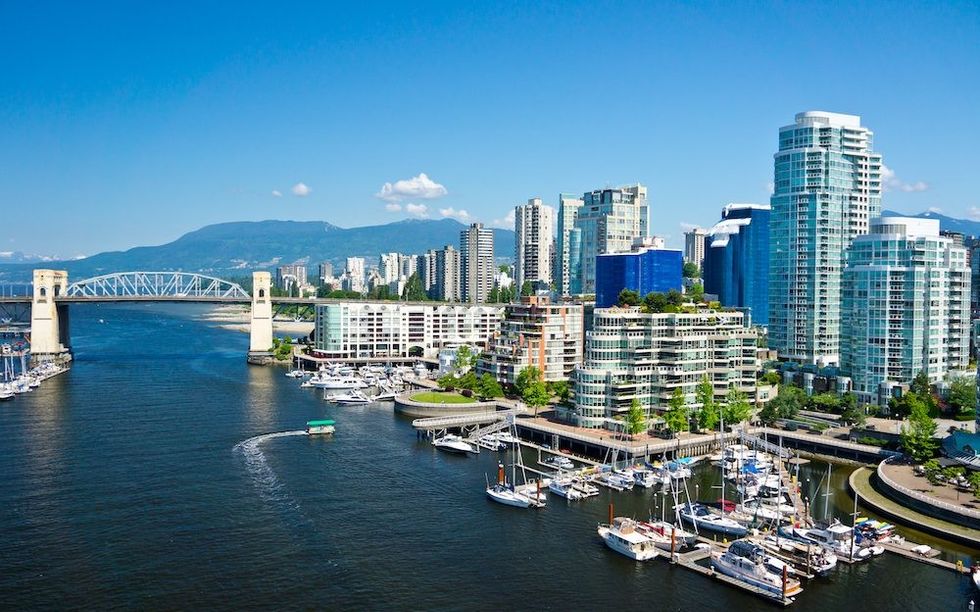 Beautiful view of Vancouver, British Columbia, Canada
While nearly half of urban Canadian Generation Z adults rank proximity to their workplace as a top priority for the location of their first home purchase, just 15% indicate that buying in or close to the downtown core is a priority (they just need to be close to the office, wherever that may be).
"Canada's Gen Z population has quickly emerged as an engaged demographic keen to enter the housing market," says Don Kottick, President of Sotheby's International Realty Canada. "They are ambitious, hard-working, and poised to usher in the next big influx of first-time home buyers. What surprised us the most in our latest report was their prioritization of living close to work and close to their office. This essentially refutes the claim that Gen Z prefers a work-from-home lifestyle or anticipates this lifestyle continuing long-term."
Kottick says that, while he does think that some young people thought and hoped that the fully remote work culture would become permanent, he also expected that different generations would have different views on it, just as they do on housing. "These survey results certainly point to the fact that many younger workers see that being in the office or at the workplace offers benefits and upsides, whether that's social connection or greater visibility and opportunity, and this preference is so important to them that it will impact their decision when buying their first home," says Kottick. 
This has significant implications for how cities and suburbs should approach planning in order to enhance the quality of life and housing for future generations, says Kottick.
Proximity to work is surpassed only by neighbourhood safety as a key location characteristic, with safety being cited by 56% of survey respondents overall. Other priorities for a first home locale include proximity to a grocery store (39%), transit friendliness (36%), living close to family (35%), and walkability (34%). According to survey results, the lowest neighbourhood priorities for a home purchase are cycling friendliness, cited by 8% as a key factor, and living near nightlife such as clubs and bars, reported by 5%. 
Survey findings also reveal an almost even distribution between urban Generation Z adults who plan to purchase their first home in a major city, reported by 40%, and those who plan to buy in a suburb outside a major city, reported 42%. Approximately one in 10 expect to buy their first home in a small town (7%) or rural area (3%). Meanwhile, 8% remain undecided as to the community type of their first home.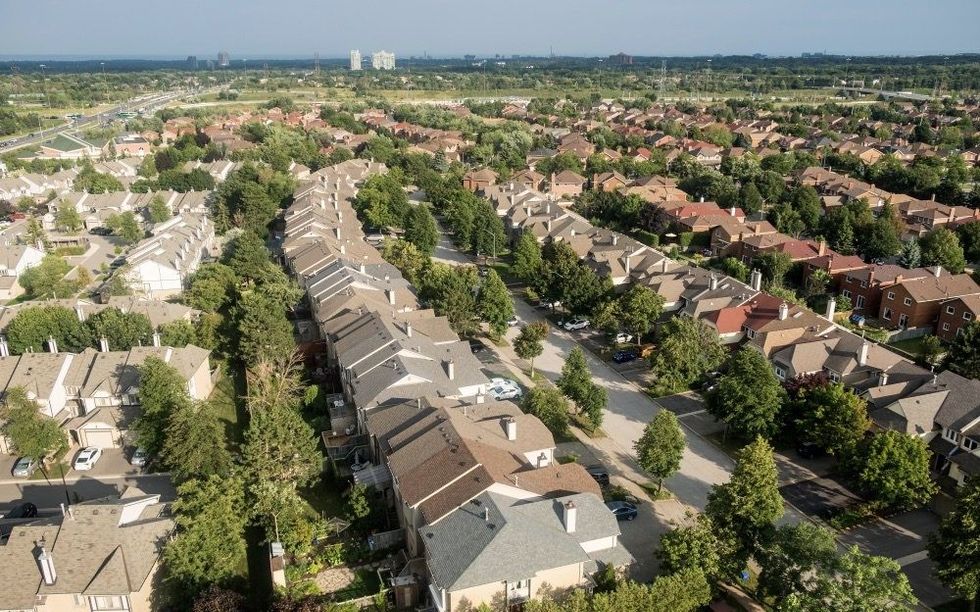 Bird's Eye View of Town Homes, Single Detached Homes and Neighborhoods in the City of Mississauga Near Toronto
When it comes to regional breakdowns, 48% of Calgary's Gen Z adults plan to buy their first home in a major city, surpassing those who plan to do so in Toronto (37%) and Vancouver (36%) -- two cities notorious for their extremely high housing costs. 

The large proportion of respondents with a desire to live close to work may reveal telling insights into the future of car travel. "As the cost of living and housing rises, the cost of car ownership is becoming prohibitive for some young people and buying a home close to work is just one of their strategies for reducing some of these potential costs," says Kottick. "Based on our survey results, 36% of urban Generation Z Canadians consider living in a transit-friendly neighbourhood a key priority when buying their first home, and 34% said the same of walkability. In comparison, just 18% reported that a car-friendly neighbourhood is an important criteria for their home purchase."
As the cost of housing and the cost of living becomes increasingly challenging for young people in major cities, Kottick says that government, the real estate industry, and the private sector will be challenged to consider Generation Z's demands for real estate close to their workplaces, and in communities they can afford. "This may require planning for a future where jobs and office spaces are distributed beyond downtown cores and hyper-concentrated business centres in central municipalities, with smaller peripheral municipalities and suburban areas playing a more significant role in hosting both commercial and residential real estate opportunities," he says.
Location, Location, Location: Generation Z Trends Report is the third report in a multi-part series based on Canada's first in-depth study of the housing intentions, aspirations and preferences of Generation Z. The report is based on a survey of 1,502 Generation Z Canadians who are over the age of majority and between the ages of 18 and 28 in the Vancouver, Calgary, Toronto and Montreal Census Metropolitan Areas, and focuses on this cohort's priorities and criteria for the neighbourhood and location of a first home. 
Real Estate News