Canadians are hopping provinces like never before. 
---
Facilitated by a re-evaluation of life and living spaces brought on by the pandemic -- and made possible for many by a newfound remote culture -- more people across the country have found themselves living in different provinces than they did on the onset of COVID-19 two years ago. 
According to Statistics Canada (StatCan), interprovincial migration increased a dramatic 51% in the second quarter of 2021 -- a figure of just over 123,000 people. This relocation of Canadians marked the largest jump since the third quarter of 1991. 
The younger generations in particular found themselves packing their bags for other parts of the country. According to StatCan, the three largest age groups for interprovincial migration were 20-24, 25-29, and 30-34 between the fourth quarters of 2020 and 2021.
And this phenomenon has created both opportunities and impossible-to-ignore problems -- especially in the once afterthought Maritime provinces.
Aerial Panoramic View of Downtown Vancouver, BC, Canada. Taken during a clear sky winter sunset.
Chasing Affordability
The reasons for this "great relocation" in Canada are plentiful, ranging from everything from a desire for more living space for less money, to lifestyle considerations (for example, those who swapped Toronto's concrete for Vancouver's mountains and outdoor activities), and a desire to be closer to friends and family. 
When real estate prices began to soar in places like Ontario, many of its residents turned their eyes from places like the Toronto core to the more affordable pastures in suburbia and smaller communities -- and even spots beyond provincial boarders. 
Since the onset of the pandemic, real estate prices in Ontario in particular have shot up dramatically, especially those near urban centres. In March 2020, the average price for a home in the Greater Toronto Area (GTA) was $902,680, according to the Toronto Regional Real Estate Board (TRREB). As springtime -- and the pandemic --rolled on that same year, the region's real estate market took off. And prices haven't stopped climbing since. According to the latest TRREB data, the average cost for a GTA home is now a widely out-of-reach $1,334,544.
So, when it became apparent that home prices weren't going to drop any time soon and an ability to work remotely had become a new way of life, more affordable provinces became increasingly attractive places to put down roots. Tellingly, StatCan reports that Ontario experienced the largest population decline in the second quarter of 2021 -- the most significant in the province since the early 1980s -- with almost 12,000 residents leaving the region. 
From July 2020 to July 2021, StatCan figures reveal that nearly 85,000 Ontario residents relocated to other regions. This compares to 72,000 the previous year. During this time frame, just over 18,000 Ontarians left for the more affordable Maritimes (Nova Scotia, New Brunswick, and Prince Edward Island), compared to 14,905 the year before.
But money isn't the only driving force. According to a recent market report from luxury real estate broker Engel & Völkers, this interprovincial migration trend is largely fuelled by people "going home," (at least, for the country's luxury-seeking set, that is). The report finds this trend particularly noticeable in Halifax and Ottawa, where an influx of incoming homebuyers cited their desire to be closer to family as the reason for their move.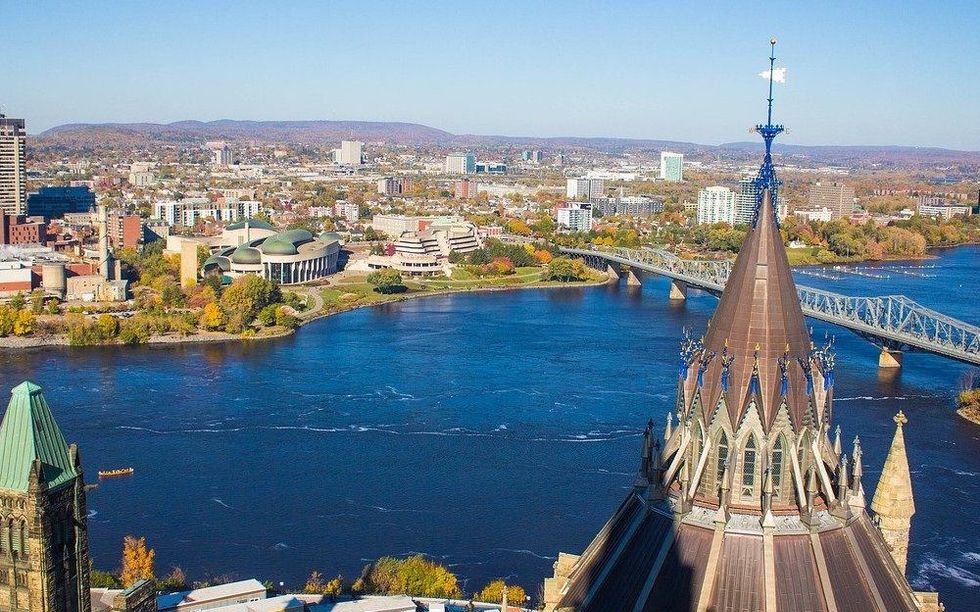 "Ottawa is seeing a number of Canadians moving here from out-of-province, citing 'coming home' as their reason for doing so," confirms John King, license partner at Engel & Völkers Ottawa. "During this period of uncertainty, their priorities have shifted and many are interested in being near family. Other factors driving interprovincial migration to Ottawa are the ability to work remotely and the fact that Ottawa has more reasonable housing costs when compared to Canada's largest metropolitan areas."
King highlights how, although Ontario has seen a significant number of residents relocating to other provinces, the Ottawa-Gatineau region hasn't seen the same activity. "Instead, we are seeing new residents come to the area, leaving larger urban centers," says King. Nearby, semi-rural community Carleton Place, Ontario saw its population increase by 3.8%, as did Arnprior, Ontario, which saw its population grow by 2.3%, he says.
For some, the financial -- and family -- factors took a backseat to the lifestyle offerings of some places, most notably, British Columbia (BC). The picturesque (but notoriously pricey) west coast province grew to over 5M in 2021, one of the highest rates of growth in the country, and its largest net gain in interprovincial migration in the 12-month period ending June 30, 2021. The province's net interprovincial migration -- the difference between residents moving into and out of a region -- was +34,277 in 2020/21. This marks the largest migration increase in BC in 28 years.
Canadians Increasingly Seek Ocean-Side Living
Perhaps drawn to the soothing power of the ocean and countless offerings to take full advantage of the great outdoors, Canadians gravitated to coastal spots. 
On the east coast, the relatively affordable Nova Scotia (especially compared to spots like Ontario) saw its tides change dramatically with respect to its demographics. In 2021, more young people moved to Nova Scotia than ever before, as the province saw its population pass 1M for the first time. According to StatCan, the province saw the second-highest population gain due to interprovincial migration in Canada, with 4,678 new residents calling it home in the second quarter of 2021. This places the Maritime province second to only BC. 
Nova Scotia wasn't the only east coast province that was attractive to new residents from other parts of the country. New Brunswick also saw its population swell with new residents from other parts of Canada, likely drawn to the province's considerably low home prices and way of life. In the 12-month period ending June 2021, New Brunswick experienced a high net migration of +3,887. Known as the "Picture Province" for its stunning coastline, another major appeal of New Brunswick is its abundant outdoor space and access to nature -- especially for those who spent prolonged periods of time locked within the big city concrete throughout the pandemic.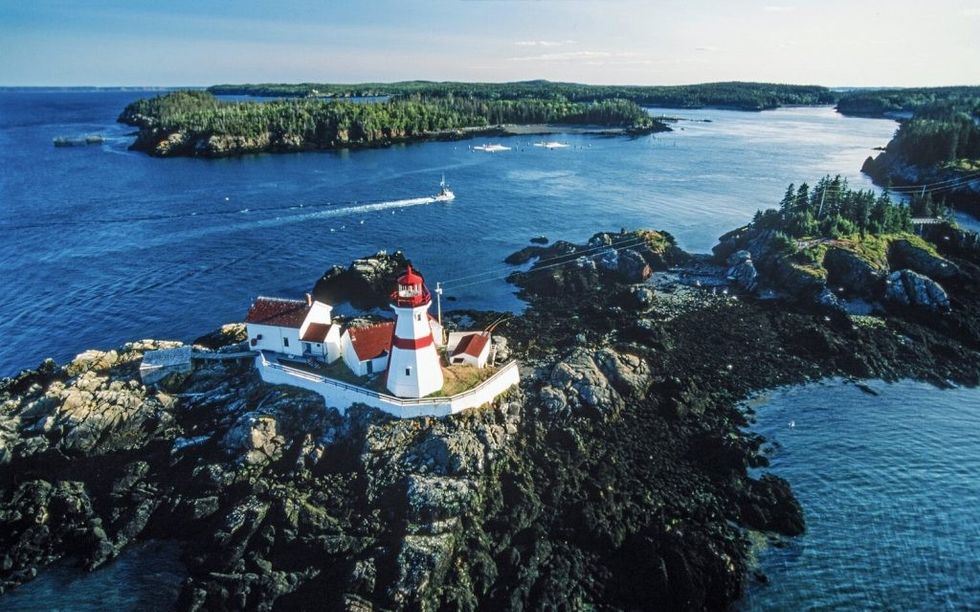 Aerial of Campobello Island, New Brunswick, Canada/Shutterstock
Some relocators may have even been influenced by campaigns that promise a better quality of life and more affordable home prices on the east coast. For example, New Brunswick's "Live in the Moment NB" campaign launched last year to entice out-of-province Canadians to move to the province, touting its cheap housing costs. Driving home the point, the Live in the Moment NB website even features an online tool that compares the cost of homes in Vancouver, Calgary, Montreal, and Toronto to the cost of one in New Brunswick. 
Not to be outdone, Nova Scotia has its own campaign to attract new residents. The "Live in Nova Scotia" campaign is designed to entice remote workers, highlighting things like its coastal lifestyle, housing affordability, access to nature, schools, and sense of community on its website. The campaign also features a commercial, which has found its way to Ontario TV, inevitably getting the wheels of priced-out house-hunters turning in the process. This campaign seems to replace the previous "Work from Nova Scotia" campaign.
The Implications 
According to professional networking site LinkedIn's inaugural Workforce Report for Canada, released back in June 2021, the urban areas in both Halifax and Vancouver experienced the most internal migration gains, based on LinkedIn members who had relocated since the onset of COVID-19. And an influx of new professionals can mean more opportunities.

New residents can bring new ideas, businesses, and demographics to provinces that serve to enrich their cultural fabric. They can also bring fresh employment opportunities to local residents. For example, Halifax -- a city known historically for its aging population, resource-based industries, and departure of young people -- has become a bustling tech hub in its own right as of late. According to data released through the 2021 CBRE Scoring Teach Talent, when highlighting main players in up-and-coming tech markets to watch, Halifax jumped from 12th place in 2020 to 7th place within North America. 
"I've been teaching at Dalhousie University quite some time, and for many years, the standard expectation was that you had to leave to get a good job," says Lars Osberg, a professor in the Department of Economics at Dalhousie University. "And that's no longer the case. Obviously, in some specialities, you do need to relocate to find the jobs. But generally, population growth opens up opportunities for local people, and that's something Nova Scotians generally want -- both the young people who would historically have to move away, and the older people who don't like the idea of their children living on the other side of the country."
Osberg also notes that Halifax's population growth isn't an entirely new phenomenon. Nor is it entirely driven solely by interprovincial migration, but international migration and intra-provincial migration as well.
"It's important to recognize that Halifax has been one of the fastest-growing urban centres in Canada for about five years now -- population growth was something like 2% per year, which is pretty remarkable," he says. "The pandemic definitely heightened this, but the city's population was growing before COVID was even a thought. The growth primarily centered in Halifax, but is rippling out."
For Nova Scotia's rural areas, this growth isn't necessarily a bad thing, says Osberg.
"For example, in Halifax, we don't have the problem with school closures; but that's not the case in a lot of rural communities. When younger people have moved away in the past and the enrolment in the local school declines, the schools close and it's kind of fatal to the community, because no young families are going to move there anymore," explains Osberg. "So, the local people are really happy to see young families moving into the area to keep their schools and local communities alive."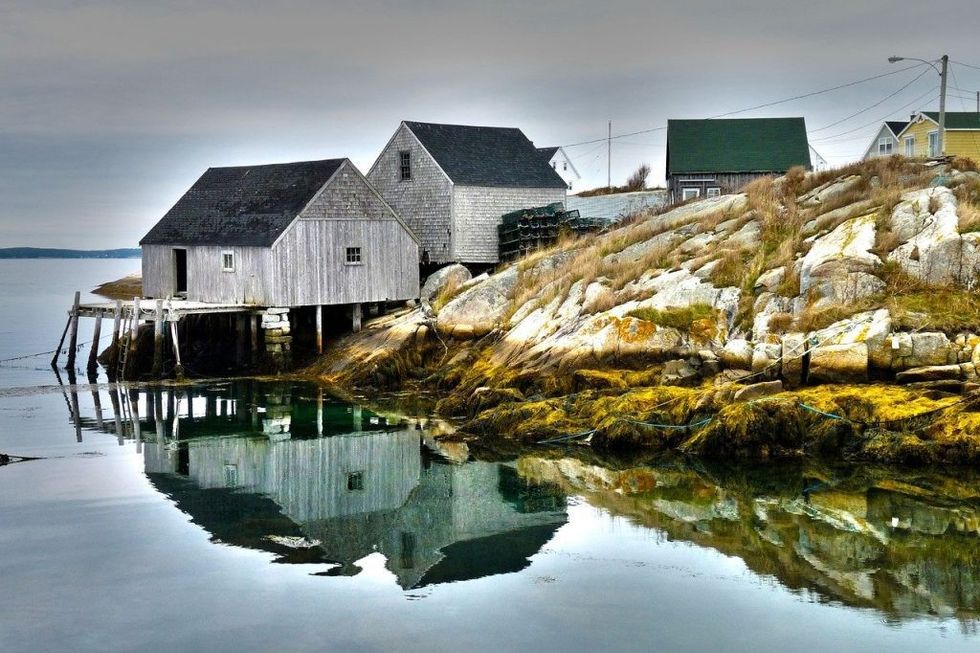 Inevitably, population growth can also mean more competition for existing young professionals pounding the pavement to get ahead in competitive markets. More damaging for local populations, however; an influx of new residents can also drive up home prices and rents, pricing would-be homebuyers out of the market and potentially displacing renters.
In February, the benchmark price for single-family homes in Nova Scotia was $361,200, an advance of 35.1% on a year-over-year basis. Meanwhile, the benchmark price for townhouse/row units was $466,000, up by a dramatic 41.4% compared to a year earlier. The benchmark apartment price rose 30.9% to $404,300. The average price of homes sold in February 2022 was a record $422,100, up by 23.6% from February 2021.
"There is some supply response; you see building cranes all over the place downtown Halifax and the inner suburbs as well," says Osberg. "But it's a challenge to keep up with the population growth."
Even in rural Nova Scotia, the pickings have become slim on the supply front, says Osberg.
"It's not just a Halifax phenomenon. With high-speed internet and fiberoptics throughout the province, and the sudden switch to remote work, people are looking for houses up and down the province," he says. "Because the rural areas of the province have been depopulated, with people moving out for a long time, the housing market -- both renting and to buy -- can be thin. So, there are parts of rural Nova Scotia where it's hard to find a house to buy or rent."
Rents are Soaring on the East Coast
According to a rental report released in February from the Canadian Mortgage and Housing Corporation (CMHC), the interprovincial migration that resulted in Nova Scotia's population being higher than it's been in years has taken its toll on the rental market in Halifax. This resulted in a 1% vacancy rate, which is one of the lowest in the country, according to CMHC. It should be noted, however, that --while the vacancy rate was 1.9% in 2020 -- it was 1% in 2019. 
Naturally, rent prices are rising in Halifax. There is, however, a 2% rent cap in place until 2023 in Nova Scotia. But competition for rental units is clearly stiff. Following the release of the report came calls for more social housing from local advocacy groups.
"One way of looking at it is that population growth is driving our current vacancy rate," says Osberg. "But, if you go back a couple of years -- when people were moving out -- that's not really what most people in Halifax want to see either. What they'd like to see is enough housing supply and lasting controls on rent so that it can be an affordable city, even with population growth."
The rising prices and decreasing vacancy rate has accentuated the homeless problem in Halifax, says Osberg.
Furthermore, while the province's minimum wage is expected to rise to $15 in 2024, many say that's not enough to live in the increasingly expensive province (or in Ontario, for that matter) -- especially with rising costs of food and gas due to inflation.
Meanwhile, in New Brunswick, the cost of homes in the province have risen as dramatically as the tide in the province's famed Bay of Fundy. In January, the benchmark price of single-family homes had shot up 32% to$277,200 on a year-over-year basis for January. The benchmark price for townhouse/row units was up 37.3% ($182,100) compared to a year earlier, while the benchmark apartment price was up by 22.2% ($219,300) from year-ago levels.
"We are seeing rising prices across the country, but the Atlantic regions have seen an increase in out-of-town buyers due to the relative affordability out here," says Corey Breau of RE/MAX Professionals Saint John. "Saint John in particular has experienced a lot of buyers coming from Ontario and out of province, they are currently the ones driving demand in the region."
And this isn't doing the province's local young people any favours.
"There is a lack of supply currently in New Brunswick, which is mostly affecting first-time home buyers looking to enter the housing market. The increase in demand will have a negative impact on those currently looking to buy," says Breau. "But there is a positive impact on the local businesses and economy and we envision this trend continuing into 2022."
Grant Cormier, executive director of the New Brunswick Non Profit Housing Association (NBNPHA) says that -- not only will there be an increased demand for rental housing as more New Brunswick residents get priced out of the market -- renovictions have become a growing problem in New Brunswick.
Cormier points to the increasing prevalence of both out-of-province and in-province investors who are buying investment properties and hiking up the rents to unattainable prices. "We have coined these renovictions -- the purchase and renovation of multi-unit buildings, followed by large rent increases that are pushing people out of these properties, putting them at risk of becoming homeless or forcing them to rent other units that may not be adequate housing for them," he says.
Despite pleas from advocacy groups, New Brunswick currently lacks adequate rent control policies (a legislation introduced in November merely limits rent increases to once a year and bans them for the first year of tenancy).
Home prices in the Maritimes aren't expected to cool any time soon, either. According to RE/MAX's 2022 Canadian Housing Market Outlook Report , many major Atlantic Canada real estate markets will experience increased price growth throughout 2022. Notably, prices are expected to climb 20% to $332,734.80 in Moncton and 17% to $543,890.88 in Halifax.
And, while they clearly can't be the root cause of an influx of new residents, the splashy campaigns may not exactly do the local population any favours, either -- at least, not in Halifax, Moncton, or St. John. Instead of trying to attract more residents, it may make sense to try to take care of the people in the province that are being priced out of both the rental and housing market before trying to entice more people who are exasperating the problem.
After all, the secret is already out about the livability of the Maritime provinces.
As we finally return to "business as normal(ish)," it will be interesting to see whether the interprovincial migration trend continues. While workers in some industries will be required to return to the office -- at least, on a hybrid level -- there is no end in sight to the sky-high real estate costs in provinces like Ontario.
So, it looks like many priced-out people will have some important decisions to make.
Real Estate News