Winter's chill has settled into the province's northern regions, but if the ice isn't mindful, real estate activity could bring the stuff to its melting point.
Closing the year on-trend with what the last several months presented, Muskoka real estate saw record-breaking sales in both its residential non-waterfront and waterfront property categories.
---
According to data recorded through the MLS System for the Lakelands region, residential non-waterfront sales totalled 157 units in December 2020, marking a 16.3% increase year-over-year and, indeed, setting a new sales record for the last month of the year.
Waterfront property sales number 67 units in Muskoka, meanwhile, soaring 44.9% above data from the same month in 2019, and reaching a level December hasn't seen in five years.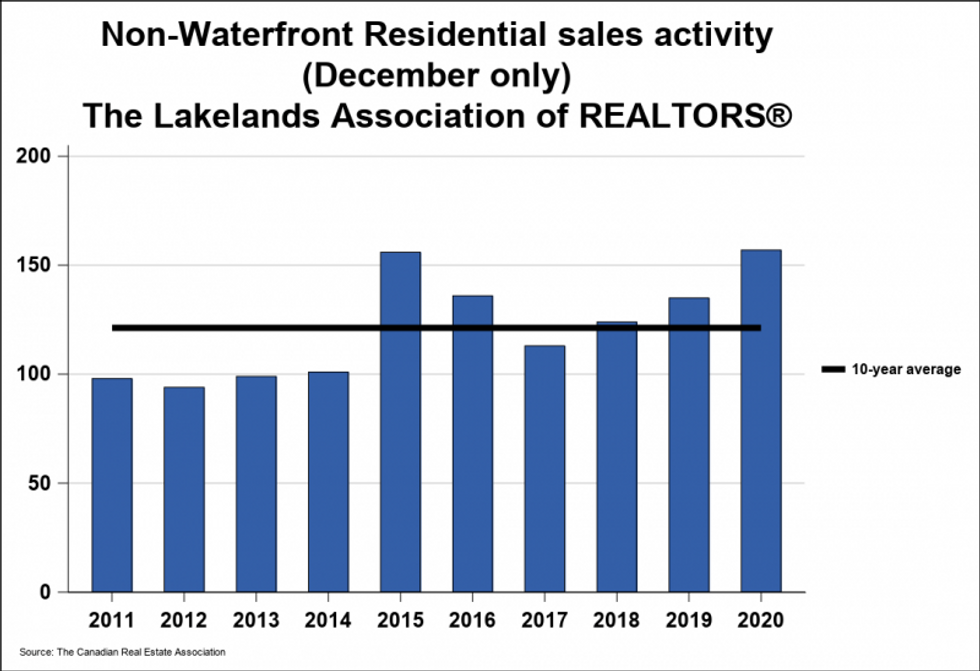 READ: Listed: A Custom Cut of Muskoka Real Estate is the Perfect Cold Remedy 
Zooming out to look at 2020 as a whole, residential non-waterfront sales reached a total of 3,367 units -- an increase of 16.5% over 2019's data, and surpassing the previous annual record for non-waterfront properties, set in 2016, by more than 200 sales.
Waterfront sales totalled 2,381, increasing 44.9% from sales recorded through 2019, and also surpassing a previously-set 2016 record -- in this case, by 225 sales.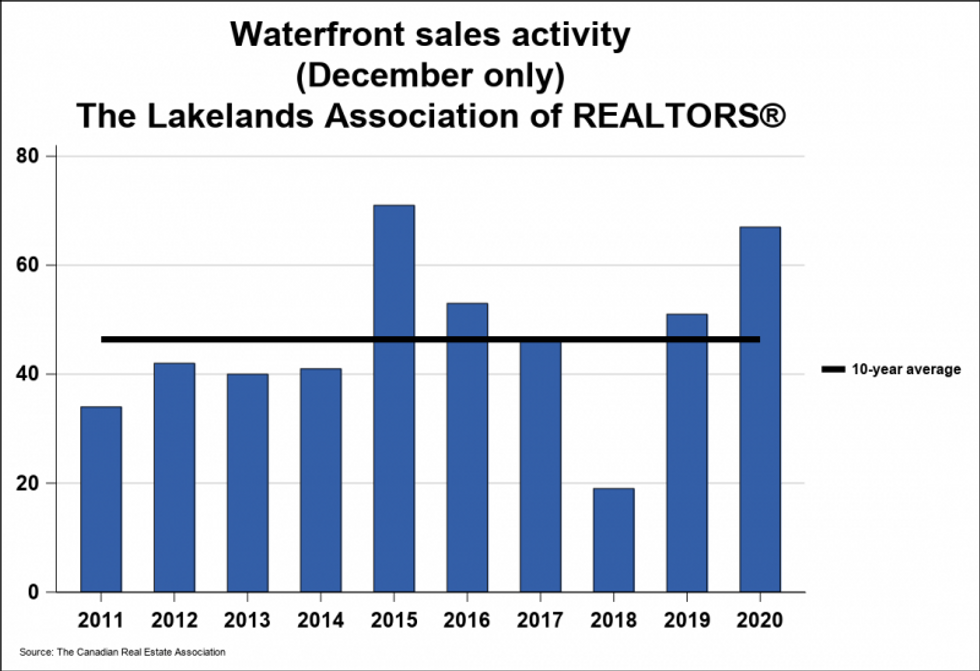 Chuck Murney, President of the Lakelands Association of Realtors, said "2020 has been a record setting year for our region."
The MLS Home Price Index — which tracks price trends far more accurately than is possible using average or median price measures — shows the overall single-family benchmark price was up 31.5% on a year-over-year basis, reaching $467,600 last month.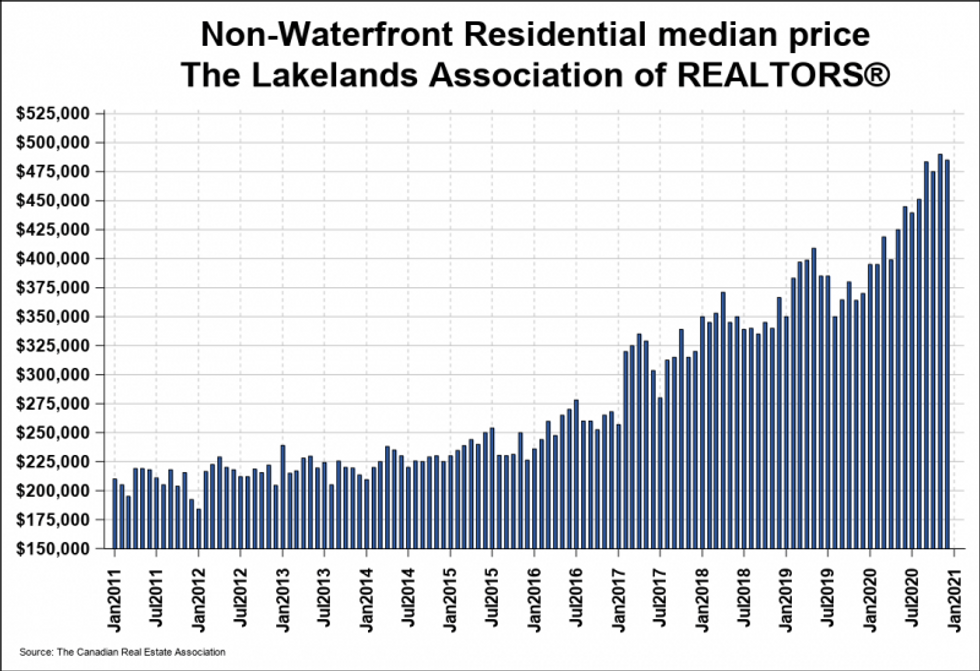 The median price for residential non-waterfront property sales rose 31.1% from December 2019, reaching $485,000, while the median price for waterfront property sales was up a considerable 51.1% year-over-year, totalling a record $750,888.
"What is most impressive is in a year dominated by COVID-19, home sales set a new annual record. Moving forward into 2021, the headline story continues to be the strength of demand combined with dwindling active listings. New listings have not been able to keep pace with the number of sales in 4 of the last 5 months. This has reduced the number of active listings to a level not seen in over three decades. These factors have driven upward price momentum and have created some of the tightest conditions our local market has ever seen."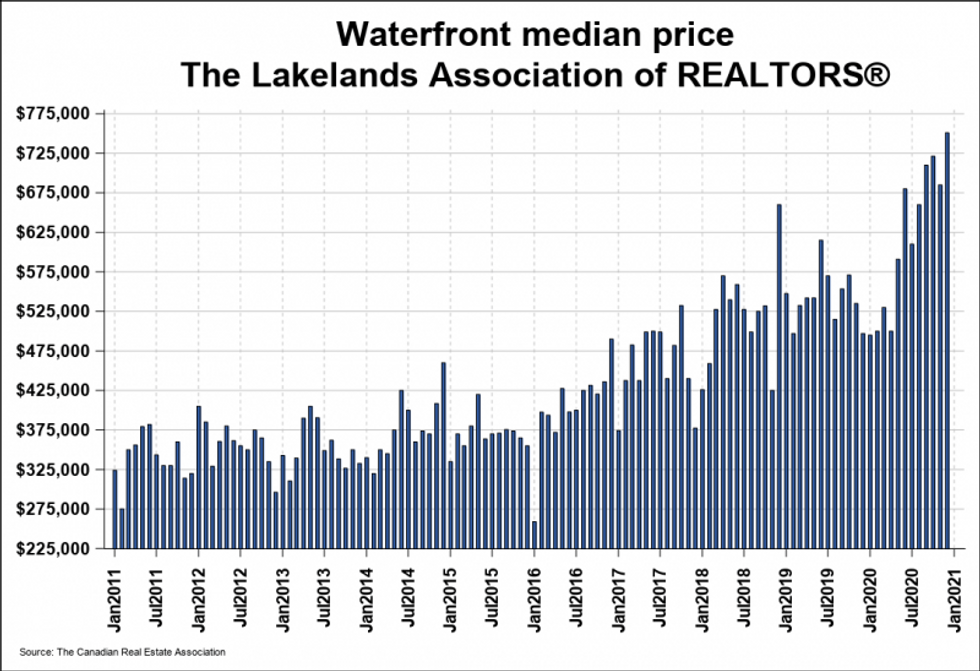 Indeed, just as quickly as listings come in, they're being snatched up by eager buyers.
"Properties are going quickly and selling for asking prices, if not close to asking, within weeks of hitting the market. That's just not normal for this time of year. It feels closer to a Toronto market right now, this level of frenzy," says Maryrose Coleman, an agent at Sotheby's International Realty in Muskoka.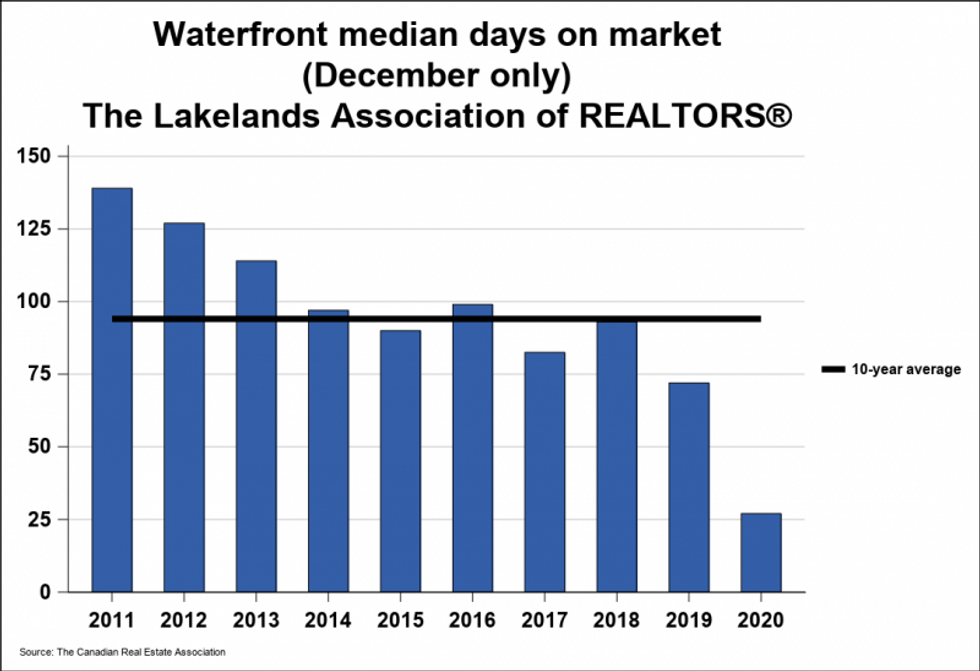 Through December 2020, the total dollar value of all residential non-waterfront sales reached $84.9 million, which surpasses December 2019's data by 51.6% and, again, set a new record for the month. At the same time, the total dollar value of waterfront sales more than doubled the previous year's total, rocketing 146.8% to hit $75.4 million.
Waterfront total dollar values, too, hit a new record for the month of December.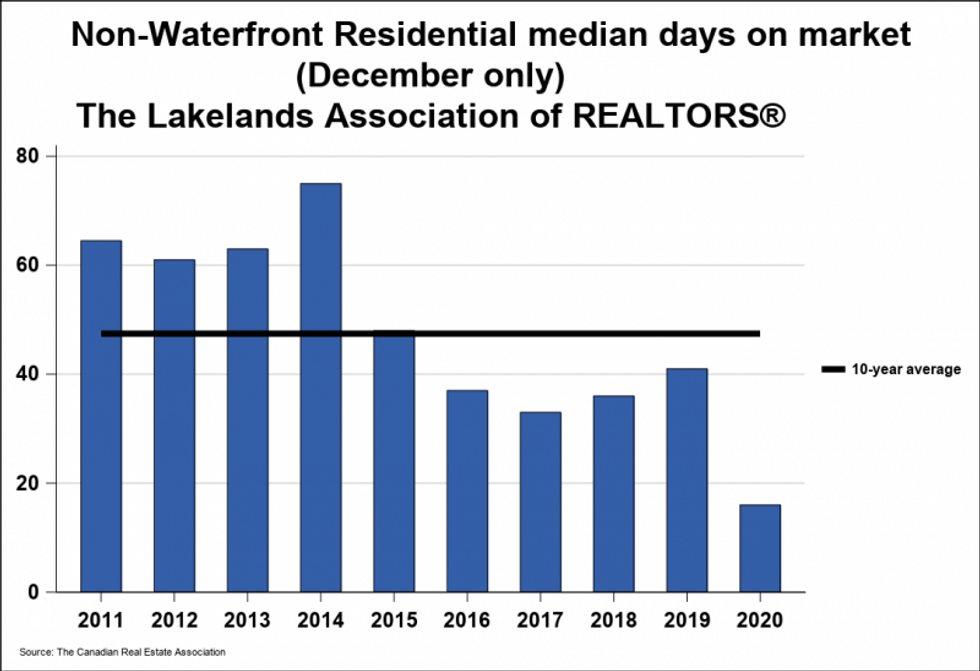 While the competitive listed market -- as well as pocket listings -- are always available to those looking for a permanent relocation, last month saw a hold put on plans for anyone banking on a temporary mid-winter retreat to cottage country. On Boxing Day, Ontario entered a 28-day Province-wide Shutdown in an effort to slow COVID-19 transmission, which initially prohibited social gatherings, amongst other activities.
At the time, pre-booked cottage and vacation-home rentals were given the green light, but no new reservations are allowed through the ongoing 28-day lockdown. And since, the province has declared a second State of Emergency, tightening restrictions across Ontario even further.
It all goes to show that, despite the turn of the calendar on New Year's Eve, the troubles of 2020 did not immediately resolve. Still, the making of summer plans is a hopeful act, particularly amid the cold, dark days of winter, and it's never too early to start marking cottage country vacation days down on your calendar.
In fact, we'd recommend booking sooner rather than later. Under provincial order, cottage country is essentially "unattainable," and as people tend to want what they can't have, we can only imagine that competition for snagging a rental could become even more feisty.
Muskoka