Autumn has made its colourful descent on the Muskoka region, but, as red and orange leaves fall to the ground, the local real estate market refuses to follow suit.
New data from the Canadian Real Estate Association (CREA) shows that last month, records were set across the board where Lakelands property sales were concerned.
---
Throughout the region, property sales recorded through the MLS System for the Lakelands totalled 747 units. Of those, 366 were waterfront properties, which showed a 92.6% increase from the same month in 2019, and set a new sales record for September for that property type. Non-waterfront properties saw 381 units sold -- up 40.1% from last September, also setting a new record for the month.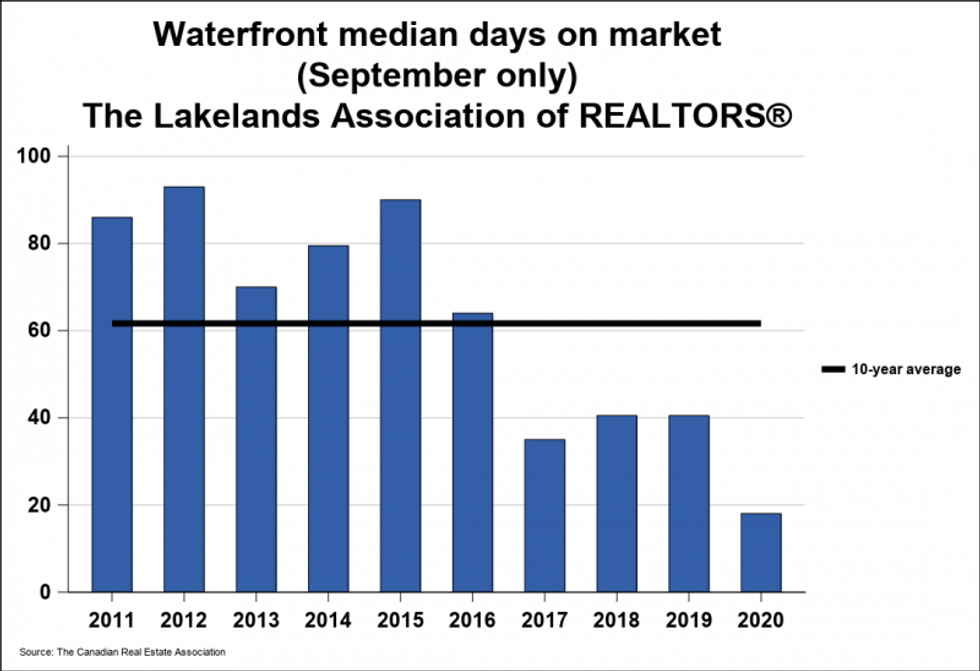 Where year-to-date data is concerned, waterfront sales were up 45.4% over the first nine months of 2020, totalling a record 1,919 units. Non-waterfront sales reached 2,528 units, a 14.3% increase from the same period last year.
READ: 5 Cottage Country Pumpkin Patches to Visit This Fall
"Sales of both non-waterfront and waterfront properties continued to rise to unprecedented levels in September," said Catharine Inniss, President of The Lakelands Association of Realtors.
"Even with the highest influx of new listings for any September on record, the strength of sales activity drew down inventories to their lowest levels in history for this time of year. The market for homes in the Lakelands has never been tighter than in the past four months, and the continuous record prices reflect that."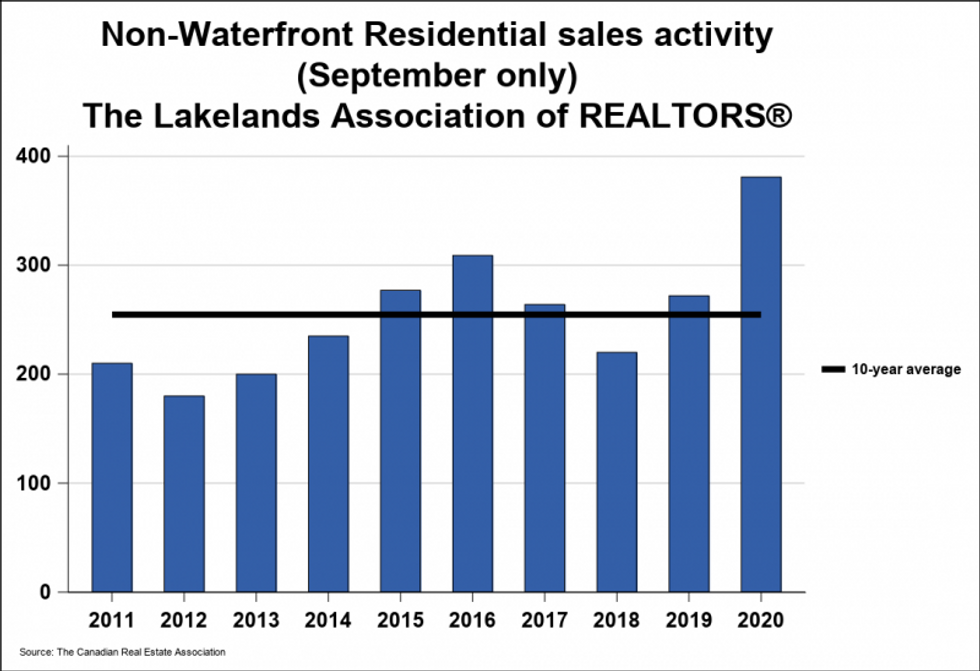 And it's not just property sales that are on the rise -- the prices these places are going for are increasing, too. The median price for waterfront property sales last month was $727,500, surpassing the median from September 2019 by 31.4% and setting a record. Non-waterfront property sales saw a median price of $485,000, also a record, which was up 33.1% from the same month last year.
Meanwhile, September's total dollar value of all waterfront sales was a record $395.6 million, which more than doubled the levels from the same month in 2019 -- in fact, the value was up a whopping 184.4%. Non-waterfront sales saw a large increase as well, reaching $199.3 million, or a 75.3% increase from last September.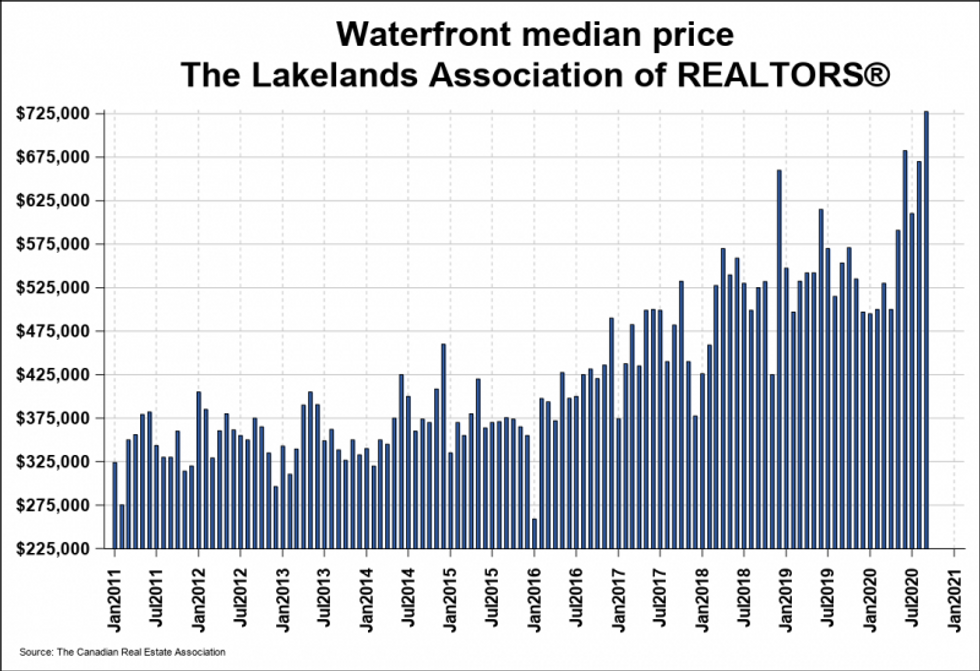 All-in-all, the month that welcomed fall to the Muskoka region showed a continuation of the trends that were evident throughout the late summer season. Namely, red-hot sales continuing, prices reaching new heights, and competition becoming increasingly feisty... all of which are likely results of COVID-19.
"The pandemic turns out to have only accelerated the trend of retirees, empty-nesters, those looking to down-size, and people now working from home looking to Muskoka as an answer," Ross Halloran, Broker at Sotheby's Realty, said in July. And though his observation was noted mid-summer, its truth has held on tight through the arrival of colder weather.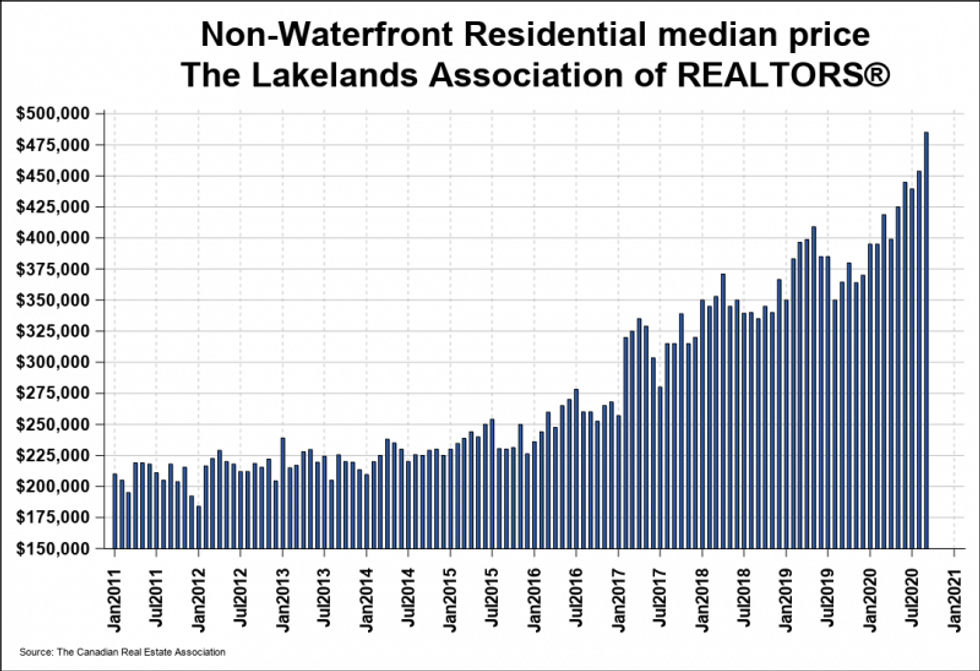 Those most eager to snag a Muskoka homestead despite the ultra-competitive market may turn to alternative (read: more exclusive) methods of house-hunting, such as pocket listings. And for the folks who are simply hoping for a temporary escape from urban life, some very select rentals remain available through the coming winter season.
But if you are hoping to make a mid-winter getaway, don't hesitate to book. Like the real estate market, Muskoka's rental market is still ablaze, with many a coveted property seeing no vacancy at all through to 2022.
Muskoka