Anyone who's looked into renting a cottage this strange summer knows how slim the pickings have been, and continue to be, this season.
---
And anyone who's rented their cottage out knows how lucrative doing so can be – especially this year, when demand is through the roof like never before.
As soon as Premier Ford lifted the temporary COVID-19-inspired ban on short-term rentals in early June, the floodgates opened and restless city dwellers scooped up cottages to call their own for a weekend, week, or – in many cases, month(s) – this summer. With many summer camps cancelled and most long distance travel out of the question for the foreseeable future, an escape to Ontario's pristine cottage country was a natural solution for cooped up Toronto families.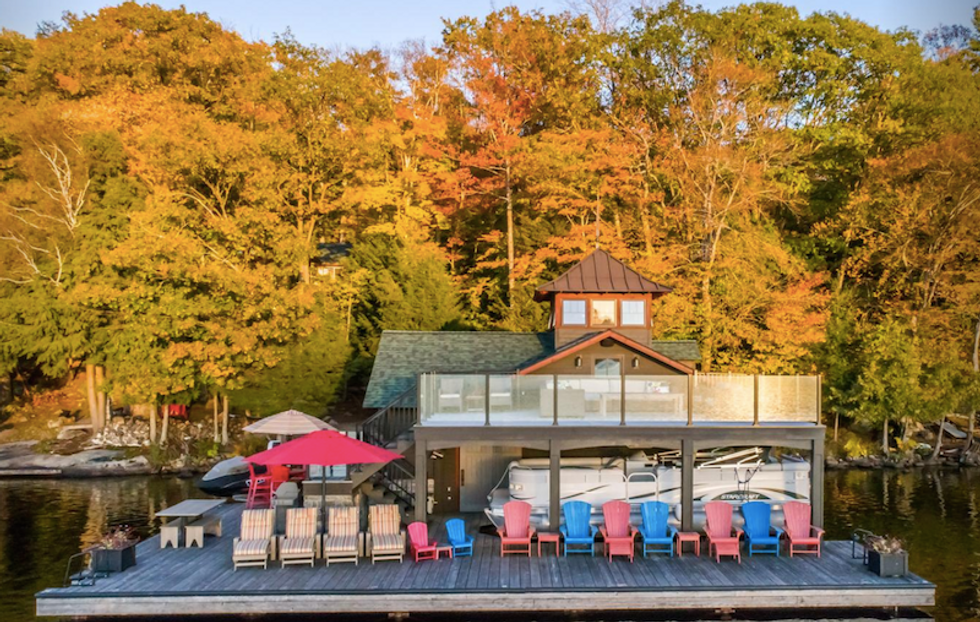 Image: Muskoka District Rentals
"Once the short-term rental restrictions were lifted, we booked the same number of reservations we typically would in a 12-month period in three and a half weeks," says Maryrose Coleman of Muskoka District Rentals. "We completely sold out of everything with the exception of a few of our very high-end properties. We've since listed more, but the second we do, they're booked as well."
In fact, with the future of COVID-19 uncertain, if you're looking to score a cottage rental next season, the time to act is now. Coleman's team usually starts booking their rentals for the following summer in August, but this year, they've started even earlier and are doing more. "If you want to secure something for next summer, the sooner the better," says Coleman.
READ: You Can Still Rent the Spectacular 'Muskoka Wonderland' to Close Out Summer
If you're a cottage owner, renting out your property may be something to consider. From replacing a dock or deck or screening in a porch, to upgrading the kitchen appliances, running a cottage can come with a pretty steep price tag. Renting out your property for a few weeks a season can help offset these operating costs.
Renting out your cottage also offers a way to pay Muskoka's steep property tax. "For some families, renting it out is essential to keep a cottage they've inherited, because they don't have the income their parents did and the property values have increased so much," says Coleman. Income generated from renting their place ensures it won't have to be sold and the cottage can be kept in the family.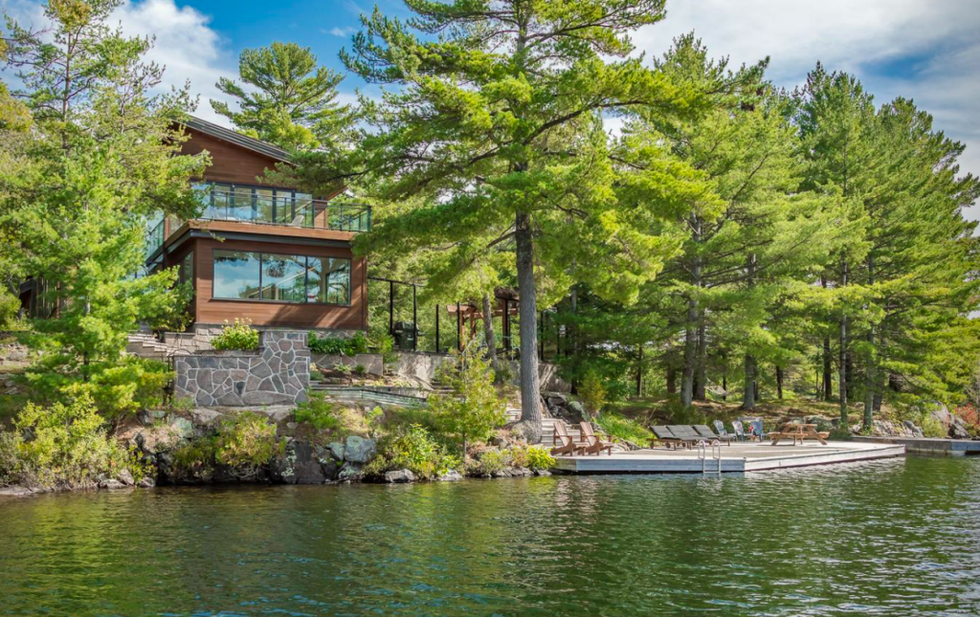 Image: Muskoka District Rentals
This year's unprecedented demand for rentals guarantees a generation of these precious funds. Cottage seekers are willing to drop the dollars this year for the chance to escape the sweaty city concrete, if only for a week at a time. While some rental companies and independent cottage owners have taken full advantage of this and raised their prices to account for the unprecedented demand, Muskoka District Rentals isn't one of them. The company hasn't even increased their cleaning costs, despite heightened, pandemic-inspired cleaning measures in place.
There are three ways of renting your property; taking care of the entire ordeal yourself, using a booking agency, or working with a full-service agency like Muskoka District Rentals.
The first option means you're dealing with everything yourself – including the calls in the middle of the night because the Internet isn't working, or the toilet is backed up. The booking agency, says Coleman, is more of an "old school" concept, where guests are required to bring their own towels and linens. The booking agency offers the service of finding the guests and managing the financial aspect, but it's up to the cottage owner to manage the maintenance side, the cleaning, check-in and checkout. "Those companies don't even have a phone service for guests on the weekends; it's all on the owner," says Coleman.
A full service agency like Muskoka District Rentals does all the work for you. Depending on the cottage, they handle everything from professional photography, marketing, and advertising, to guest screening, maintenance, and cleaning. "It's a seamless experience for the owner," says Coleman. "They aren't a part of the equation at all, aside from collecting the rental income on their property."
Cottage owners also take advantage of Muskoka District Rentals' property maintenance and cleaning services for themselves. "It's especially helpful for new cottage owners who don't have the established relationships with people in cottage country, because they can look to us to help open and close their cottage, manage maintenance issues that arise, cut their grass, maintain their hot tub… you name it."
Whether you're on the demand or supply side of the cottage rental market, the time to start planning next summer is now – and pretty soon, even 'now' will be too late.
Muskoka