If spending the last several months in an urban setting has left you feeling cooped up, it's high time to plan a great winter escape. And lucky for those looking for spots with soon-time availability, the stunning Lorimer Lake Timberframe has plenty.
Located on waters that sound like those you'd read about in a Tolkien novel, this lake house would make the residents of Rivendell swoon. A rich wooden interior, raw stone detailing, a spiral staircase, and a stunning natural environment work synergistically to create a space perfect for hibernating within.
---
Just 20 minutes away from Parry Sound, Timberframe has rental availability as early as October 27, which continues all through winter. Starting at $1,425 per night with a three-day minimum stay, you could book now to see yourself away from the city for weeks to months, if you wanted to. And, with this spot's virtual tour considered (below), how could you not want to?
The custom-built nest boasts spectacular details, like live-edge timbers softening the surfaces of many interior elements, including 30" horizontal roof beams. Throughout the home, rustic meets elegance, as classic furnishes are interwoven with charming cottage-style art pieces.
A modern and fully-equipped kitchen is described as "the heart" of this house, featuring solid maple cupboards, integrated high-end appliances, marble counters, a 10' butcher-block topped island with bar stools, a built-in Miele coffee system, a gas cook top, and more. Food-talents can gather in the kitchen to whip up meals for all those on site, while the rest of the family can get comfy at the Great Room's hearth -- conveniently located just off the food hub.
READ: 5 Cottage Country Pumpkin Patches to Visit This Fall
Kids will surely be drawn to the games room, where a full-sized pool table awaits. Adults, too, will certainly be drawn in, though it may be the charming wood bar that calls specifically to those aged 19 and up. A wall-mounted flat-screen and plenty of seating options through the room mean that friends and family of all ages have a cozy place to gather. And, providing even more seating is the charming sunroom, featuring three windowed- and doored-walls, which allow for bright and mosquito-free mornings and afternoons. Here, we'd say, is the perfect place to escape to on a winter's day with a warm coffee, a book, and the comforter you pulled from the bedroom upstairs.
And speaking of those chambers... each of the five bedrooms on this property are precious in their own right. The master suite boasts stunning French doors which lead out onto a private terrace, plus a stone gas fireplace, a stone accent wall, and a private en-suite, to boot. Four additional bedrooms will sleep family members or friends with ease; one of them is even complete with a secret loft-meets-playplace, which is perfect for a kiddo or two.
Also upstairs, a balcony overlooks the Great Room, and leads into a quaint lounge space is fitted with plush couches. This is a nook made for slipping into for conversations over a glass (or three) of red. Or, the wine could be brought outside, as chillier cottage stays don't have to mean indoor-only-experiences. The bonfire pit sounds like the most hygge place to spend a chilly autumn or winter evening, and we say there may be no sight more stunning than the lake, gilded with ice and fog, on a cold winter's morning. Take your coffee to the dock and enjoy the view.
Winter is a time of hunkering down, resting up, and leaning into loved ones, and we can't envision a place more perfect to do all three than here. Cottage charm, log-home traditions, and modern design combine at this luxe rental, and -- if you act fast -- there's a vacancy with your name on it.
EXTERIOR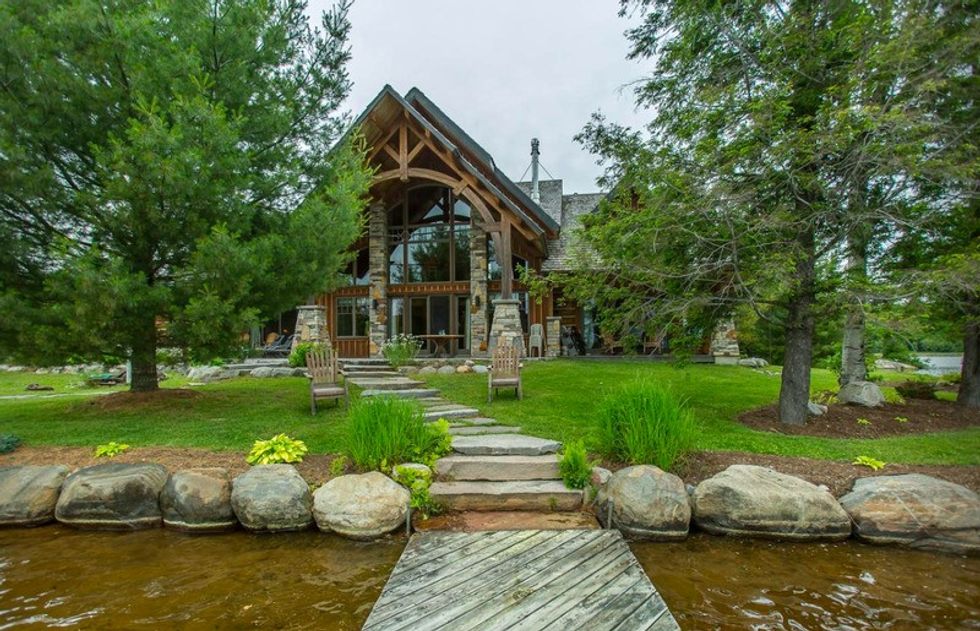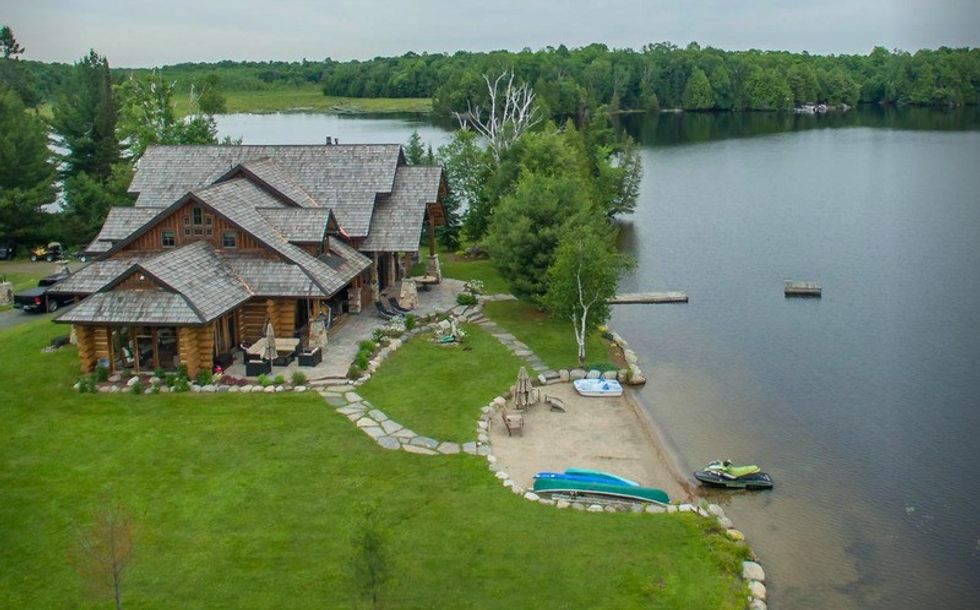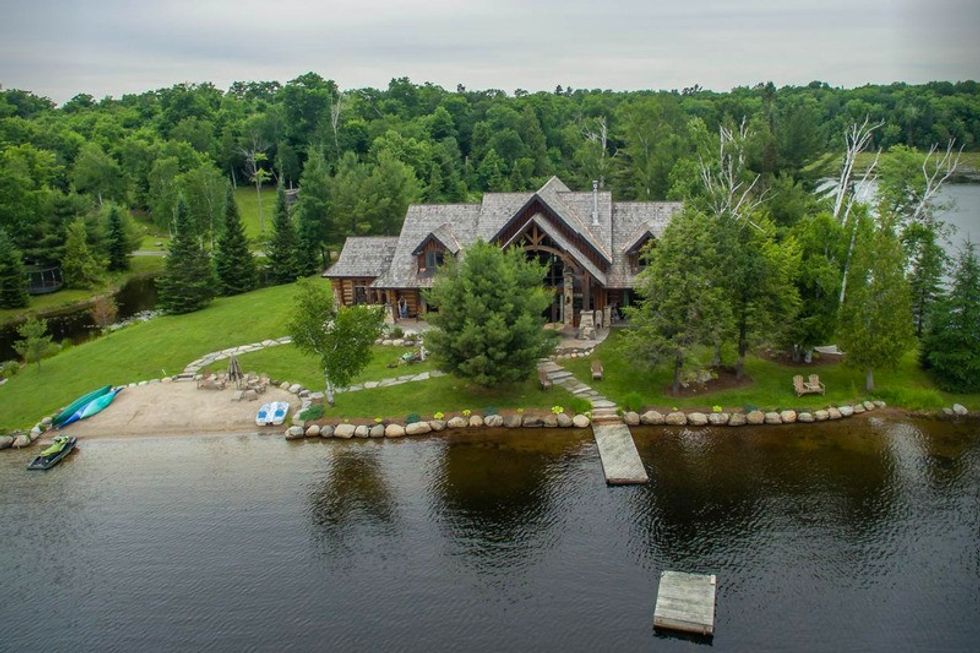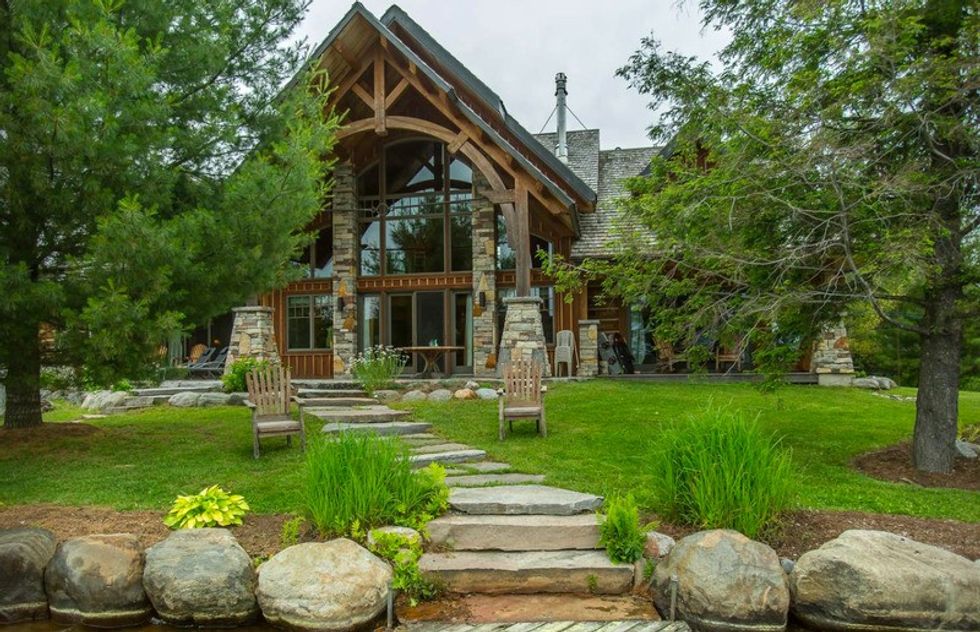 ENTRY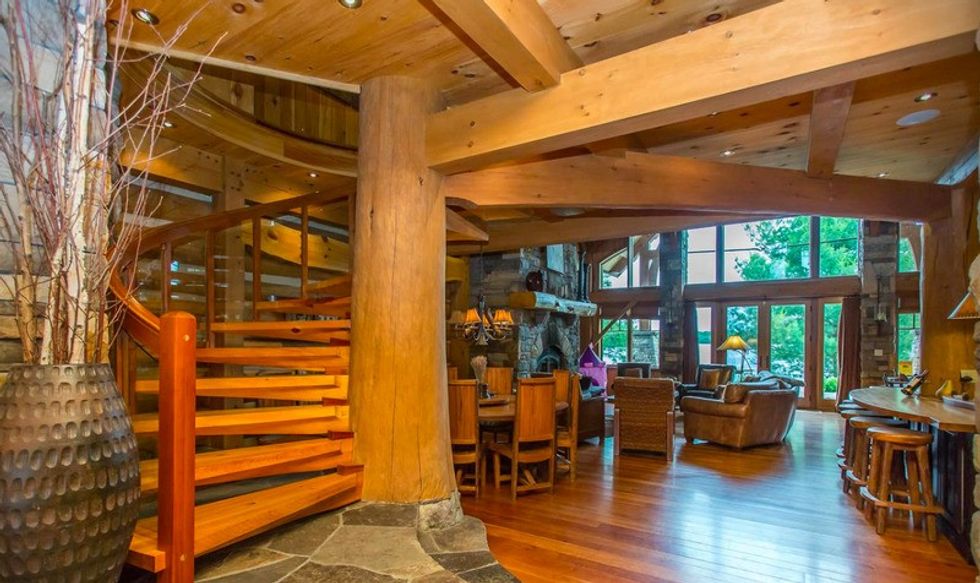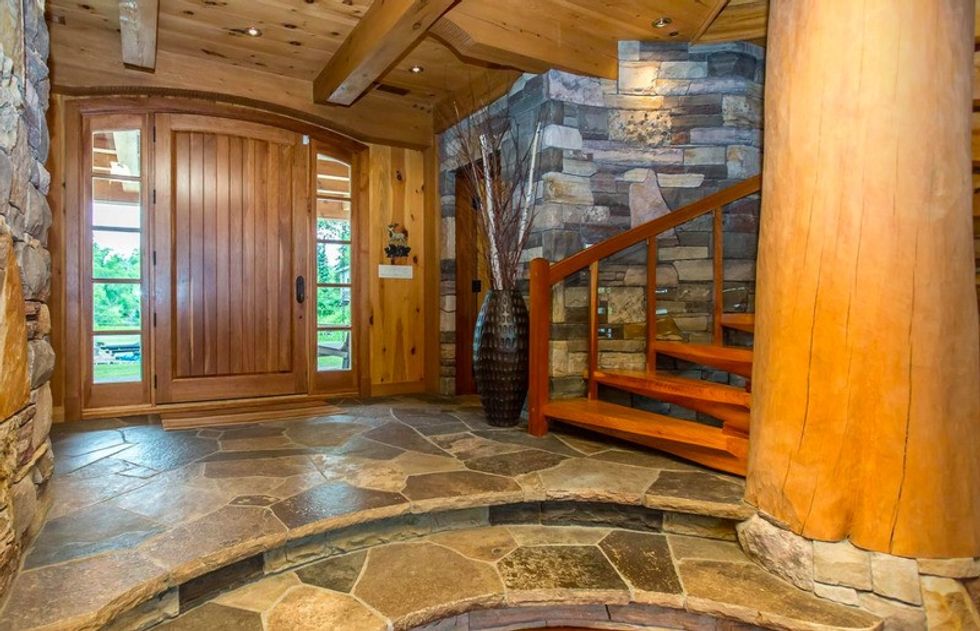 LIVING AND LOUNGE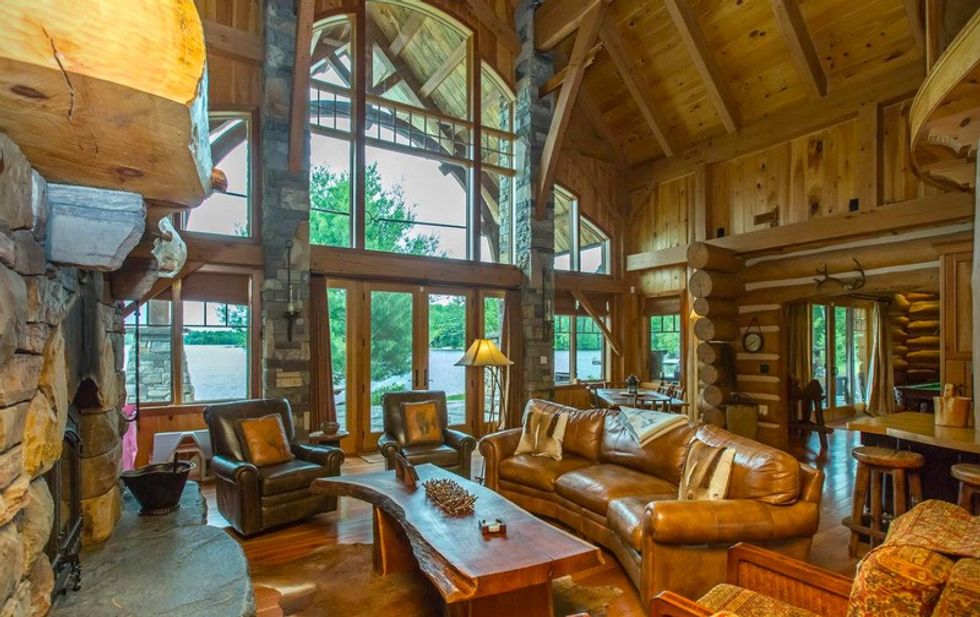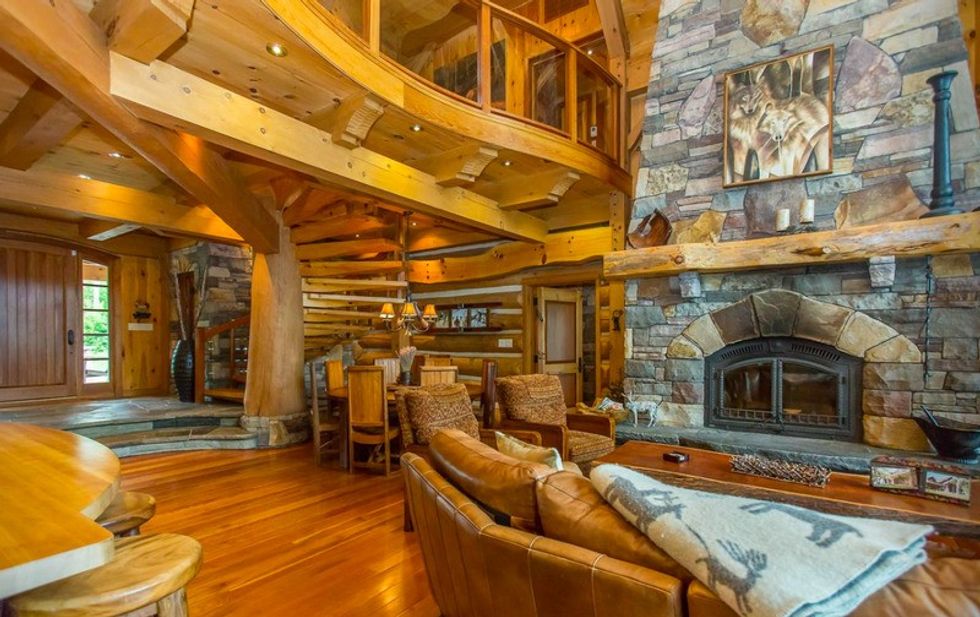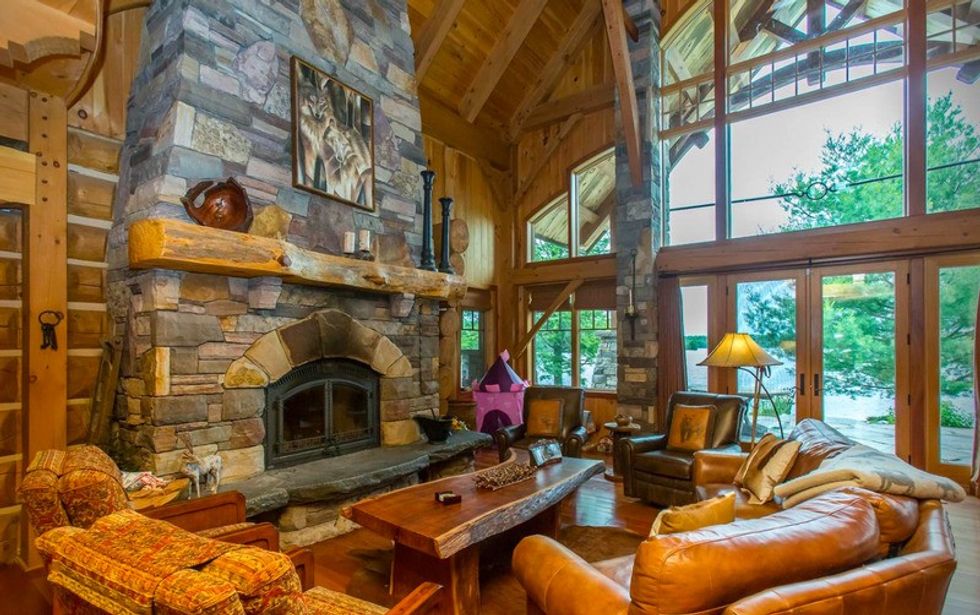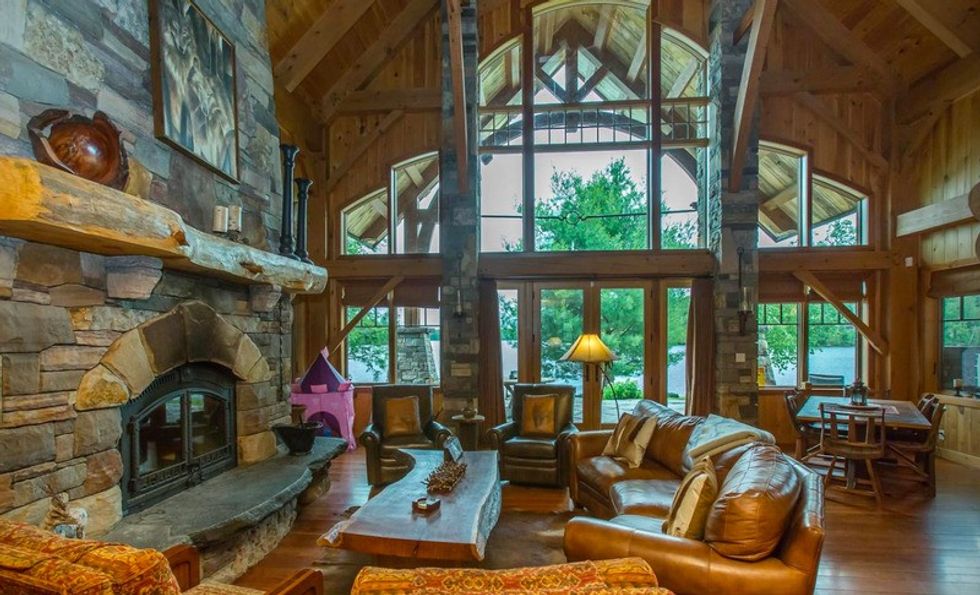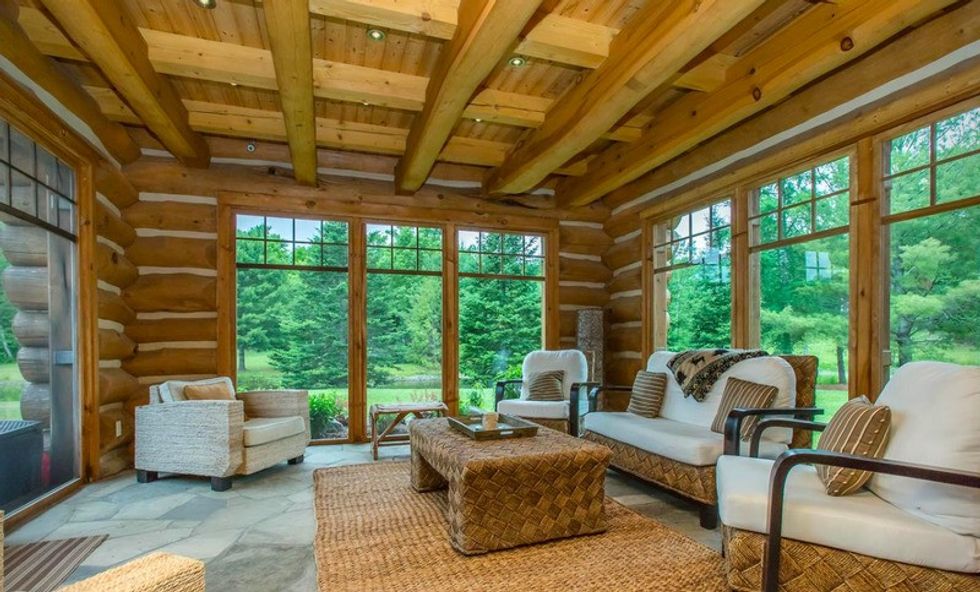 KITCHEN AND DINING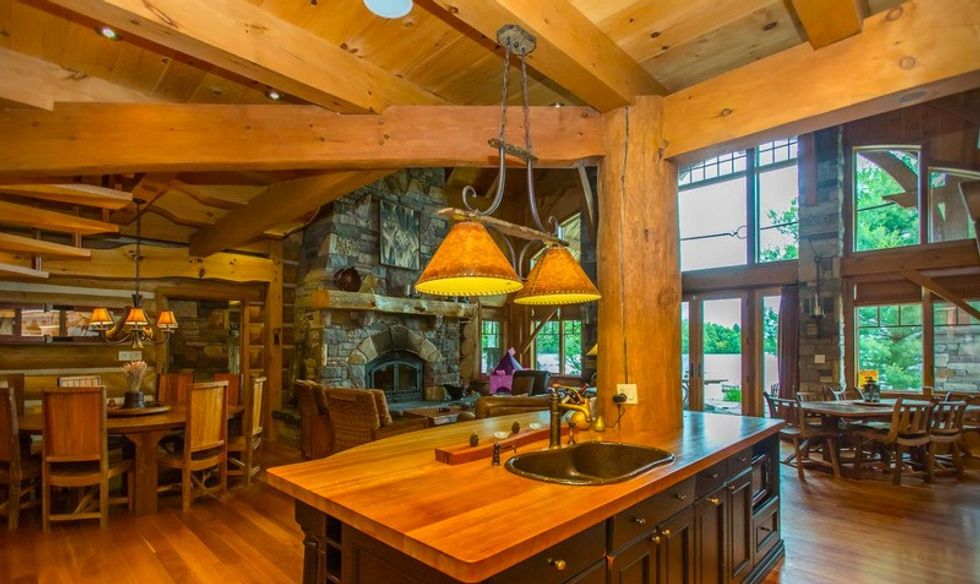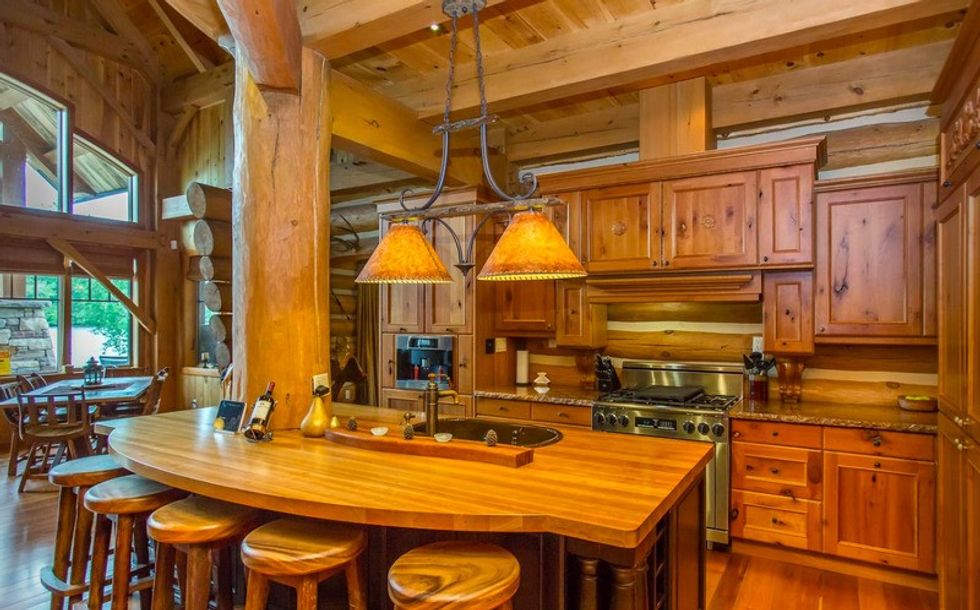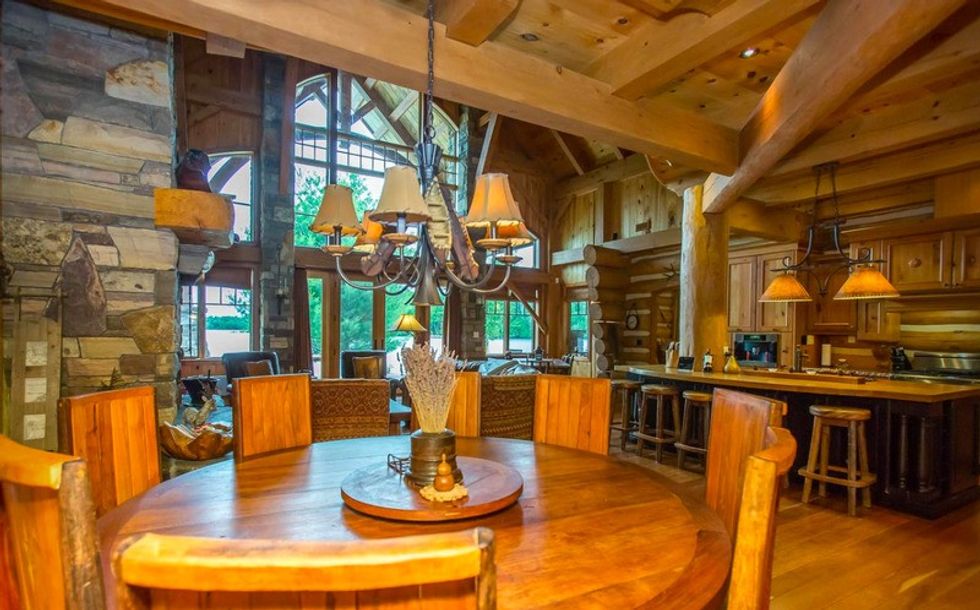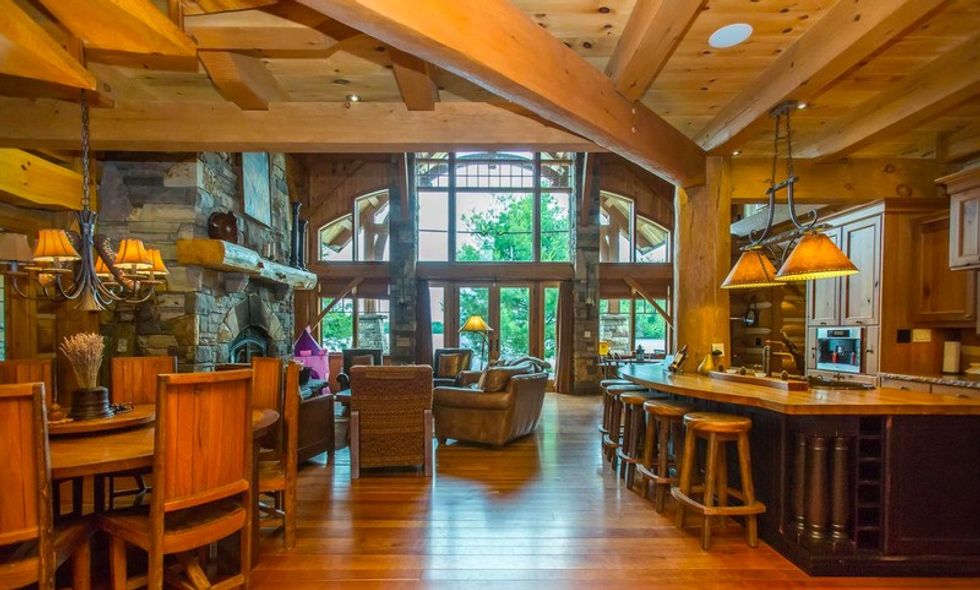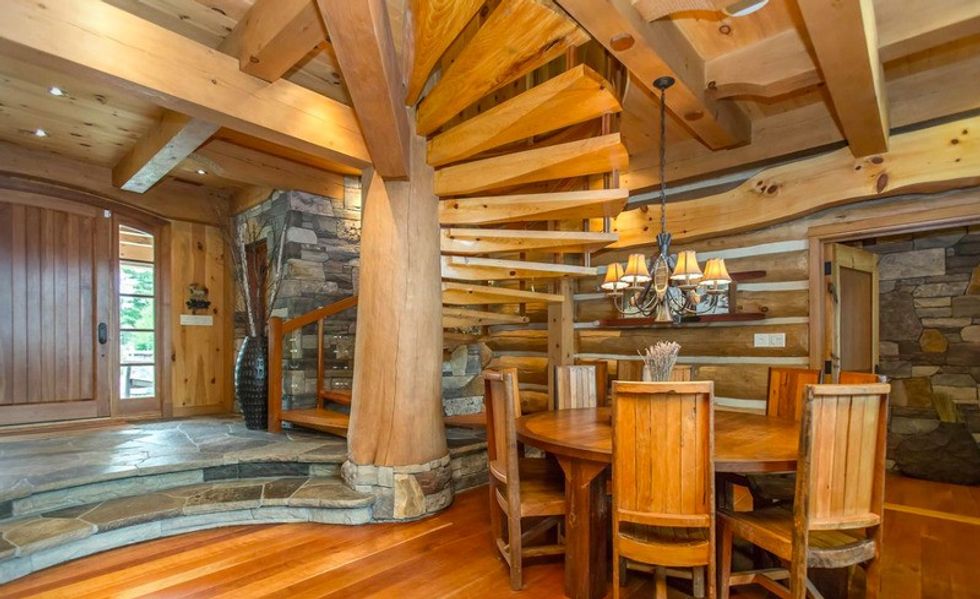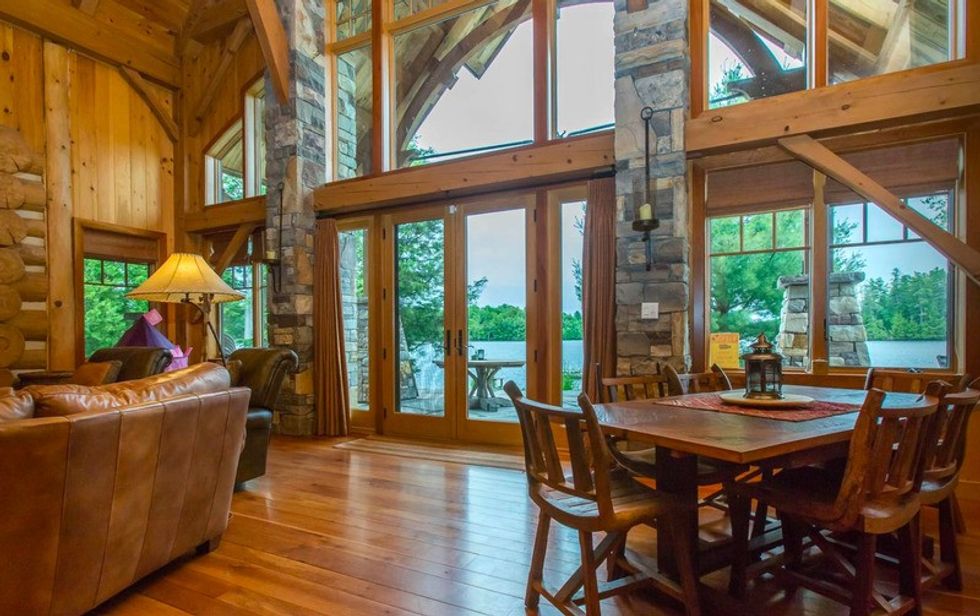 BEDROOMS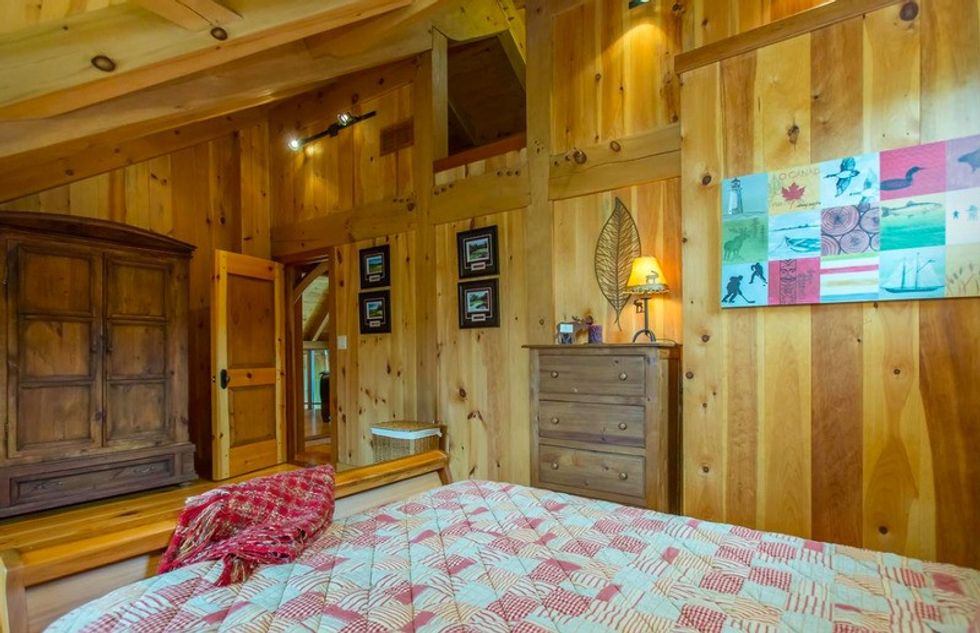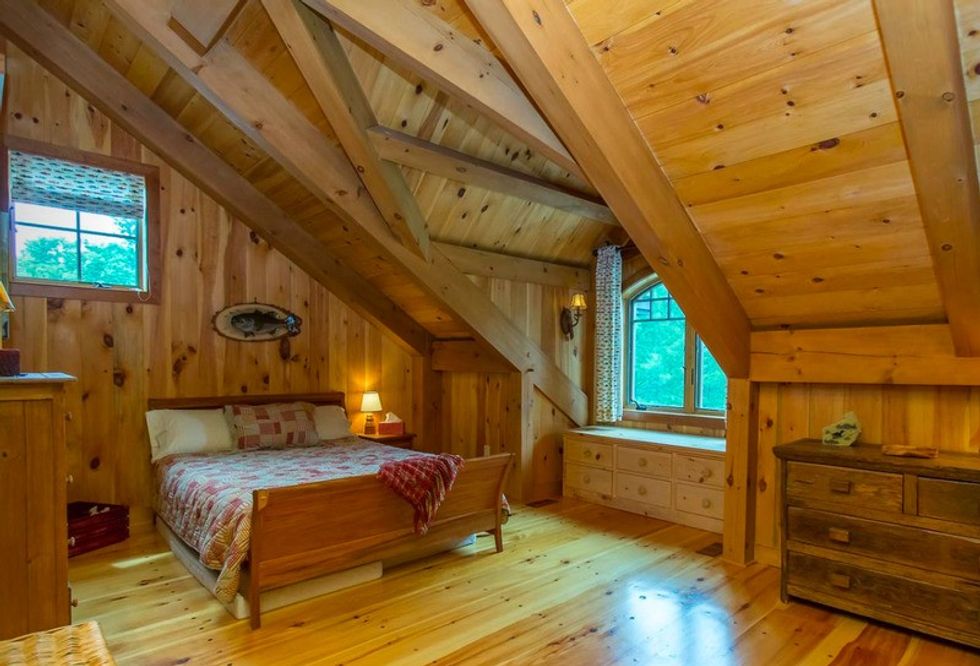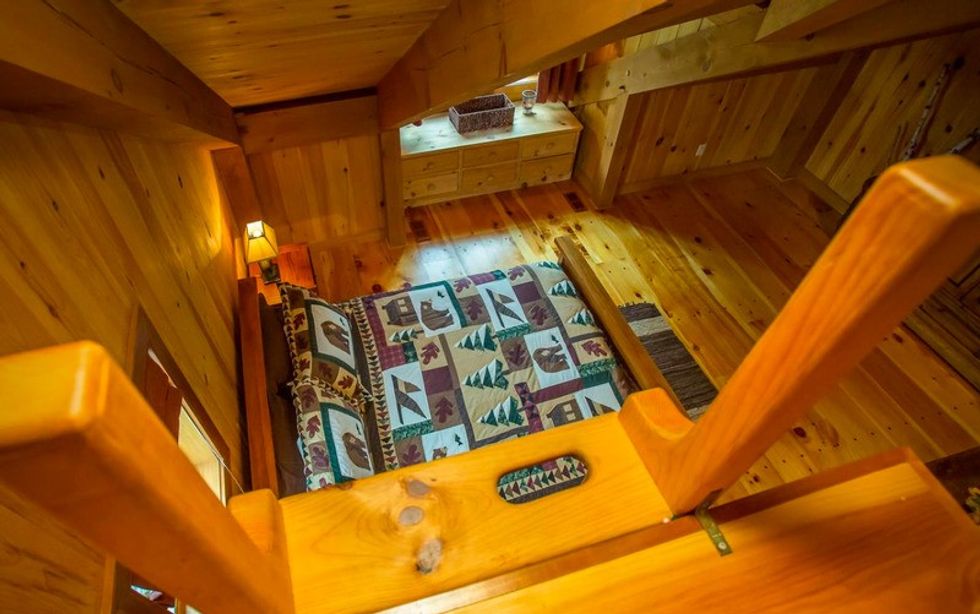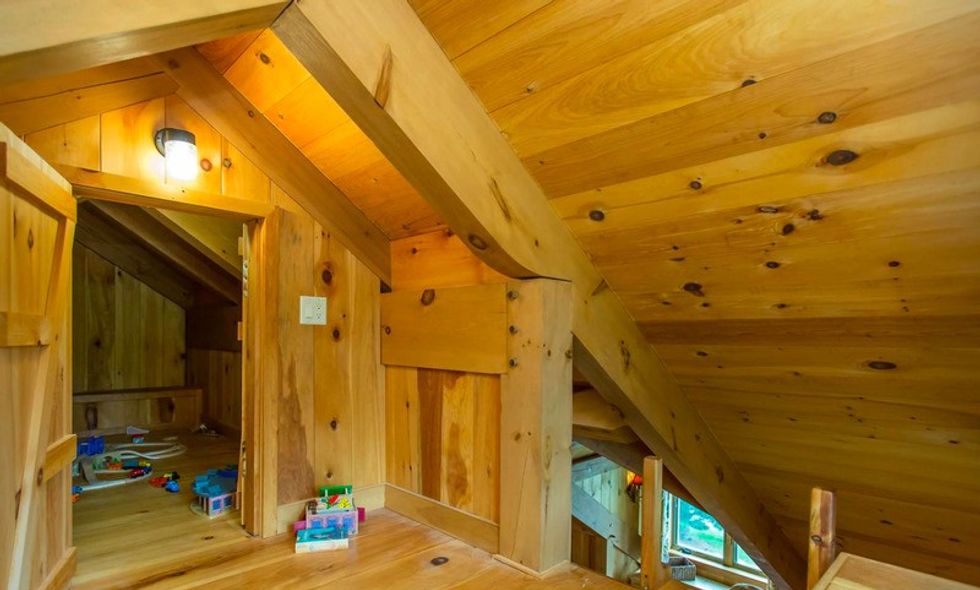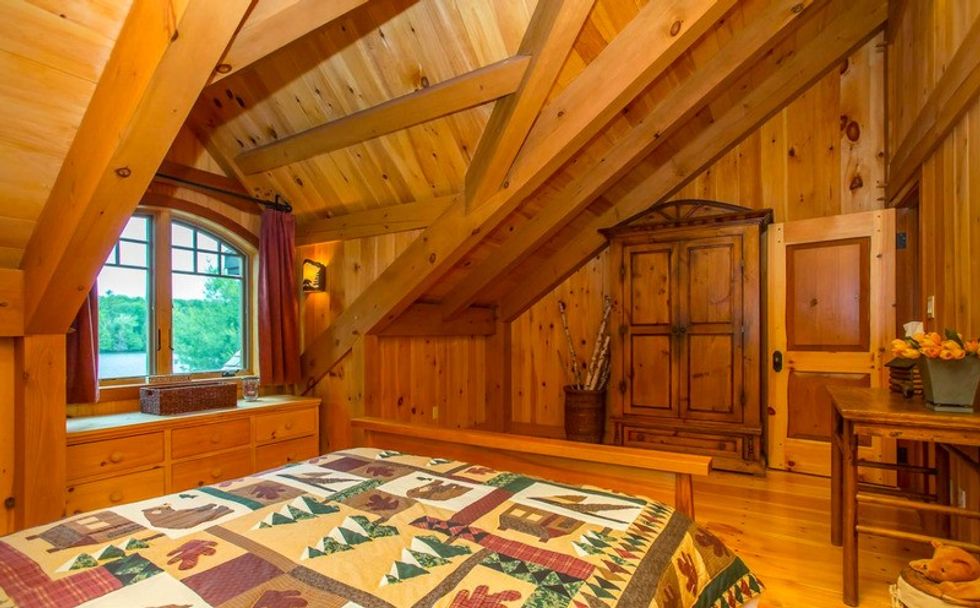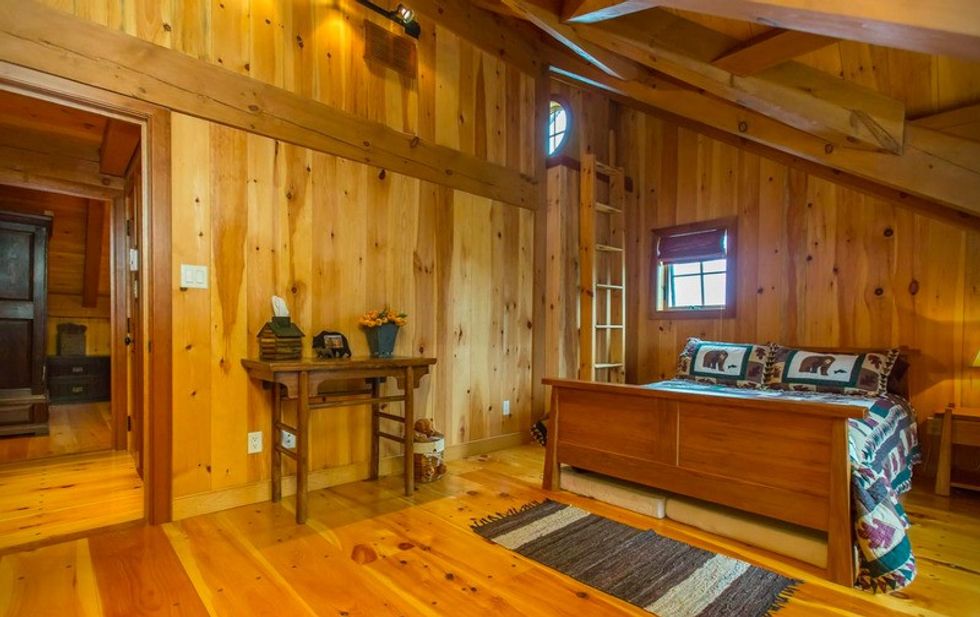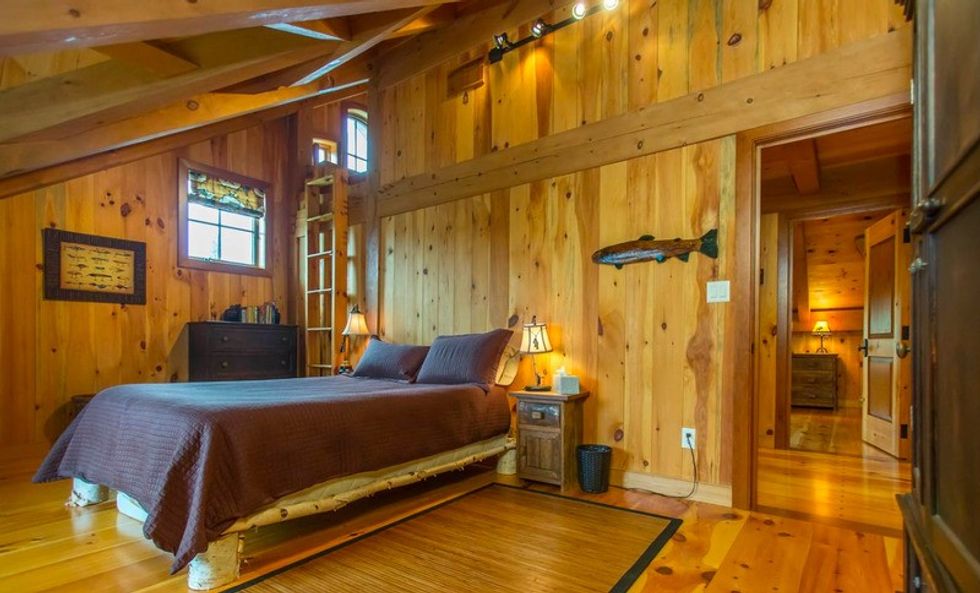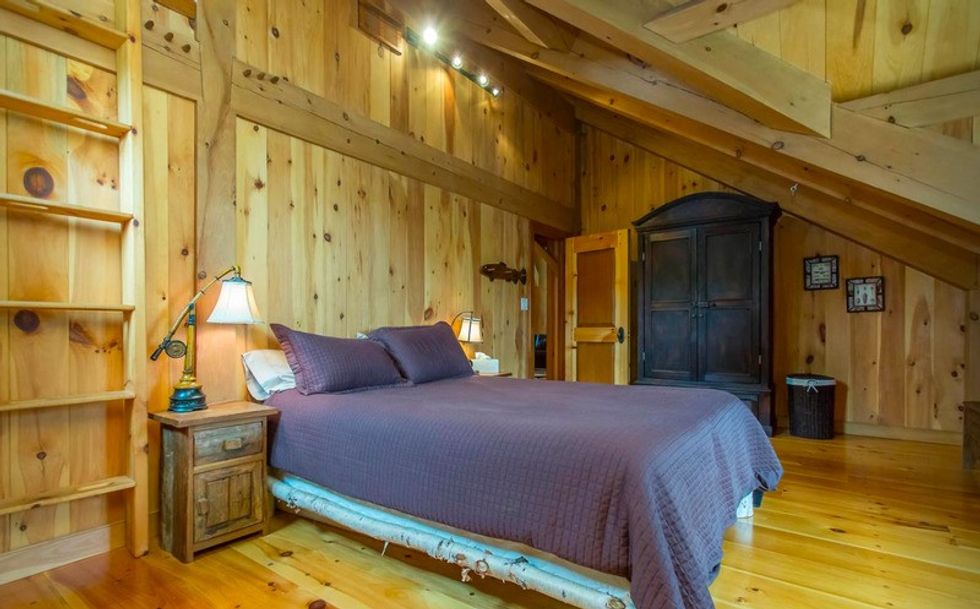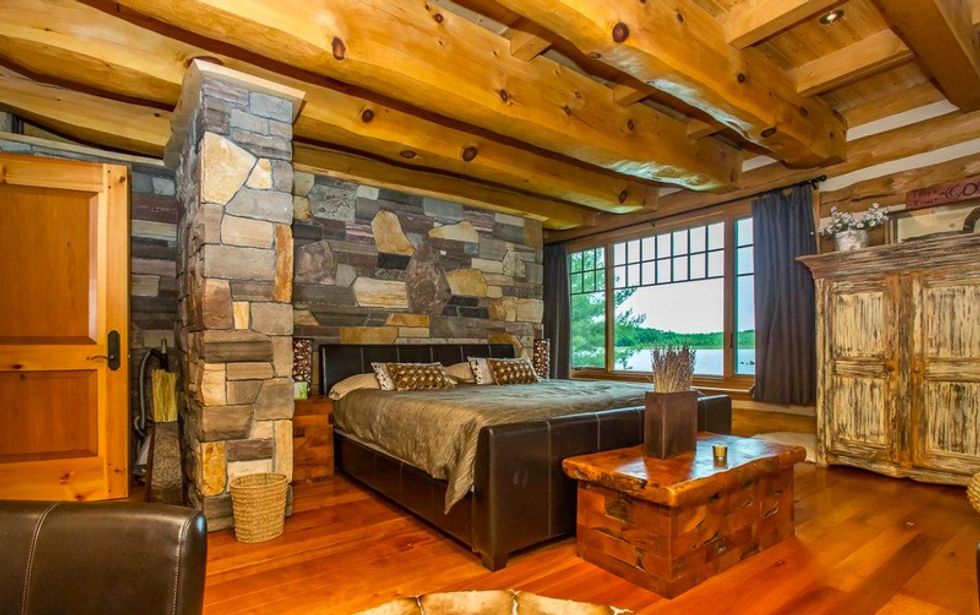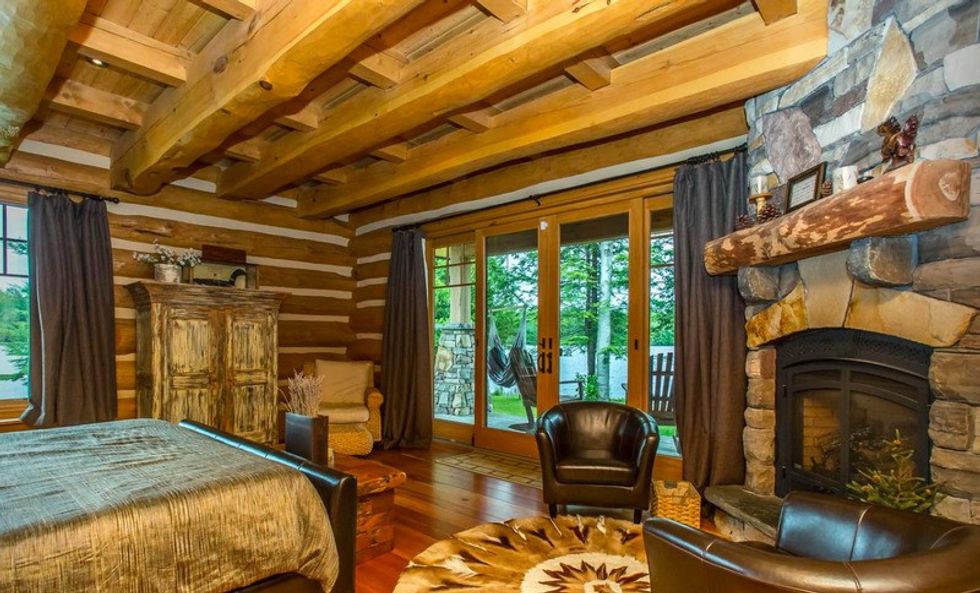 BATHROOMS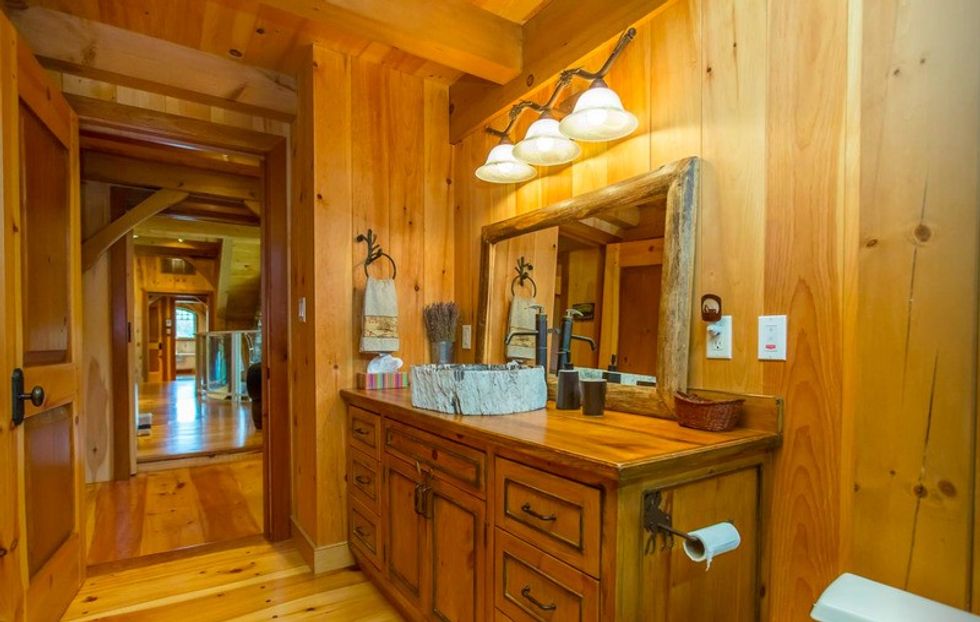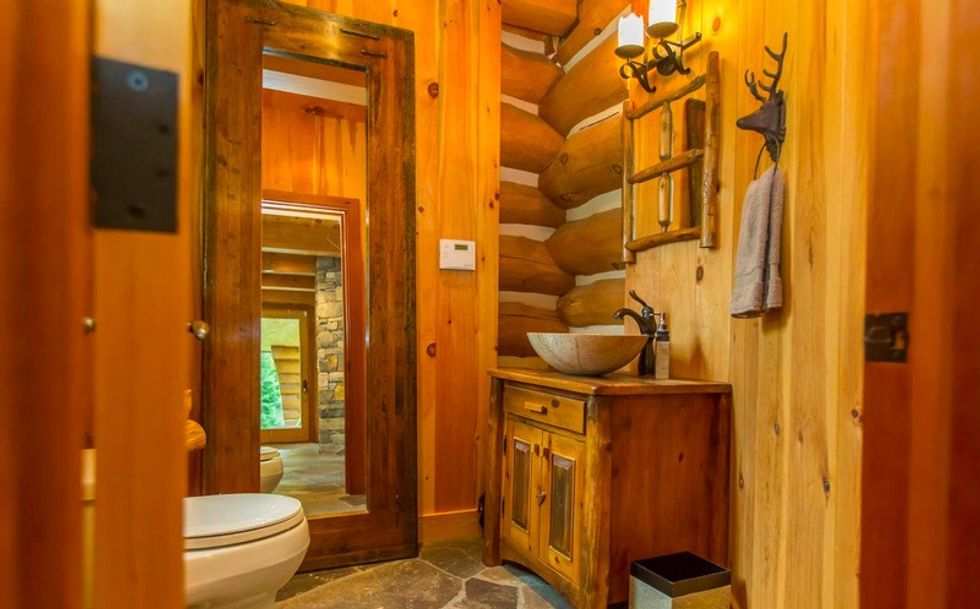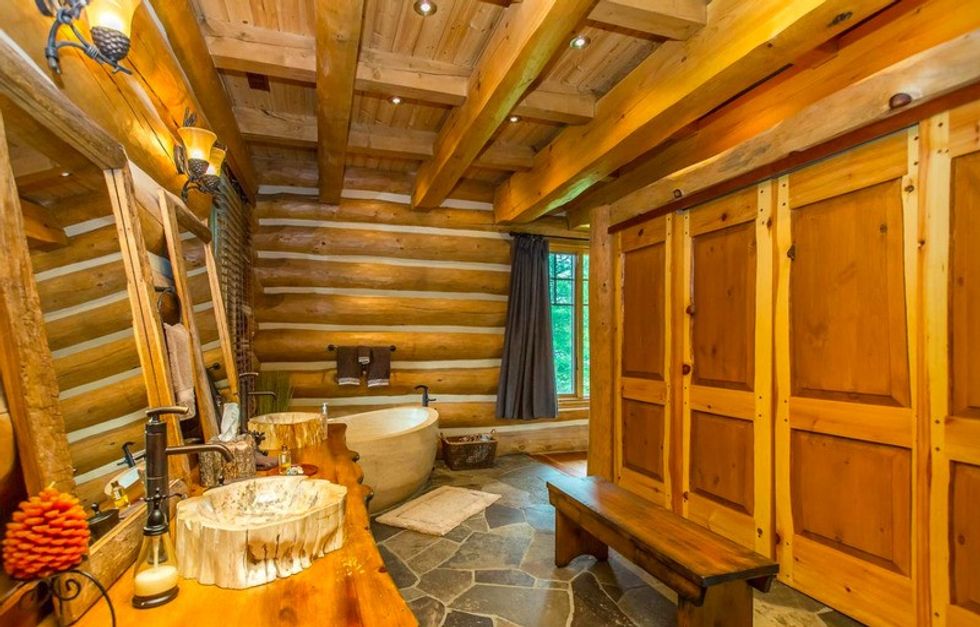 UPPER LEVEL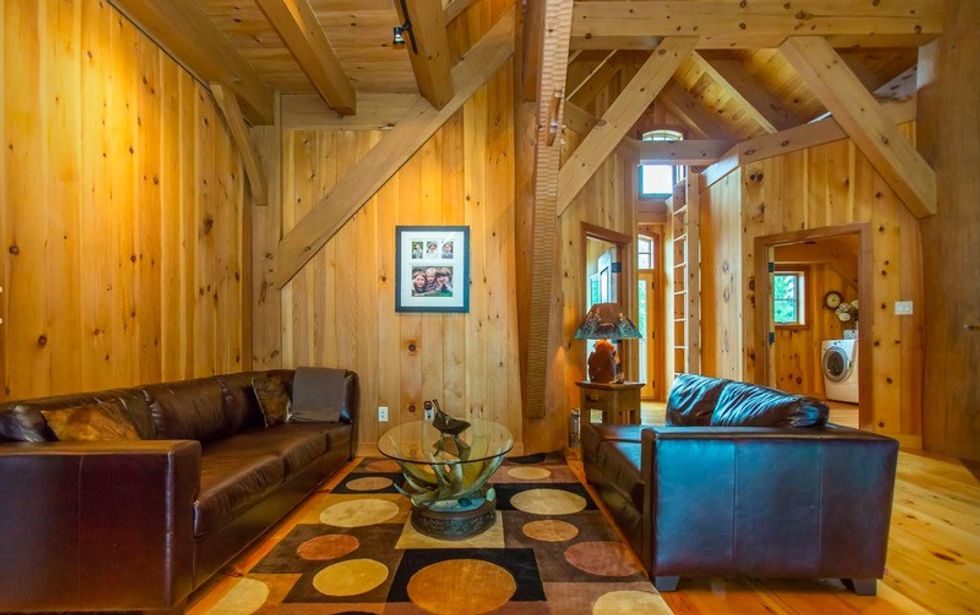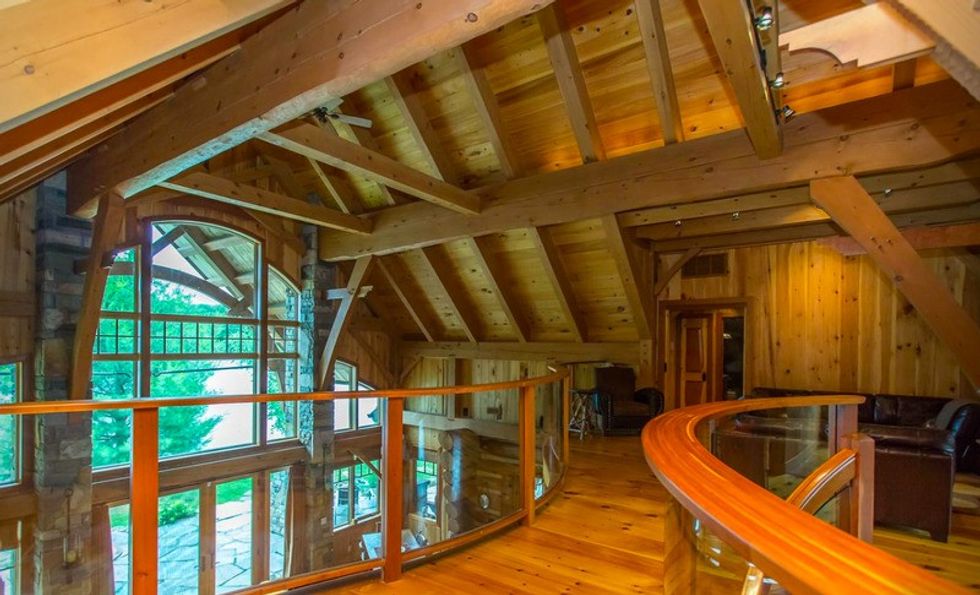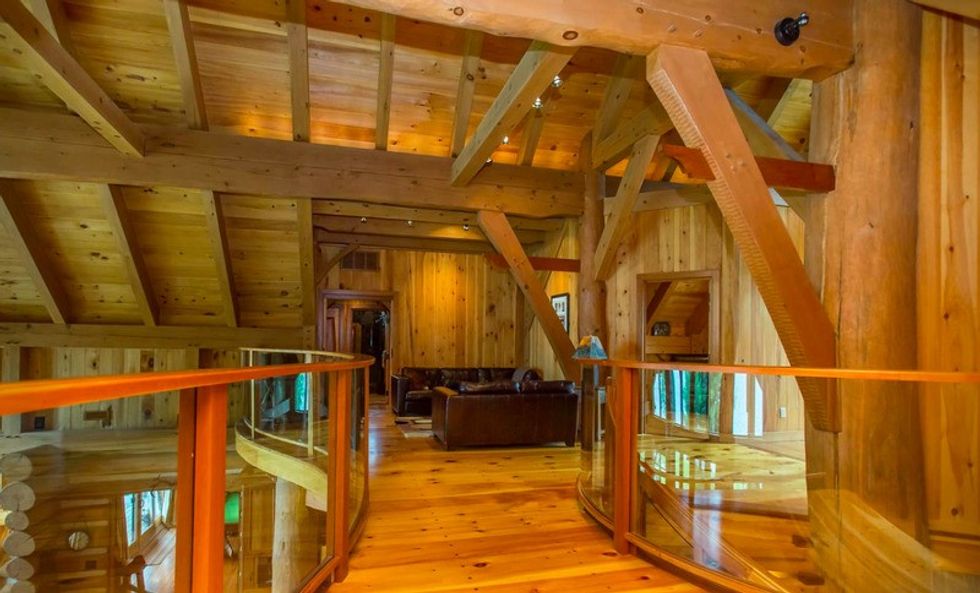 BAR AND RECREATION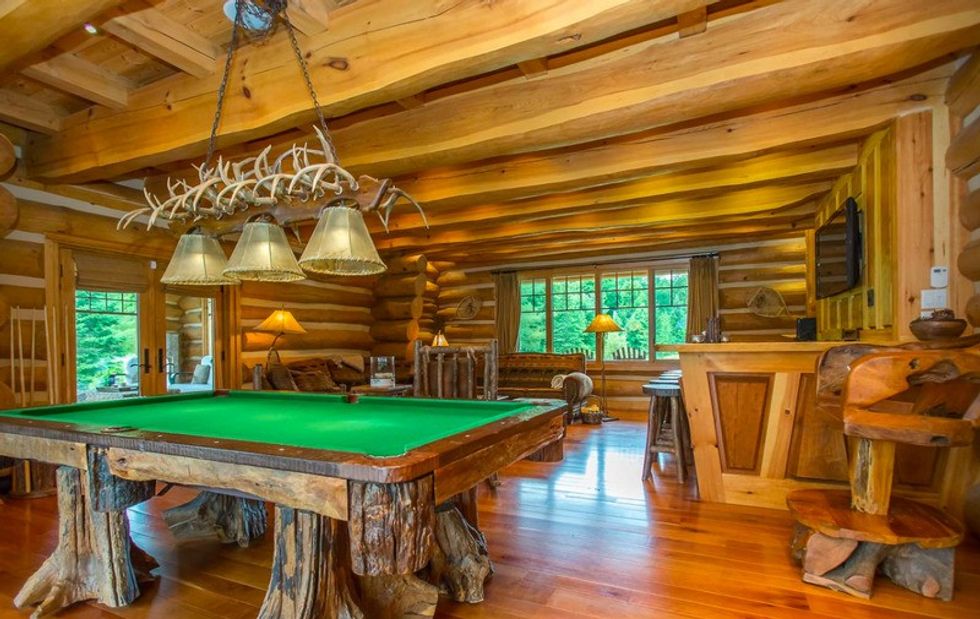 STAIRWELL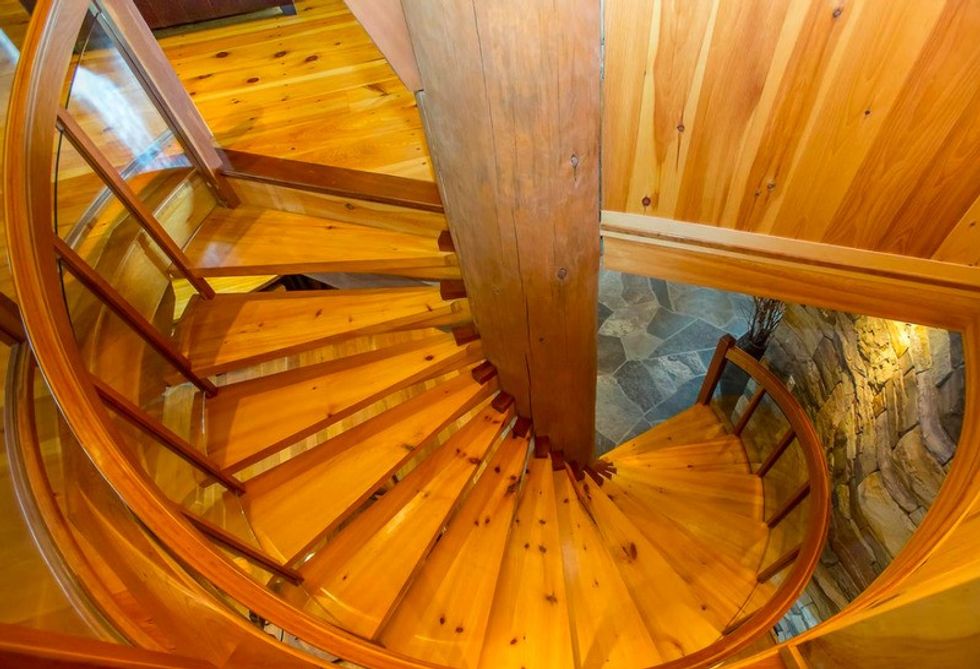 OUTDOOR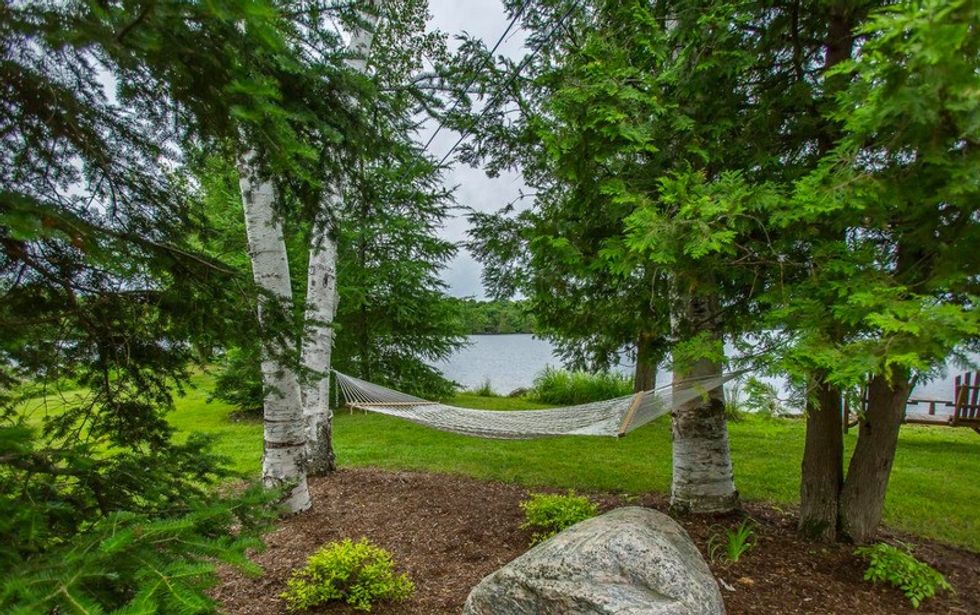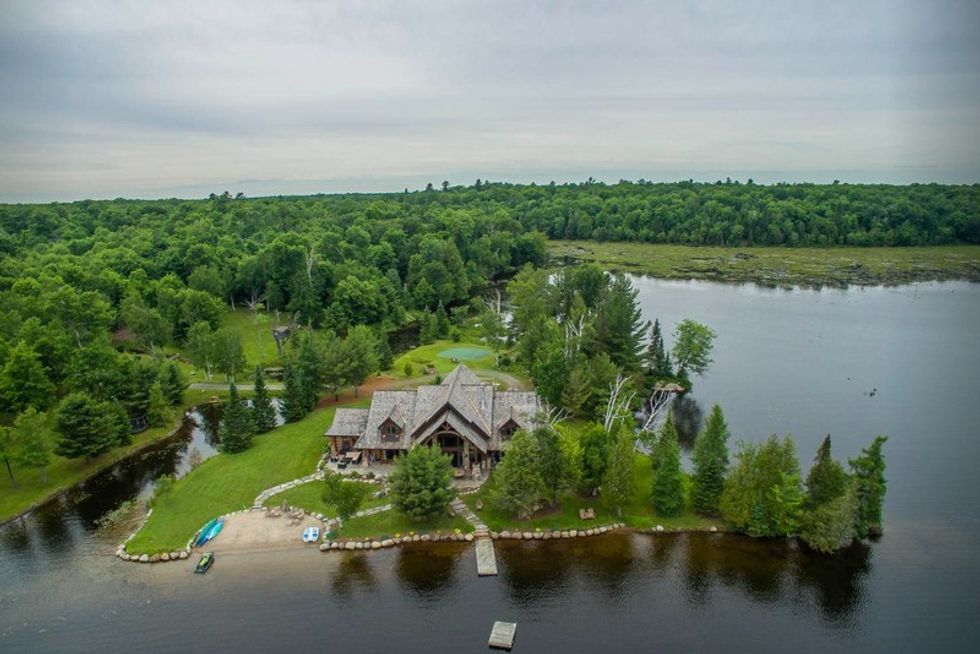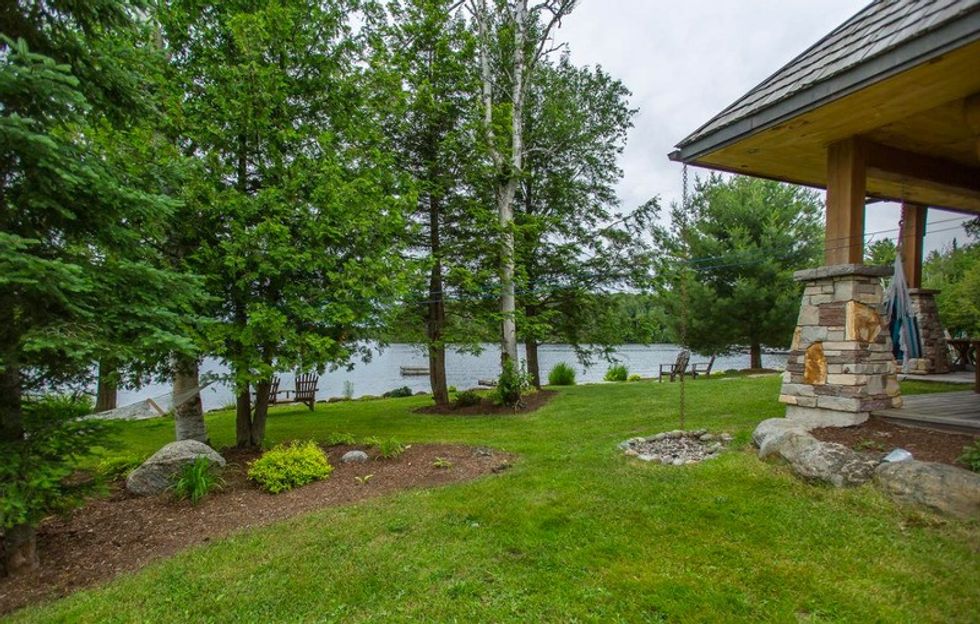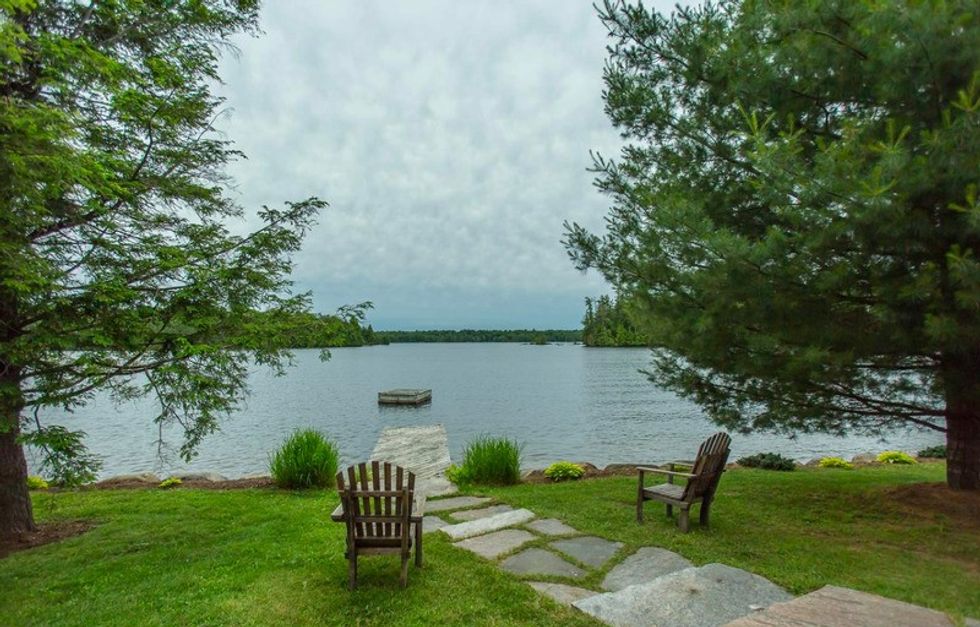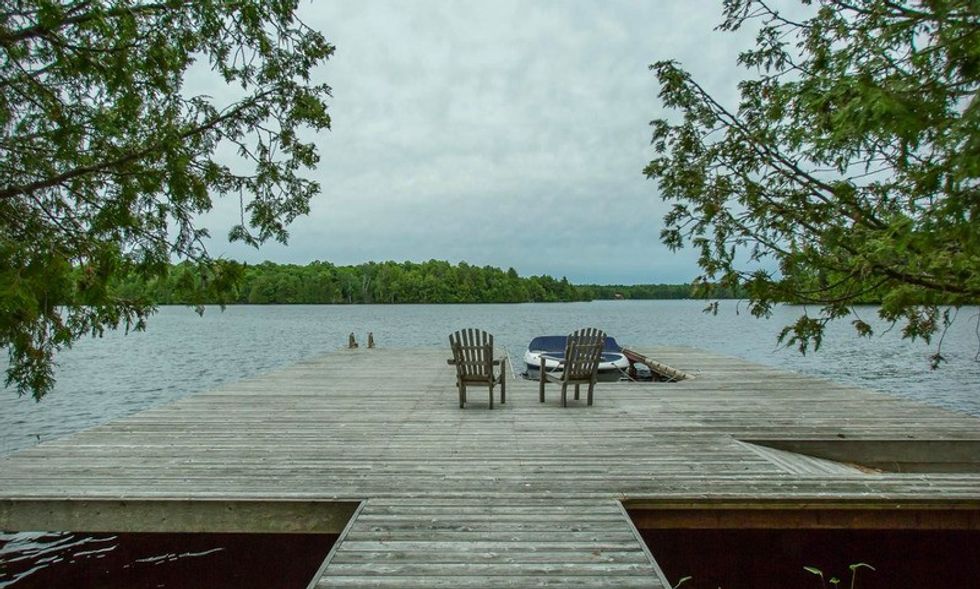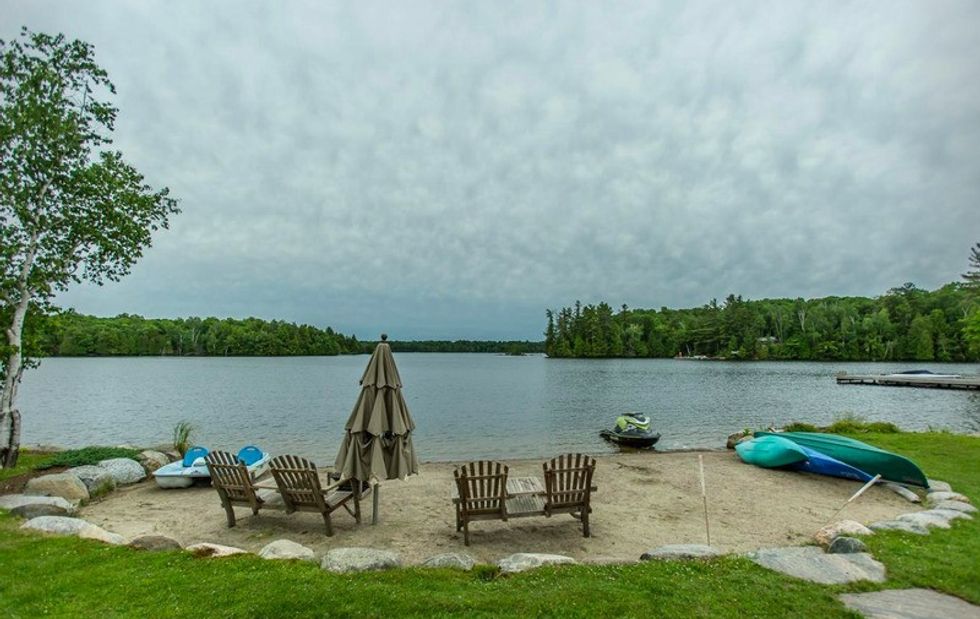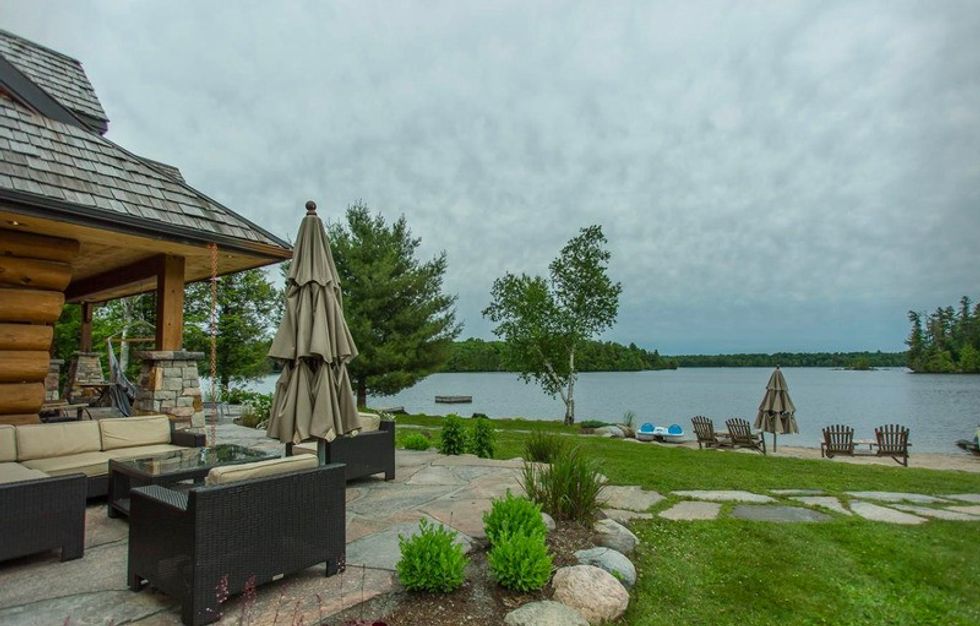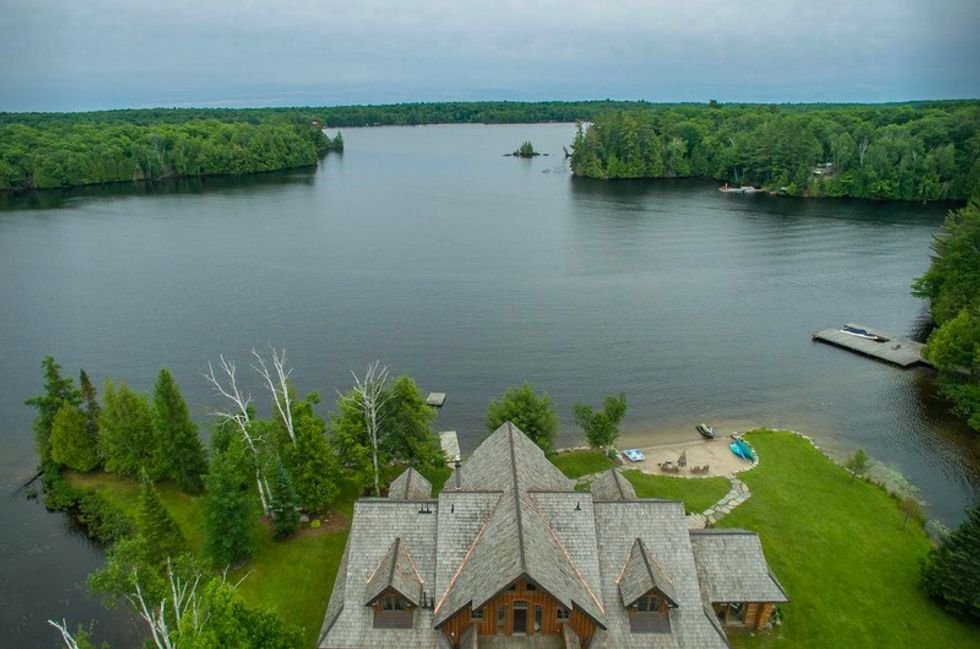 Muskoka