The weather may be cooling down, but Muskoka waterfront properties are still on fire; July's numbers, which were record-breaking in more ways than one, are proof.
New data released by the Canadian Real Estate Association (CREA) shows that last month was bustling in the regional real estate scene. Stats from the Lakelands Association of Realtors show that throughout July, 459 waterfront properties were scooped up by buyers -- that's 78 more than June, and nearly double (96.2%) the levels seen during the same month last year.
---
On a grander scheme, these waterfront property sales set a new record for July, and boasted the highest level for any month in history.
RELATED: The Power of Pocket Listings: Inside 'Unlisted' Muskoka Real Estate
Where non-waterfront sales were concerned, residential sales activity numbered 369 units; that's an increase of 29.9% year-over-year, and the data sets a new sales record for the month of July.
"Sales activity for both residential non-waterfront and waterfront properties exploded in July, with the former setting a new record for the month and the latter setting a new all-time record," said Catharine Inniss, President of The Lakelands Association of Realtors.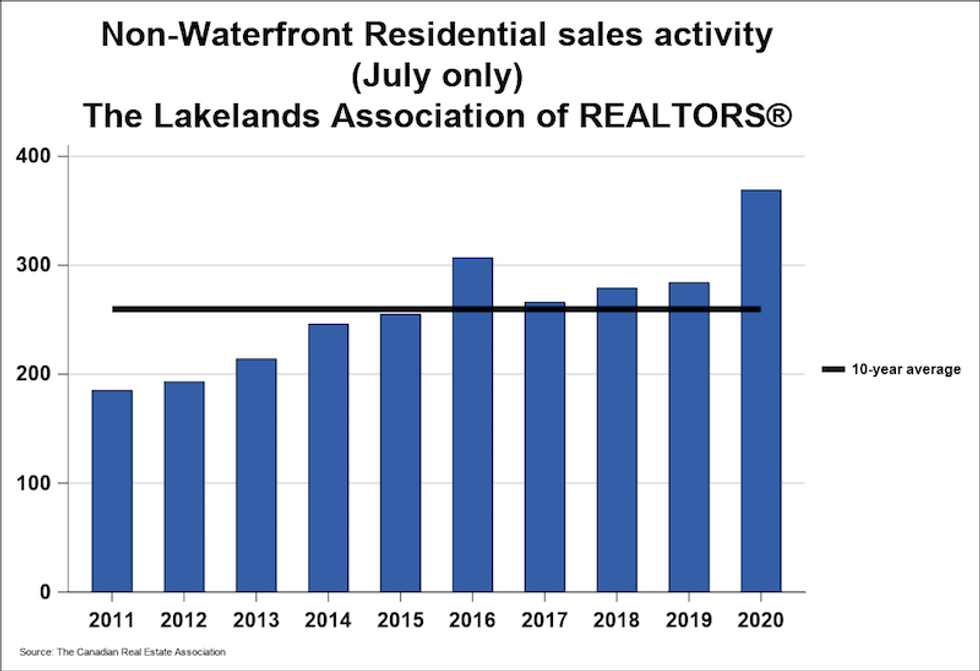 On a year-to-date basis, both waterfront and residential non-waterfront sales have increased since 2019. Waterfront sales totalled 1,233 units over the first seven months of 2020; soaring 39.6% from the same period last year. Residential non-waterfront sales have been even higher in terms of units -- 1,498, to be exact -- but are only peeking 3.9% over last year's sales during the same period.
"Year-to-date activity for both property types is now trending above levels from the same period in 2019. The total dollar volumes of both property types also set new all-time records as skyrocketing sales are leading to stronger price growth," Inniss said. "With current record levels of demand likely stemming from people looking for more space outside the city considering the ongoing social distancing measures, it will be interesting to see if this is just the beginning of even more buyers coming to the Lakelands region in search of an escape from the urban setting."
The desire for homes in Ontario's cottage country mecca is going up, and prices are following suit... not undramatically, either.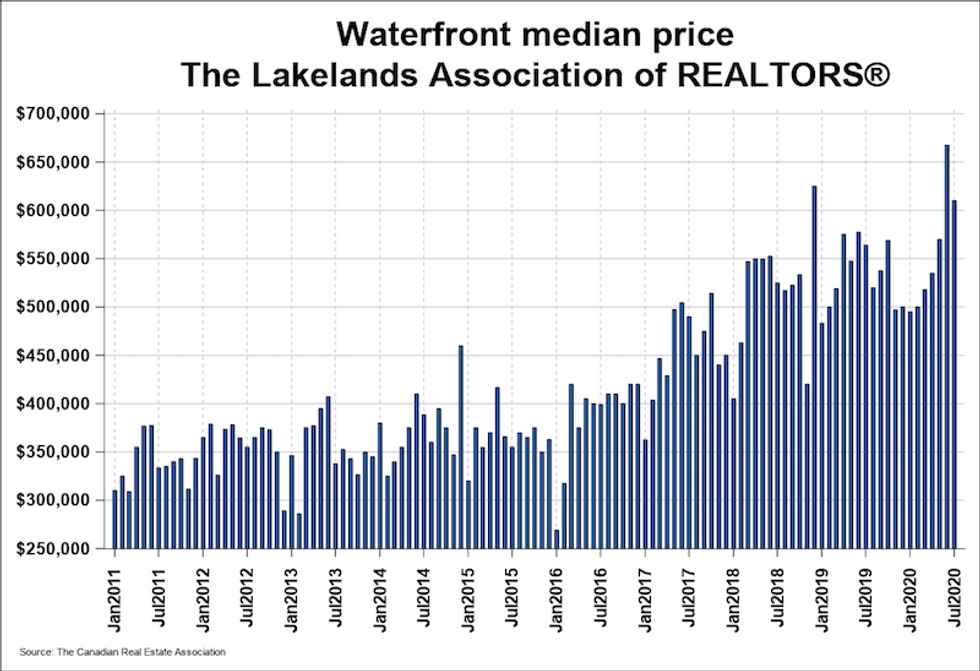 This July, the median price for residential non-waterfront property sales was a record $432,000, up a whopping 18% from the same month last year. Meanwhile, waterfront property sales saw a median price of $610,000, up 8.2% from July of 2019.
Zooming out, residential non-waterfront sales saw a total dollar value of $172 million; a solid jump of 52.5% y-o-y. Never mind that this sets a new record for the month of July, the numbers presented from last month show the largest dollar value of homes sold for any month in history.
Not quite setting records, but still dropping jaws, waterfront sales in July of this year were $420.5 million, which surpasses last year's numbers by 129.4%. Where all homes are concerned, dollar values haven't been this high during the month of July for two decades.
Normally, springtime is when the Muskoka real estate market catches flame, and the blue heat turns to ashes by late summer; a pattern that -- due to COVID-19 -- was thrown off course this year. The cancellation of the Spring Cottage Life Show had some industry insiders anticipating a "brutal" summer, but the impact of coronavirus has turned out to be the opposite.
"The pandemic turns out to have only accelerated the trend of retirees, empty-nesters, those looking to down-size, and people now working from home looking to Muskoka as an answer," Ross Halloran, Broker at Sotheby's Realty, said in mid-July.
What Halloran was feeling at the time -- a sense of being slammed like never before, namely -- has become visible through the release of the month's sales data.
While the truly dedicated (read: privileged) may turn to alternate methods of property purchasing (have you heard of pocket listings?), laymen will need to step into the ring of the the increasingly-competitive market if they have any hope of copping of cottage country place before the year's first frost.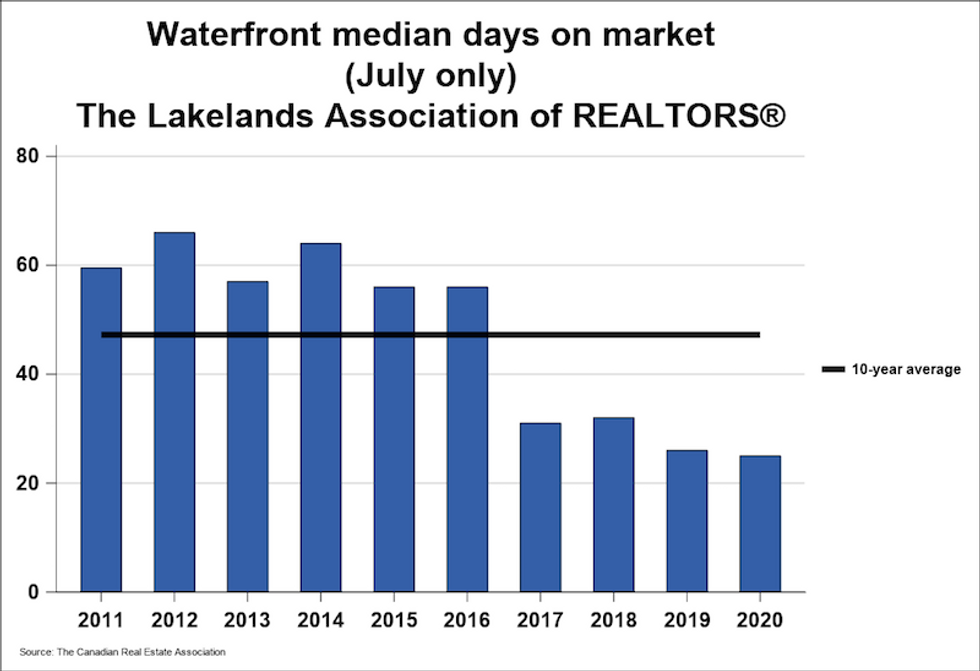 If buying's not in the cards, you can always opt to rent, but you'd better get a move on with planning in that realm, too. Indeed, the real estate market's not the only spicy space. The Muskoka rental market is so hot right now, many folks are already booking for next summer.
Some properties are so sought after, in fact, that you won't be able to book until 2022.
Muskoka