The weather has officially cooled down, but the Muskoka region's real estate market has not, according to recent stats from the Canadian Real Estate Association (CREA).
Sales activity recorded through the MLS System for the Lakelands region shows a total of 630 units -- residential non-waterfront and waterfront -- sold through October.
---
Of those, 391 units were non-waterfront, increasing 18.5% from October of 2019. Waterfront property sales numbered 239, up 34.3% from the same month last year, while both property types set new records for the month.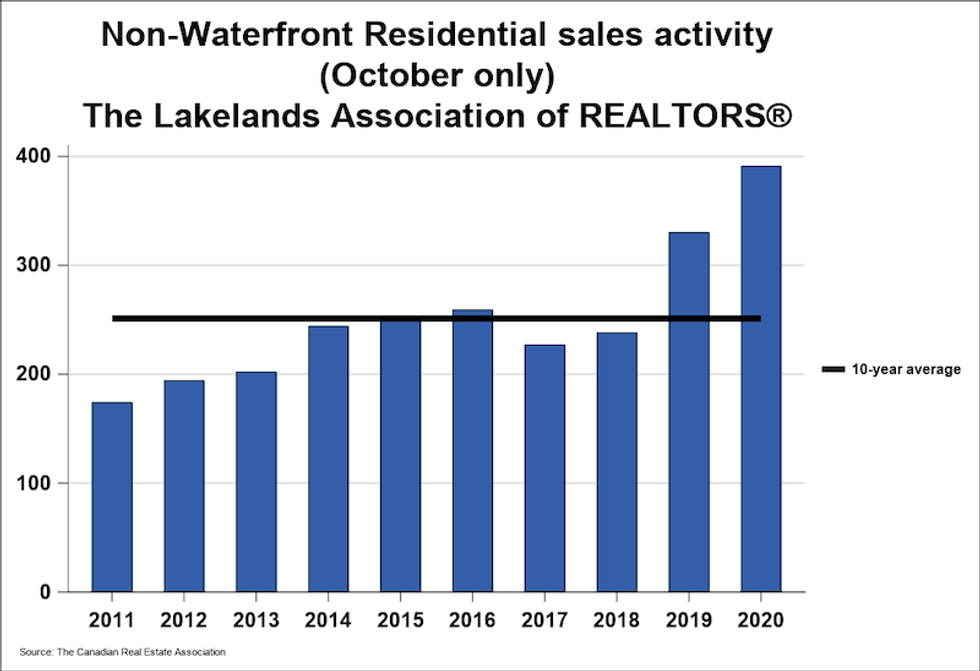 READ: Want to Rent a Cottage in Muskoka Next Summer? You Might Be Too Late
Where year-to-date sales are concerned, residential non-waterfront sales totalled a record 2,923 units over the first 10 months of the year, up 15% from January through October of 2019. Meanwhile, waterfront sales increased 44.4% year-over-year, reaching a record total of 2,163 units through the first 10 months of 2020.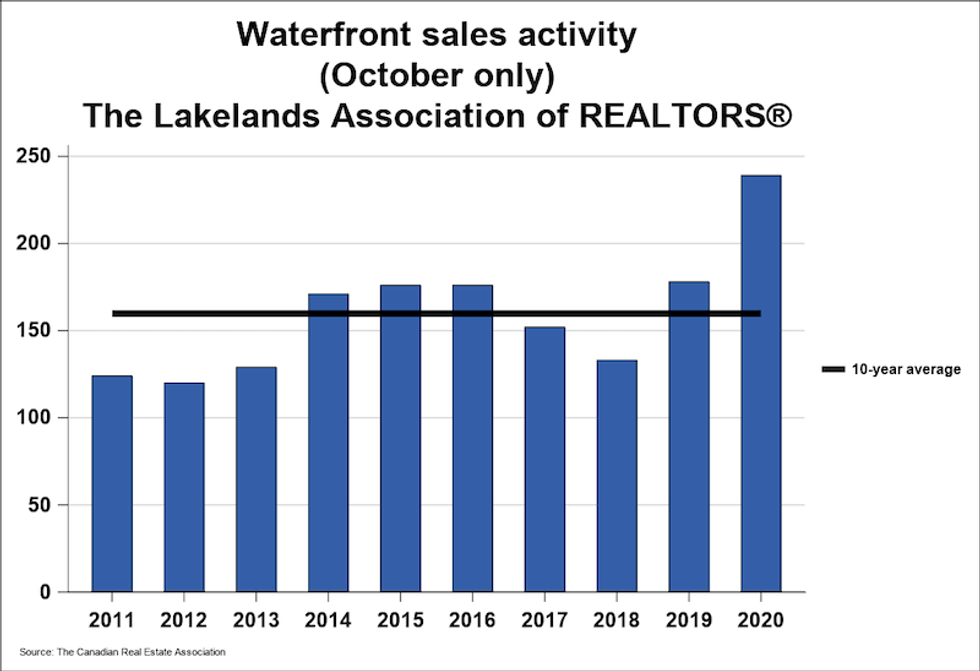 "Sales of both non-waterfront and waterfront properties continued to rise to record levels in October," said Chuck Murney, President of The Lakelands Association of Realtors.
"The strength of sales activity drew down inventories to their lowest levels in history for this time of year. The market for homes in the Lakelands has never been tighter than in the past five months, and the continuous record prices reflect that."
According to the MLS Home Price Index (HPI), which tracks price trends more accurately than is possible using average or median price measures, the overall MLS HPI single-family benchmark price was $530,200 in October, rising 24.7% year-over-year.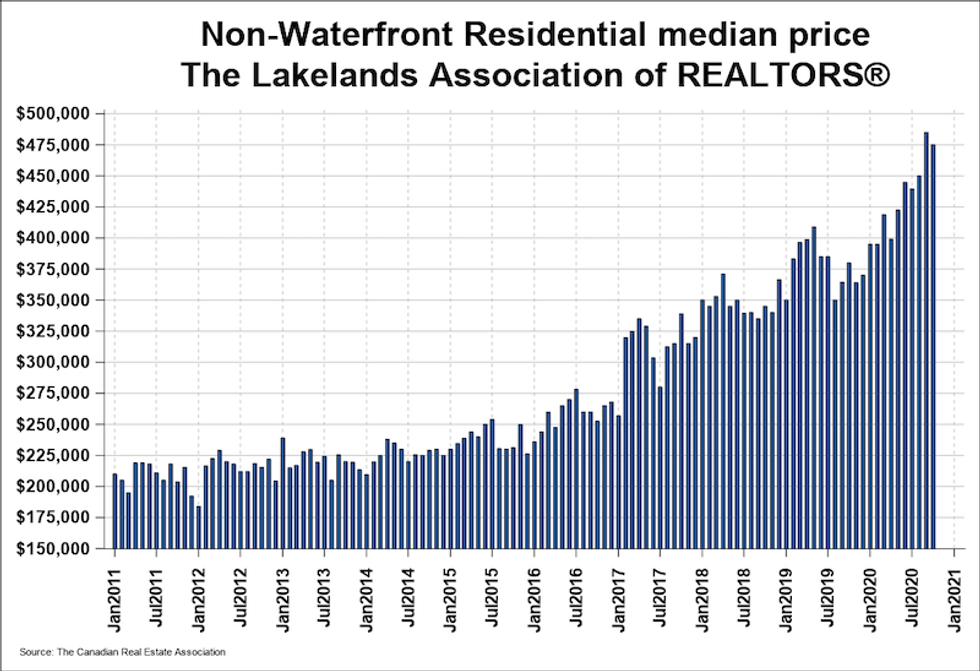 The median price for residential non-waterfront property sales rose 25% from October 2019, reaching $475,000, rising 25%, while the figure for waterfront property sales hit a record $722,500 last month, up 26.5% from the same month last year.
Where total dollar values are concerned, non-waterfront sales surpassed last October's values by 59.5%, reaching a new high of $206.8 million. Waterfront sales also set a new record, increasing 71.9% year-over-year to hit $248.8 million.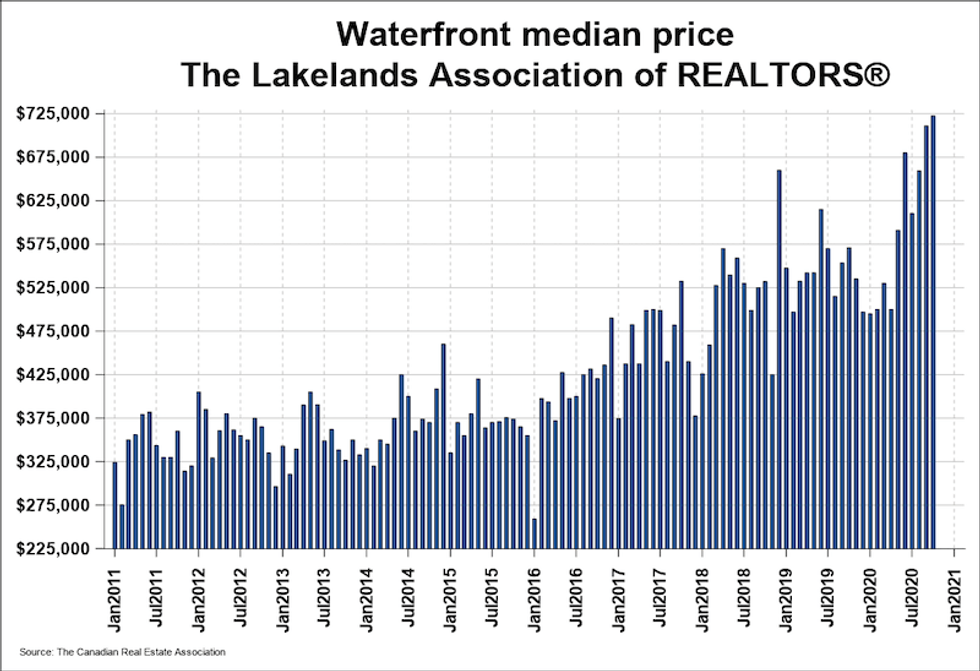 All this is to say, spooky season in Muskoka didn't translate to a scary real estate scene. Instead, fall's first full month brought with it a continuation of the summer's spicy sales, high prices, and feisty competition... all of which have been influenced by COVID-19.
"This is certainly what we're seeing on the ground right now," says Maryrose Coleman, an agent at Sotheby's International Realty in Muskoka.
"Ordinarily, by this time, it has slowed down. Traditionally, we consider our season over after Thanksgiving weekend -- that is simply not the case this year. By now, we'd usually go away to recover from a busy summer, but we're not going away at all this year, not just because of the pandemic, but simply because there are too many listings still coming in, too much work left to do."
And it's not just that there are listings coming in. It's that sales are happening almost as quickly.
"Properties are going quickly and selling for asking prices, if not close to asking, within weeks of hitting the market. That's just not normal for this time of year. It feels closer to a Toronto market right now, this level of frenzy," adds Coleman.
Those most eager to snag a Muskoka homestead despite the ultra-competitive market may turn to alternative (read: more exclusive) methods of house-hunting, such as pocket listings. And for the folks who are simply hoping for a temporary escape from urban life, some very select rentals remain available through the coming winter season.
But if you are hoping to make a mid-winter getaway -- or even one dated for next year -- don't sleep on staking your claim. Like the real estate market, Muskoka's rental market is still ablaze, with many a coveted property seeing no vacancy at all through to 2022. Take heart: even though the chill of winter has barely settled in, it's not too early to start making summer plans in cottage country.
In fact, if you hold out much longer, it might be too late.
Muskoka