Real Estate News
More than Half of Ontarians Believe They'll be Priced Out of Their Own City
New research from Right at Home Realty reveals more than half (57%) of Ontarians believe they may never afford a home in their current city or town. 
Sadly, they're probably not wrong.

Home prices in the notoriously pricey province climbed at the onset of the pandemic, leaving virtually no corner untouched. In fact, Ontario's home prices climbed so high, they caused homebuyers to move out of the province entirely in favour of more affordable pastures in other provinces.
Right at Home surveyed 813 randomly selected Ontario residents to hear their thoughts on the housing market. Likely compounding the belief that hometown home ownership is out of reach is the fact that more than half 54% of parents in Ontario are not planning on helping their children buy a home in the future.
READ: "Significant Gap" Between Home Costs and Borrowing Capacity Could Lead to Price Drops
Tellingly, only 19% of potential first-time homebuyers in Ontario plan to buy in the next two to three years, compared to 30% in 2021, an overall decrease of 56% year over year. Nearly one-third (32%) of Ontarians say the COVID-19 pandemic has negatively impacted their ability to save for a home, compared to nearly one-quarter (23%) in 2021, a 39% increase year-over-year.

Of course, rising inflation, climbing rents, and perpetual interest rate hikes also don't help.
"The impact of rising mortgage rates has reduced the buying power of potential homebuyers. Additionally, the minimum mortgage stress test rate will climb to 7% or higher," said John Lusink, President of Right at Home Realty. "Another impact of the rising rates is the financial disincentive created for those thinking of selling but are now faced with much higher financing costs when considering buying their next home. While we will continue to see a drop in market activity, we do not anticipate this will lead to a market crash."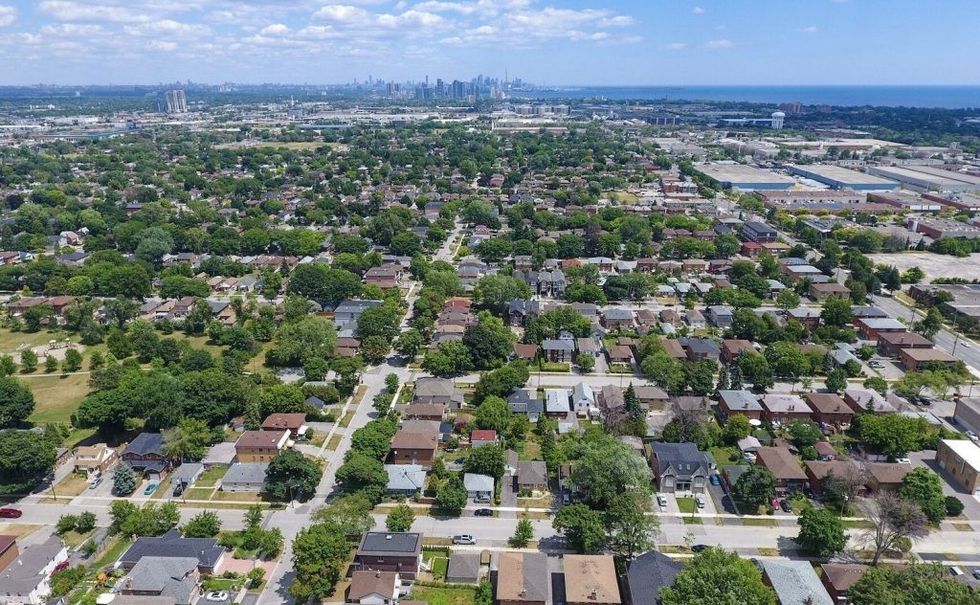 Younger buyers are more likely to feel the impact of rising interest rates, and — not surprisingly — interest rate changes have become more of a concern this year, says Right at Home. This is reflected in the 12% year-over-year decrease of respondents who said a mortgage rate increase would impact their decision to buy a home. Nearly two-thirds (61%) of all respondents said a mortgage rate increase of 150 basis points (1.5%) or less would have no impact on the decision to purchase a home, compared to 70% in 2021. Furthermore, significant discrepancies were identified among different age brackets, with younger age groups being more impacted by mortgage rate increases. Two-fifths (41%) of Ontarians aged 18 to 34 said mortgage rate increases would not impact their decision to buy a home, compared to 61% and 76% for those aged 35-54 and over the age of 55, respectively.
"News of rising mortgage rates may be a deterrent for some, however, those that take the time to do the calculations are often pleasantly surprised that the difference in the monthly payment is not as high as they would have expected," said Christina O'Dea, Broker, Right at Home Realty.
Furthermore, the pandemic-inspired red-hot real estate run seems to have cooled for the time being, as is reflected in a flattening of prices and fewer bidding wars. But that's about the extent of the good news in this market.
While the market has softened with the spring, housing affordability continues to be a major concern for those who do not own a home, especially in the GTA and 416 regions. The data found that 61% of those in the GTA and 74% of those in 416 regions believe they may never be able to afford a home in their current city or town. Additionally, more than half (54%) of Ontarians said economic uncertainties are impacting their decision to buy a home and nearly half (45%) reported that housing affordability challenges have led them to consider moving or buying a home in another city or town.
"The cost of house prices is an issue, especially amongst my millennial clients," said Milli Pajpani, Sales Representative, Right at Home Realty. "Most millennials want a property — either to reside in or invest in — however, many do not have the savings to make those purchases happen because of the current prices."

Even if the younger buyers did have the means to purchase, the pickings in the province are now slim: the findings also reveal that most Ontario homeowners are planning to stay put. Compared to 77% in 2021, 80% of Ontario homeowners are not planning to sell their home in the next two to three years. Nearly one-quarter (23%) of Ontario homeowners who do plan on selling their home are doing so to take advantage of the current market, compared to 11% in 2021 — doubling the amount since last year. Other top reasons included downsizing (33%) and moving out of the city (26%).
This indicates a dramatic shift in the housing market, says Right at Home; only 7% of respondents who identified plans to sell in the next two to three years said it would be to upsize/buy a bigger house. In 2021, a substantial 39% of Ontarians polled cited upsizing as a reason for selling, reflecting a sizeable decrease of 82% in this year alone.
If that's not a sign of the times, we don't know that is.