The current state of the Toronto real estate market has many convinced that it's becoming nearly impossible for the average millennial to be able to afford a home (that's not the size of a closet) in the city.
Which is why it's not that surprising to learn a new report has revealed that while millennials from Ontario are still on the hunt for their dream home, they're starting to look outside of the city to find it. No wonder, with the average cost of a detached home in the 416 area now having risen to more than $1.4 million.
---
READ: How Much Money You Need to Live in Downtown Toronto in Your 30s
As real estate prices continue to creep higher in Toronto, the average price of a condo apartment sitting is $722,675 and a condo townhouse is $781,485 as of last month, it's far from shocking to see millennials might feeling more and more inclined to purchase where housing options are more on the affordable side.
In fact, millennial Ontarians—those born between 1981 and 1996—are now turning to suburban areas to buy homes, while older generations, like boomers, still prefer small towns and more rural areas, according to new research conducted by Ipsos for the Ontario Real Estate Association (OREA).
According to the findings, just 2 in 10 Ontarians say they are considering making a home purchase sometime in the next year, but luckily not everyone is hoping to settle down in the same area.
While 31% of millennials say they still prefer downtown, 35% say they want to live in the suburbs, with 23% saying they'd like to buy a home in a small city or town and just 11% opting for more rural areas.
And yes, the choice to live downtown may seem rather paradoxical, especially considering the top factor for millennials in Ontario when choosing a location to buy a home is affordability (41%). But, their choice to buy in these areas is also based on important factors like being closer to work (36%) and amenities (22%). Some people don't have the choice to buy outside of the city because they have to be in it everyday.
Laska, a 36-year-old General Manager in the hospitality industry lives in an 1100 sq. ft. one-bedroom with her husband and young son for $1500 per month. But even with an annual household income above $160k, she knows their options are limited. "Of course, I'd love to buy a detached or semi-detached in a neighbourhood like The Junction, where I could walk to most things I need rather than drive, but it's just not affordable or realistic. We've recently decided to invest our money in other outlets rather than continue saving for real estate. We're lucky with our rental, in both size and price, and it just doesn't make sense to keep saving for something that seems more and more unlikely."
By comparison, the majority of Ontario's boomer buyers – 58% – are looking for a property either in a small town or rural area, and their focus is on finding a home that is affordable, close to amenities, walkable, and senior-friendly.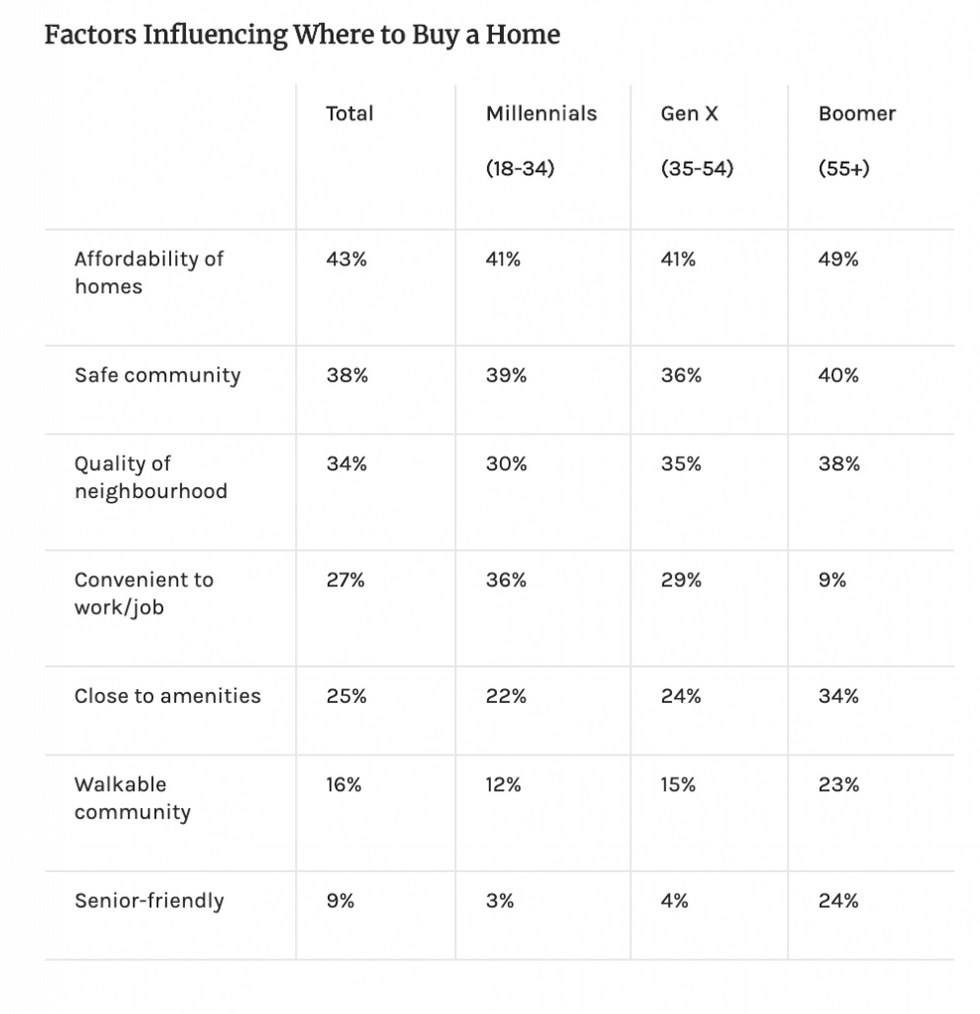 Factors Influencing Where to Buy a Home/Ipsos
READ: How First-Time Home Ownership Differs For Millennials And Boomers
However, regardless of the generation, the findings found that detached homes are still the most sought-after type of dwelling (60%), followed by town- or rowhouses (15%). Although, high-rise condo buildings are still expanding across major cities in the province like Toronto, Ottawa, and Mississauga, albeit only representing 10% of buying intentions.
Semi-detached (9%) and low-rise condos (6%) make up the remaining types of home potential buyers are most likely to buy.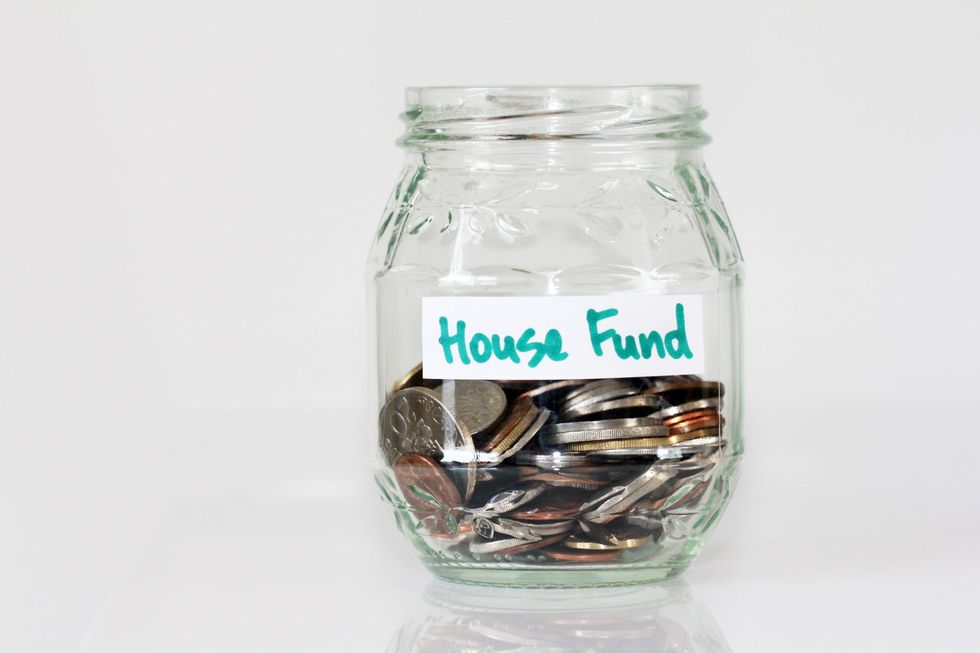 Photo by Sandy Millar on Unsplash
Clarice, a 27-year-old national event coordinator, currently lives in downtown Toronto in a condo with her partner and said she has her sights set on living outside of the city, preferably somewhere she can eventually build a home. "I definitely want to live in a house in a suburban area like Aurora with space and land," said Clarice.
"We know that in Ontario, there is simply not enough supply to meet demand, which often leads to multiple offers and higher home sale prices," said OREA President Sean Morrison.
Morrison says in order to keep the dream of being a homeowner alive for future generations, it needs to be easier for young families and first-time buyers to own a home.
"Ontario needs to address the missing middle of housing supply by exploring innovative solutions like laneway housing and multi-unit homes, such as townhouses, stacked flats or mid-rise buildings, especially in downtown and urban areas."
The findings in this report are based on an Ipsos poll conducted on behalf of the Ontario Real Estate Association (OREA) between January 27 and February 6, 2020. For this survey, a sample of 1,420 Ontario residents was interviewed, which included 1,000 likely home sellers and 1,170 likely home buyers (overlap was possible between groups).
Toronto Condos & Homes