Any doubts that a strong spring housing market was in the cards this year have officially been dashed, as the latest numbers from the Toronto Regional Real Estate Board (TRREB) reveal sales are up by nearly 50% compared to the same time frame in 2019.
READ: Affordable Housing and Daycare Could Be at Risk Under Ford's Proposed Community Benefits Charge
---
A total of 7,256 real estate transactions occurred across the Greater Toronto Area in February, a whopping 45.6% increase from the same month last year when the market sat at a policy- and stress-test-induced 10-year low. That's also up 14.8% from January's sales levels, indicating market growth isn't just a big-picture blip – buyers' purchasing power certainly seems to be returning in full force as the weather warms.
Demand Returns for Detached Houses
This is especially evident in the number of detached houses changing hands, points out the Board. Sales for houses in the 416 were up by 54% at an average price of $1,485,304, and up by 61% throughout the total GTA, clocking in at an average price of $1,113,918. Having a greater proportion of higher-priced homes in the sales mix in turn pushed the average price for all GTA homes up by 16.7% year over year, while the MLS Home Price Index Composite Benchmark rose by 10.2%.
Strong price growth was recorded across all housing types in the GTA, with the second-highest rate seen in the townhouse segment, which saw 1,140 transactions (+44.9%), and an average price of $731,081 (+14.9%). Semi-detached houses saw a similar pace of growth, though likely remain limited due to their overall smaller inventory levels; a total of 647 sold, up 43.5%, at an average price of $872,821 (+4.5%). Meanwhile, condos continued to see double-digit improvements with 1,906 units trading hands, up 24.8%, at an average price of $666,358 (+18.6%).
New Listings Drag Creates Supply-and-Demand Gap
However, as has been the long-term trend, newly-listed supply continues to drag behind sales, piling pressure on home buyers who find themselves in increasingly competitive situations to purchase the same limited inventory. A total of 10,613 homes were added to the MLS last month, up 7.9%, but too far outpaced by sales growth to make a dent. As a result, the GTA sits in a steep sellers' market with a sales-to-new-listings ratio (SNLR) of 68%.
READ: "Cringy" Marketing Campaign for Toronto Condo Development Doubles Down
"Sales growth well in excess of listings growth is once again the norm. This is because the temporary effects of the 2017 Ontario Fair Housing Plan and the OSFI mortgage stress test have largely worn off," stated TRREB President John DiMichele in the Board's release. "However, while these policies were running their course, the well-publicized housing supply problem in the GTA continued unabated. All levels of government have acknowledged the supply problem, but we need to very quickly move from policy briefs to shovels in the ground."
Prices Could Rise Higher Than Expected
As well, TRREB's Chief Market Analyst Jason Mercer warns that should current conditions persist long-term, the market could be poised for even greater price growth than what was forecast for the year.
"TRREB's current average price forecast is for 10% price growth to $900,000 in 2020. While this outlook represents a very robust pace of growth, it is possible that further tightening in the detached market could push the overall average selling price above TRREB's baseline scenario," he stated. "This could unfold if sales growth continues to outstrip listing growth to the degree it has so far in 2020."
While it comes as no surprise that the City of Toronto proper experienced the strongest price growth – the average price is now nearing a million dollars, at $989,218 (+17.6%), following a 32.8% increase in sales – the 905 regions, which include the Vaughan real estate, Burlington real estate, and Oshawa real estate markets, are also booming. The 905 region as a whole experienced a 52% increase in sales in February with 4,779 transactions, at an average price of $869,381.
Check out the infographics below to see how sales and prices have increased across all home types in the Greater Toronto Area and City of Toronto markets in February: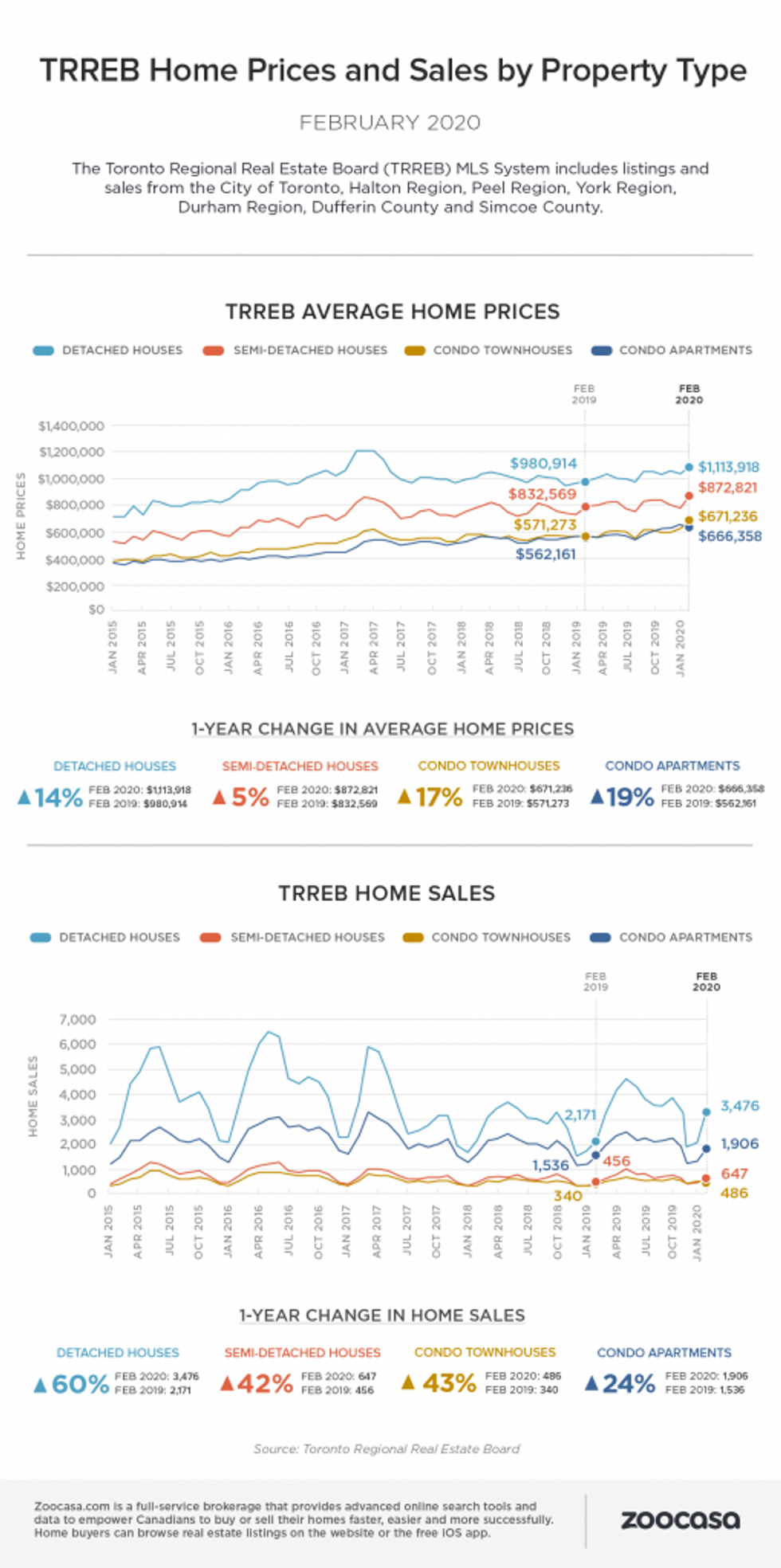 Zoocasa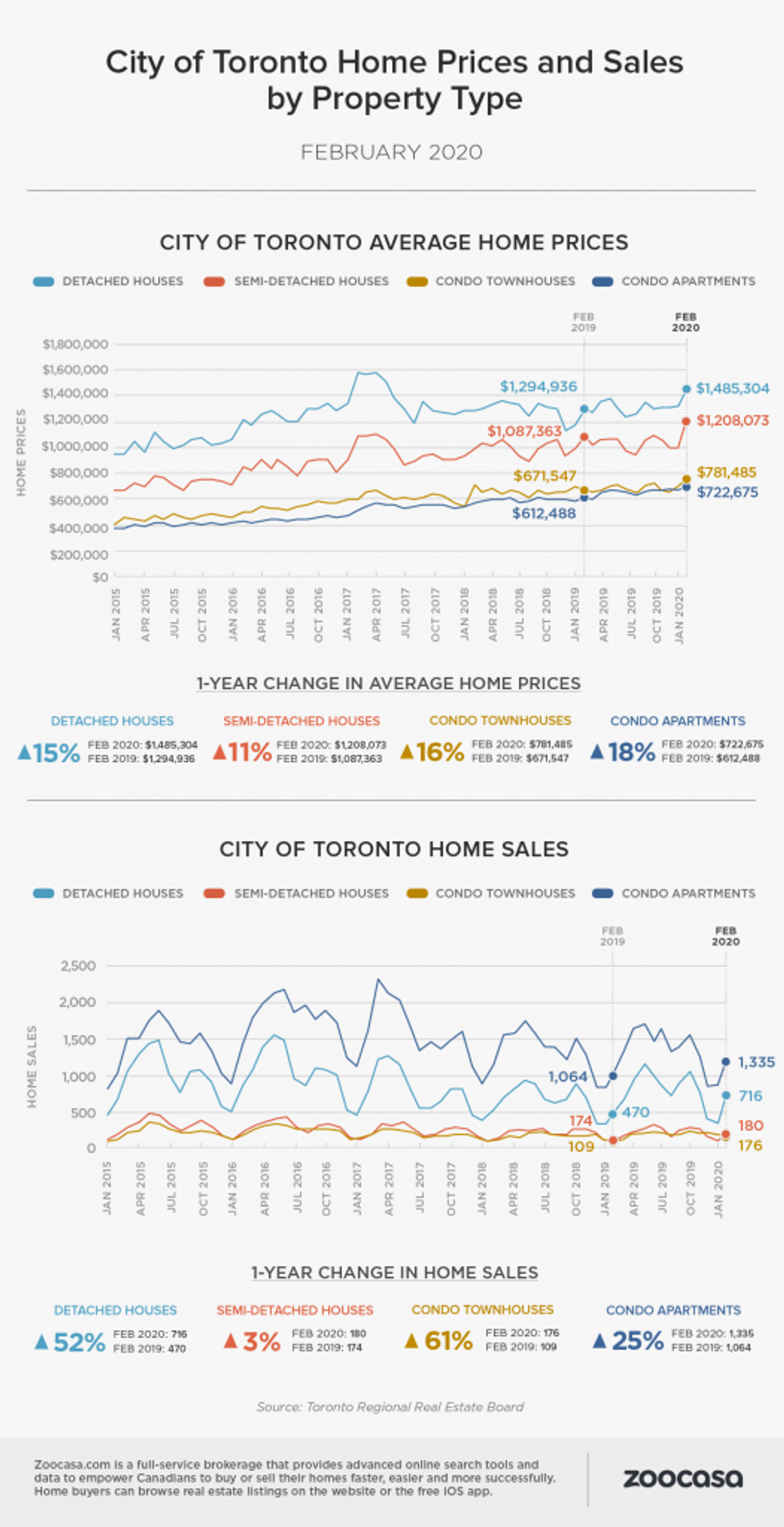 Zoocasa
Real Estate News