Federally, the Canadian Human Rights Act prohibits discrimination in employment and services under federal jurisdiction, including housing, and the National Housing Strategy Act recognizes adequate housing as a human right.
---
Provincially however, the Accessibility for Ontarians with Disabilities Act (AODA) -- legislation with the stated goal of making Ontario fully accessible to people with disabilities by 2025 -- does not mention housing. While the Ontario Building Code (OBC) only requires 15% of suites in new condos or apartment buildings constructed after 2015 to be visitable -- not livable -- by people with disabilities. This means these suites must have some accessibility features, be level on the main floor, and have barrier-free access to a bedroom, bathroom, kitchen and/or living room.
Accessibility standards in the OBC do not apply to houses of any kind and the code itself as currently written doesn't even come close to 100% accessibility in residential buildings, despite housing discrimination being federally prohibited.
RELATED: A Quarter of Ontarians Have a Disability: How is This (Not) Changing Housing?
"For housing requirements, the OBC mostly exempts houses, except apartments, which, from a policy standpoint, makes no sense with our Canadian Charter of Rights and Freedoms and the Ontario Human Rights Code," says Thea Kurdi, senior vice-president of DesignAble Environments Inc., a Toronto-based accessibility consulting firm that's been in business for over 33 years and specializes in universal design for built environments.
But accessibility is only one barrier to adequate housing for Ontarians with disabilities, the other is affordability.
"Like Giving a Drowning Person a Life Preserver, But Not Pulling Them to Shore"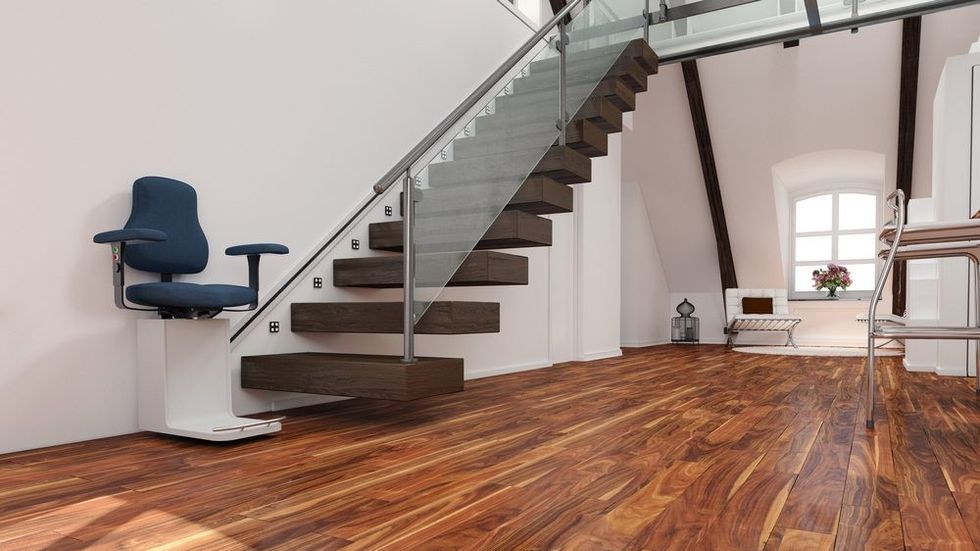 Home with accessible options/Shutterstock
According to the Canadian Survey on Disability, released by Statistics Canada in 2018, only 59% of those with disabilities age 25 to 64 are employed compared to 80% of those without disabilities. Meanwhile, 28% of people with more severe disabilities age 25 to 64 are more likely to be living in poverty than those without (10%) or those with milder disabilities (14%).
The 28%, and some of the 14%, are likely beneficiaries of the Ontario Disability Support Program (ODSP) which provides income support, dental, medication, and assistive device benefits for people with disabilities who demonstrate a financial need (i.e. their expenses must exceed their income).
The program is so complex and so focused on not only initial eligibility but maintaining eligibility that its difficult for those with disabilities on the program to progress past maintaining their basic needs, let alone think about the possibility of buying a home.
"If you don't have enough money to cover your basic needs, you're constantly living in emergency mode. If you don't have enough to cover the month, then you are out scrambling to deal with that and that leaves you with no time to work or it leaves you without a cell phone, transportation, or access to the internet and all the other things you might need to find or go to a job," says Ron Malis, a financial advisor with Mississauga's Reegan Financial that specializes in helping those with disabilities navigate the financial programs available to them.
Currently, the maximum income benefits a single individual on ODSP can receive is $672 for basic needs and a $497 shelter allowance for a total of $1,169 per month. If you are a couple with two children, it's the highest it can be at $969 for basic needs and a $918 maximum shelter allowance for a total of $1887 per month.   
According to a recent report from Rentals.ca, the average rental for a one bedroom in Toronto is $2,040 and $2,764 for a two bedroom, which puts the average rental completely out of reach (not to mention the idea of purchasing a home).
"If you don't have other resources beyond ODSP and you're not able to work, then you're stuck living on just ODSP. The problem there is the increases have not been sufficient to keep up with inflation and now people are finding themselves living 30 to 35% below the poverty line. You also have to think about the extra costs that come with having a disability, so ODSP is like giving a drowning person a life preserver, but not pulling them to shore," says Malis.
The Waiting Game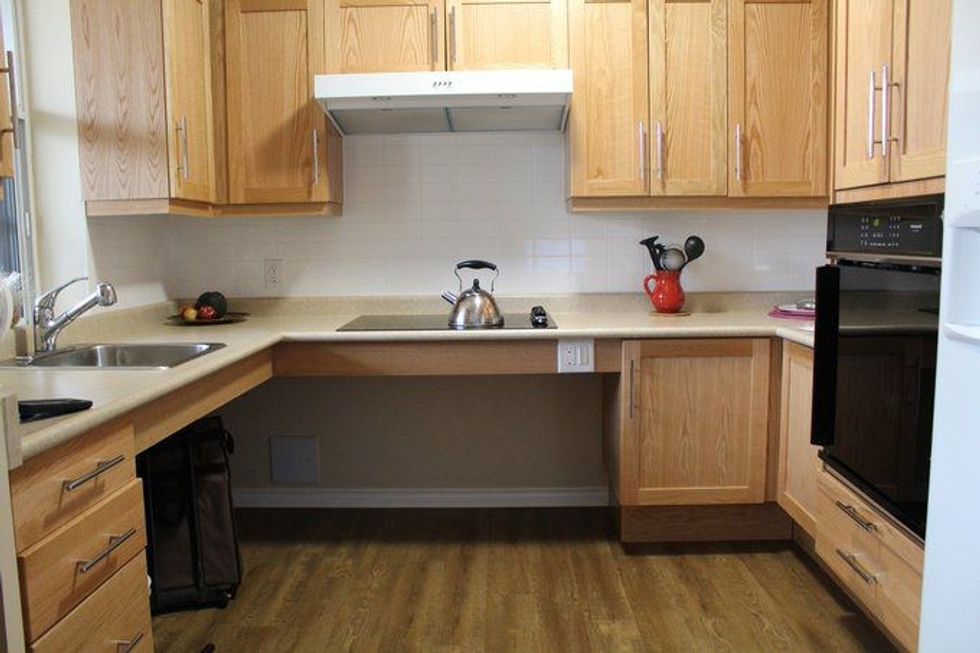 A modified kitchen in one of Toronto Community Housing's units
The benefit amounts are even lower if you are trying to work and receive income support at the same time. To be eligible for ODSP, a person must keep all assets below $40,000 (or $50,000 if part of a couple) and for every dollar you earn, 50% is deducted from your support cheque after the first $200, which is exempt. Still, while ODSP makes it very difficult to save money for a home it's not altogether impossible.
This is because, along with the $40,000 asset limit, $100,000 in segregated funds are exempt from deductions as well as any money in a Registered Disability Savings Plan (RDSP). However, if you dip into that before age 60 you will have to pay back any matching grants or bonds the government put into the account over the last 10 years.
"Being on ODSP when you don't have the resources at hand means it's going to be pretty difficult to save for a down payment that's large enough that you could then pay the mortgage payments that go with it. However, I don't think it would be reasonable to expect a government to provide a benefit that would make that an easy thing to accomplish," says Malis.
"If you don't have other resources, then you're stuck living on just ODSP and if you're lucky, living in rent-geared-to-income housing, which is very difficult to obtain. The supply is just not there."
In 2016, Toronto Community Housing -- the city's largest provider of subsidized housing -- faced a repair backlog on its 60,000 properties estimated at the time to be $2.6 billion, with many of its buildings deemed unliveable.
"There had always been the will from a Toronto Community Housing standpoint to provide quality housing for our tenants, but from a capital perspective, we didn't have enough funding to keep up with the backlog and we had an over $3 billion backlog," says Allen Murray, vice-president of facilities management at Toronto Community Housing.
A couple of years ago, things turned around considerably when Toronto Community Housing became fully funded for the next decade, securing $1.34 billion from the Canadian Mortgage and Housing Corporation (CMHC) and $1.6 billion from the city.
They've since instituted a program called R-Path, empowering residents to be directly involved in the management of these buildings on a committee level that allows them to request accessibility upgrades unique to their personal needs.
"I started R-Path in 2013 to push the Toronto Housing Corporation to meet their legislative obligations as mandated by the AODA. We are made up of a group of tenants who live in Toronto Community Housing who have physical disabilities and we started advocating for the work to be done and as a team created build standards that work for currently used mobility devices," says Cathy Birch, the R-Path founder and chair who herself uses a power wheelchair.
But, even with full-funding, improved accessibility, and resident empowerment efforts, the waitlist remains a significant barrier for people with disabilities to even have a shot at securing a rent-geared-to-income home. The average wait time reported by the City is seven years (or more) for a bachelor, 12 years (or more) for a one bedroom, and 10 years (or more) for larger unit sizes.
However, as a recent Toronto Star article points out, you would have needed to be on the waitlist since 1985 to gain access to certain buildings in 2021. The city's own stats don't make things look any better; as of Q2 of 2021, 78,177 people remain on the waitlist with just 1,463 (less than 2%) being housed.
So, is there another way? Is there an affordable strategy to owning a home that isn't pie-in-the-sky?
One of the Good Guys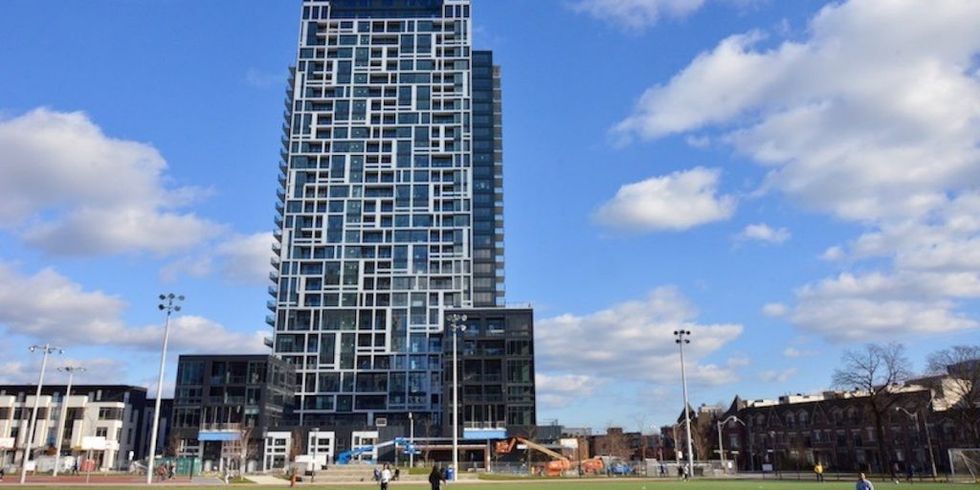 Daniels' Evolv building in Regent Park/STOREYS Staff
The good news is at least one Toronto condo developer is working to make housing in the city more affordable. The Daniels Corporation -- a company that also offers standard accessibility upgrades in its newest pre-construction condos at no extra cost -- offers no interest or low payback second mortgages on some of its properties in Regent Park, down payment assistance programs for first-time homebuyers, and a program called M-Hip that allows residents of a Daniels rental property to take $100 of their monthly rent and put it towards a down payment on a Daniels home.
"Two years ago, we partnered with L'Arche Toronto, which focuses on supporting adults with intellectual disabilities in independent living by selling them 10 units in our Artworks Building at a discounted cost where we custom designed a 10-bedroom complex for them within one of our condos to facilitate their program and help their people live and work in that space," says Jacob Cohen, Daniels Chief Operating Officer.
"We're always trying to find creative solutions to help people get into the market. Whether through affordability or partnering up with organizations like L'Arche, it's something we always think about doing."
Affordable Housing