If last year's Greater Toronto Area housing market could be summed up in one trend, it would be runaway price growth -- both within the City of Toronto, and surrounding 905-area markets.
---
According to the Toronto Regional Real Estate Board (TRREB), GTA markets saw an all-time high average selling price of $1,095,475 in 2021 -- an increase of 17.8% from 2020, and the first time the regional average breached the $1-million mark.
Read: Toronto Real Estate Had its Biggest Year on Record in 2021
Lack of affordability is most acute in the detached sector -- the average house now fetches $1,438,926 (+25.1% year-over-year) -- which has in turn driven interest back to the condo segment, particularly among first-time buyers.
However, GTA numbers as a whole only tell part of the story; demand and sellers' market conditions have skyrocketed in some neighbourhoods over others, leading to appreciation well above that of the aggregate picture.
These increases at a neighbourhood level have been compiled by Move Smartly, the data and analysis arm of Realosophy Realty, identifying the top 10 GTA neighbourhoods based on median price appreciation in 2021 compared to 2020, for both houses and condos.
House Prices Shot Up Most in 905 Markets
According to the ranking, the top three appreciating areas for houses all lie beyond City of Toronto borders, and can be found in the York and Halton Regions. Topping the list is the Milton neighbourhood of Campbellville, which experienced a whopping 66% year-over-year increase, at a median price of $2,430,500.
That's followed by Aurora Estates, where house prices rose 65% to $2,510,000, and another Milton neighbourhood, Nassagaweya, where they increased 55% to $2,099,500.
The only City of Toronto neighbourhood to make the list is Donalda; stretching between Lawrence Avenue East and York Mills Road, just east of the Don Valley Parkway, it ranks fourth with appreciation of 53% and a median price of $2,394,400. According to Move Smartly's analysis, all top-ranked neighbourhoods have supply levels well below historic norms, ranging between one to four months, which has certainly put the boil under prices.
Top Appreciating GTA Neighbourhoods in 2021: Houses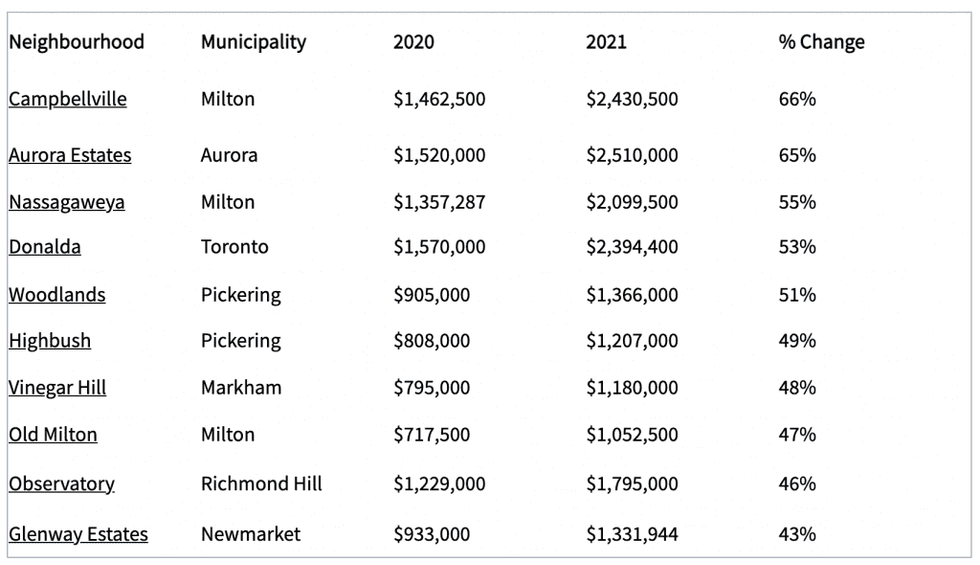 Move Smartly
John Pasalis, Realosophy President and author of the report, says the impact of the pandemic is evident in buyer trends and motivation, and for the fact that the greatest growth is occurring outside the region's largest urban centre.
"I think the boom in low-rise houses in the suburbs is certainly a pandemic phenomenon," Pasalis tells STOREYS. "People made the move to more space, and want detached houses and big yards, and a lot of people have talked about the urban exodus."
Condo Buyers are Flocking to Durham
Pasalis believe the psychology behind condo demand is largely driven by affordability. "I think the dynamics for condos are a different motivation," he says. "Obviously you're not moving to a suburban condo for a backyard or for more space."
And the data backs it up: Durham Region -- long considered the last affordable bastion of affordability in the GTA -- is the clear standout, accounting for the majority of the top appreciating locales.
"I think the dynamics pushing the suburban condo market up has more to do with the fact that they are the most affordable regions. If you look at the regions that saw the most rapid growth, I think, like, seven of them were in Durham, and you can see their prices -- in 2020, they were all in the 400s, which was obviously well below most other markets," Pasalis says. "I think the surge in the suburban condos was largely flight to affordability. If your budget's $500,000, you're not going to buy a condo in downtown Toronto, right?"
READ: A Basic Freehold Townhome in Oshawa Just Sold for Close to $1M
Indeed, the top-ranked Oshawa neighbourhood of Samac had a median price of just $220,000 in 2020; last year, that ramped up by an incredible 86% to $410,000. That was followed by Scarborough's Ionview, up 62% to $635,000, and Vanier -- another Oshawa suburb -- where the median price for a unit increased 46% to $585,500. Supply was even more dire in the condo segment, with the top GTA neighbourhoods all grappling with zero months of inventory.
Top Appreciating GTA Neighbourhoods in 2021: Condos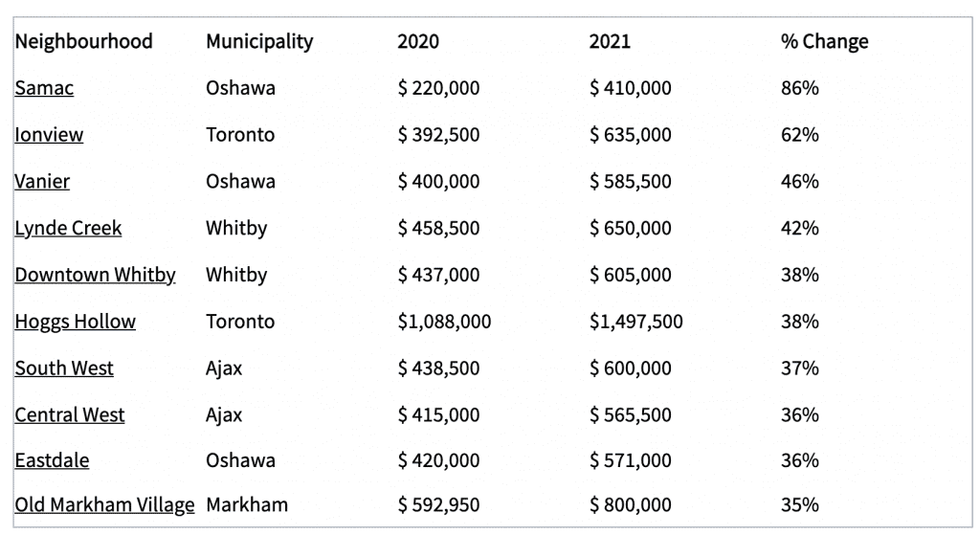 Move Smartly
Pasalis says overall, last year's price appreciation is "just mind blowing."
"It's really consistent with, if you look at home sales and actual transactions, there were a lot of homes selling for 50 percent-plus more than what they sold for a year ago; there's investors just flipping houses. It's just wild to see home prices rising 50% year over year, and everyone just trying to rationalize it is the most surprising part."
However, he anticipates some of the steam will come out of the market in 2022, as higher interest rates loom on the horizon and buyers continue to hit price ceilings.
"I think probably by the second half, we should start to see the market ease up, because the combination of higher rates, combination of prices skyrocketing is just naturally going to take demand out of the market, because it's becoming increasingly unaffordable. If the Feds do something like hike credit on investors, there's a lot of things that might materialize in the second half of this year that will take some heat out, and I think just naturally the market is going to slow down." 
Homes