Building a city is not for the faint of heart -- it's making decisions today for a very distant tomorrow. 
---
Land acquisition, planning and development, proposals and approvals, community and city engagement, and finally construction; it could be a decade before a single family moves in. It could be a hundred years before it's replaced with something else.
In that sense, the "future makers" are very active in the Greater Toronto Area right now. 
"We're still a young city," says Neil Vohrah, chief operating officer of TAS. "I moved to Toronto from the UK in 2004 and, back in 2004, Toronto was unrecognizable. To be completely honest, it was a little bit boring and quiet from the bright lights of London. But it's changed dramatically."
Almost every aspect of urban life is evolving so fast -- technology disruption, climate issues, lifestyle trends. As a young city rapidly takes shape, many developers are deciding today how future Torontonians will live.
"You have to ask the tough question," says Rob Spanier, president of Spanier Group, a placemaking advisory firm. "How do these people know, in 2032, how the world is going to work?"
Taking Risks, Making Longterm Commitments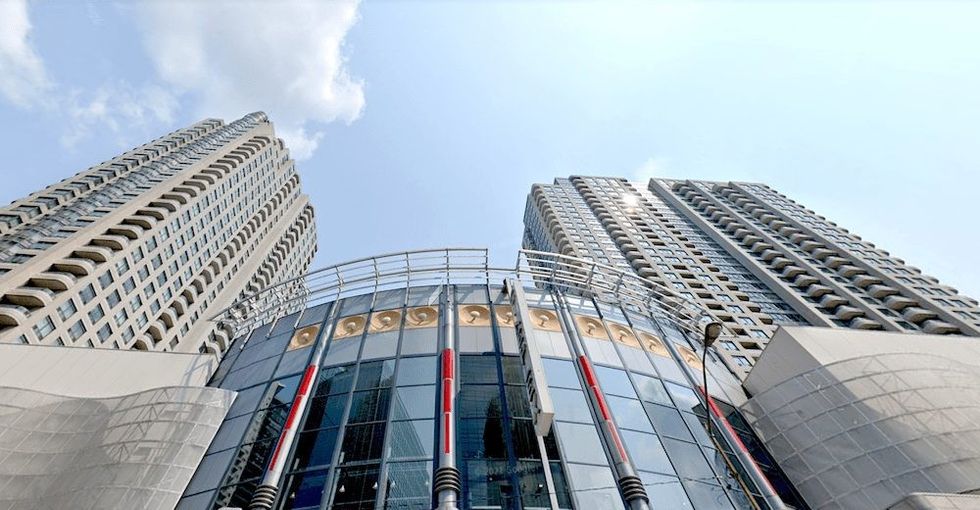 Empress Walk, Google Images (2021)
In the 1990s, Blockbuster was king and phones were plugged into the wall. 
The current "live, work, play" trend in residential developments -- also called mixed use, complete communities, or 15-minute cities -- weren't on the radar yet, says Jared Menkes, executive vice-president of high-rise residential at Menkes Developments.
READ: Menkes on the Evolution of Toronto's Waterfront Commercial Real Estate Scene
A major North York site was originally slated for commercial development, but a slowdown in the office market pushed the developer for a new vision, Menkes says: Empress Walk, a massive development of 1.5 million square feet offering first-class retail, entertainment and condominiums. The neighbourhood leapt from "quiet bedroom community" to "bustling urban centre." 
Menkes calls it the "first example of a mixed-use lifestyle complex in the Toronto marketplace."
"Empress Walk was truly the predecessor to all the 'live, work, play' developments we see happening today," he adds, "and certainly [a] prime example of the company's willingness to take risks and be innovative."
How did the developer know the market would embrace this vision, and the surrounding neighbourhood would thrive? The company has a longterm commitment to its projects, Menkes says, even after the build.
"A key ingredient of our success in predicting future design and lifestyle trends is the full-service nature of our company and involvement in all aspects of real estate development," he says. 
"For example, we property manage our condominium buildings, which allows us to stay involved in the ongoing operation and to observe first-hand how our buyers respond to and use the amenities -- what spaces are the most popular versus seldomly used. It also gives us insight into how the demographics of the buildings change over time, and what buyer market segments may be growing or declining."
'Ongoing Dialogue' with Community, Stakeholders, and Experts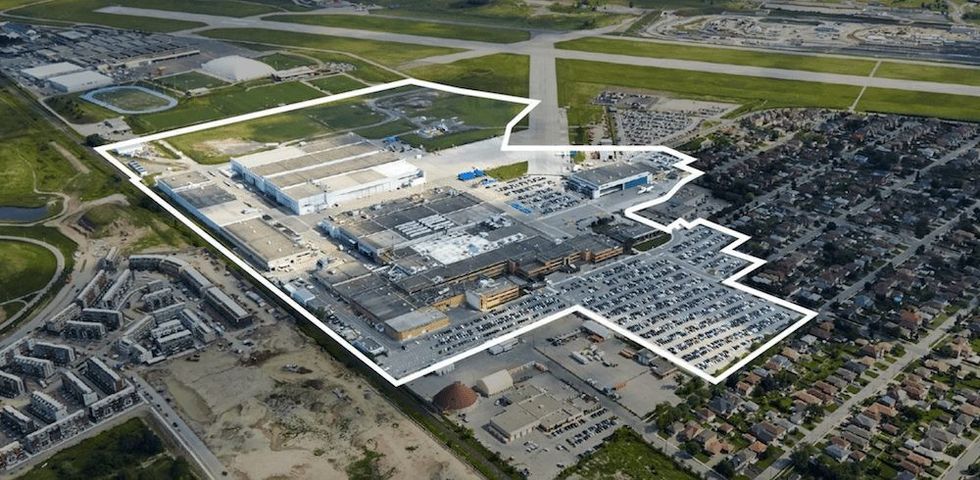 Downsview's District 1, NorthcrestTogether.ca
A lengthy commitment, including longterm access to capital, are two important pieces to what is arguably one of the biggest future-making enterprises in the GTA: the 500-acre redevelopment of Downsview. The project is so enormous that its development is expected to take more than 30 years, rolling out in phases, each phase building on the successes of earlier ones.
"By virtue of the fact that we're owned by a Canadian pension fund, we can have that longterm view, while a lot of private-sector developers, smaller developers, need to earn the returns right away," says Christopher Eby, executive vice-president of corporate and public affairs for Northcrest Developments. 
Long timelines and solid funding are merely a foundation, however -- the Downsview redevelopment needs big ideas that are going to last.
"We can't see into the future with great certainty," Eby says, "but what we are doing is engaging with not only local residents and local stakeholders, but experts and thought leaders in education and health care and urban design, in city building and sustainability -- really across the board, both locally and globally. 
"And it's an ongoing dialogue with these people. And we're constantly looking at what other cities are doing, what the latest trends are, and issues like sustainability, energy -- all of those things."
The stakes are high for a decades-long development: Technology is rapidly evolving, climate change presents challenges that demand innovation, while affordability, diversity, and inclusion are suddenly urgent priorities. Flexibility is a guiding principle, Eby says, so this mega-project can stay nimble on its feet.
"We are, in a lot of ways, building a small piece of city," he says. "And so there's an opportunity to start from the beginning."
What Should the Future Look Like?
TAS is, first and foremost, an "impact company," Vohrah says.
"Everything else is second," he says, "which means we use real estate as the tool to create connected, caring neighbourhoods."
TAS's 2 Tecumseth project is one of the last revitalization opportunities in the downtown core: a five-acre site that used to be a slaughterhouse and garbage incinerator. This isn't even a distant past -- industrial uses were still running in the mid-2010s, Vohrah points out.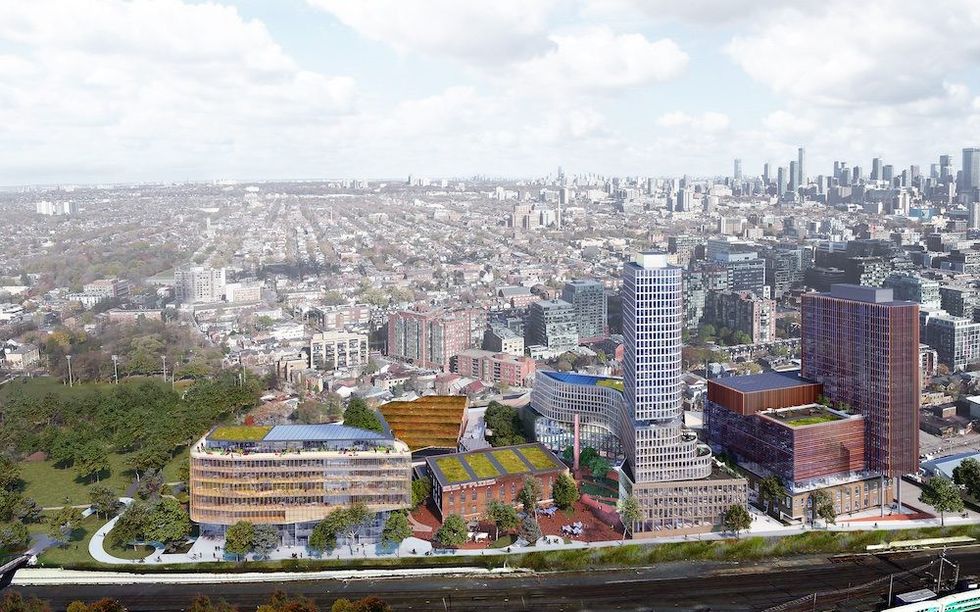 2 Tecumseth, Rendering courtesy of TAS
This project's future includes roughly 1 million square feet of mixed-use development: condos, rentals and affordable housing, animated by commercial, office, retail, community and event spaces. A comprehensive engagement and consultation process informed its community-building vision. 
What should Toronto's and the GTA's future look like? Vohrah wants to see more connection between neighbourhoods -- through public transit, architecture, walking and cycling paths, and green spaces. 2 Tecumseth, he notes, includes a four-metre-wide bike path along the southern edge, connecting The Bentway to Bathurst.
"I'd like to see a lot more integration within the communities," Vohrah says. "If you compare Toronto to some European cities, Toronto is still very segmented in terms of where the neighbourhoods are. It will be great to see it a lot more connected."
Past generations moved to the suburbs to raise their families, but Eby says future communities may prefer -- and Downsview can deliver -- a city-suburban hybrid that is vibrant and exciting, but comfortable and spacious enough for families.
"We think we can combine the two, he says, "where you have the best of the suburbs, and the best of the city, all in one place."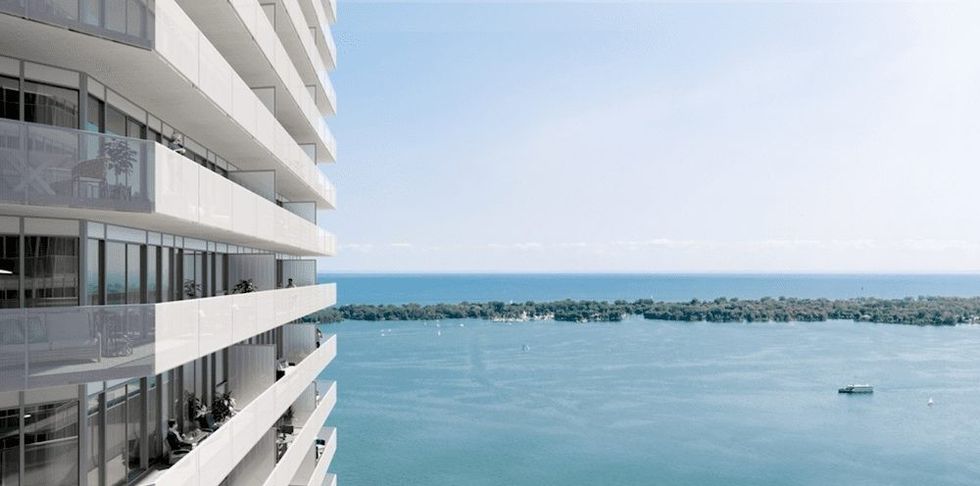 Sugar Wharf, Menkes
Menkes sees the market moving outside -- Torontonians want more outdoor spaces -- and the developer has already moved to meet this demand with its "resort-like" waterfront development, Sugar Wharf, and the Mobilio and Festival projects, located in the up-and-coming Vaughan Metropolitan Centre.
"We aim to include not just amenities you would get out of your own house," he says, "but highlights from your neighbourhood as well."
Spanier agrees: The suburbs will start picking up city-like qualities, including their own downtowns, and amenities are major hooks for buyers. He adds that thoughtfully curated retail offerings add the final flourish -- and the "feel" of a community -- to new developments.
But these are just pieces of the bigger picture -- the art of placemaking, Spanier believes, will be the differentiating factor between generic neighbourhoods and vibrant communities. How do the pieces fit together? Is it the right mix for the people who want to live, work or play here? Is it memorable?
"It comes down to having a very keen understanding of trends and of people and of your customer," Spanier says. "I do think it's important to be brave -- make a significant investment, take a strong consideration to the aspects of place, make a concerted effort on the ground-floor plane, not just the commoditization of development, which is the houses or the offices. If I had to whittle it down to the huge trend of the future, it's going to be all about place."
Future Developments