It's been 12 years since construction began on the Eglinton Crosstown LRT, eight years since the opening date was first pushed, and one year since Toronto had any notion of when the transit line would actually welcome riders.
In the time it has taken for lawsuits to be filed, "unpredictable defects" to be discovered, and costs to balloon by half a billion, the streets of Toronto have changed tremendously — and not just because hundreds of small businesses have closed along Eglinton as a direct result of the transit line's prolonged construction.
---
Since 2011, construction has started, and finished, on myriad major developments across the city. These include one of the tallest residential buildings in Canada, a 7.75-acre mixed-use project, and one of Toronto's most notorious residences.
Now, countless new condo towers, office buildings, and mixed-use developments later, Toronto still doesn't know when the Eglinton Crosstown LRT will be operational. Metrolinx CEO Phil Verster was expected to provide a "range of dates" for the project's completion by the end of the summer, but said he was "not comfortable" doing so during a press conference on September 27.
"I had every intention to predict an opening date or series or range of possible opening dates for the Eglinton Crosstown with you today," Verster said. "But I've decided against doing so, based on the fact that [Crosslinx Transit Solutions] is finding and rectifying issues on a week-by-week basis and that this affects the opening date significantly...Any prediction of an opening date at this stage of the project would just be an estimate."
Whenever it opens, the 25-station, 19-kilometre Eglinton Crosstown LRT will stretch from Kennedy in the east to Mount Dennis in the west, linking 54 bus routes, three subway stations, and three GO Transit lines.
Until then, here is a non-exhaustive list of notable major developments that have been completed in less time than the Eglinton Crosstown LRT.
ICE Condos 2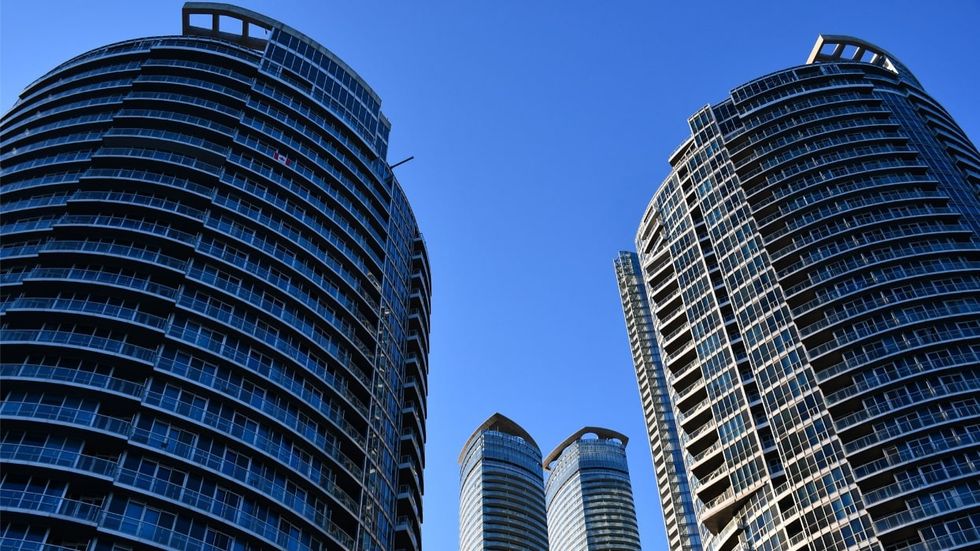 Anne Czichos/Shutterstock
Construction started: 2011
Construction completed: 2015
Construction on the second ICE Condo tower began the same year that shovels got in the ground for the Eglinton Crosstown. All 67-storeys and 1,343 units were complete just four years later, right as former Metrolinx CEO Bruce McCuaig and Transportation Minister Steven Del Duca announced that the transit line wouldn't be operational until 2021.
One Bloor East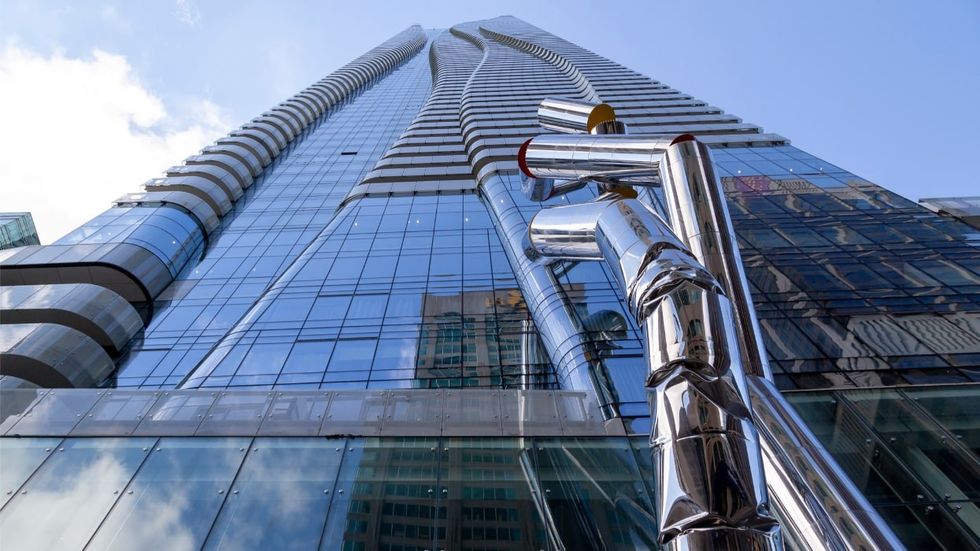 JHVEPhoto/Shutterstock
Construction started: 2011
Construction completed: 2017
At 76-storeys, Great Gulf's landmark Yonge and Bloor tower is the sixth-tallest building in both Toronto and Canada, and one of the 100 tallest in North America. As construction on the soaring mixed-use development was completed, Bombardier took Metrolinx to court over the latter's "unjustified threats" to terminate their contract.
Picasso Condominiums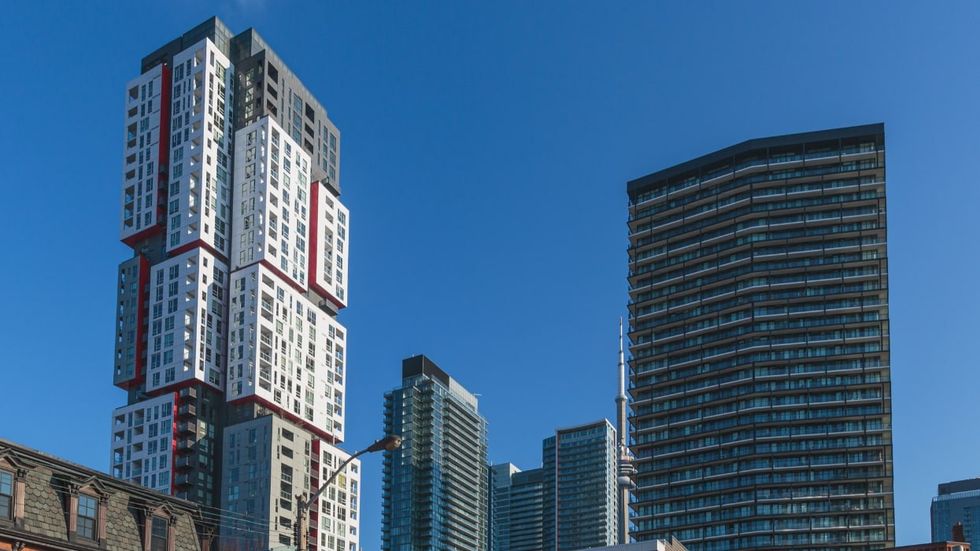 Roy Harris/Shutterstock
Construction started: 2012
Construction completed: 2016
In 2012, TTC staff warned that Metrolinx's "aggressive timeline" would not only disrupt the surrounding community, but that it was unlikely to be met. That same year, construction began on the Picasso condos, the grey and white stacked boxes that rise above the Entertainment District. Work wrapped on the 39-storey, 409-unit tower in 2016.
One York and Harbour Plaza Residences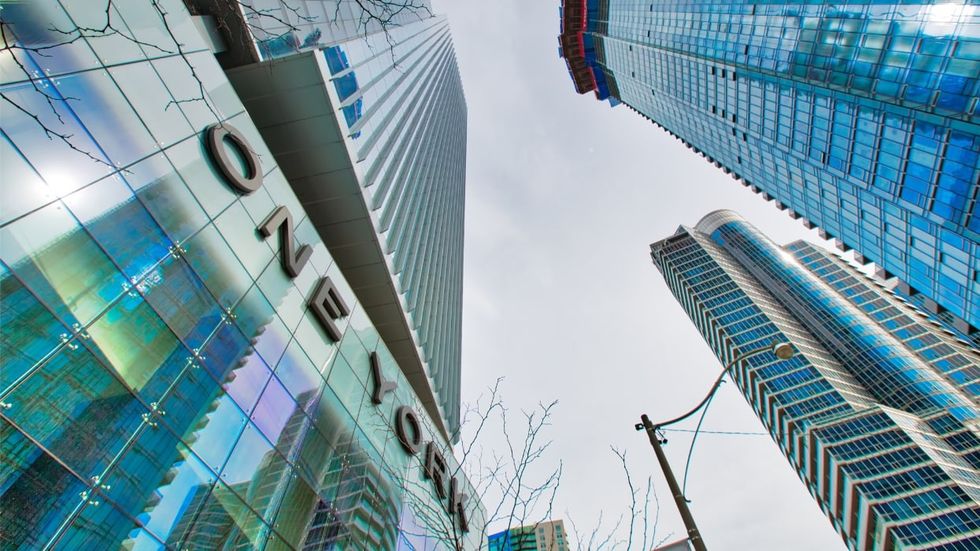 eskystudio/Shutterstock
Construction started: 2013
Construction completed: 2016 (One York) and 2017 (Harbour Plaza)
In 2016, a groundbreaking ceremony was held for the first station on the Eglinton Crosstown, and at the same time, tenants began moving into the 800,000 sq. ft. of Class AAA office space at One York. The residential arm of Menkes Developments' mixed-use waterfront complex opened a year later, as the first piece of track was laid for the transit line.
The Well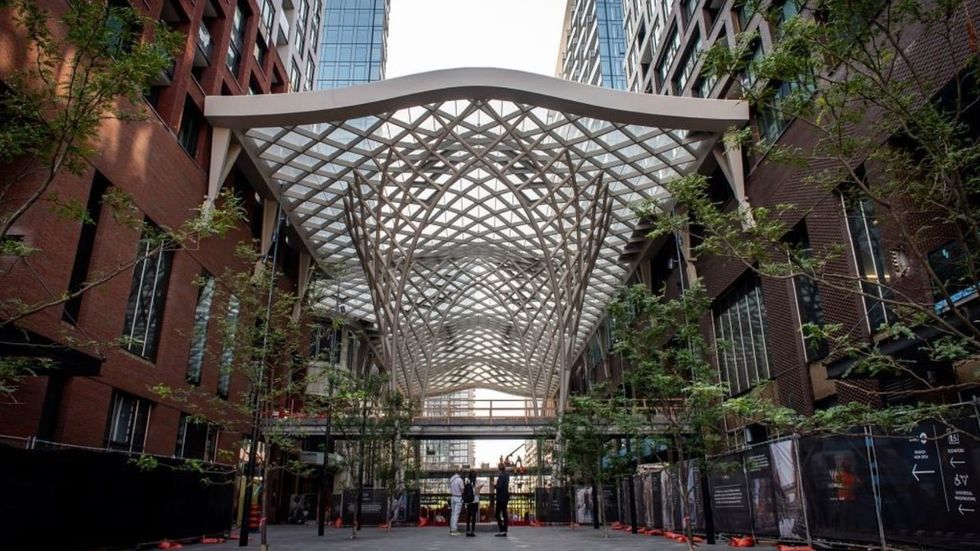 Hector Vasquez
Construction started: 2018
Construction completed: 2023
Unlike the Eglinton Crosstown, The Well is already partially open to the public. Unlike the Eglinton Crosstown, The Well has a publicly available completion date. When said date rolls around in November, the seven-tower, 7.75-acre site will bring a plethora of new office, retail, and residential offerings to Toronto's downtown core.
River City 3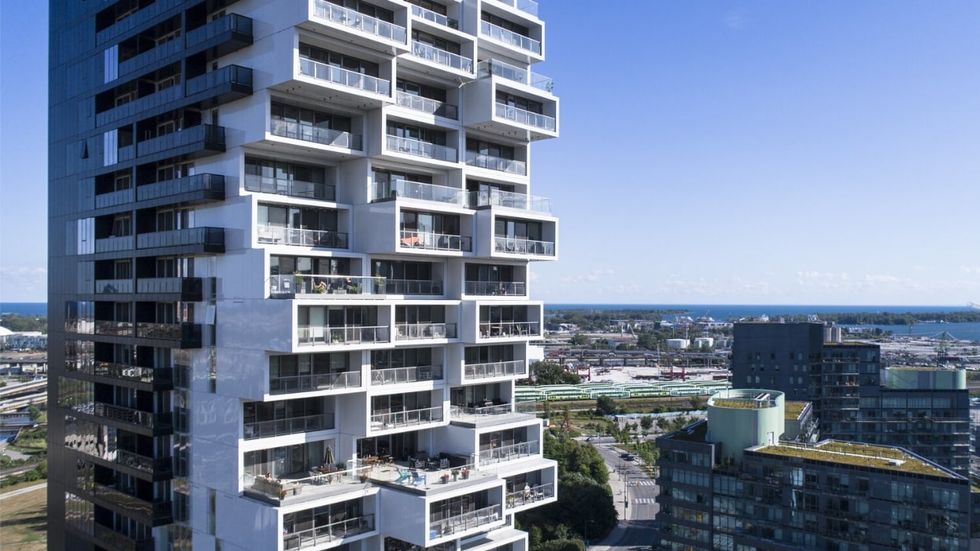 Urban Capital
Construction started: 2015
Construction completed: 2019
River City 3 was the capstone to the River City development, itself one of the first components of the master-planned West Don Lands community. As residents made themselves at home in their new condos, Bombardier delivered the first vehicle for the Eglinton Crosstown.
CIBC Square I
The Bold Bureau/Shutterstock
Construction started: 2017
Construction completed: 2021
Home to the new Union Station Bus Terminal and CIBC's new global headquarters, this 49-storey tower completed construction in 2021, the same year that the final piece of track for the Crosstown was laid.
Real Estate News