Ten years after construction kicked off at The Well — a 7.75-acre mixed-use development coming to Toronto's King West district — RioCan and Allied Properties have unveiled the initial roster of retail tenants set to open up in the space.
The joint venture partners announced the roster on Friday and said that retail tenants are expected to "physically open in phases" through 2023 and into 2024.
---
In the coming months, The Well will welcome recognizable brands like Adidas, Indigo, Structube, The Bone & Biscuit, Bailey Nelson, Le Creuset, Sephora, Frank & Oak, and Shoppers Drug Mart.
Meanwhile, boutique retailers like Black Rooster Décor, Design Republic, Giotelli, Gotstyle, Groovy Shoes, and Suetables will lean into the area's "King West character."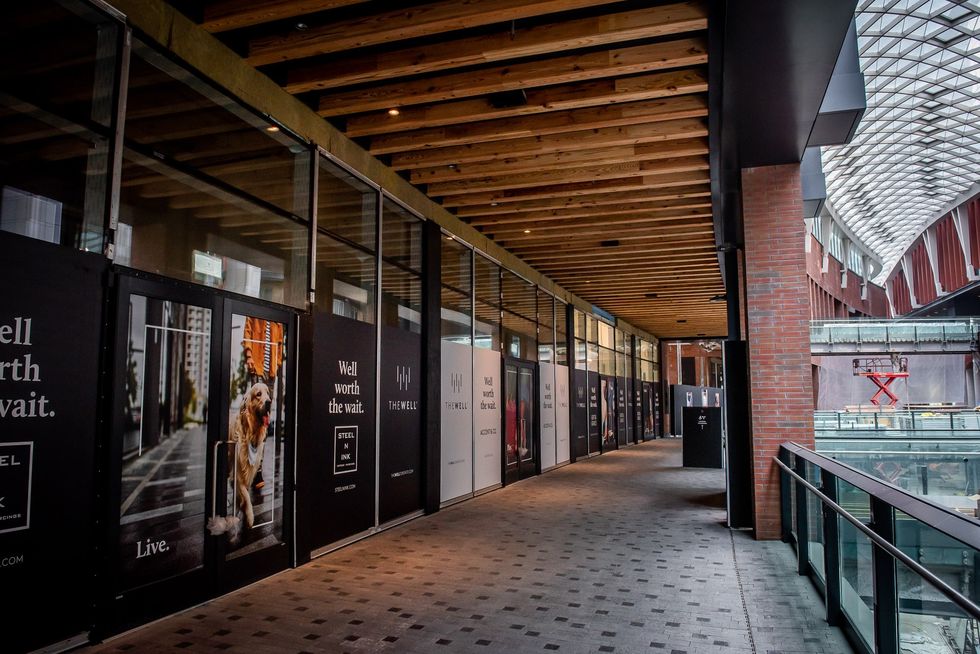 Hector Vasquez
As well, three new Oliver & Bonacini restaurants will open doors at The Well, including Aera restaurant, La Plume, and The Dorset.
The Wellington Market (with a diverse assortment of 55 vendors), National (a beer market "inspired by North American tastes"), and a variety of "new concept" restaurants and bars (including Bridgette Bar, Mandy's Gourmet Salads, L'Avenue, and LuLu Bar) will also be joining the dining mix.
In the health and wellness niche, The Well will welcome fitness and wellness boutique Sweat and Tonic and a full-service medical clinic HealthOne Medical & Wellness.
Finally, a number of cafés (De Mello Coffee, Fix Coffee + Bikes, and Quantum Coffee), bank branches (Bank of Montreal, Royal Bank, and Scotiabank), and beauty and salon services (Etiket, Room1six, Vie Nail & Beauty Salon) — as well as a fully automated, cashier-less grocery store, known as Aisle 24 — will help establish The Well as something of a one-stop shop.
"As we finalize additional lease deals, more announcements of exciting retailers opening at The Well are forthcoming," said Friday's announcement. "To celebrate the openings, a ribbon cutting event is scheduled for November 17, 2023 at The Well."
RioCan and Allied also gave an update on the office and residential components of The Well on Friday, saying that 98% of the 38-storey, 1.2-million-sq.-ft office space is presently leased.
FourFifty The Well — one of three residential rental buildings in the development — commenced pre-leasing in March 2023 and is currently 21% occupied and 30% leased. The remaining rental buildings have achieved 65% leased in aggregate.
Occupancy also commenced for two of the three condominium buildings that will be encompassed in The Well.
Retail