UPDATE: Toronto to Ask Province for Compensation for Businesses Affected by Eglinton LRT Construction
As the city waits for the completion of the Eglinton Crosstown LRT project, the small businesses and neighbourhoods along the construction route continue to suffer.
---
Since the project first began in the summer of 2011, tall fencing, barriers, and construction scaffolding have blocked the many businesses located along the stretch of Eglinton Avenue, making them unreachable for customers.
READ: Councillors Demand Compensation for Local Businesses Affected by Eglinton Crosstown LRT
Initially, the project was scheduled to be completed in 2020, but in 2015, it was announced it would be delayed until 2021. Earlier this month, Metrolinx announced completion is now pushed back "well into 2022."
To provide some assistance, Councillor Mike Colle, Ward 8 Eglinton-Lawrence, has called on the provincial government to help the affected businesses by offering compensation to offset losses related to the transit development.
On Wednesday, Colle is putting forward a motion to City Council, which addresses his 3-Point Plan for the Eglinton Crosstown delay.
"The announcement by the Ontario government's Metrolinx that the Eglinton Crosstown project will be further delayed until "well into 2022" adds to an extraordinary burden on small business owners on Eglinton Avenue where the Crosstown has been under construction since 2011," reads the motion.
"Over 100 small businesses have already closed on Eglinton West because of the impact of unprecedented levels of heavy construction, which has resulted in road and sidewalk closures, construction trailers and heavy equipment obstructing store visibility and access resulting in millions of dollars in lost income and hundreds of job losses for small businesses."
According to Colle, 140 businesses are no longer operating on Eglinton Avenue West due to the prolonged construction impacts, including a McDonalds and a funeral home that had been operating for over 100 years.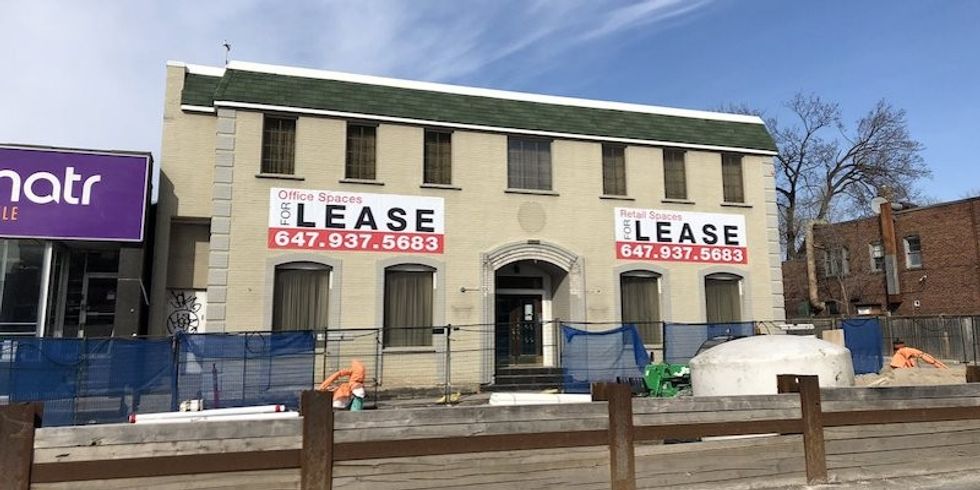 Funeral home forced to close via @ColleMike/Twitter
As part of his 3-point plan, Colle is requesting an "Eglinton Avenue small business recovery and sustainability compensation plan" so remaining small business can keep their doors open through the rest of the construction.
"We have over 100 shops and small businesses that are closed now and we're worried that without compensation for the small businesses that remain, we're going to lose all of them," said councillor Colle. "We're asking for the provincial government to compensate the owners that are still trying to stay in business financially so they can pay their rent, pay their bills, and keep people employed in their stores."
Colle has also called for an immediate construction equipment clean-up to remove as much of the heavy equipment trailers as possible from public sidewalks and roadways, so the small businesses will no longer have their storefronts blocked and obstructed.
Additionally, Colle has requested a report on the feasibility of phasing in the opening of the Eglinton Crosstown by separating the portion of the Eglinton Crosstown from Mount Dennis Station to the Cedarvale Station (Eglinton West), so that at minimum one section of the Eglinton Crosstown line is operational at an earlier date.
When the project is completed, it will span 19 km along Eglinton Avenue and have 25 stations from Mount Dennis in the west to Kennedy in the east.
Toronto