Those hoping to ride the Eglinton Crosstown LRT next year will have to wait, as project completion is being pushed back another year.
On Tuesday, Metrolinx CEO, Phil Verster, said a number of challenges have arisen since the start of the project, including starting nine months late and a defect found under the TTC station box at Eglinton-Yonge subway station that needs to be fixed before the project can be completed.
---
"Metrolinx, Infrastructure Ontario, CTS (Crosslinx Transit Solutions), and the TTC have been seized with addressing this defect and although a way forward has been determined, the station will be delayed further," Verster explained.
The project was slated to be completed in September 2021 and now Verster says it's expected that the LRT will open well into 2022.
READ: TTC calls for "reset of social norms" after losing $73.5M in fare evasions last year
Verster said that Metrolinx and Infrastructure Ontario are not making any predictions on the project completion date at this point.
"CTS must prove to us that they can achieve the new production rates they say they can achieve. It is important to note that the project remains within budget," Verster said. "We will keep the public apprised on a consistent basis over the next two years on how work is progressing."
When completed, the project will span 19 km along Eglinton Avenue and have 25 stations from Mount Dennis in the west to Kennedy in the east.
Verster described the project as "transformative" and that Metrolinx looks forward to it being operational as soon as possible.
Councillors are now calling for a
3-point plan to address the delay
. The plan would include:
Compensation from the Province, through Metrolinx, for small business tenants and owners on Eglinton Avenue along the Crosstown construction route.
Immediate cleanup of all construction sites on the sidewalks and road allowances along Eglinton Avenue West;
Phase-In Plan to look at the feasibility of putting sections of the Crosstown into operation as soon as possible to allow residents to ride portions of the line without having to wait another two years.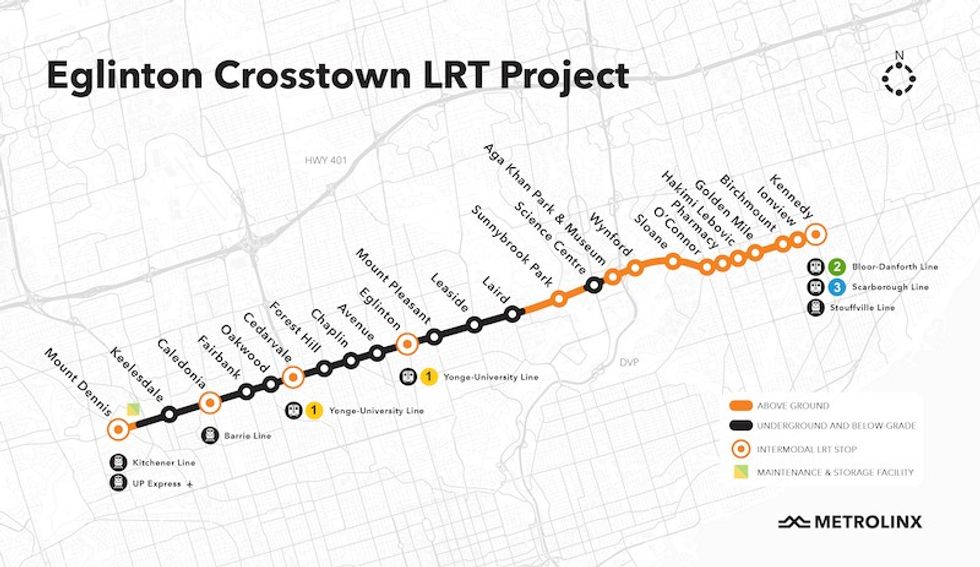 Eglinton Crosstown LRT Map
Toronto