---
Following the correction that began in the spring of 2022, Canada's housing markets have rebounded sharply over the last several months.
The national average home price hit $729K in May, a monthly increase of $13K, and more than a $116K jump from January. Meanwhile, home sales have risen consistently month over month since February.
The gains, which have been particularly pronounced since March, are "going to have staying power," according to a new report from Desjardins, and will lead to a further erosion of affordability in Canada's housing markets.
Authored by Randall Bartlett, Senior Director of Canadian Economics, and Hélène Bégin, Principal Economist, the report predicts that population growth -- driven by increased immigration -- a strong job market, sustained income growth, and pandemic-era savings, will keep housing demand "particularly strong" across Canada.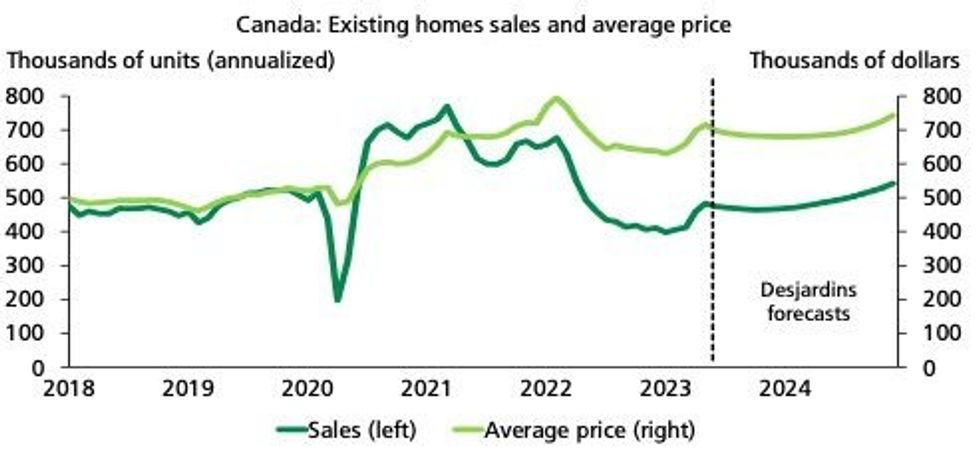 Desjardins
According to Statistics Canada, the country's population increased by over 1 million people in 2022, the highest growth rate since 1957. The federal government plans to welcome 465,000 new permanent residents in 2023, 485,000 in 2024, and 500,000 in 2025.
Despite the surge in newcomers to Canada, the unemployment rate remained near its all time low in May, at 5.2%. At the same time, hourly wages rose 5.1% on an annual basis in May, while Canadians' excess household savings surpassed $350B in Q1 2023.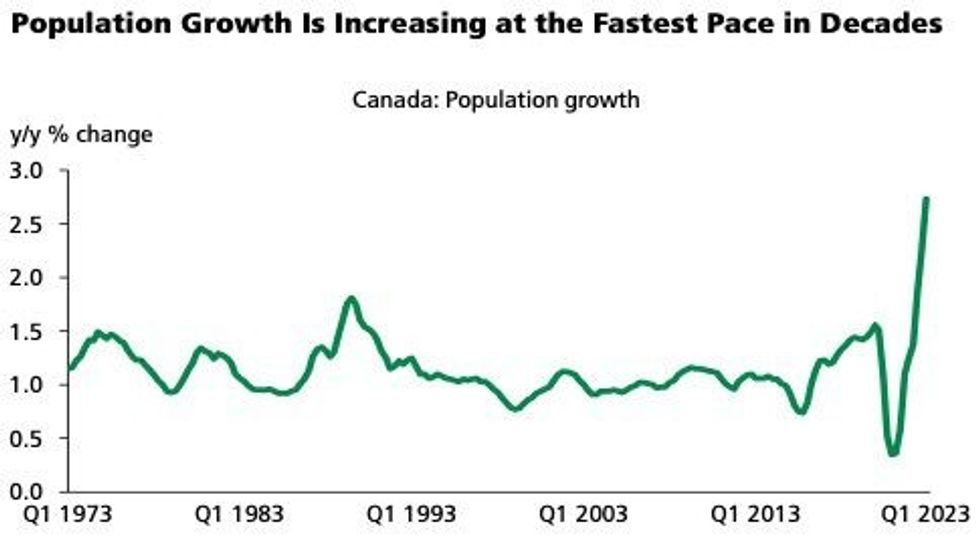 Desjardins
While the recent return of interest rate hikes -- Bartlett and Bégin predict a further 25 bps hike in July, with the "door left open for more" -- will help to dampen demand somewhat, an anticipated drop in new supply will provide further support to prices.
Although the number of newly listed homes increased 6.8% on a monthly basis in May, new supply is still at historically low levels, according to the Canadian Real Estate Association. The similar increase in sales and new listings pushed the sales-to-new-listings ratio to 67.9% in May, firmly in seller's territory.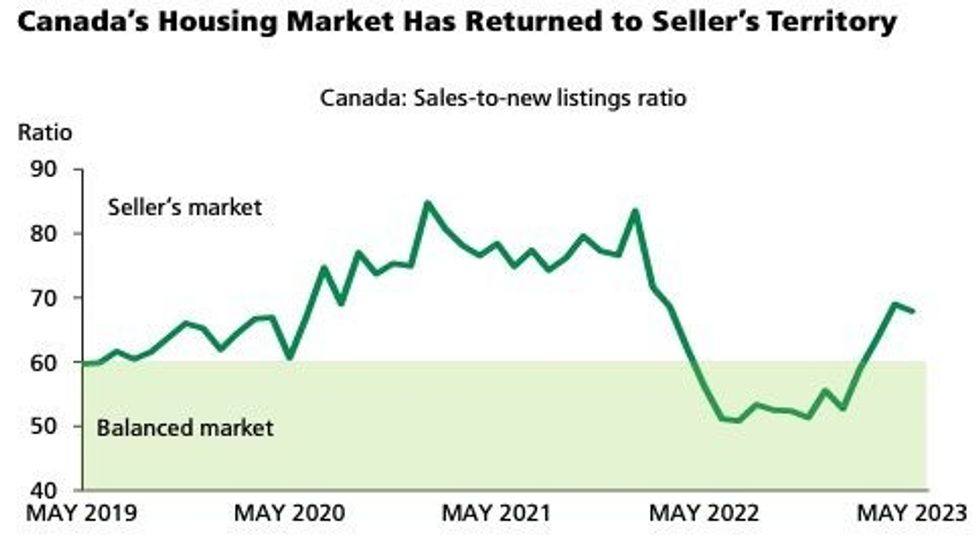 Desjardins
Meanwhile, the Canada Mortgage Housing Corporation expects housing starts to drop "significantly" in 2023 due to constraints in new construction, such as labour shortages and high construction and borrowing costs. Housing starts declined 23% month over month in May, while the six-month trend continued along a downward trajectory that began in November, falling 4.2%.
"Despite ambitious policy announcements to the contrary, there is little meaningful relief in sight from any level of government," Bartlett and Bégin said. "Unless something is done urgently to increase supply, affordability will get a lot worse before it has any hope of getting better."
Real Estate News