Real Estate News
BC to Create Standalone Housing Ministry, After Alberta Axes Theirs
It's a tale of two provinces: after Alberta Premier Danielle Smith announced her 26 ministers last month and intentionally left out a dedicated housing minister, British Columbia is about to do the opposite.
At the Housing Central Conference at the Sheraton Wall Centre Hotel in Vancouver on Tuesday, Premier David Eby announced that the provincial government would be creating a standalone ministry to focus on the various housing issues plaguing BC.
Historically, the housing portfolio in BC has been given to other ministers because housing has traditionally fallen under municipal government responsibilites, but as the housing crisis has gotten worse, the Provincial government has taken on an increasingly involved role.
Eby himself, of course, is very familiar with the arrangement, having served as Minister of Housing simultaneously as he was Attorney General. Since Eby stepped down from both positions in July to run for NDP Leader, those duties have been taken on by Murray Rankin. Additionally, Rankin also serves as the Minister of Indigenous Relations and Reconciliation.
BC previously had a standalone housing ministry for a brief period, when NDP Premier Dave Barrett created it during his tenure in the 1970s, but it was subsequently folded into other ministries after his tenure ended.
No person has been named as the new Minister of Housing, but Eby is scheduled to name his cabinet on Wednesday, December 7.
"For too many British Columbians, owning or even renting a good home feels out of reach," Eby said on Tuesday. "The housing crisis deserves the attention of a full ministry and the resources that come with it. As premier, I am committed to making meaningful progress to make sure everyone in BC can afford a good home."
This announcement comes a day after Eby and Rankin announced two notable legislative actions on housing. The first was the creation of the Housing Supply Act, which would give the Province the authority to set housing targets for municipalities, while the second was an amendment to the existing Strata Property Act that would allow all strata units to be rented out. Eby's platform was housing-focused, so it's unclear if this was a recent decision or always the plan.
RELATED: David Eby Targets Housing Crisis Profiteers in New Sweeping Housing Plan
The BC housing minister announcement also comes in contrast to what happened in Alberta. Exactly a month ago, Alberta Premier Danielle Smith named her 26 ministers and revealed that she was both splitting up ministries and consolidating them. Agriculture and Forestry were split into separate ministries, while Labour would be jointly handled by the Minister of Jobs, Economy, and Northern Development and the Minister of Skilled Trades and Professions.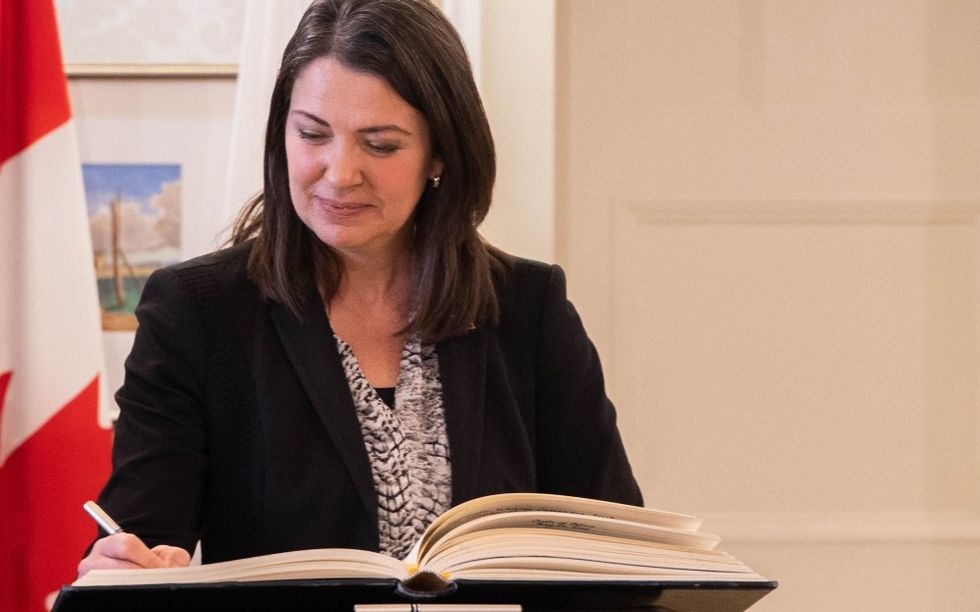 Most notable, however, was the absence of departments focused on status of women and housing.
Asked about the proportion of female cabinet ministers being only at 19% — compared to a high of 50% under the NDP's Rachel Notley — Smith said "I'm a woman, I've got four senior cabinet ministers who are also women. If people think that there's any danger that women are not going to be represented, I would just ask them to look at the composition that we have."
Smith said issues regarding the status of women and housing would fall to Jeremy Nixon, the Minister of Seniors, Community, and Social Services — although it will not be formally included in the ministry name.
Housing and affordability in Alberta is not as bad or high-profile as it is in British Columbia, but many still voiced concern that Alberta was doing away with a dedicated housing minister.
"The pandemic has accelerated and deepened the housing crisis," Bradley Lafortune, Executive Director of Public Interest Alberta, a non-profit advocacy group, said in a statement. "There is simply no excuse that the Alberta government is not appointing a standalone minister responsible for housing and homelessness — not to do so is out of touch with reality."
"Instead of taking the opportunity to reverse course on the [Jason] Kenney government's disastrous plan to divest from affordable housing and privatize it, Premier's Smith's cabinet is set to ignore housing altogether," he added. "Short of appointing a minister and declaring housing an emergency — with adequate housing for every single Albertan as the urgent goal — there is simply no way the provincial government will turn the tide on housing inadequacy, unaffordability, and homelessness. […] Housing is a human right. Albertans deserve better than the disregard today's new cabinet announcement suggests."
It remains to be seen whether creating a dedicated housing ministry will alleviate the housing crisis in British Columbia, and many British Columbians are desperately waiting for results, but as of today, they can perhaps take a bit of solace in the fact that the government is at least recognizing the importance.